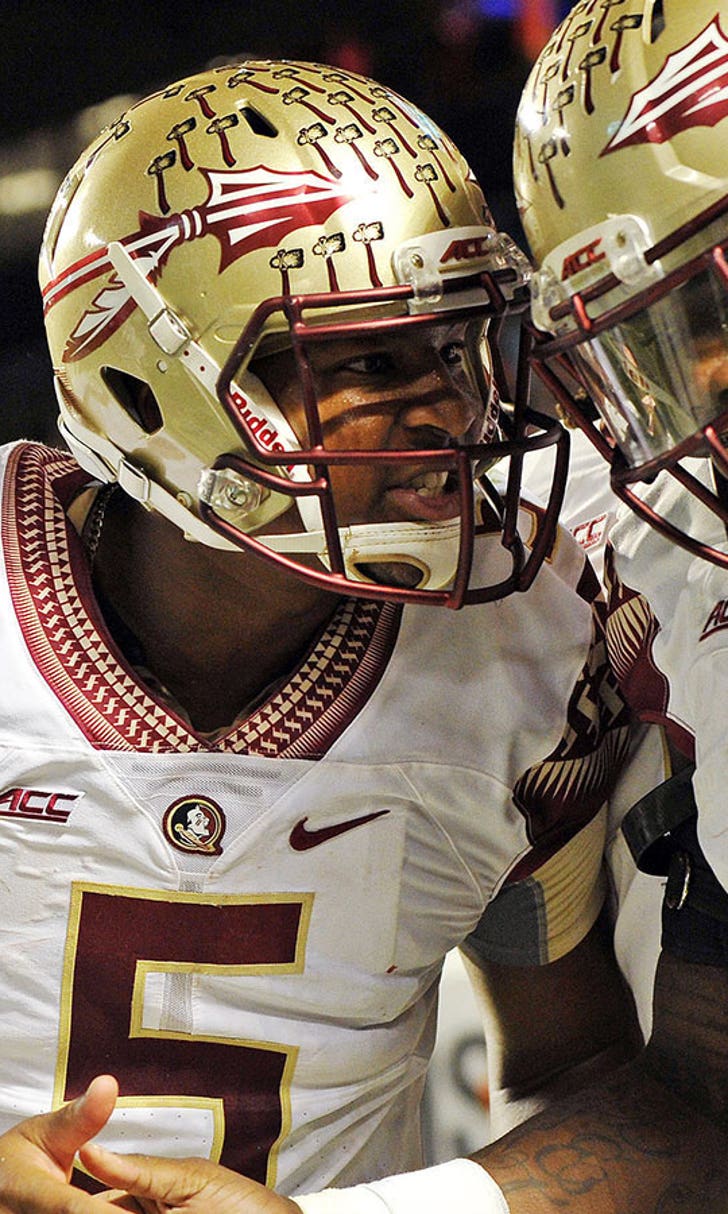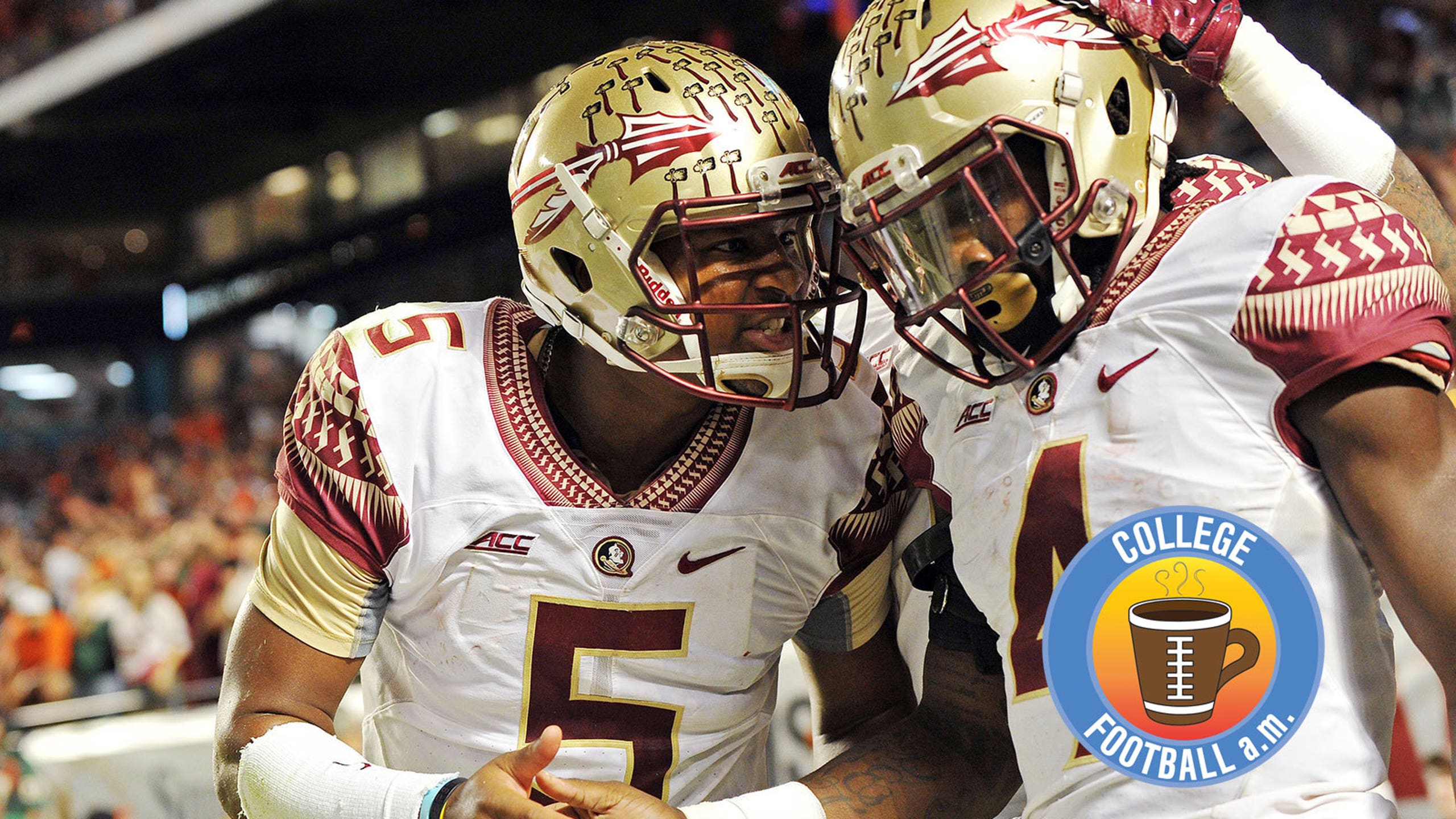 CFB AM: Jameis Winston has strong message for Miami haters after win
BY Teddy Mitrosilis • November 16, 2014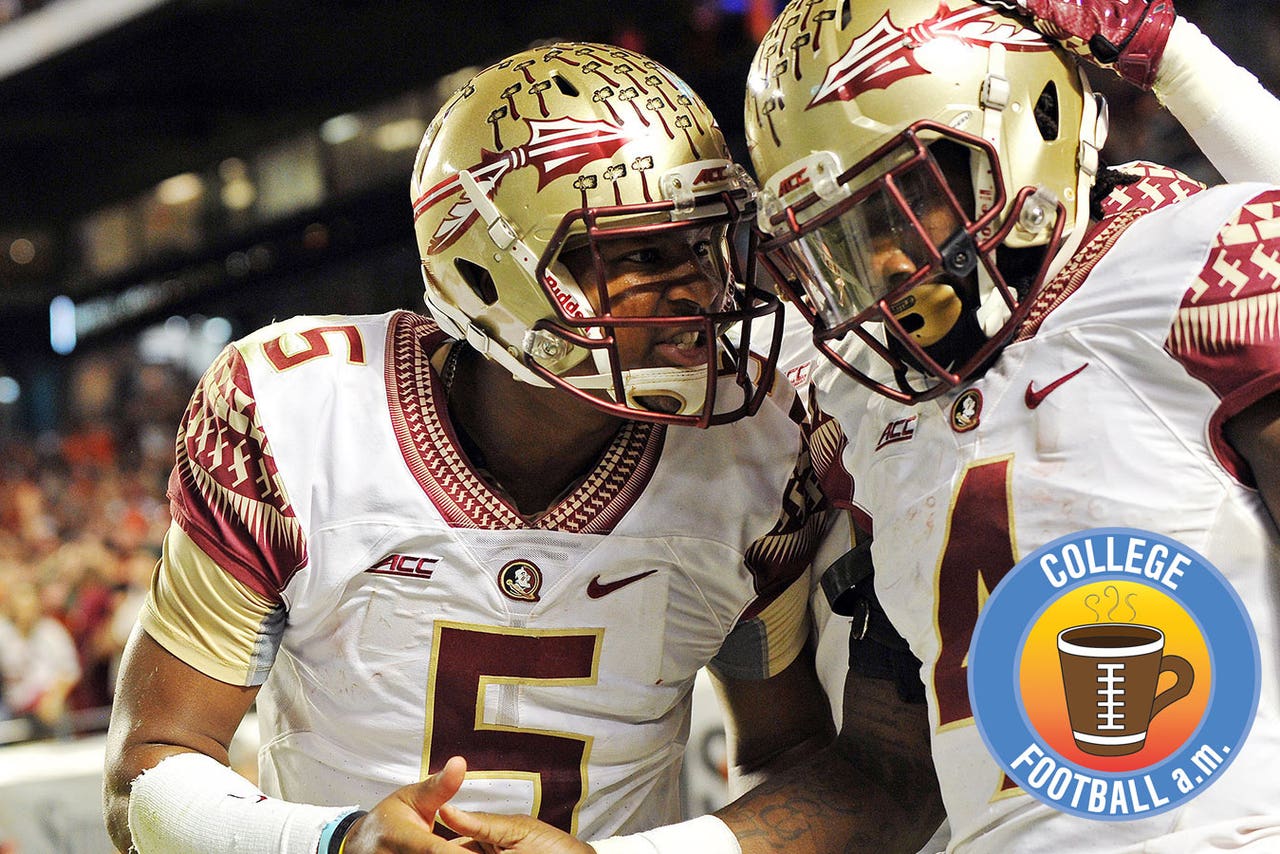 Jameis Winston really does live for this, doesn't he?
Not only does he clearly love "pressure" situations on the field, but he's fully embraced his role as villain in college football and is now feeding off the animus directed Florida State's way.
The Noles added another comeback win to their resume (see below) on Saturday in front of a sold-out Miami crowd that was giving Winston and FSU grief all night.
How bad did Canes fans want to get inside Winston's head? Well, there were crab legs everywhere in the crowd, for starters, but none of that or any other jeers phased Winston as the Noles won 30-26 to remain undefeated.
Did Winston have a message to send to his Miami haters after the game? Of course! It was just delivered with no words for once.
Here's Winston walking off the field after beating the Canes, with his eyes deadlocked on the Miami crowd:
Damn – that's cold-blooded. And sadly for Miami fans, there's nothing they can do about it. The Canes had their shot and Winston did what he does once again.
THREE THINGS YOU NEED TO KNOW
1. The crowning jewel of Week 12 was No. 1 Mississippi State at No. 5 Alabama, and as many expected, the Crimson Tide showed they are the better team in a 25-20 victory. Nobody on the Tide had an eye-popping offensive performance,  but many contributed. Blake Sims threw for 211 yards a TD, while T.J. Yeldon rushed for 72 and a TD and Amari Cooper caught eight balls for 88 yards and a score. But it was the defense's day to shine, as Kirby Smart's unit held Dak Prescott and Josh Robinson to 119 combined rushing yards – a big win – and forced Prescott into throwing three interceptions. It was consistent, suffocating pressure from the Tide D that resulted in Miss. State's first loss of the season and bumped Bama up to 9-1 (6-1 SEC).
Smart was so fired up that he missed a high five and accidentally punched the kicker in the chest.
Bama now moves one game closer to the SEC championship game and a berth in the College Football Playoff. It finishes the regular season with Auburn at home, which the Tide should handle before facing whatever team comes out of the East in Atlanta. Stewart Mandel was in Tuscaloosa for us and wrote about Alabama's dominating defensive performance restoring order in the SEC. If you're a Bulldog fan, though, there is still a ton to play for. Here are five reasons Miss. State is still a good playoff bet.
2. We shouldn't have been surprised by either of these things on Saturday night. That No. 3 Florida State fell behind on the road at Miami or that FSU came back to win, 30-26. The victory extends FSU's win streak to 26 games and pushes the Seminoles one game closer to the playoff. They have Boston College and Florida at home before the ACC championship game. FSU can't afford a loss because of the weakness of its schedule, but at this point does anyone expect them to lose?
The Noles had three turnovers against Miami and survived a 130-yard, one-TD performance from Canes RB Duke Johnson to win. Jameis Winston had an interception and threw one touchdown pass on the night. You want to know how that one TD pass happened? Like this: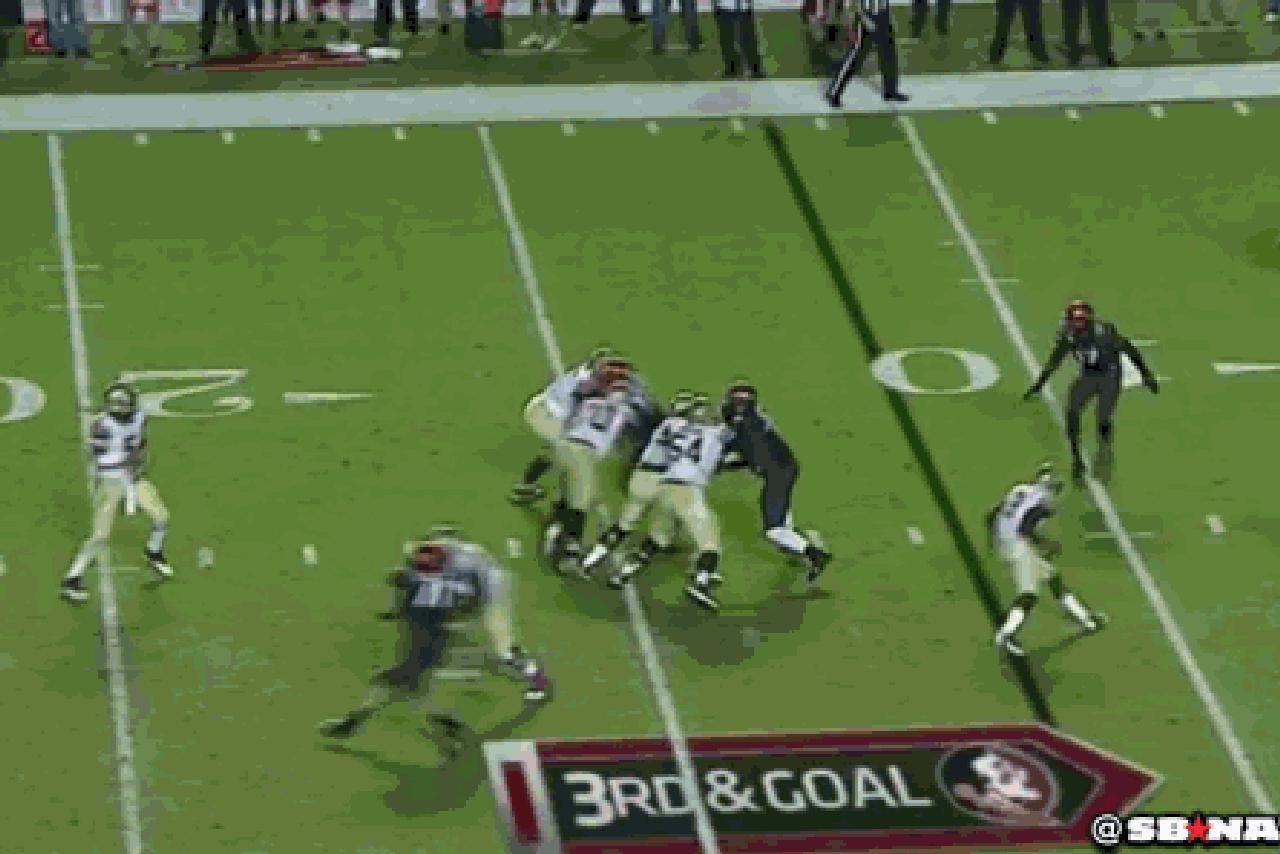 Yeah, the Noles are getting lucky, but at this point you have to credit them for more than good fortune in victories. Freshman running back Dalvin Cook has emerged as a difference-maker in the backfield, rushing for 92 yards and two TDs against the Canes, and Winston is spreading the ball around to a bevy of receivers. FSU is comfortable in close games where they need to make plays down the stretch to win, as it's sort of become their standard operating procedure, writes Bruce Feldman in the Week 12 takeaways post.
How does most of non-FSU America feel about the Noles continuing to snatch victories from almost thin air? Well, probably like this woman at Saturday night's game: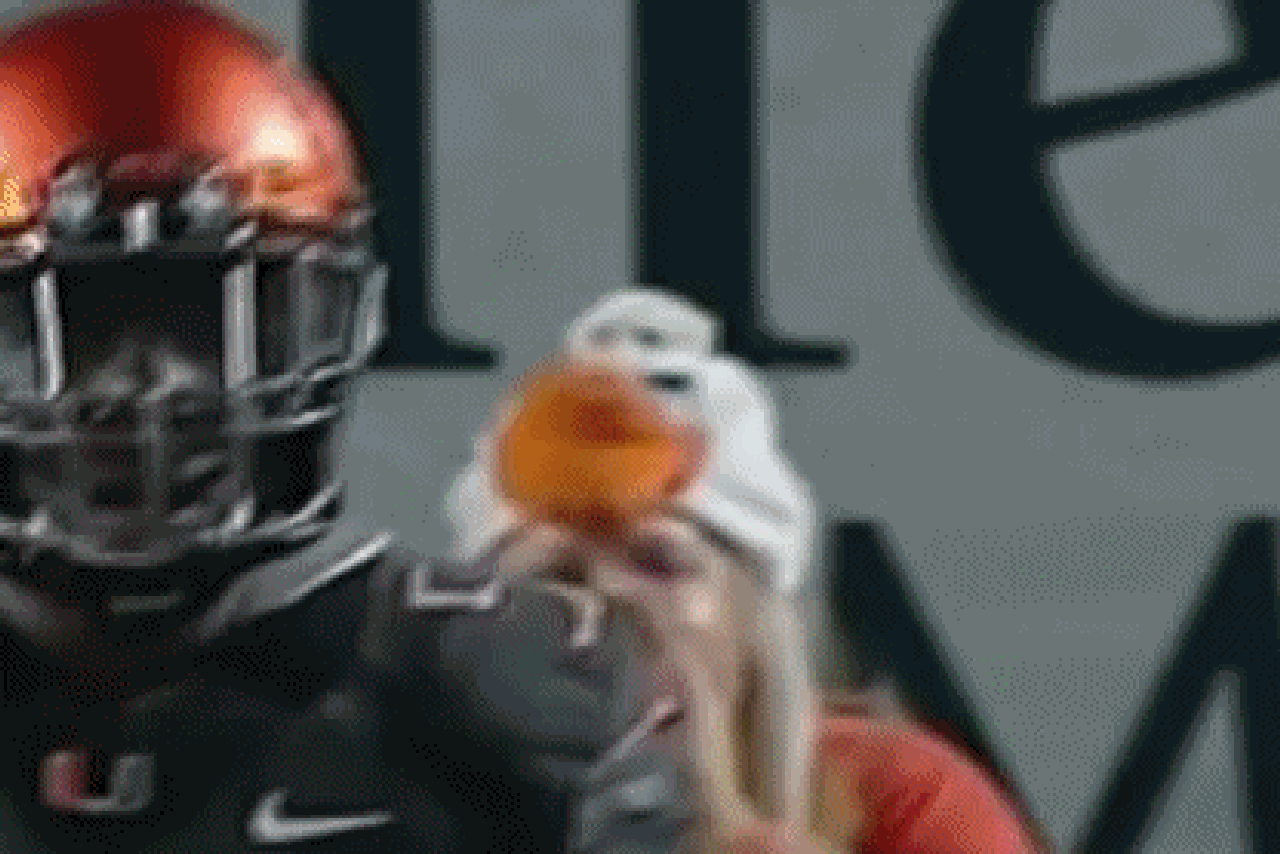 But it seems unlikely at this point that FSU will lose, with two home games against vastly inferior teams, and it's become a fascinating story. You don't have to like or support FSU to enjoy the theater. Winston will be gone after this season, and I'm sure most fans will be glad so they don't have to hear about all of his antics anymore, but gone too will be an incredible on-field character and plot for the sport that I bet many will miss more than they realize.
3. What else can we say about Melvin Gordon? The Wisconsin running back set an FBS single-game rushing record by running for 408 yards, along with four TDs, as No. 20 Wisconsin crushed No. 16 Nebraska, 59-24. The previous record was 406 yards by TCU's LaDanian Tomlinson, and Tomlinson tweeted congratulations after Gordon broke his record.
Gordon seems to do ridiculous things every week and will certainly be in New York as a Heisman Trophy finalist. He's at 1,909 yards with two regular-season games plus the Big Ten title game to go, which puts him in fairly reasonable striking distance of 2,500 yards. If he hits that mark will he win the award? Oregon's Marcus Mariota will be tough to beat out, but Gordon would be deserving. Regardless, we have three games left to enjoy him before he's off to the NFL. Let's make sure we appreciate runs like this, where his power-speed combo make the difficult seem routine.
THREE THINGS YOU SHOULD KNOW
1. Probably not many saw the end of Arizona State's playoff run, as it came well past midnight on the East Coast and was the final meaningful result of Week 12. The No. 6 Sun Devils lost, 35-27, at Oregon State to drop to 8-2 (5-2 Pac-12) and open the South race back up. UCLA is in the driver's seat now, as it has the tiebreaker against both ASU and Arizona with games against USC and Stanford (both at home) remaining. It would be a strong finish for UCLA to win both, but the Bruins absolutely should with Stanford being down this season and USC lacking the Bruins depth and experience across the board. If UCLA wins both, they will face Oregon in the Pac-12 title game. Win that, and who knows what happens with the playoff? For ASU, though, it's a huge letdown after whipping Notre Dame last week. Now the Devils need to regroup, beat Washington State at home next week before ending the regular season at Arizona, and hope they get some help from USC or Stanford.
2. Todd Gurley returned for Georgia, and the No. 15 Bulldogs crushed No. 9 Auburn, 34-7, to give the Tigers three losses and knock them out of the playoff running. UGA improved to 8-2 (6-2 SEC) and is still waiting for Missouri to lose another game so the Dawgs can claim the SEC East and head to Atlanta. For as down as the East is this year, UGA is the one team nobody out of the West would want to see in the SEC title game. With a healthy Gurley and Nick Chubb, they're absolutely capable of knocking off the West champion. But there's the catch: Gurley went down with an apparent left knee injury in the second half and didn't return. He reportedly went to a hospital for further examinations after the game, but we don't know much more than that at this point. We've seen UGA survive with Chubb as the main man, but it would be difficult to win the SEC title game without Gurley. We should hear more today or tomorrow from Mark Richt on Gurley's status.
3. If you were expecting No. 8 Ohio State to have a letdown the week after beating Michigan State, then you were a little let down yourself on Saturday. The Buckeyes were impressive in a 31-24 road win in snowy conditions at No. 25 Minnesota, and we mostly mean J.T. Barrett had another incredible game to carry the Bucks. Despite Ohio State committing three turnovers, with one of them a Barrett interception, it prevailed because its redshirt freshman QB threw for 200 yards and three TDs while rushing for 189 and a TD. Ezekiel Elliott chipped in 91 yards and Jalin Marshal caught five balls for 95 yards and a score, but as each week passes Ohio State is becoming more about the impressive rise of Barrett. The Gophers thought they might knock off the Bucks, but Barrett left them feeling like this guy:
Barrett now has 38 total TDs to nine interceptions, is completing 64 percent of his passes and has an adjusted quarterback rating of 87.9 (that score is on a scale of 0-100 with 50 meaning you're an "average" QB). He's going to make the playoff discussion really interesting for the committee if the Buckeyes roll through the rest of their schedule, including the Big Ten title game, because it's impossible to argue they're remotely close to the same team that lost to Virginia Tech in September. While the committee can't forget that loss or Ohio State's weak schedule, its overarching job is to pick the four best teams for the playoff, and any team that has a quarterback playing at Barrett's current level is already among the nation's elite. Add in Ohio State's defense, and you certainly can make a case that the Buckeyes can compete with anyone in the country. I'm fascinated to see how that plays out.
We'll all be watching this playoff race unfold, riveted by the drama leading up to Dec. 7, joyously eating our ice cream in well-below freezing temperatures.
THREE THINGS YOU MAY WANT TO KNOW
1. Big congrats to Bret Bielema and Arkansas, as the Hogs snapped their 17-game SEC losing streak by beating No. 17 LSU at home, 17-0. It's Bielema's first conference win in his two years as the Razorbacks' head man. It was a pretty clean game, with Arkansas forcing one turnover and Jonathan Williams and Alex Collins each rushing for a touchdown. We've seen the Hogs improve over the course of the season, except the wins just weren't materializing. So this result isn't that surprising, and now Arkansas, at 5-5, can become bowl eligible by beating Ole Miss at home next week or Mizzou on the road. The guess here is the Hogs win the latter, earning themselves a well-deserved bowl trip and Georgia a spot in the SEC title game.
Elsewhere in the SEC: Florida lost at home to South Carolina, but the only thing you want to know from this game is this:
Yes, that's two Gator O-linemen blocking each other again.
2. Congratulations are also due to a couple other proud programs that became bowl eligible in Week 12. Texas beat Oklahoma State on the road, 28-7, to get its sixth win in Charlie Strong's first season. Celebrating bowl eligibility isn't really how things are done in Austin, but swallow your pride, Horns fans, and recognize the progress this UT team has made. Strong has spent this season trying to establish his culture and booting any player from the team who didn't want to help build it, so to get to a bowl game is a notable achievement.
The signature moment of this season might still be to come. No. 4 TCU visits Austin on Thanksgiving night in a game that should have neon flashing lights for the Horned Frogs saying, "BEWARE! BEWARE!" TCU struggled to win at Kansas on Saturday, 34-30, and we see what happens on the road in conference games all the time (like ASU this week). Things get weird. There's some legitimate potential for the Horns to be playoff spoilers for TCU.
Also, Penn State got its sixth win of the season by beating Temple, 30-13, and James Franklin's team will go to a bowl after the NCAA lifted its postseason restrictions earlier this season. Franklin was so excited after the win that he just started tackling people.
3. In two weeks, Notre Dame has gone from playoff contender to now probably unranked. After losing last week to Arizona State, the No. 18 Irish inexplicably lost at home in overtime to Northwestern, 43-40, as Brian Kelly botched a crucial late-game decision to go for two up 11 rather than kick the extra point and making it a two-touchdown game. Notre Dame can end its season on a high note by winning at USC and then its bowl game, but it'll likely be a disappointing year after tasting playoff contention.
LASTLY
* It's getting cold across the country, which means it's time to break out your obnoxious winter coats.
Or, if you have any self-respect, you'll follow Smokey's lead and tastefully wrap yourself in a blanket.
Have a great Sunday, all, and hope you enjoyed Week 12. As always, thanks for reading CFB AM.
Teddy Mitrosilis is an editor and writer for FOXSports.com. Follow him on Twitter @TMitrosilis and email him at tmitrosilis@gmail.com.
---