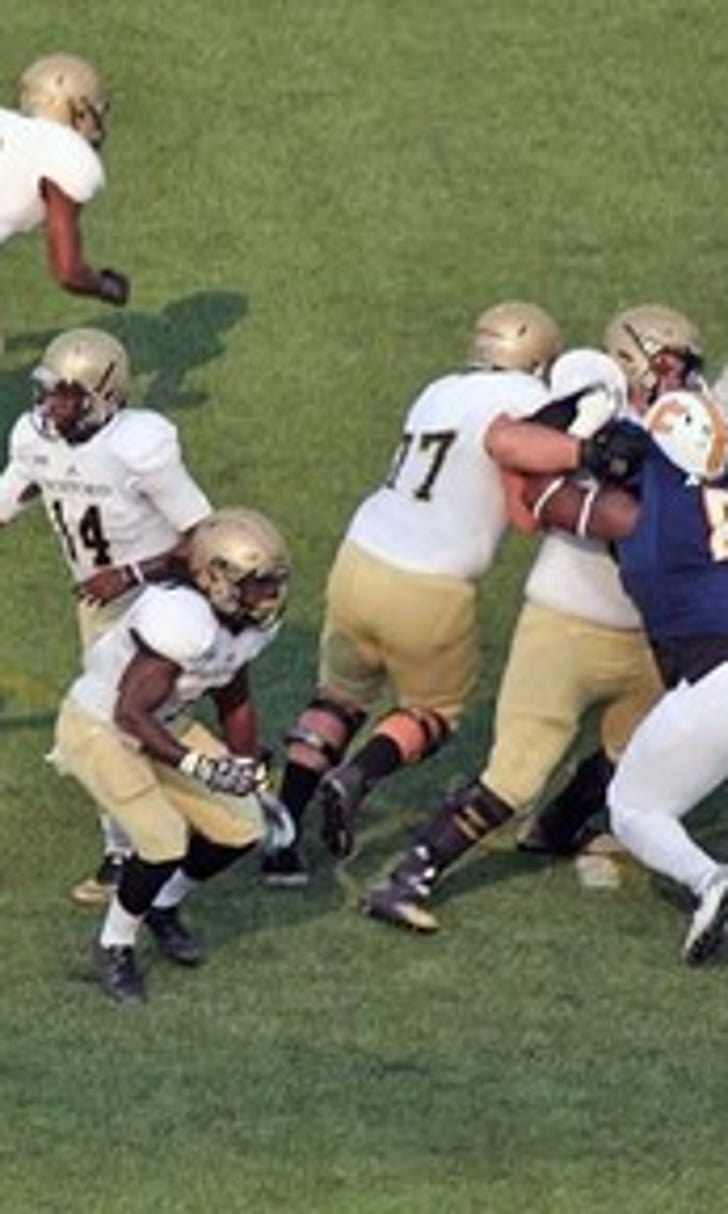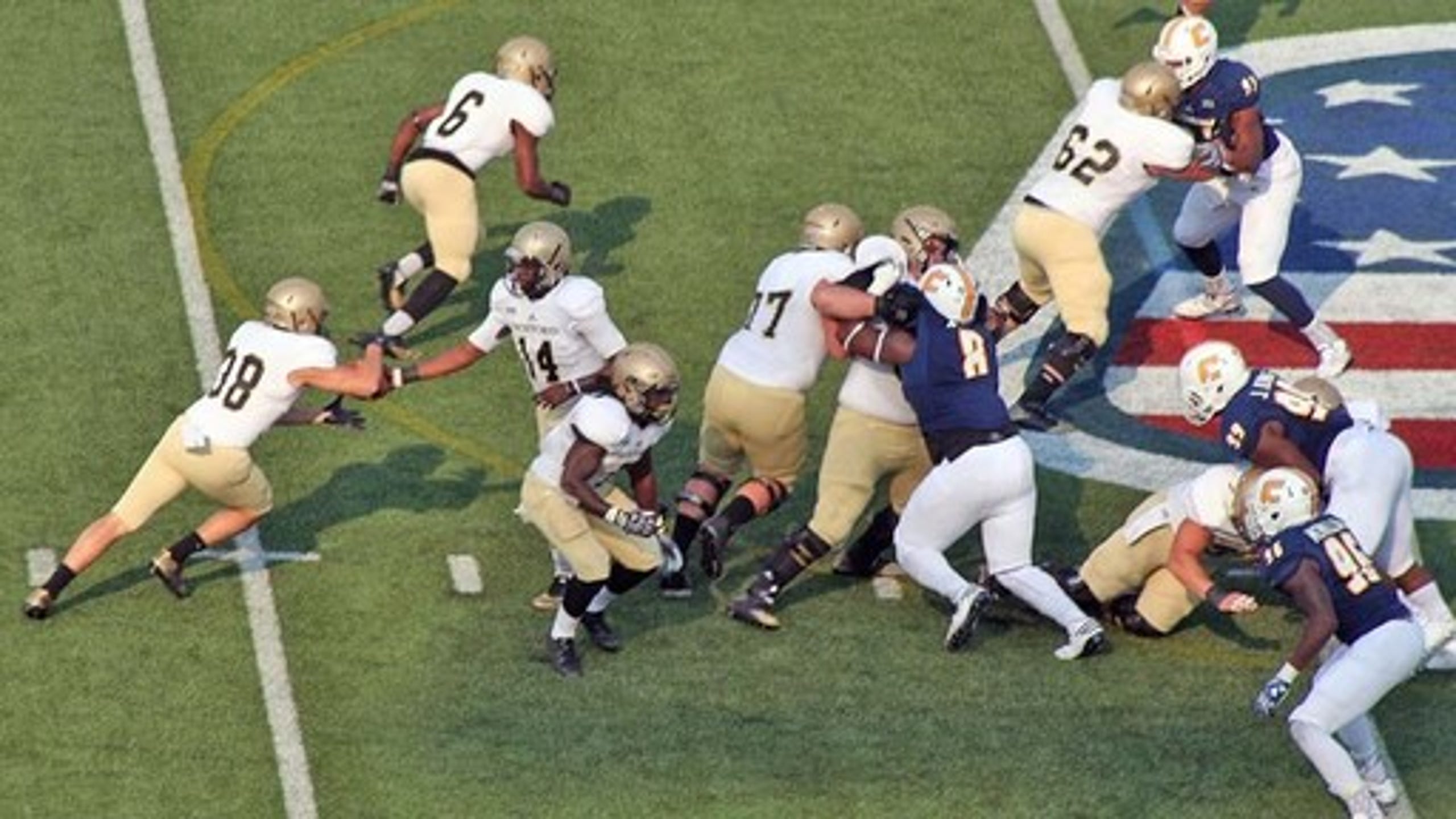 Buccaneers, Terriers ready to keep running
BY foxsports • November 23, 2016
(STATS) - For fans of the triple option, there's a single choice for which FCS playoff pod to watch over the next two weeks.
May the Palmetto State team that runs best win.
Charleston Southern and Wofford bring two of the nation's top rushing attacks into Saturday's playoff opener in Spartanburg, South Carolina, where the winner will earn a trip back down I-26 to face another mirror image in The Citadel.
These programs have played 13 times since 1993, with the 19th-ranked Terriers (8-3, 6-2 Southern Conference) coming out on top in all of them. They haven't met since 2010, though, and with No. 10 Charleston Southern's revival since Jamey Chadwell's arrival, Wofford has yet to see the Buccaneers (7-3, 4-1 Big South) at their best.
They're set to meet again in the regular season in 2017, but the stakes won't be nearly as high as they are Saturday.
"I don't care about 0 and 13," Chadwell said. "I don't think that has a bearing on this game. I know Wofford is really good and really tough at home, so we have to do our best to get ready to play this game.
"We know we'll be in Charleston the second week, for sure."
Chadwell's referring to the team waiting with a bye in the Charleston Southern-Wofford pod. That would be SoCon champ The Citadel (10-1, 8-0), which is a 17-mile drive downtown from his school's North Charleston campus.
The Bulldogs rallied from 13 down in the third quarter to beat the Terriers 24-21 in overtime Oct. 22 and have plenty of history with the Buccaneers as well. The local rivals played each year from 2012-15 and met again in last season's playoffs, with Charleston Southern winning that one and the previous three in the regular season. They didn't meet in 2016 and won't next year, but renewed the series for four games starting in 2018 - all to be played at The Citadel's Johnson-Hagood Stadium instead of the smaller Buccaneer Field.
That didn't sit well with Chadwell, who would love a chance to force the rivalry to be renewed ahead of schedule. The Citadel didn't seem nearly as enthused about having to face a very familiar opponent following its bye week.
"When it's the playoffs, you look for some different opponents," Bulldogs coach Brent Thompson said. "You want to get some people to travel in and maybe work outside (the norm) a little bit. But it is what it is, and we have to win the state of South Carolina at this point."
That probably means winning the ground game. Each team runs a variation of the triple option, and they run it well. Shane Bucenell and Charleston Southern typically operate out of the shotgun, which is a bit of an oddity until you see that the Bucs average an FCS-best 6.2 yards per carry. Mike Holloway gains 8.8 per rush, nearly a yard better than anyone in the subdivision with at least 90 carries.
The Citadel is first in the FCS in rushing attempts (721) by a mile and second in yards per game (358.5). Wofford is third in the former (632) and fifth in the latter (295.8). Both are allergic to the forward pass, with a combined total number of attempts (206) that would rank 117th of the 125 FCS teams.
While there was no mystery with Charleston Southern's spot in the 24-team field for being a conference winner, Wofford had to sweat things out a bit. Ultimately a record four SoCon teams made it in, with the Terriers in the field for the first time since 2012.
"It has been a while for us and I think I was the only freshman that went to the playoff game," senior running back Will Gay said. "I definitely thought that we would make the playoffs and seeing that we finally made it I really appreciate it. ... When I saw Samford (picked on the selection show), I started to wonder if that was a good thing or a bad thing. Then we were next on the screen and we are excited."
The Buccaneers had a pretty good tuneup for Wofford in their regular-season finale. Chadwell's team needed to beat Kennesaw State to get into the playoffs and it did so with relative ease, holding the highly efficient Owls option to just 3.7 yards per carry and picking off four passes in a 28-7 win.
In four games against the triple option the past two seasons - two each against Kennesaw and The Citadel - Charleston Southern is 4-0 and has allowed just 3.7 yards per carry.
"I think the tough part's over because this was expected," Chadwell said after his team sealed its spot. "What you do going forward is sort of gravy. We're probably still gonna be underdogs because of coming from this conference as a one-bid league and having the loss.
"(But) when you get in the dance, man, great things can happen."
---