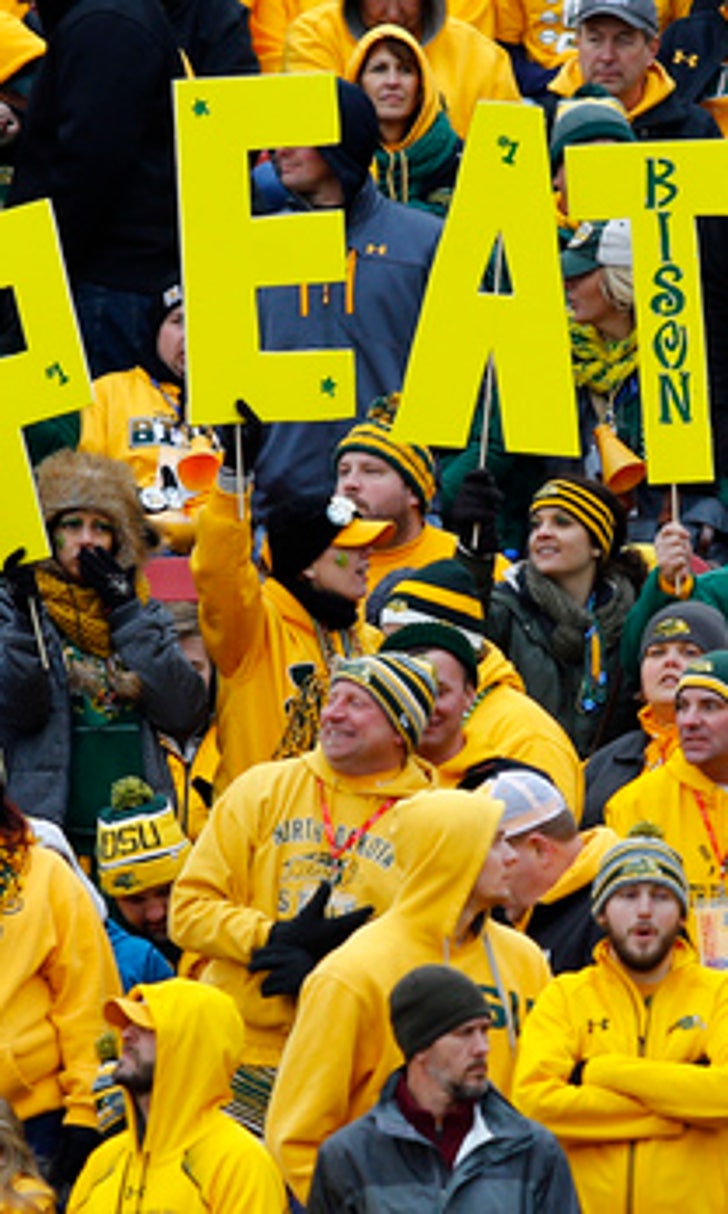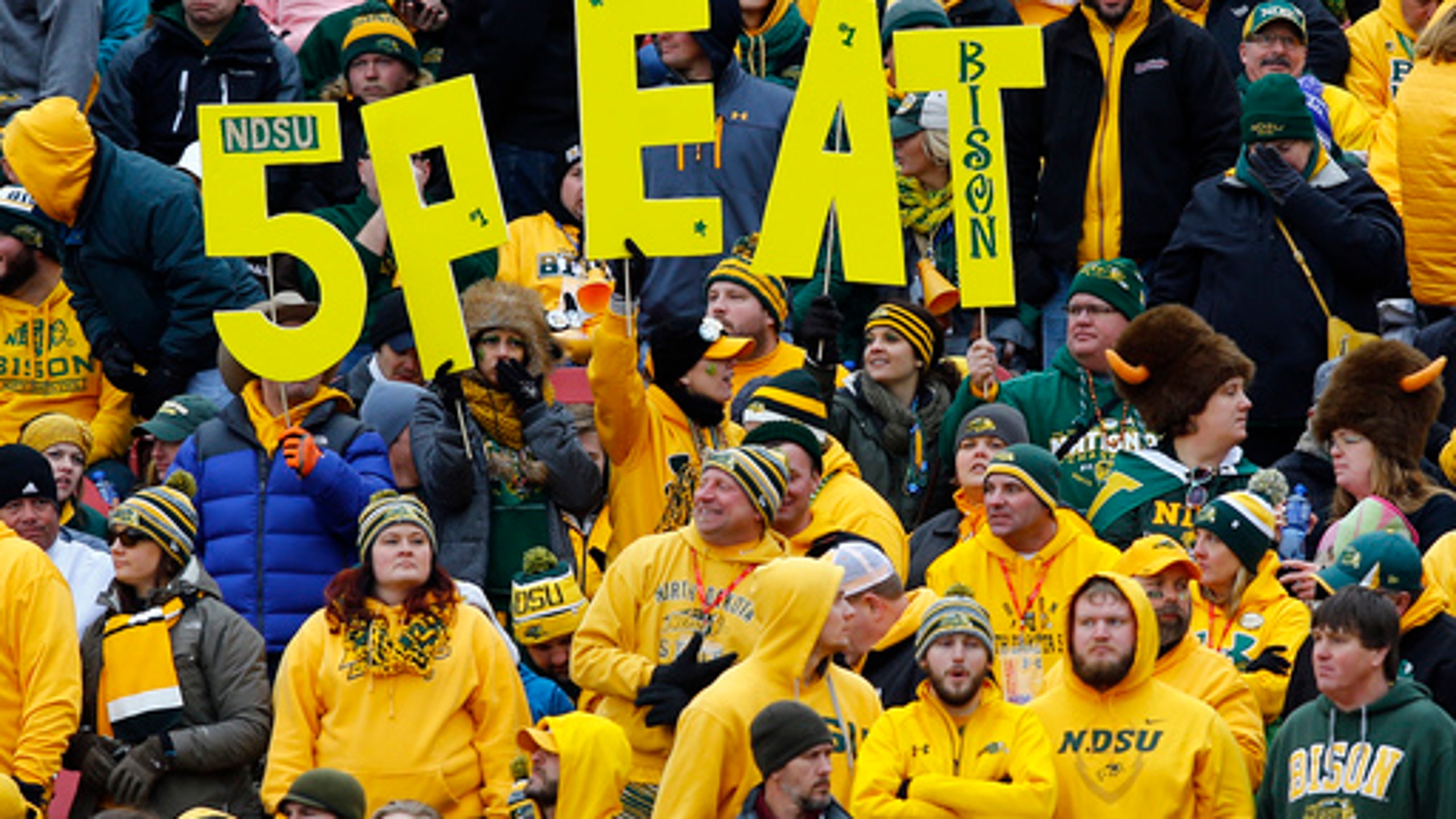 Bison, No. 1 go together ... again
BY foxsports • January 11, 2016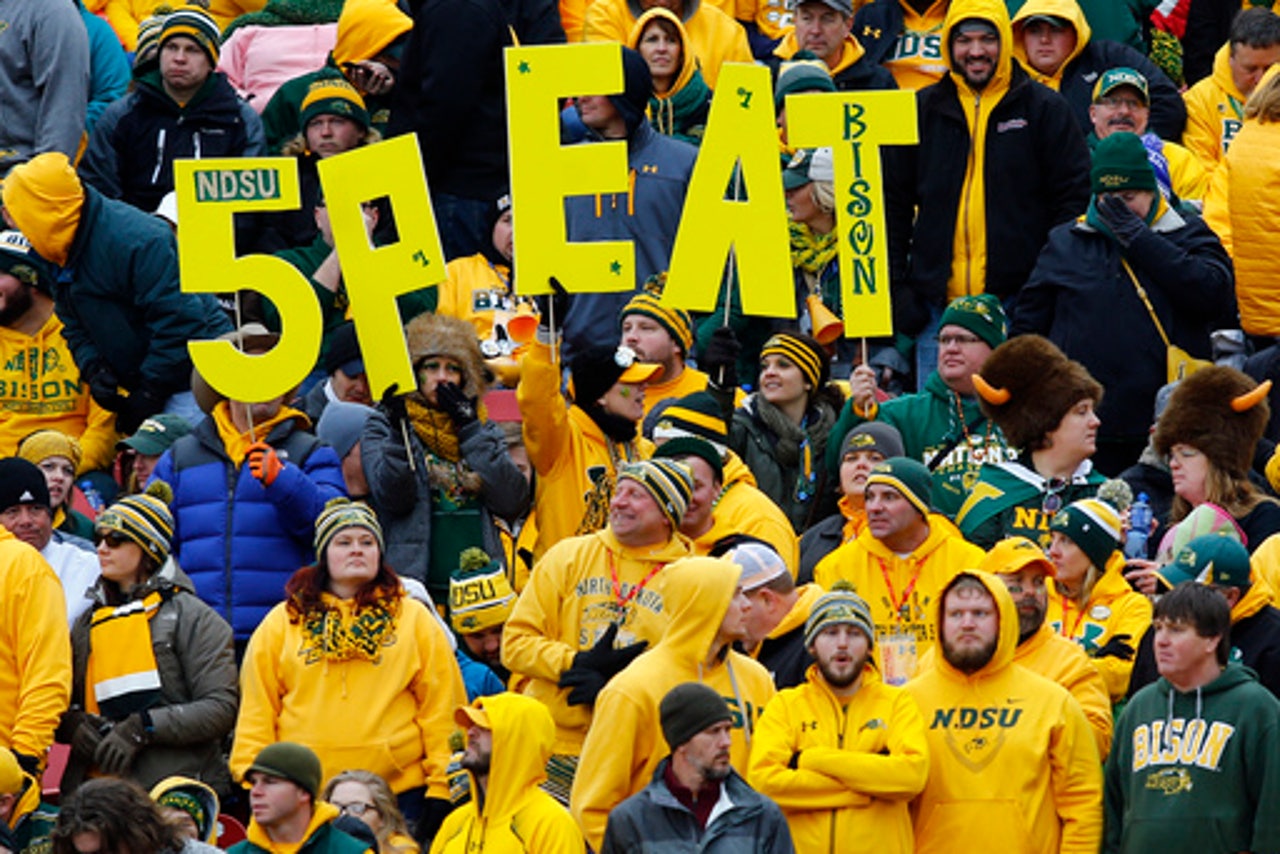 (STATS) - Complacency won't settle in with North Dakota State football any time soon even though the Bison are reveling in their record fifth straight FCS national championship.
They're always hungry for more wins and titles.
Think of the mind-set this way: The NDSU strength and conditioning coaches don't let the players wear championship gear in their athletic weight room.
Of course, the Bison have plenty to feel good about. They're No. 1 yet again, including their unanimous selection to the top of the final 2015 STATS FCS Top 25 on Monday.
NDSU (13-2), which won the final nine games in its "Drive for Five," received 150 first-place votes and 3,750 points, while Jacksonville State (13-2), which had been No. 1 for much of the regular season, finished at No. 2, receiving all but one second-place vote and 3,599 points. The Bison handled the Gamecocks 37-10 in the national championship game last Saturday in Frisco, Texas.
"For us, we're going to attack the process, which is the offseason," NDSU second-year head coach Chris Klieman said, "and get guys better and better and win the day next year and keep winning plays.
"I don't know, it's amazing. It's these guys. It's Coach (Jim) Kramer (head of the strength and conditioning staff) and it's our assistant coaches. It's the culture."
North Dakota State has a 71-5 record since the start of its first national championship campaign in 2011. This season, the Bison beat eight Top 25 teams and won a share of their fifth straight Missouri Valley Football Conference title, leaving no doubt in the national championship game behind quarterback Carson Wentz, the game's Most Outstanding Player, and a defense that suffocated Jacksonville State to a season-low in yards and points.
North Dakota State won't celebrate for too long though, as there's work to do in the offseason. With 14 returning starters, the Bison have plenty of pieces in place to increase their incredible run of national titles. They even return an experienced quarterback, which wasn't supposed to happen, but Easton Stick went 8-0 as a starter (including three playoff wins) while Wentz was sidelined with a broken wrist.
"It's amazing what we've been able to do," Klieman said.
North Dakota State led the way as the Missouri Valley Conference placed five teams in the Top 25 - No. 5 Illinois State, No. 8 Northern Iowa, No. 15 South Dakota State and No. 22 Western Illinois were the others. No other conference had more than three teams in the final poll.
National runner-up Jacksonville State didn't lose to an FCS opponent until the championship game, its first ever. Coach John Grass' squad went 8-0 in the Ohio Valley Conference for the second consecutive season and beat five Top 25 opponents. Although the Gamecocks will lose a number of key seniors, their returnees will include All-America quarterback Eli Jenkins.
"First time, you're talking about a program three years ago that had not won an FCS playoff game, and to be sitting in a national championship game is where our dreams and goals were. And we got here," Grass said. "We just didn't play very well, and we lost the game. So our goal will still be the same, to get back here, and we want to win."
Sam Houston State (11-4) and Richmond (10-4) finished a step short of reaching the title game, falling in the national semifinals. Sam Houston, the Southland Conference power, reached the semis for the fourth time in five seasons and finished at No. 3. Richmond, the CAA Football co-champion, was No. 4.
Illinois State (10-3), which shared the Missouri Valley title for the second consecutive season, was No. 5. The rest of the Top 10 was Big South champion Charleston Southern (10-3); McNeese State (10-1), the Southland champ whose only loss was to rival Sam Houston in the playoffs; Northern Iowa (9-5); Southern Conference co-champ Chattanooga (9-4); and Portland State (9-3).
James Madison (9-3) and William & Mary (9-4), who earned shares of the CAA title, were No. 11 and 12, respectively. They were followed by The Citadel (9-4), a SoCon co-champ; Montana (8-5); South Dakota State (8-4); Coastal Carolina (9-3); Patriot League champ Colgate (9-5); Big Sky champ Southern Utah (8-4); Fordham (9-3); and Ivy League co-champ Harvard (9-1).
Rounding out the Top 25 were Mid-Eastern Athletic Conference co-champ North Carolina A&T (10-2), which won the inaugural Celebration Bowl; Western Illinois (7-6); Ivy co-champ Dartmouth (9-1); Grambling State (9-3); and Eastern Illinois (7-5).
A national panel of sports information and media relations directors, broadcasters, writers and other dignitaries selected the STATS FCS Top 25 throughout the season. In the voting, a first-place vote is worth 25 points, a second-place vote 24 points, all the way down to one point for a 25th-place vote.
---
---