Big Picture, Week 1: How Aggies improved after losing Manziel
August 31, 2014

The biggest revelation from Week 1? Texas A&M, which lost three first-rounders from its offense and was dreadful on D in 2013, might actually be better than the Aggies were with Johnny Football, Mike Evans and Jake Matthews when they went 9-4. On Thursday night, the Aggies, a double-digit underdog, went into Williams-Brice Stadium where South Carolina had won 18 straight and blew the Gamecocks off the field, 52-28.
I was skeptical of how South Carolina, with new cornerbacks and almost an entirely new D-line, would cope with the restocked group of stud wideouts and deeper O-line that A&M is trotting out this season. I also had become a big believer in A&M's young receiving corps after watching them practice for three days in training camp. Blue-chip freshman Speedy Noil is a game-breaker with vice-grip mitts ("He's Santonio Holmes with muscles," says A&M defensive coordinator Mark Snyder, referencing the old Buckeyes star) and Josh Reynolds, a 6-foot-3 former track guy with great ball skills, is a gem of a JC transfer the Aggies unearthed.
My biggest question with A&M was how would sophomore QB Kenny Hill handle a hostile environment?
Well, Hill was nearly flawless last Thursday, carving up the Gamecocks. He went 44 of 60 for an A&M record 511 yards with three TDs and no picks. Even in the rare occasion when Hill did misfire -- like early in the game when he overshot Ricky Seals-Jones on what would've been a long touchdown pass down the left sideline -- he still impressed his coaches. On that play, just the third snap of the game, Hill made an astute determination after sizing up the defense and checked to the proper play but just had a bit too much on the ball. Hill, though, wound up leading A&M to a TD on the drive anyhow.
The Gamecocks tried to throw just about every defensive front and coverage you could draw up against the first-time starter, but nothing slowed down Hill or the Aggies. 
Hill, who narrowly beat out touted freshman Kyle Allen for the starting job, had convinced the A&M staff that his temperament was ideal to run the show, especially opening in such a hostile setting. Hill didn't do everything perfectly. For 99 plays, offensive coordinator and QBs coach Jake Spavital gave him 12 minuses, but that may well be how lofty the expectations are for an A&M QB these days. Looking in the wrong direction for a split second can get you a minus. But the level of just how composed and sharp Hill was Thursday night wowed his QB coach.
The Aggies had just four negative-yardage plays the whole night, and one of those came on the victory formation snap. They also had only one offensive penalty, and that came in the fourth quarter.
"I wanted to throw a lot of different formations at 'em," Spavital told FOX Sports. "He made mature checks. It was pretty impressive. 
"Kenny was awesome. That kid has zero nerves in him. It was kinda creepy (to see how cool he was through it all)."
Credit to the 29-year-old OC, whose coaching stock is set to take off with the exploits this attack figures to have in the post-Johnny Football Era in College Station. It's also ironic that for all of the back-handed compliments that have been tossed around in Manziel's transition to the NFL game as he learns to call protections -- something he wasn't responsible for at A&M -- the Aggies' system is the talk of college football in Week 1 as it has made a seamless transition of its own to a new QB.
Spavital made some tweaks. One of those was incorporating a play he picked up from his buddy Bob Stitt, the head coach at Division II Colorado School of Mines. It's a variation of a tunnel screen and has given the Aggies' attack another press man-beater. Here's how the formation looks: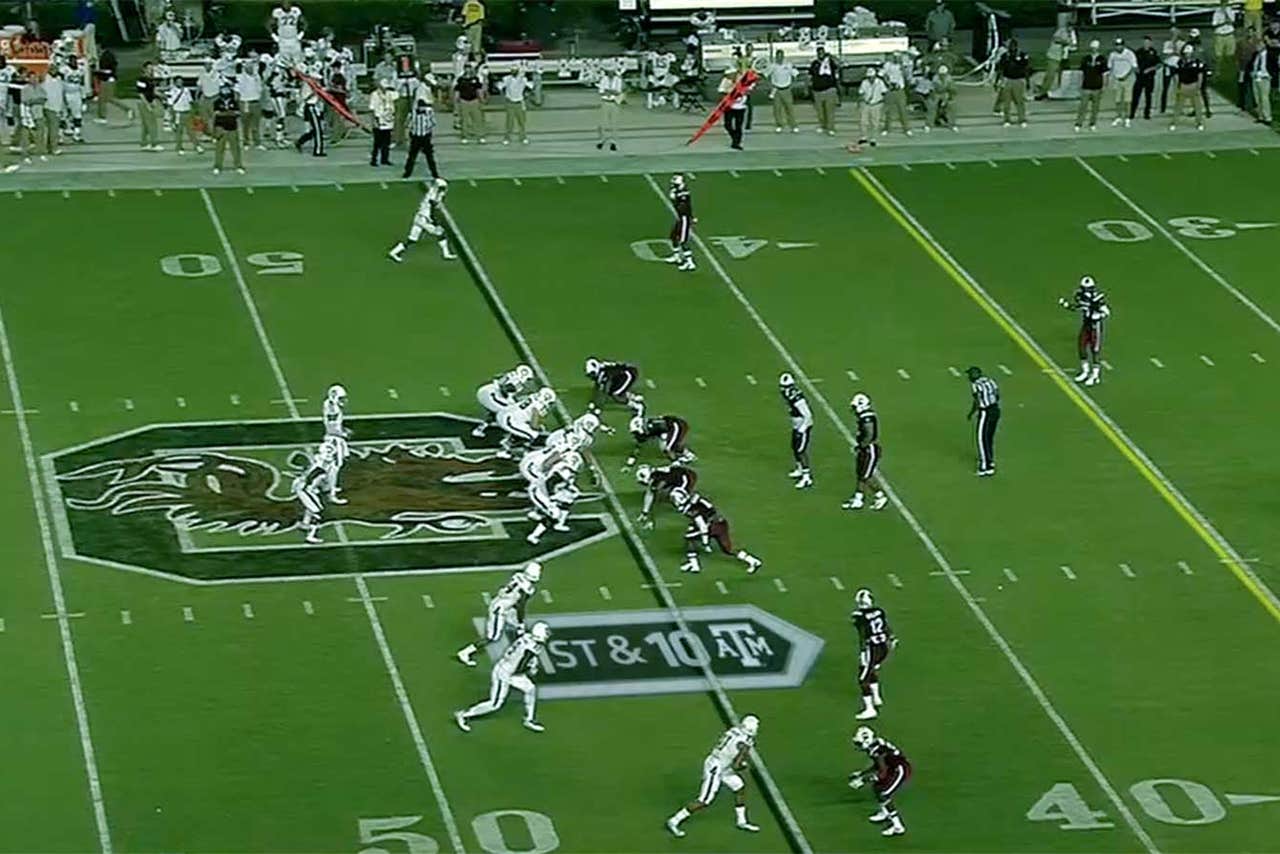 On the play, which Stitt calls "Bongo" and A&M calls "Rub," the O-linemen don't get out to block for the screen off the rub. "We've found that D-linemen are too well-coached and they re-trace so we eliminate the O-line," Stitt, who put in the play in 2013 and visited A&M in the spring, told FOX Sports. 
The Aggies ran it three times Thursday night against the Gamecocks and went 3 for 3 on it for 49 yards, picking up a first down each time to Reynolds. "I think Stitt's a genius," says Spavital, adding that there's a bunch of variations off it that A&M hasn't shown yet. Here's how the play looked in action against South Carolina (Reynolds comes up from the bottom of the screen to catch the ball): 
Just how much of a factor can A&M be in the SEC race this fall? No doubt, the defense is still a major concern. There were two huge coverage busts in the first half and the Gamecocks did put up 433 yards. But keep in mind the most talented players on the A&M D are freshmen and sophomores, starting with true freshman Myles Garrett, the uber-Freak DE, and safety Armani Watts, who will become an eraser for the Aggies before too long.
With a big W over No. 9 South Carolina behind A&M, the schedule sets up very nicely. The Aggies now have a good shot to open 7-0 before visiting Tuscaloosa in mid-October to face a Crimson Tide team that just showed again that it still has headaches with tempo teams. That should give the young D some more time for seasoning. 
As for the pulse of the program, this A&M video probably gives you the quickest example of why the Aggies are now cleaning up in the state of Texas in recruiting. 
And don't think head coach Kevin Sumlin hasn't gotten a kick out of silencing all of the skeptics who thought the Aggies were going to fall apart after Johnny Football left town. 
"What we did (Thursday night) kinda showed we're not a one-trick pony," Sumlin said after the game. "We're not anywhere where we want to be, but we're not going away anytime soon."
The school's traditional Gig 'em is a thumbs up. Coming out of the thumping Sumlin's squad gave the Gamecocks, I think it might be a different digit some A&M folks are now holding up.
WHERE DID MELVIN GO?
Not sure which will cause more double takes: seeing a running back averaging almost 10 yards a carry against LSU or seeing that he has only 15 attempts late in the fourth quarter? Wisconsin RB Melvin Gordon is fantastic, but, like most folks, I assume, I was perplexed when Wisconsin was leading against the Tigers and about the only part of the offense Gordon was involved during the fourth quarter was as a pass protector.
When asked why Gordon didn't get more carries later in the game when he seemed to disappear from the offense, Badgers coach Gary Andersen didn't have much of an answer. "I don't know," he told reporters.
A win over an SEC powerhouse such as LSU could've done wonders for the Big Ten's credibility this season, much less Gordon's own Heisman chances.
ALL EYES ON KIFFIN
Interesting debut for Lane Kiffin as the new Alabama OC. The Tide may have struggled with West Virginia, but it's hard to find too much fault when your offense puts up 538 yards or goes 9 of 16 on third downs while playing a first-time starter at QB. But since it's Kiffin, the TV cameras were pretty much locked in on him for a stunning amount of the broadcast. "He's this year's new Katherine Webb," cracked one of my Twitter followers Saturday. 
Pictures of an often frustrated-looking Nick Saban became a hot topic on social media. Truth is, Saban always looks ticked off during games. Still, given just how much traction these things tend to get, it might not be such a bad idea if Kiffin ends up coaching from the press box, especially now that new starter Blake Sims has been in the middle of some live action running the Tide offense. 
By the way: Sims, who did miss a handful of throws that probably had some Tide fans wincing, actually set the school record for most completions and attempts of any quarterback in a debut game at Alabama, going 24 of 33 for 250 yards, and his mobility does give Bama a different dimension on offense.
Saban was quick to praise his new OC, saying Kiffin did a "fantastic" job. "You know, the guy is a really good coach now, all right," Saban told the media after the game. "Y'all need to fess up to that."
CHARLIE STRONG'S DEBUT
I watched a bunch of Charlie Strong's debut at Texas against a decent North Texas team that won nine games last season. The Horns were running to the ball and looked physical. They completely shut down UNT in the first half, holding the Mean Green to two first downs, and one of those came via penalty.
I'm very curious to see how UT plays the next two weeks against a good BYU team and a very talented bunch from UCLA.
PROPS TO OK STATE AND WVU
Speaking of the Big 12, I doubt a conference will have two more impressive losses than the Big 12 had Saturday, with Oklahoma State giving No. 1 FSU all it could handle and West Virginia, 4-8 last season, doing the same to No. 2 Alabama. Keep in mind the Cowboys had only four starters back on D, but they swarmed the Noles and made a touted O-line look very shaky. Props to DC Glenn Spencer. 
When the fastest player on the field in an FSU game isn't a Seminole, that's noteworthy, and Oklahoma State newcomer Tyreek Hill showed Saturday night why he's going to be fun to watch in 2014.
As for the Mountaineers, they were giving Bama fits with all of their motion and up-tempo action. They also showed they have some explosive athletes, too. Unfortunately for Dana Holgorsen, his team had a few costly drops and one gut-punch 15-yard penalty after a third down stop.
That said, in a year where conference politicking will be taken to new heights, the lone league without a league title game can tout that two teams that were huge underdogs showed in Week 1 how much quality depth the Big 12 has.
THERE'S MORE WHERE GURLEY CAME FROM
Todd Gurley put on another awesome display on a big stage, gashing a very athletic Clemson D. Hard to believe as special as Gurley is that his 198 rushing yards were a career high.
Just a hunch, but if he stays healthy in 2014, he's going to eclipse the 200-yard mark a few times in spite of how many other talented RBs Georgia has. Later in the day Saturday, my colleagues and I sized up Gurley's Heisman chances.
AUBURN'S OTHER STUD QB
That old adage about how if you have two quarterbacks, you have none?
Yeah, not the case at Auburn this year. Big Jeremy Johnson was very impressive against Arkansas. He started 6 for 6 for 124 yards, connecting with six different receivers.
NAVY'S NO EASY OUT
Once again, the Navy option reminded everyone why it can be so potent, as the Midshipmen gave Ohio State all it could handle for three-and-a-half quarters. Navy rolled up 370 yards on the ground, averaging 5.9 yards a carry against a team with a stellar D-line.
From our green room at Fox, it was interesting to hear colleague Dave Wannstedt detail the nuances of defending the option. Wannstedt was the DC at Miami when he had a lot of success against different versions of the option, whether it was Nebraska or Oklahoma, and also when he was the head coach at Pitt, where several times the Panthers bottled up the Navy attack. He and former Colorado QB Joel Klatt had a terrific breakdown of coping with the option Saturday that is definitely worth watching: 
TAKE A BOW, COKER
Hats off to Larry Coker and his UTSA staff for an impressive win Friday night on the road over what is a talented Houston squad. The Roadrunners held the Cougars, a team that hadn't been shut out in almost 17 years, without a point till almost the final minute of the game.
When I visited UTSA two weeks ago, I had no idea they'd be this good. The team has, by FBS standards, very, very modest facilities. Their team locker room is a transformed old rec basketball gym. But they have 37 seniors and 21 starters back from a team that finished last season on a five-game winning stream with a couple of wins over bowl teams. Coker, now 80-30 all-time as a head coach, doesn't get enough credit for what he's done there starting from scratch. 
He told me he loves how close this team is and how hard it plays. Against UH, the Roadrunners' D-line was dominant. They held the Cougars to 208 yards of offense and forced them into six turnovers, which was actually one-third of the total Houston had for all 13 games last season. This week, UTSA gets an even bigger test when Rich Rod and an explosive Arizona team visit (more on Zona later in the column).
CONCERN FOR HUNDLEY
Good news for UCLA: The defense, with its stout D-line and fast LBs, held Virginia to zero TDs on three trips to the red zone.
WINSTON'S 2014 DEBUT
Former NFL scout Daniel Jeremiah had some interesting takeaways from Saturday including his impressions of FSU star Jameis Winston, who had said this summer he'd worked hard on tightening up his elongated delivery.
LIFE AFTER PETRINO
Looks like Western Kentucky is going to handle life after Bobby Petrino a lot better than Arkansas did. WKU, under new coach Jeff Brohm, blasted what many of us expected would be a good Bowling Green team, 59-31, by putting up 700 yards of offense.
WOOF, FIU
Going to be another rough year for Ron Turner at FIU. It lost to FCS Bethune-Cookman 14-12 at home and went just 1 of 16 on third downs.
No wonder why FIU didn't want to credential the local media.
STAT OF THE WEEK, TAKE 1
USC ran 64 plays in the first half as new coach Steve Sarkisian kept his foot on the gas and helped blow past what was a bizarre week around the Trojans' program. Sarkisian souped up Washington's tempo last year and it made a difference, but the change around USC is even more eye-catching.
Last year, the Trojans had nine games where they ran 65 plays or fewer for the entire game, and five times they didn't run as many plays for four quarters as they did in the first half alone against Fresno State en route to 427 yards of O in the half and 701 yards for the game.
STAT OF THE DAY, TAKE 2
Oregon State QB Sean Mannion has an NFL arm, but the Beavers were not impressive in their 2014 debut against Portland State. Worst reflection of that: They scored just one TD in nine trips inside the red zone. They also had 13 penalties for 119 yards.
STAT OF THE DAY, TAKE 3
Against UNLV, Arizona had three plays of 60 yards or longer. That's as many 60-plus-yard plays as the Cats had in all of 2013. In truth, part of that was the Rebels' decision to try to bring a lot of pressure and playing a lot of Cover 0. "Somebody's band was going to be playing," Rich Rodriguez joked. "Either theirs or ours."
Rodriguez's new QB, redshirt freshman Anu Solomon, had a productive night, throwing for 425 yards. "He could've probably had 800 yards passing if he hit all the open guys," Rodriguez told FOX Sports. Normally, according to the coach, Solomon's pretty accurate, but with this being his first college start, the kid from Vegas was late in recognizing some things and didn't always have his eyes in the right spots.
Still, the 6-2, 205-pounder put up gaudy numbers for his first time out. He also ran for 50 yards, although don't expect him to be another Pat White or Denard Robinson. Solomon is probably more similar to Matt Scott in terms of mobility, and he doesn't have quite the quick release as the former Zona QB, but Rodriguez likes how composed the kid is. "He's pretty unflappable, and when he's made a mistake, he's quick to get it corrected," he said.
STAT OF THE DAY, TAKE 4
This was courtesy of the USA Today's outstanding Paul Myerberg: North Dakota State has five wins against FBS competition since 2010. Kansas has six.
Credit to the Bison, who had to replace a head coach (Craig Bohl) and a star QB (Brock Jensen) and still went to Iowa State and blasted the Cyclones.
Bruce Feldman is a senior college football reporter and columnist for FOXSports.com and FOX Sports 1. Follow him on Twitter @BruceFeldmanCFB.
---