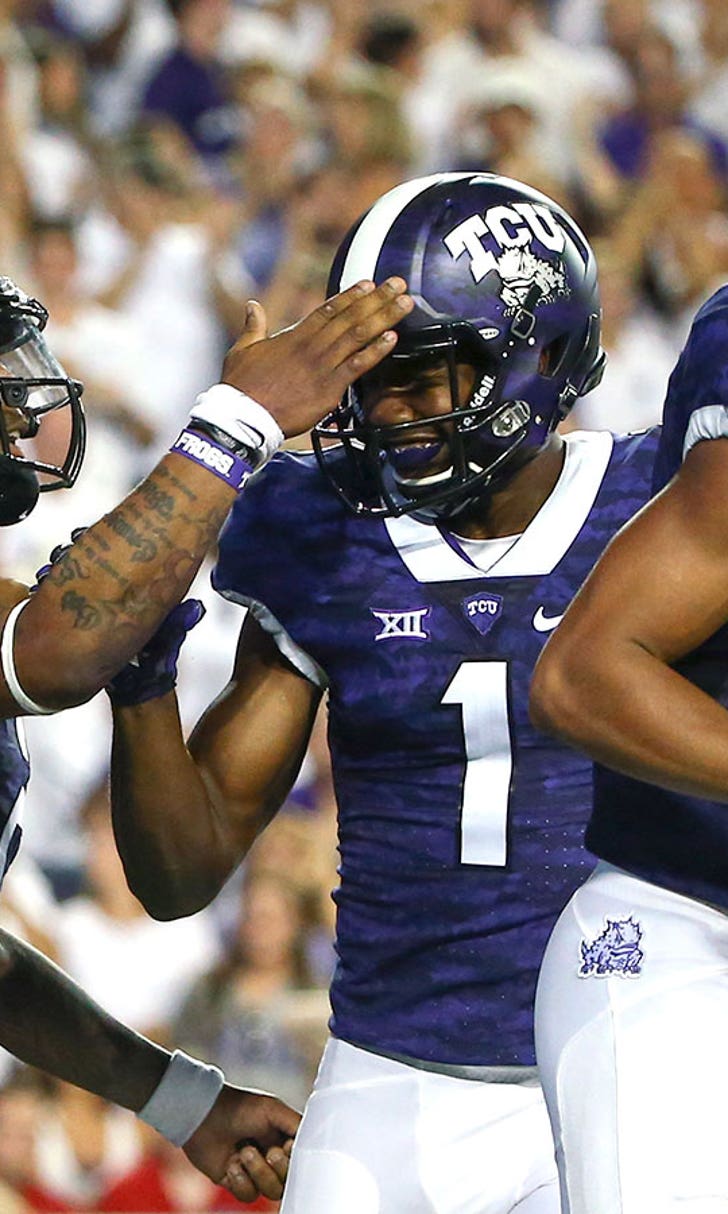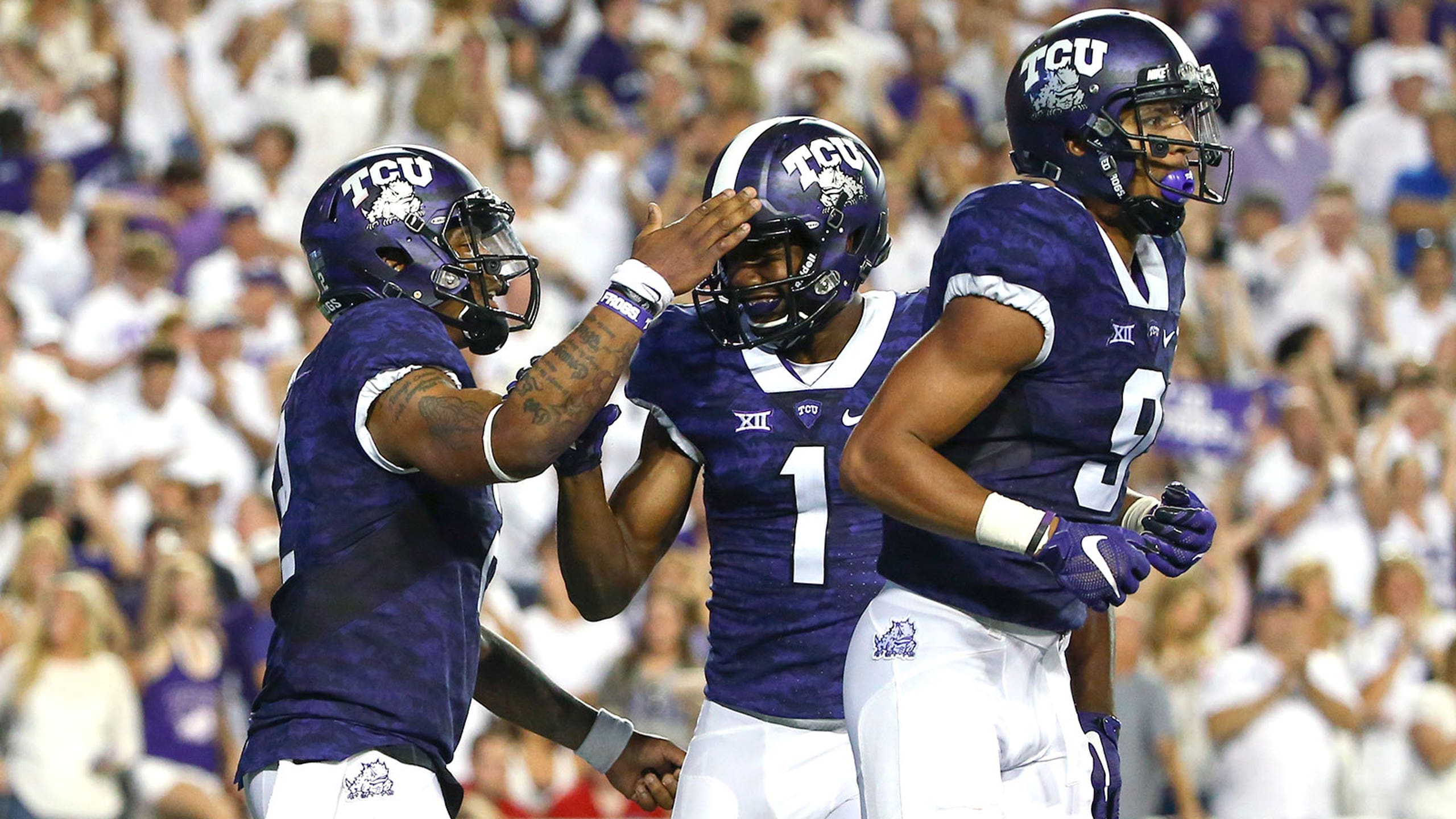 Big 12 notebook: Despite being banged up, TCU duo determines Big 12 season
BY foxsports • November 17, 2015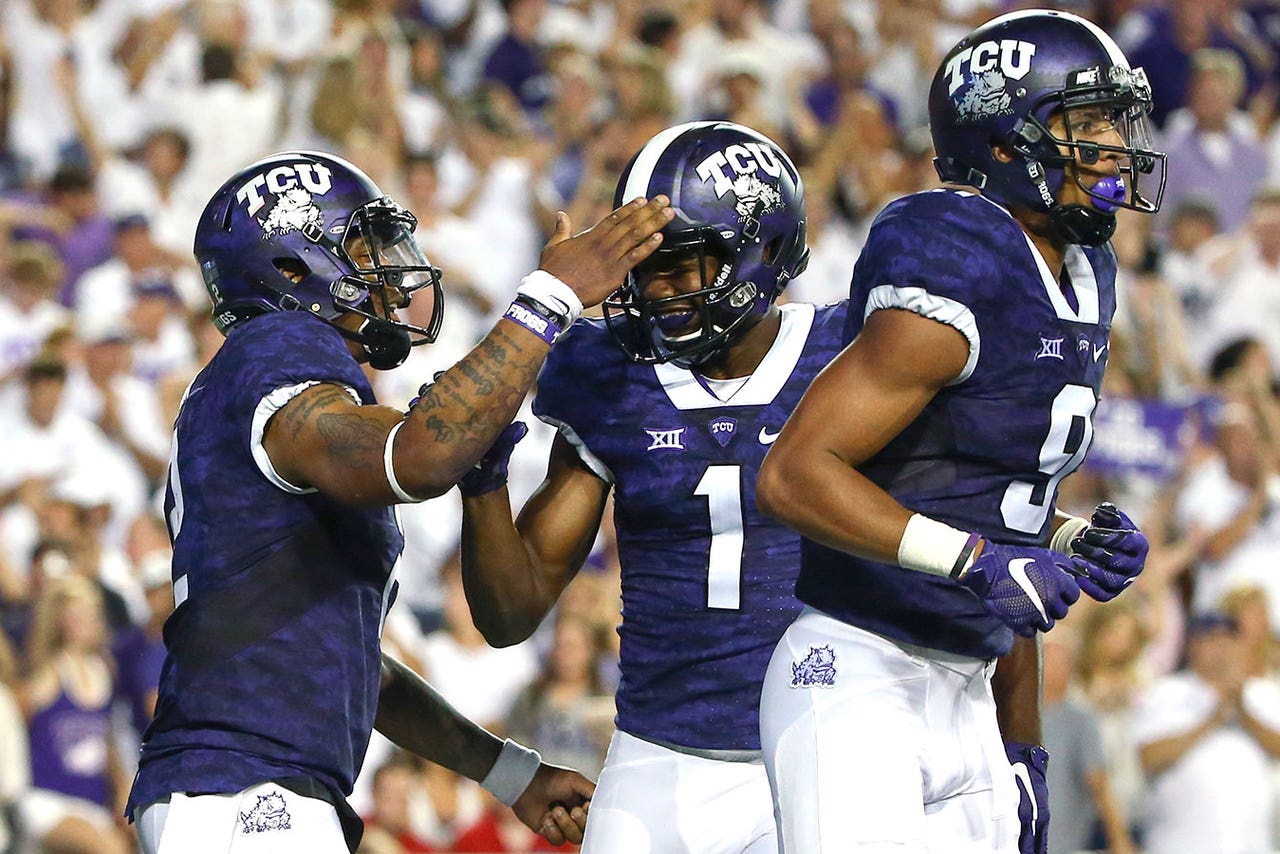 TCU came into the season as the No. 2 team in the nation according to the polls. The Horned Frogs haven't lived up to that billing for myriad reasons – injuries to the defense, a lack of experience on that side ball to begin with and Trevone Boykin's shaky outing against Oklahoma State are at the top of the list.
They still only have one loss, but while TCU's playoff hopes are technically still alive, the Horned Frogs are a long shot to make the College Football Playoff. With that said, that doesn't mean TCU won't have a say in whether the Big 12 sends a team to the playoff under the new rules for the first time.
TCU takes on Oklahoma this week, which has looked dominant outside of an inexplicable hiccup against Texas in the Red River Rivalry. The Sooners are fresh off a 10-point win against Baylor on the road, and it's looking more and more plausible that they're the 2015 version of 2014 Ohio State.
Unless TCU has something to say about that on Saturday night.
When Boykin and stud wide receiver Josh Doctson are healthy, the Frogs are as tough as anyone in the country to stop. But there are major question marks regarding both players' health going into this weekend's clash.
Boykin left TCU's game against Kansas with an ankle injury, and Doctson exited early against Oklahoma State with a wrist ailment. Head coach Gary Patterson says his two best players are uncertain to play in the Oklahoma game.
"I don't know yet," Patterson said of his dynamic duo's status for Oklahoma. "Probably him and Doctson are both questionable. I'll know more tomorrow."
Last year, the Sooner defense had no answer for TCU's offensive attack. In a tightly contested bout, the Horned Frogs hung 37 on Bob Stoops' squad in an early October win.
Oklahoma looks as good as anyone in the Big 12, and if either Boykin or Doctson is sidelined, you'd have to like its chances at home. But if there were a time to deliver a grand performance on a national stage, it's hard to fathom a better one than Saturday for TCU's stud tandem.
Meanwhile, in Stillwater….
Oklahoma State has a crucial game itself this Saturday night. The Cowboys take on No. 8 Baylor, which proved to be no match for Baker Mayfield and company in Week 11. Going into the season, folks might have predicted Oklahoma and Oklahoma State would have the opportunity to spoil TCU and Baylor's playoff hopes. Instead, it looks like the tables are flipped.
Despite being unbeaten, it still seems as though Oklahoma State might not get as much national love as its in-state rival. Or a team like Notre Dame, for that matter, who was ranked ahead of the Cowboys in the latest College Football Playoff rankings with one loss. The same goes for LSU.
Oklahoma State head coach Mike Gundy isn't concerned with the Big 12's perception. In fact, he thinks the general public neglects key games that prove how formidable the conference truly is.
Case in point: Texas Tech manhandled Arkansas earlier this season.
"I know that Texas Tech went over to Arkansas and had their way," Gundy said. Since then, nobody has talked about that. And Arkansas has fared pretty well in that league, right?
"There's not been many comparisons, but that doesn't mean any team's better than the other," he continued. "I just know that Tech basically had their way and other teams haven't had their way with them. Even on their home field."
Gundy is displaying an aura of confidence that, on the surface, is refreshing compared to how some of his Big 12 coaching colleagues pine to the national media for playoff positioning.
Despite being nicked up, Jarrett Stidham will start against Oklahoma State
Baylor's freshman quarterback was noticeably shaken up in the Bears' loss to the Sooners with a back injury. "Stid the kid" played through the pain, and after MRI results turned up negative, Stidham will do the same Saturday in Stillwater.
"We're just dealing with muscles and bruising, which equates to soreness and pain," Art Briles said. "No structural damage. That's the encouraging part. That's a good sign."
Stidham completed 16 of his 27 passes against Oklahoma, but threw two  interceptions.
Quick hits: Dana Holgorsen went crowd surfing after the Mountaineers' win over Texas, which is in danger of missing bowl season…. Kansas was projected to lose by more than 40 points by oddsmakers, but it lost to TCU by six points in Week 11. It was the closest the Jayhawks have come to beating a Big 12 opponent. Up next for the Jayhawks is West Virginia…. Texas Tech running back DeAndre Washington led all Division I rushers with 248 yards against Kansas State, his highest output of the season. The Red Raiders are bowl eligible.
---