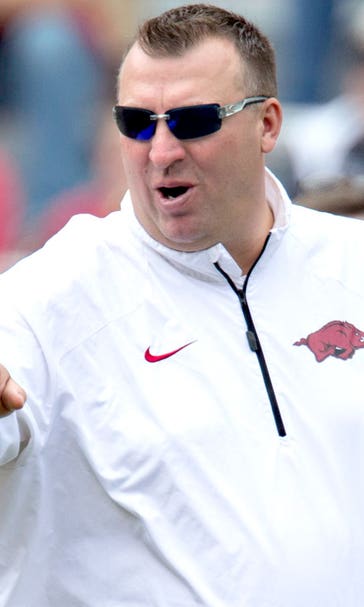 Bielema flew nearly 20,000 miles recruiting the past two months
BY foxsports • February 2, 2016
Arkansas head coach Bret Bielema has been racking up some serious mileage over the last several weeks, helping to build relationships with prospects and their families in an effort toward the Razorbacks latest recruiting class. Just how many miles has the head Hog traveled? Nearly 20,000. 
According to #Arkansas, Bret Bielema has logged an incredible 19,714 miles of air travel in the past TWO months during recruiting.

— Bruce Feldman (@BruceFeldmanCFB) February 2, 2016
Arkansas released the 19,714-mile number via statement and claimed the number to be around 3,000 miles shy of what it would take to make a single journey around the world. For those visual fans out there, here's a map of Bielema's air travels during that time: 
The news of the enormous travel schedule coincides with the release of the latest "Being Bret Bielema" trailer. The new trailer gives a glimpse of what it is like to be around Bielema during the crazy season of college football recruiting. 
Will Bielema's efforts pay off? Arkansas fans wouldn't officially know until the faxes start rolling in on National Signing Day, but there's no way anyone can argue the Razorback coach isn't doing all that he can to bring the best prospects to Fayetteville to play in the SEC. 
---
---