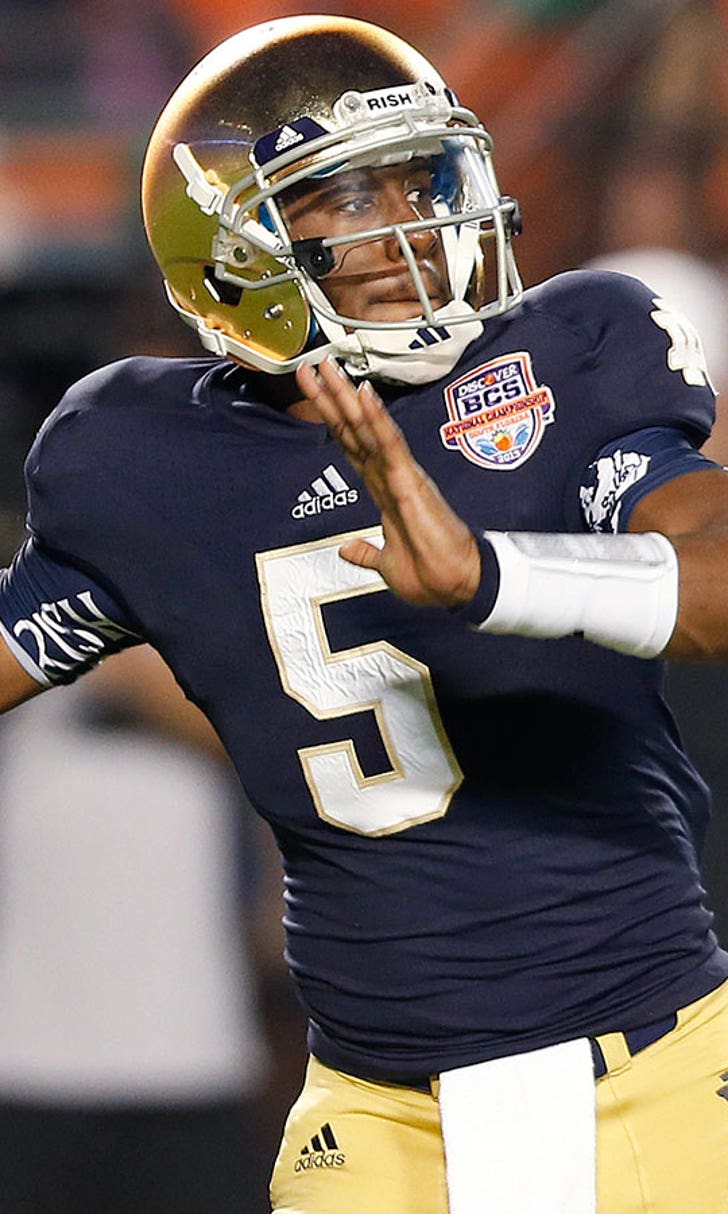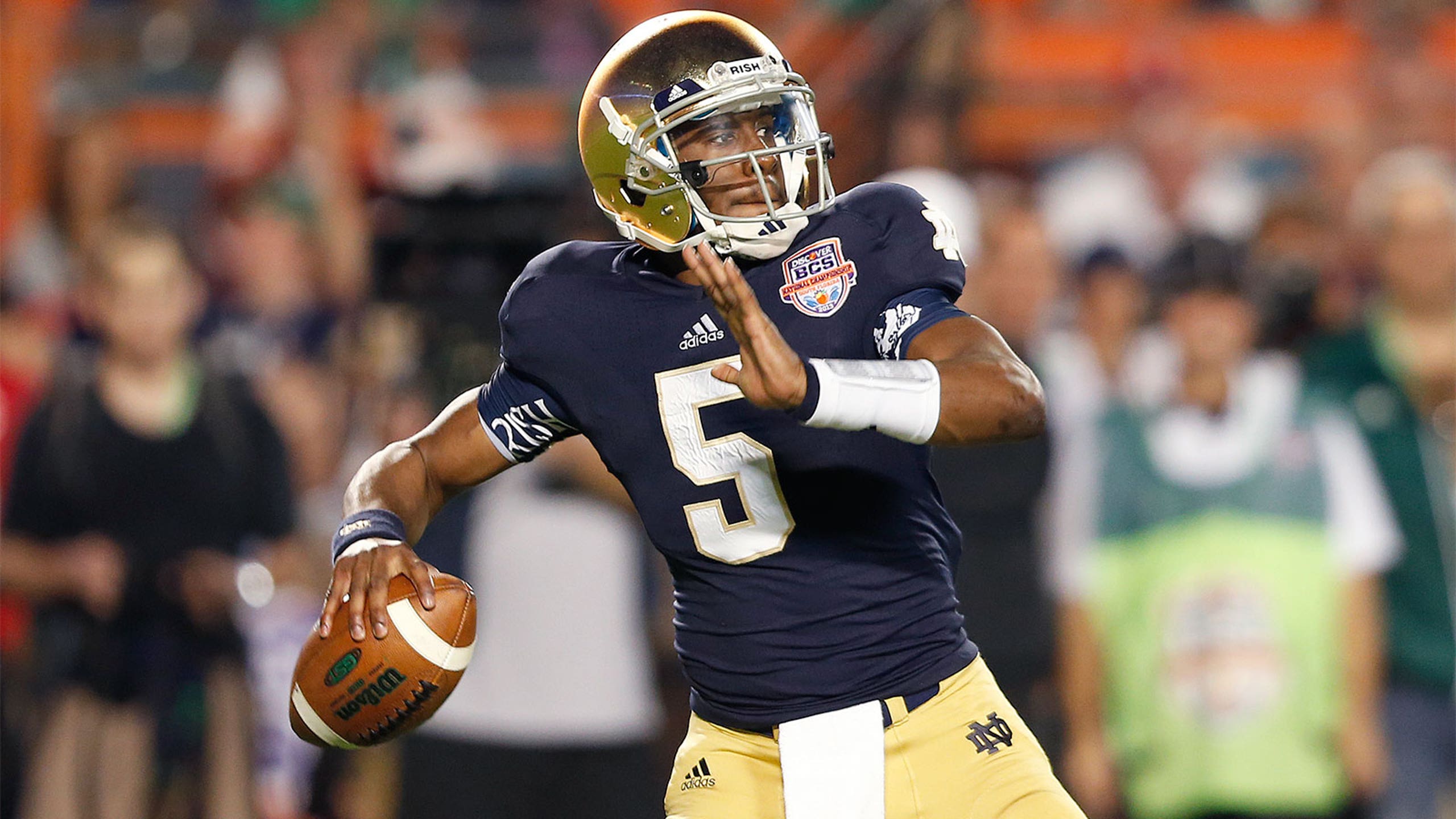 Back at Notre Dame, Everett Golson burns to bury Alabama blowout
BY Stewart Mandel • August 14, 2014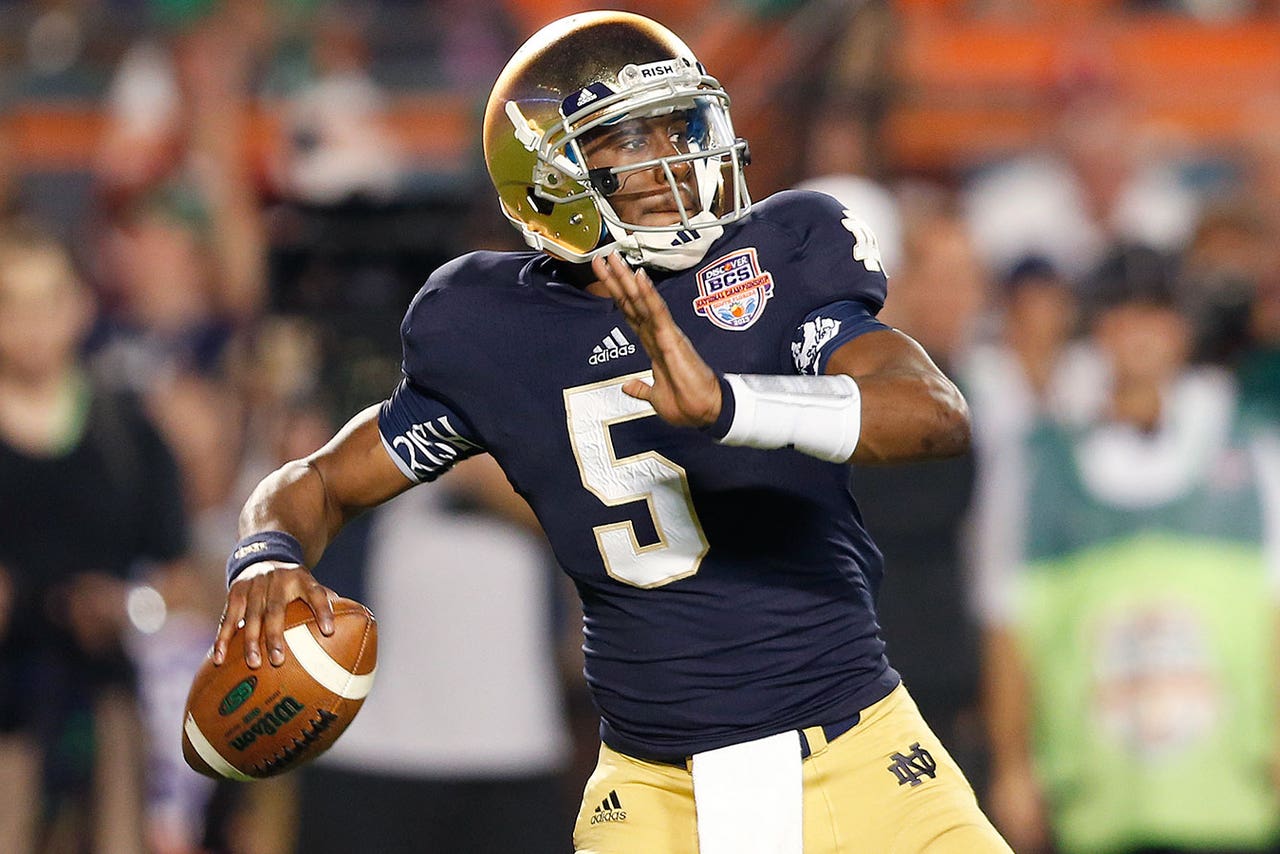 SOUTH BEND, Ind. -- It's been nearly 20 months since Everett Golson last played in a college football game. In the time since then, Golson got caught cheating on a test; got expelled from Notre Dame for a semester; moved across the country for two months; watched on TV as his former teammates struggled without him; and finally, came back to South Bend to have to win back the Irish starting job all over again.
By now, it might seem like Alabama 42, Notre Dame 14 took place in some distant time period. For Golson, the memory is fresh in his mind.
"I didn't necessarily like the way I went out," said the Irish's junior quarterback. "Everyone said, oh, they had a 12-0 season, but I still refer back to us losing to Alabama. It's definitely a chip on my shoulder. It adds a little fire to the flame being that the last time I was on the field I was getting blown out."
His year of academic exile behind him, Golson -- then a redshirt freshman, now a fourth-year junior -- is back at the helm of Notre Dame's offense. Kelly officially named him the starter Wednesday, ending a two-man race with freshman Malik Zaire.  The "humiliation," as Golson describes it, from his much-publicized May 2013 cheating incident, took its time to heal, but now he's eager to make the most of his second chance.
And to prove that he and the Irish can in fact compete with the best teams in the country -- like 2014 opponents Stanford, Arizona State and defending national champion Florida State.
"A 12-0 season is cool," he said, "but you're only as good as your last."
When Golson takes the field Aug. 30 against Rice, he'll likely do so as a far more confident and polished quarterback than the raw, often handcuffed first-year starter who completed just 58.8 percent of his passes for 2,405 yards and 12 touchdowns two seasons ago. Kelly, known for producing prolific offenses at Central Michigan and Cincinnati, pegged the 6-foot, 200-pound Myrtle Beach, S.C., native as his quarterback of the future when he signed him in the 2011 recruiting class. Following a redshirt season, a growing-pains season and a season lost to suspension, the future may finally be here.
"I really like where [Golson] is," Kelly said in an interview last week, "and he's so much further along than he was a couple years ago."
Kelly raised a mini-stir at the start of training camp when he told reporters that Golson did not lead the Irish to that BCS championship game but rather "rode the bus" there. Golson, for his part, didn't mind. In fact, he agreed.
"In 2012, obviously the defense was the strength of our team," he said. "We played more conservative to not mess it up too much, let the defense win the game for us. Now, it's definitely more of an aggressive mindset.
"Coach Kelly has confidence in me, to allow so much on my plate now to where we can spread it out and attack different things. We can sit down and watch film and have an actual back-and-forth dialogue, where back in 2012 it was more him telling me what to do."
Golson watched from private quarterbacks coach George Whitfield's couch last fall as his teammates struggled to a 9-4 season. Veteran Tommy Rees, who relieved Golson on several occasions the year before and led the team to victories, was too inconsistent. He averaged a decent 7.9 yards per attempt but completed just 54.6 percent of his passes and tossed 13 interceptions. While the Irish allowed just eight sacks on the year, Rees' lack of mobility clearly limited the offense.
The more athletic Golson, a former state champion point guard who can extend plays by scrambling, holds the key to what Kelly says is "without question" the most explosive offense of his five-year tenure.
"This is the first time really since I've been at Notre Dame where we offensively can run aggressively and play aggressively and feel like we can dictate a little bit more the terms offensively instead of try to manage the game," said the coach, who will take over play-calling duties this fall. "That will be fun for me."
Much has changed in South Bend since Golson last suited up for the Irish. He'll likely be handing off frequently to two dynamic tailbacks, sophomore Tarean Folston and redshirt freshman Greg Bryant, who hadn't yet arrived in 2012. Ditto likely starting wideout Corey Robinson, who joins veteran DaVaris Daniels and much-improved Chris Brown -- who as a freshman caught a 50-yard Golson pass against Oklahoma -- in a deep receiving corps.
But Golson also has a new position coach, Matt LaFleur, who arrived in January after four seasons with the Washington Redskins. LaFleur, who was a former GA under Kelly at Central Michigan, admits he did not see the Irish play much during their 2012 BCS run. He was busy at the time coaching a certain NFL rookie, one Robert Griffin III. So his first impressions of Golson weren't formed until spring practice earlier this year.
"It doesn't take a genius to figure out that first of all, he's got a very live arm. The ball really jumps out of his hands," said LaFleur. "From an athletic standpoint, he's a dynamic athlete. My initial observation was, we've got a really talented player on our hands."
LaFleur, who's worked with Golson on his footwork and the timing of his drops, likes to show his quarterbacks cut-ups of NFL standouts. He likens Golson's skill set to that of Saints star Drew Brees.
"Drew is one of the best in terms of manipulating the pocket, but he's got sneaky athleticism you tend to overlook," said LaFleur. "[Golson]'s got incredible feet and athleticism, it's just trying to harness that athleticism into the quarterback position. You've almost got to try to slow him down, because he is so quick and so twitchy."
After the Redskins fired coach Mike Shanahan and his staff last winter, LaFleur, a native of Mount Pleasant, Michigan, said reuniting with Kelly in South Bend was an easy decision. He grew up watching the great Lou Holtz Notre Dame teams, including the 1988 national title team.
The Irish came close to returning to that perch two years ago but found out they weren't ready for primetime just yet. And last year ended in the Pinstripe Bowl.
To get in the hunt for a College Football Playoff berth — which Kelly says the Irish should "absolutely" contend for regularly — they'll need their quarterback to make a different set of headlines this season.
"I think he relishes the opportunity to have a second [chance] here at Notre Dame," said Kelly. "He doesn't want to be defined by [the cheating incident]. He wants to be able to say this story is not complete. He's going to get a chance to really finish the book."
Notes from South Bend
* For the first time in several years, Notre Dame has more questions on defense than offense after losing six starters, most notably standout defensive linemen Louis Nix and Stephon Tuitt. It appears the Irish will lean on a couple of newcomers. Florida transfer Cody Riggs has shined since his arrival earlier this year and will likely start at cornerback opposite veteran KeiVarae Russell. Meanwhile, Kelly said Wednesday that true freshman Andrew Trumbetti will start at weakside defensive end.
"I Sometimes forget he's a freshman," Kelly said of Trumbetti. "He's almost separated himself from this freshman class."
* Kelly has generally gone running back by committee over the years and that appears to be the plan again with Folston, Bryant and Cam McDaniel. However, it seems only a matter of time before Bryant, a five-star prospect in the class of 2013, becomes the guy. The 5-10, 205-pound slasher boasts an unmistakable burst the others don't, and that's frankly what Notre Dame's been missing at that position for years.
* Replacing first-round pick Zack Martin at left tackle is no small chore. That job will fall to third-year sophomore Ronnie Stanley, who started 13 games at right tackle last season. Sophomore Steve Elmer, who played much of last season at guard, takes over Stanley's old spot. "He has all the tools but he's playing like he's a guard at tackle right now," Kelly said of Elmer. Notre Dame should be deeper across the line but may struggle to find the right lineup combination early.
* Notre Dame will once again lead the country this year in players with celebrity fathers. The roster includes Robinson (son of David), safety Austin Collinsworth (son of Cris), receiver Torii Hunter Jr. (son of the MLB star) and, of course, walk-on cornerback Jesse Bongiovi (son of Jon Bon Jovi).
* The Irish certainly eat well. Their training table looked more like a Vegas buffet on the day I visited with choice of a rather large grilled steak, chicken or made-to-order pasta with shrimp.
Stewart Mandel is a senior college sports columnist for FOXSports.com. Before joining FOX Sports, he covered college football and basketball for 15 years at Sports Illustrated. His new book, "The Thinking Fan's Guide to the College Football Playoff," is now available on Amazon. You can follow him on Twitter @slmandel. Send emails and Mailbag questions to Stewart.Mandel@fox.com.
---