Alabama opens spring seeking clearer picture for backfield
Published
Mar. 11, 2016 8:37 p.m. ET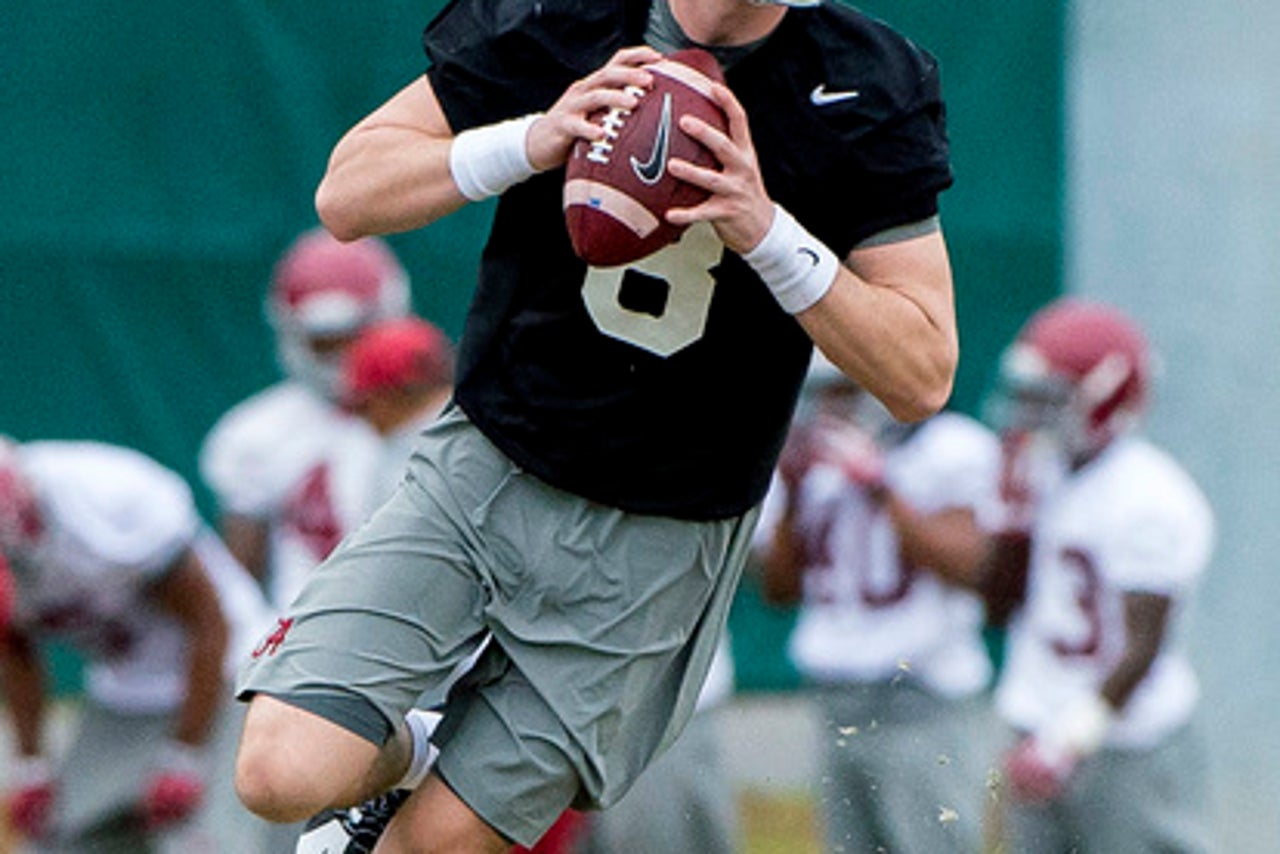 TUSCALOOSA, Ala. (AP) Alabama is once again in search of a new quarterback. This time, the Crimson Tide also lacks an established running back.
The defending national champion Crimson Tide opened spring practice on Friday hoping to get a clearer picture of how the backfield shapes up with scant experience at both positions.
Of the four scholarship quarterbacks, only Cooper Bateman has taken a collegiate snap. He passed for 291 yards and a touchdown with two interceptions last season while starting the Tide's only loss against Mississippi.
Next up for Alabama is spring break, and it practices again on March 21.
The most highly touted of the quarterback group is redshirt freshman Blake Barnett.
''We've got three young quarterbacks that all are going to have an opportunity this spring to compete at a position that maturity is a very important factor,'' coach Nick Saban said. ''Blake had some ups and downs last year with some injuries and illness and things that probably held him back a little bit.
''We're all kind of anxious to see how he matures and how he does this spring as well.''
Sophomore David Cornwell and freshman Jalen Hurts, a mid-year enrollee, also are competing to replace Jake Coker. Alabama has had one-year starters the past two seasons in Coker and Blake Sims, making the playoffs both times.
Both battles weren't officially settled until early in the season. Whoever emerges from this competition has a chance to keep the job longer.
Another big difference is there won't be a proven tailback like T.J. Yeldon or Heisman Trophy winner Derrick Henry to help carry the load.
Bo Scarbrough and Damien Harris are both highly touted recruits who got few opportunities as freshmen behind Henry and backup Kenyan Drake, both now awaiting the NFL Draft.
Harris ran for 157 yards and Scarbrough gained 104 last season.
Also gone from the championship run are stars like linebacker Reggie Ragland, center Ryan Kelly and defensive linemen A'Shawn Robinson and Jarran Reed. Saban said finding younger players to step in and fill those voids annually is ''what makes it fun.''
Part of that is crafting the leadership and approach that will keep complacency at bay in a program that is expected to contend in the Southeastern Conference and beyond every season.
''I think we want everybody that has a get-it-done type of attitude,'' Saban said. ''I think that everybody not only has to have a get-it-done type of attitude but they also have to take ownership for people who aren't getting it done because they're unable to do things to the standard that we want to do it.
''I do think this is a work in progress and I do think that players have to accept roles.''
Injuries will limit some key players in the spring. That group includes defensive end Jonathan Allen and left tackle Cam Robinson, who both had offseason shoulder surgery. Saban said safety Eddie Jackson also is nursing a leg injury.
''Those guys will have a difficult time to probably have a chance to participate at all in the spring,'' Saban said.
Meanwhile, cornerback Tony Brown practiced after being suspended for the final two games. He is not out of the woods yet for disciplinary action.
''He is facing some suspensions,'' Saban said. ''When I get the final data on that I'll definitely let you know.''
TALKING TIDE: Linebacker Keith Holcombe, who is also playing baseball this spring, was practicing with the football team. Holcombe was set to lead off and start in left field against Houston shortly after practice. Saban, meanwhile, walked across the street to throw out the first pitch before the game. ... Several players are sporting new numbers. Barnett switched from No. 6 to 8. Receiver Robert Foster is now wearing No. 1 instead of 8. Receiver Cam Sims (formerly No. 7) wore Drake's old number, 17.
---