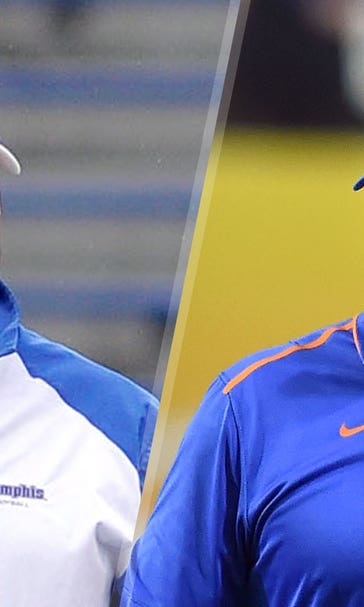 15 rising head coaches ready to dominate this fall
BY foxsports • June 16, 2015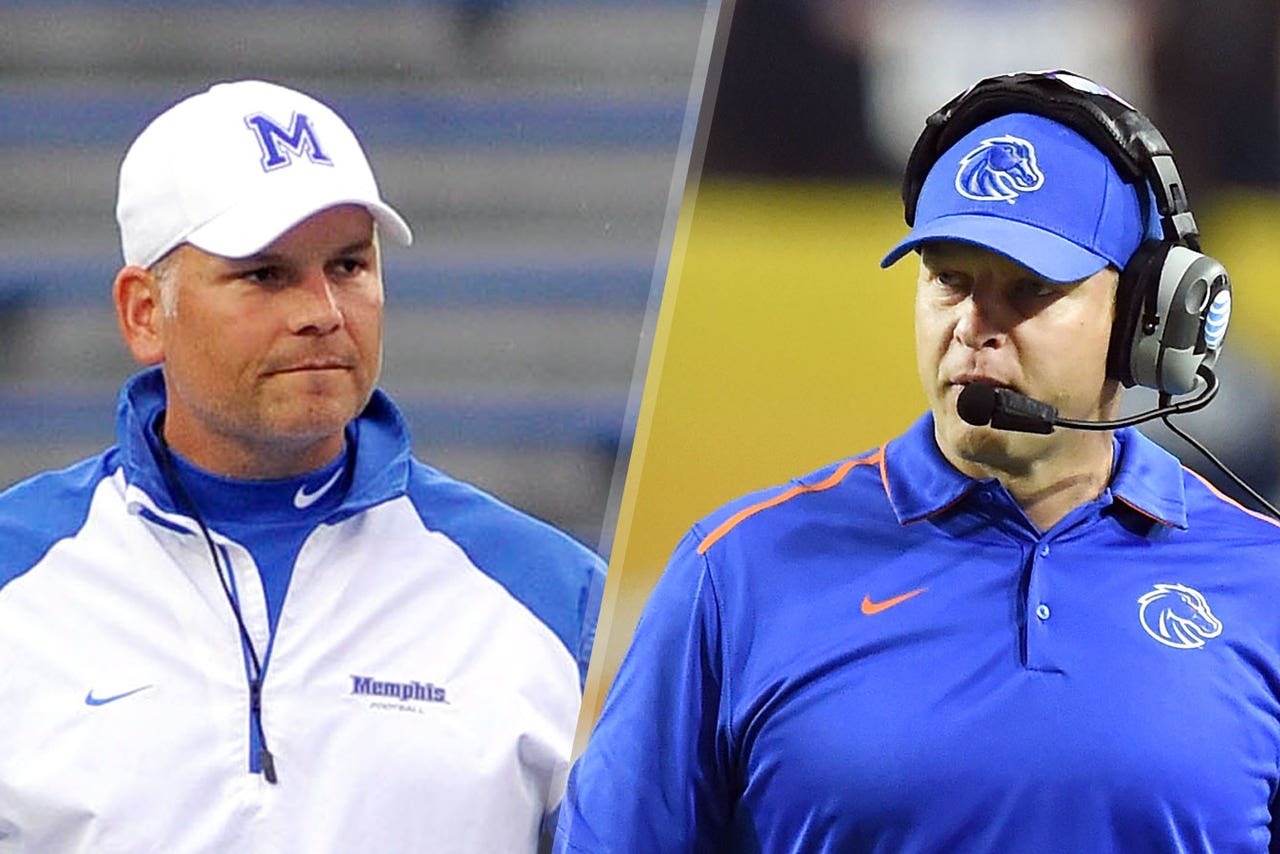 Coaching in the college football ranks is no easy task. The pressure to win and produce at a high level is higher than ever before. And as a result of the pressure, programs can't wait for five seasons to give a coach time to produce a winning record.
Getting the hire right is critical to any college football program.
Change in any college football offseason is inevitable. There will be coaching changes after the 2015 season. So what names might intrigue athletic directors when jobs open up?
Let's take a look at 15 college football coaches on the rise.
Craig Bohl, Wyoming
2014 was a rebuilding year for Wyoming, so it was no surprise Bohl and the Cowboys struggled last season. But the long-term outlook in Laramie is promising for this coaching staff. Bohl went 104-32 in 11 years at North Dakota State, which included three consecutive FCS national championships from 2011-13. With nine starters returning in 2015, progress could be slow for Bohl this year. However, there's a strong track record of success, and Wyoming hit a home run when it lured Bohl away from North Dakota State.
Matt Campbell, Toledo
The Rockets are still looking for their first MAC West title under Campbell, but there's no doubt the 35-year-old coach has this program headed in the right direction. Toledo is 26-13 under Campbell's watch and is coming off its best record in MAC play over the last three years. The Rockets are Athlon's pick to win the MAC West in 2015, and Campbell should have Toledo positioned to win at least eight games for the fifth time in six seasons.
Justin Fuente, Memphis
Memphis hit rock bottom after a dismal two-year stint under Larry Porter from 2010-11. But thanks to Fuente, the Tigers needed just one season to match Porter's two-year win total, as Memphis improved to 4-8 in his debut. The Tigers followed up with a 3-9 showing in 2013, albeit in the tougher American Athletic Conference after leaving Conference USA. Memphis then had a breakthrough 2014 campaign in Fuente's third year, as the Tigers went 10-3 and finished No. 25 in the final Associated Press poll. Memphis has a few holes to fill going into 2015, but the Tigers will remain a factor in the American Athletic Conference with Fuente at the helm.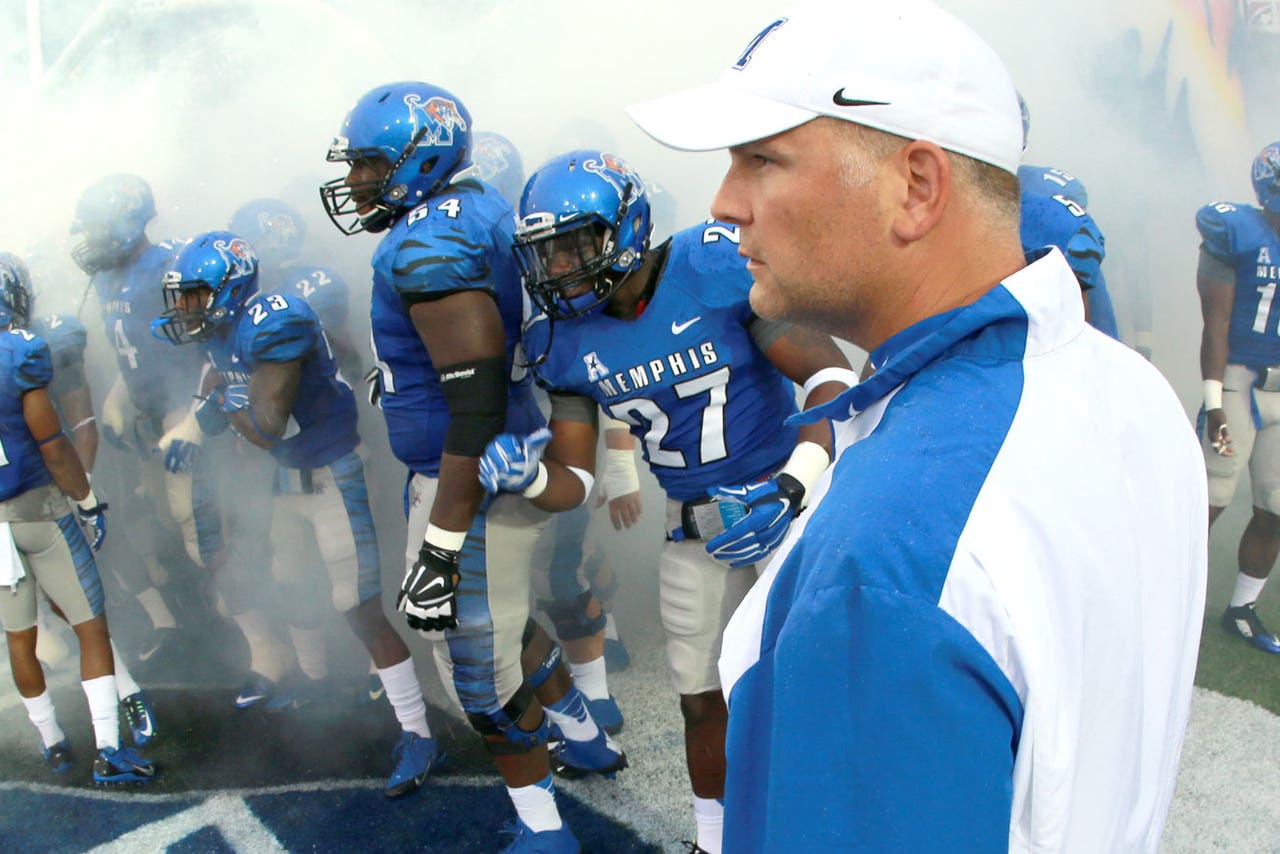 Justin Fuente's Memphis Tigers will be major players in the AAC title race.
P.J. Fleck, Western Michigan
Fleck was hired to energize Western Michigan's program and get the Broncos back into contention for MAC championships. So far, it's safe to say Fleck has succeeded in both of those areas, as Western Michigan is among the favorites to win the MAC in 2015. The Broncos went 1-11 in Fleck's debut, but were one of the most improved teams in college football last season. Western Michigan went 8-5 and made its first bowl appearance since 2011. Fleck is known as an ace recruiter, as this program has reeled in the No. 1 recruiting class in the MAC in back-to-back years.
Willie Fritz, Georgia Southern
Transitioning from the FCS to FBS ranks with a new coach is supposed to be difficult. However, Georgia Southern crushed that narrative last season. In Fritz's first season, the Eagles went 9-3 and recorded a perfect 8-0 mark in Sun Belt play. And Georgia Southern was much closer to double-digit wins than some may realize, as the Eagles lost to NC State and Georgia Tech by a combined five points. Prior to taking over at Georgia Southern, Fritz was a successful coach at Sam Houston State (40-14) and Central Missouri (97-47).
Bryan Harsin, Boise State
It's hard to find a coach that's better suited to guide the Boise State program than Harsin. The Boise native also played quarterback for the Broncos and was an assistant with the program from 2001-10. After Chris Petersen left for Washington, Harsin returned to Boise State after one year as Arkansas State's head coach. The Broncos went 12-2 in Harsin's debut, won the Fiesta Bowl over Arizona and finished No. 16 in the final Associated Press poll. With a strong core of talent in place for 2015, Boise State should be the top Group of 5 program this season.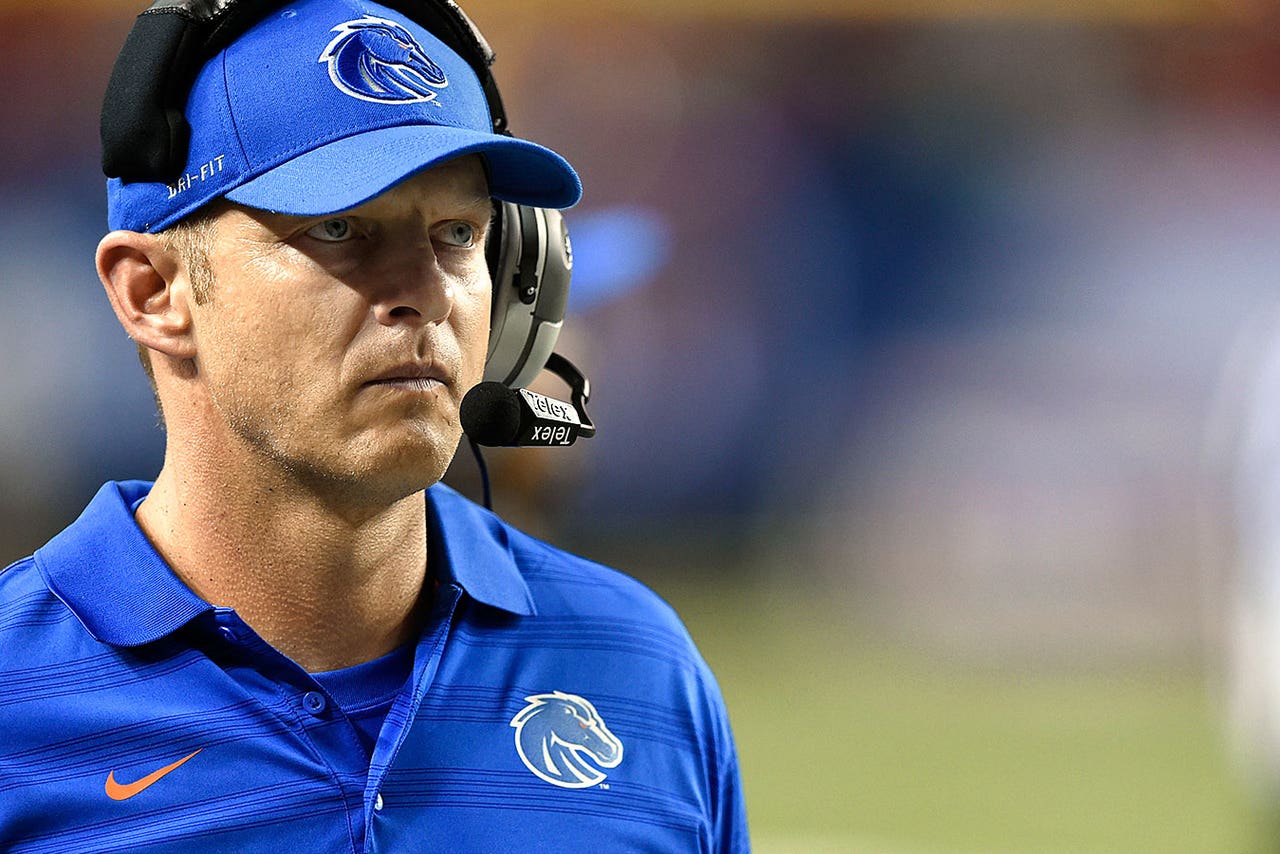 Bryan Harsin won the Fiesta Bowl in his first season as Boise State's head coach.
Mark Hudspeth, UL Lafayette
Hudspeth was the highest-ranked coach from a Group of 5 program in Athlon's 128 coach rankings for 2015. Over the last four years at UL Lafayette, Hudspeth has recorded a 36-16 record and four consecutive bowl wins. The Ragin' Cajuns have won exactly nine games in each of Hudspeth's four years and went 7-1 in conference play last season. Prior to UL Lafayette, Hudspeth made stops as an assistant at Mississippi State, Navy and Delta State and went 66-21 as North Alabama's head coach from 2002-08.
Lance Leipold, Buffalo
Jim Harbaugh grabbed the offseason attention as college football's best coaching hire, but Buffalo's decision to hire Leipold shouldn't be overlooked. Leipold was ultra-successful in a stint at Wisconsin-Whitewater, guiding the Warhawks to 109 wins from 2007-14. Additionally Wisconsin-Whitewater won six Division III Championships under Leipold's watch. The Wisconsin native also has stops in his career as an assistant at Nebraska and Wisconsin (graduate assistant).
Tom Herman, Houston
Herman has been on a fast track through the coaching ranks and was a key cog in Ohio State's run to the national championship last season. The story for the Buckeyes in 2014 was no secret, as the offense never missed a beat despite losing its top two quarterbacks. Herman did a good job of preparing Cardale Jones over the last three games of the season, and the California native landed his first FBS head coaching opportunity at Houston. Herman is no stranger to the state of Texas, as he has stops in his career at Rice, Texas State, Sam Houston State and Texas as an assistant. Prior to calling the plays for the Buckeyes from 2012-14, Herman was the offensive coordinator at Iowa State. Houston is a program with potential. There's a new stadium and a fertile recruiting territory to tap into. Herman should be a home run hire for the Cougars.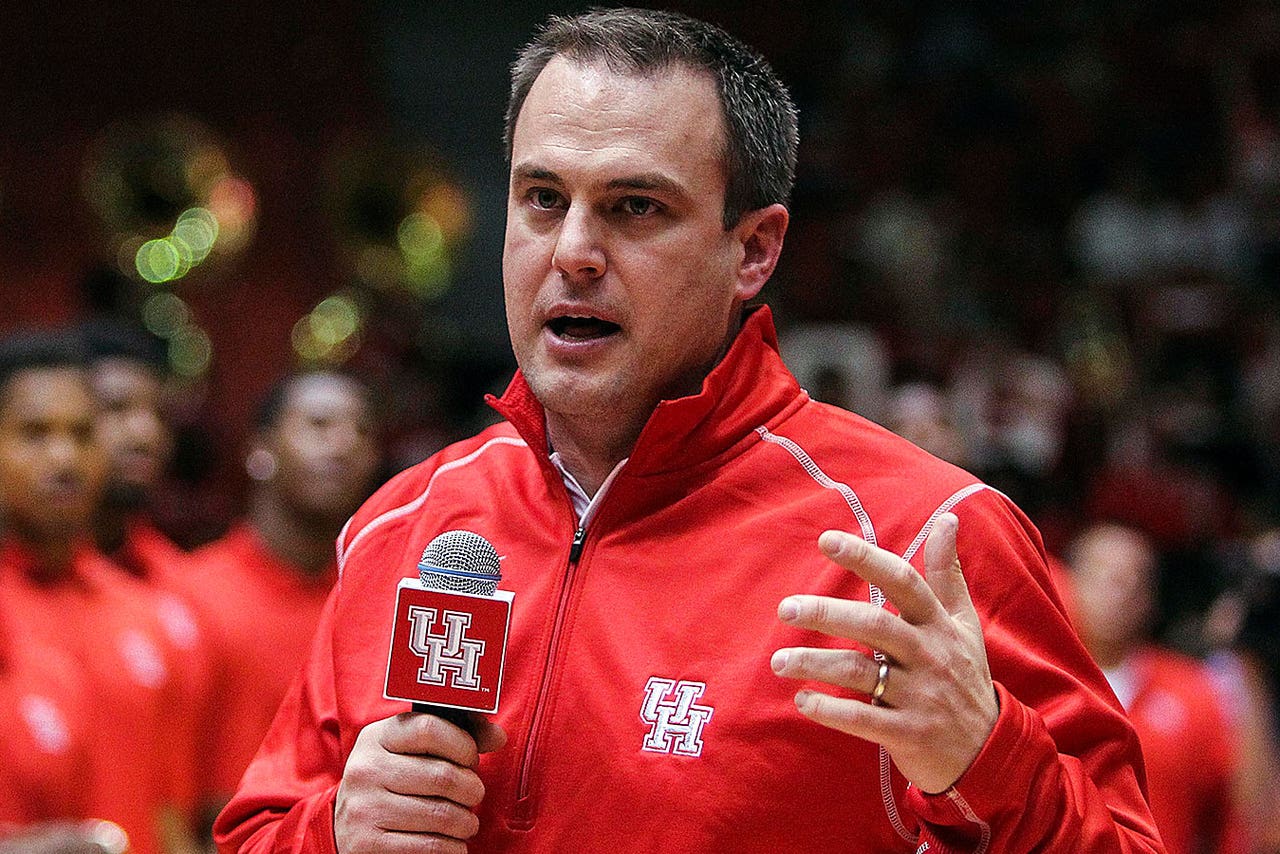 After winning a national title as Ohio State's OC last year, Tom Herman has the keys to his own program.
Pete Lembo, Ball State
The seven losses suffered by Ball State in 2014 were the most in Lembo's coaching tenure, but the New York native is still one of the top coaches in the Group of 5 ranks. Lembo is 30-20 in four years with the Cardinals, including a 10-3 mark in 2013. Ball State also has two bowl appearances under Lembo. Prior to coming to Muncie, Lembo went 35-22 at Elon and 44-14 at Lehigh, with three combined FCS playoff appearances among the two programs.
Matt Rhule, Temple
Looking for a sleeper team in the American Athletic Conference this year? Keep an eye on Temple. Rhule is just 8-16 in his two seasons with the Owls, but this program improved its win total by four games from 2013 to '14. And Rhule's 2013 team wasn't quite as bad as the win tally suggested, as the Owls lost six games by 10 points or less. Rhule replaced Steve Addazio after he left to be the head coach at Boston College and has the program in good shape headed into 2015.
Chad Morris, SMU
Morris is one of the brightest offensive minds in college football. The Texas native has been on a fast rise through the coaching ranks due to his offensive acumen, as he was hired to coordinate Tulsa's offense in 2010 after a lengthy stint (1994-2009) in the high school coaching ranks. After one year with the Golden Hurricane, Morris was hired by Dabo Swinney to fix a Clemson offense that ranked 10th in the ACC in scoring in 2010. The Tigers ranked first or second in the conference in scoring offense in three out of Morris' four years calling the plays. Additionally, Morris was a key cog in Clemson's turnaround, as the Tigers won at least 10 games in each of his four years in Death Valley. With his ties to Texas and background on offense, Morris should help spark a SMU program that has only four bowl appearances since 1985.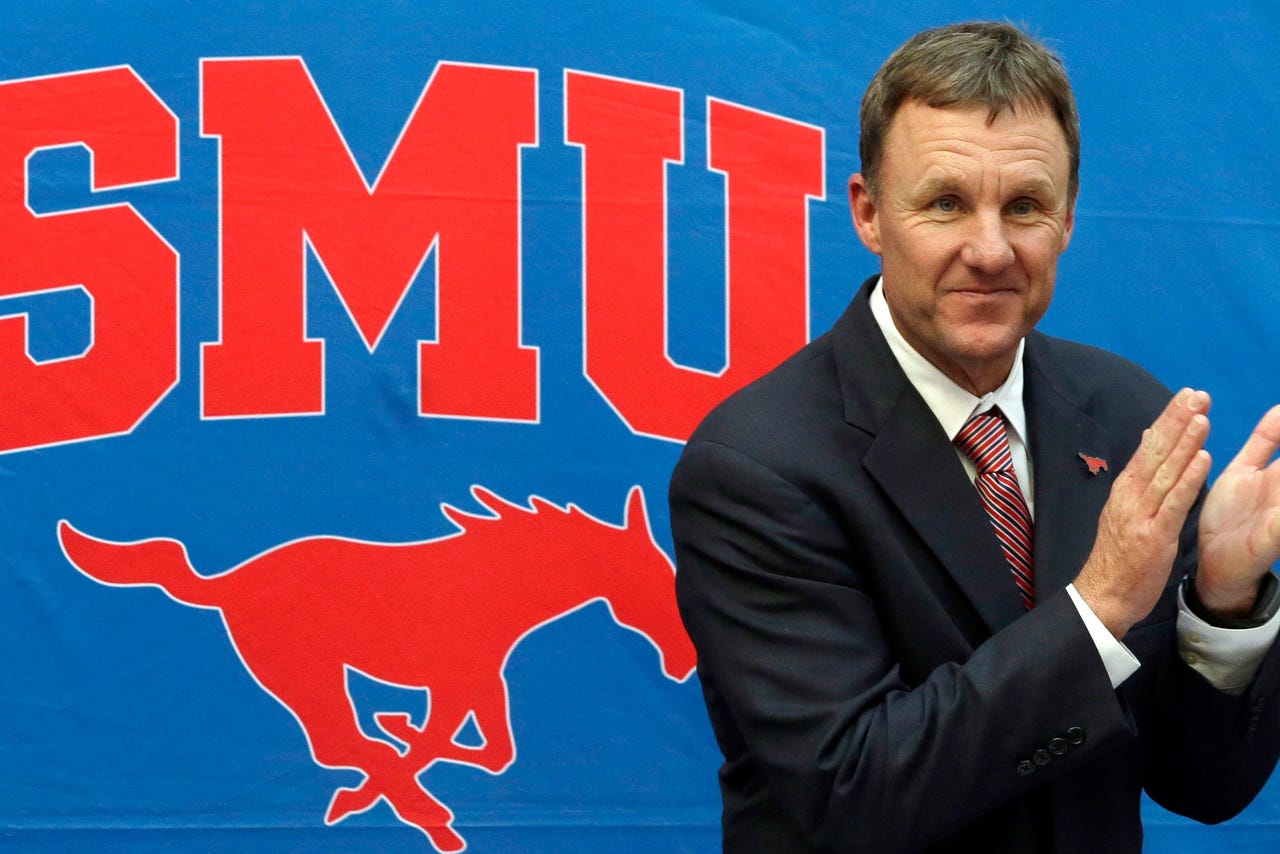 There's a ton of work to do at SMU, but everyone agrees Chad Morris is the right guy for the job.
Scott Satterfield, Appalachian State
Georgia Southern grabbed most of the attention and headlines last season, but Appalachian State's first year in the FBS ranks shouldn't go unnoticed. The Mountaineers went 7-5 and finished 2014 on a six-game winning streak. Satterfield has only been at the helm for two years and went 4-8 in his debut after replacing legendary coach Jerry Moore. Satterfield played quarterback for Appalachian State from 1991-95, and he's got the program trending up entering the 2015 campaign.
Matt Wells, Utah State
Utah State has been one of the most unfortunate teams when it comes to injuries over the last two years. However, despite injuries to a few key players, the Aggies are 19-9 in Wells' two seasons and have recorded back-to-back bowl wins. Wells worked under Gary Andersen from 2011-12 as an assistant and was promoted to the top spot after Andersen left for Wisconsin. Wells should have Utah State in the mix to win the Mountain West title once again in 2015.
Bobby Wilder, Old Dominion
Thanks to Wilder's coaching, Old Dominion has been on a fast rise through the college football ranks. The Monarchs restarted their football program after a 69-year absence in 2009. Old Dominion went 17-5 in its first two seasons and played in the FCS playoffs in 2011-12 with double-digit wins in both years. The program transitioned from the FCS ranks to the FBS level and went 6-6 in its debut last season. Wilder also runs a high-powered offense, which averaged 34 points per game behind star quarterback Taylor Heinicke last year. Wilder will have to retool the roster with Heinicke out of eligibility, but the Monarchs are a team on the rise in Conference USA.
More from Athlon Sports:
---