10 years since 'Bush Push': USC, Irish players remember rivalry's defining moment
BY Aaron Torres • October 13, 2015
On an early morning, in September of this year, former USC All-American and first-round NFL Draft pick Lawrence Jackson woke up to a surprising email request. A reporter he had never met wondered if he'd be interested in being interviewed for a story about the famed "Bush Push" game, the unforgettable matchup between USC and Notre Dame in 2005.
Jackson's response summed up how most still feel about the game a decade later.
"What a subject to be writing about," Jackson wrote back, before giving details on how he could be reached.
What a subject it is indeed.
"The Bush Push" game remains one of the greatest ever played, a matchup that featured a storied program trying to fight its way back to the top of the college football mountain, while its opponent, one of the greatest dynasties the sport has ever seen, was scratching and clawing to stay there. It served as a coming-out party for one Heisman Trophy winner, and a reaffirmation of the greatness of another. It proved that boring old sports clichés can be true — that you really can throw out past results when it comes to rivalry games, and that you never can doubt the heart of a champion.
Oh, and it also proved that a game never really is over until the clock hits all zeroes . . . and even then, it might not necessarily be done.
Simply put, the "Bush Push" is a lot of things. It's one of the memorable plays, in one of the most memorable games in college football history, not to mention a phrase that lives on in college football lore, and one that needs no further explanation. Say "Bush Push" and it immediately conjures up images. Almost every college football fan in America knows where they were when they play happened, because virtually every college football fan in America was watching when it happened. A staggering 30 million tuned in for that game, meaning that it outrated virtually every game in college football history, including both of last year's playoff semifinals.
Simply put, "The Bush Push" game was unforgettable.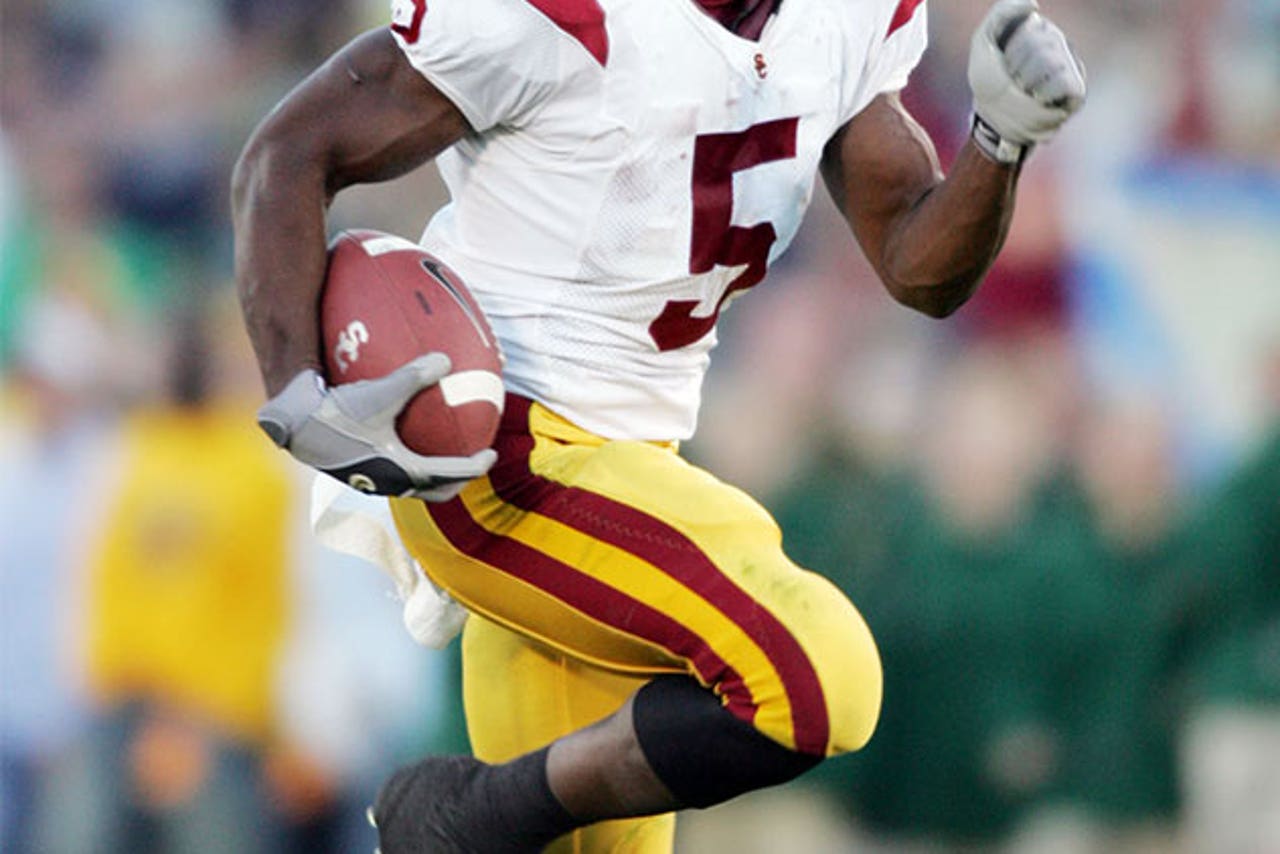 Reggie Bush had a monster day running the football for USC in that 2005 game against Notre Dame, but it was a push of his quarterback that would go into sports lore.
And in anticipation of Thursday's 10-year anniversary of the game, FOX Sports spent the past several months tracking down key members of both teams to relive it.
 'You Really Have to Start From the Beginning'
When USC and Notre Dame met on Oct. 15, 2005, it was — like it is every year when these teams play — a battle of two college football programs with conflicting cultures. They also were two programs that were at two different points in their development, and heading in completely different directions. 
USC was college football's glamour program of that era — the owner of an insane 27-game win streak, winner of back-to-back national championships (splitting with LSU in 2003, beating Oklahoma outright in 2004) and with some of the biggest names in the sport. Reggie Bush. Matt Leinart. LenDale White.
Yet the story of who Notre Dame was, and where it was going heading into "The Bush Push" game, is just as interesting, and maybe even a bit more complex.
"To sort of get a feel for what it felt like, you really have to start from the beginning," former Notre Dame quarterback and current FOX Sports analyst Brady Quinn said. "And when I say that, it started actually the offseason before."
For Notre Dame, the story of "The Bush Push" game starts in the spring of 2004, with head coach Tyrone Willingham inviting an offensive "consultant" to the team's practice.
This practice isn't uncommon in college football; virtually every major program brings in outsiders to evaluate its team, during virtually every offseason. The Irish were no exception, and coming off a 5-7 season in 2003, they happily welcomed a second set of eyeballs to take a look at their offense.
That consultant was a blunt, loud-mouthed Notre Dame alum, who just so happened to be coming off a second Super Bowl-winning season as the offensive coordinator of the New England Patriots.
That man was Charlie Weis. And after watching one practice, he wasn't particularly happy with what he saw.
"After the workout he came over to speak to us, and just gave us a tongue-lashing," Quinn said. "His style is very different from Willingham. Willingham never cussed; he could be fiery at times, but he wasn't like Charlie. Charlie would obviously use profanity, but he'd (also) say it in a dry, blunt, straightforward way. So it was definitely a contrast in style, and it was hard to hear."
Weis let the Irish players have it, but when he approached Quinn in particular, he delivered a much softer, but equally direct message. Weis had seen a quarterback galvanize an entire team before — he had worked with Tom Brady over the previous few years, after all — and felt Quinn could do the same for Notre Dame.
Coming off a true freshman season in which Quinn started nine of 12 games, it was time for him to step up and take control of the team.
"He pulled me aside and kind of said, 'You're the leader of this team,' " Quinn remembered. " 'It's got to be you setting an example. You can't allow this to happen.' "
The message stuck with Quinn long after Weis left campus, but unfortunately Weis' broader message didn't necessarily translate for the whole Notre Dame team when it took the field during the 2004 season. The Irish had plenty of peaks and valleys — two road wins over Top 10 teams, a couple losses to unranked ones — but not nearly enough consistency. After losing four of their final five regular-season games — including at USC to end the season — the writing was on the wall in South Bend. Willingham was going to be fired. 
"It's tough because you feel like it's your fault," former Notre Dame wide receiver and current White Sox pitcher Jeff Samardzija said. "Those guys, they're just coaching, but they get fired because you're not performing on the field. But it's tough."
With Willingham out, the search for a new head coach had begun, and the Irish had to act swiftly and definitively. After Notre Dame initially courted a former Irish assistant named Urban Meyer to no avail, the attention eventually turned to Weis.
The Notre Dame alum with a bunch of Super Bowl rings seemed like the perfect fit. The players specifically were ecstatic.
"We're thinking, 'Holy crap,' " Quinn remembered.
While "Weis to Notre Dame" was an easy sell to the media, the rough, blunt persona that Weis had shown the previous spring turned out to be exactly what the Irish needed heading into the 2005 season.
With plenty of experience and talent, they didn't necessarily need the soft, gentle approach of Willingham. They needed a coach who was going to be blunt, going to push them to their absolute limit physically and mentally.
They needed Charlie Weis.
"Football is a violent game," former Notre Dame safety Tom Zbikowski said. "And you don't need to be a s**t person to play it, but you need a certain edge and you need a certain attitude."
Weis brought both out of his team. And the Irish were ready to show it to the world when they visited No. 21-ranked Pitt to open the season.   
"We didn't know first game, but you had that gut feeling that we were going to put some ass-whoopings on teams," Zbikowski said. "Now it was time to just play."
'We Were Public Enemy No. 1'
While the Irish entered the 2005 season in a state of transition, USC stood atop college football's pecking order.
USC was the team that everyone admired from a distance, but also wanted to beat. The Trojans were everyone's Super Bowl, the team that everyone circled on the calendar months before playing them.
"We were Public Enemy No. 1," Lawrence Jackson said.
Yes, USC had more talent than most teams, but the Trojans weren't just the laid back, easygoing Southern California team that coasted by on sheer talent. They were tough and gritty, too. And no one outworked them.  
"To say that we were flashy and high-fiving and gallivanting around Hollywood, that's amateur hour," said Pac-12 Network analyst Yogi Roth, who served as a graduate assistant at USC that year. "That's what somebody watching the program (from the outside) thinks. In my opinion it is one of the worst descriptions of that team and that era."
Former star running back LenDale White put it in a much more direct, blunt way.
"You don't go out to Auburn and beat Auburn, you don't go out to Blacksburg, Virginia, and beat Virginia Tech, you don't beat the crap out of Michigan in the Rose Bowl (on talent alone)," White said. "It wasn't just that we beat the crap out of Pac-12 teams; we went to the SEC, Big 12, Big Ten (and beat those teams). We were all over the board, and we dominated."
Yet as much as USC dominated those years, things around the program were beginning to change in 2005. The 2003 season had been about proving they belonged — which they did by splitting a national championship with LSU — and the 2004 season was about leaving no doubt who was No. 1 — which they again did, by going undefeated and crushing Oklahoma in the title game. The success of the Pete Carroll era was dizzying, and it brought mounting expectations.
By 2005, the Trojans were experiencing the least fun part about being a champion: maintaining.
"When I look back, the expectations were so, so high," former USC quarterback and current FOX Sports college football analyst Matt Leinart said. "When you're kind of living in the moment you don't really think about it, until you have a chance to sit back and watch."
And now that Leinart has had a few years to look back on his days in college?
"It's like, 'Wow, this is crazy,' " Leinart said. "Reggie and I had security for practice because there were hundreds of people wanting autographs every single day walking out to practice. It was an insane time to be there."
The pressure was clearly on USC, and during the first few games of the season, it seemed to be wearing on the Trojans. They fell behind 13-10 at halftime at Oregon in Week 3, and a week later fell behind 21-3 at Arizona State. They came back to win both games by double digits — in the case of Oregon, outscoring the Ducks 35-0 in the second half — and showed just how talented that team was. It also showed that the team had flaws. 
But they exhibited plenty of confidence as they got set to visit Notre Dame in mid-October. The Trojans weren't just 5-0, but they also had beaten the Irish by 31 points in three straight years.
There was no reason for anyone on USC's side to think that 2005 would be different.  
"The thing was, every other year before that we destroyed Notre Dame," White said. "It was a 30-point defeat every time. I think we even got a couple coaches fired over there."
As USC got set to travel to Notre Dame, the Trojans had no idea they'd be facing a completely different Irish squad.
They also had no idea they were walking into a road environment unlike any they had ever seen before.
'I've Never Felt Anything Like That on South Bend's Campus'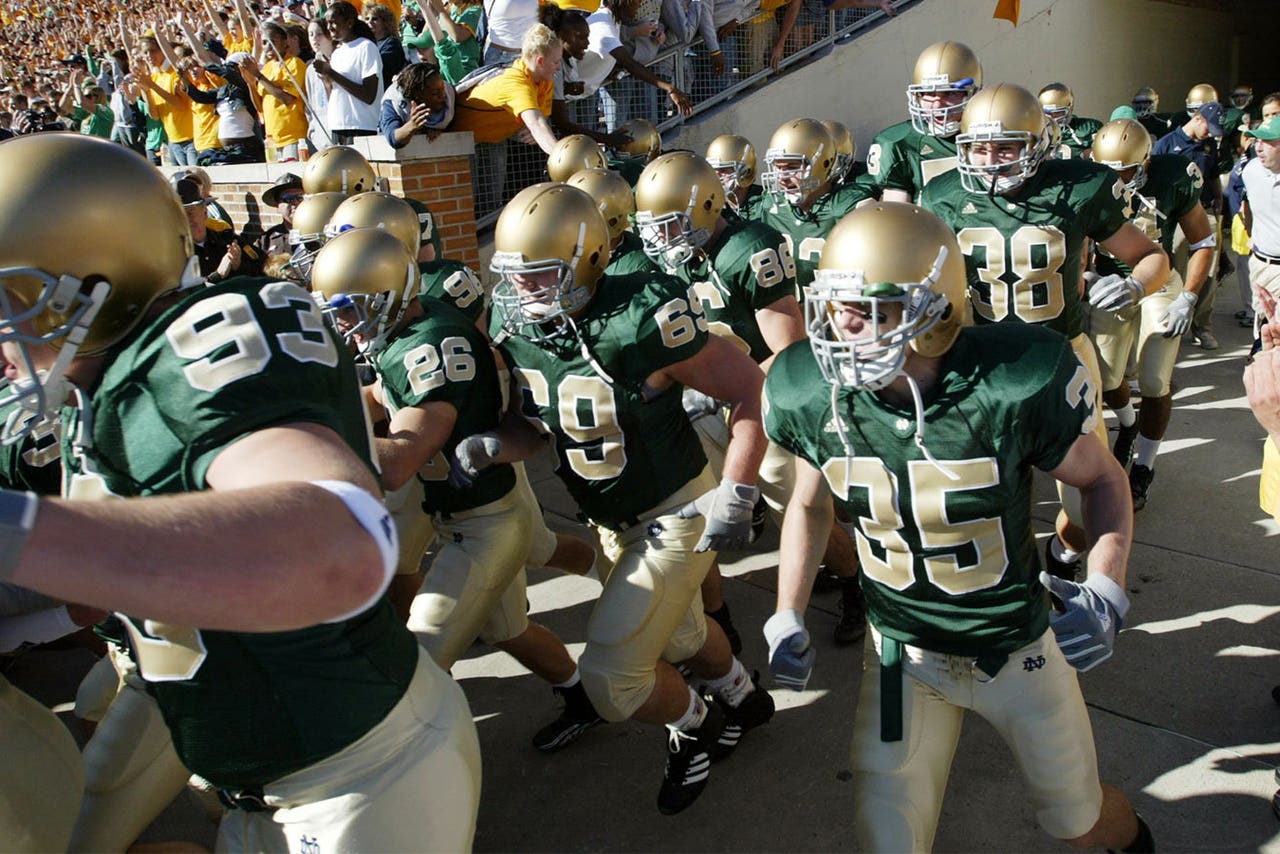 "I've never felt anything like that, really, on South Bend's campus before, or after that," Notre Dame quarterback Brady Quinn said.
By the time Notre Dame faced off with USC in 2005, the game had a completely different feel than in prior years. As always, the Trojans were dynamic, but the difference was that for the first time in a long time, the Irish held up their end of the bargain.
"It was time for us to arrive on that stage and excel on that stage," Zbikowski said. "Not just be a part of some pregame hype, some pre-week hype like 'Notre Dame's back, Notre Dame's back' and then just get their asses rolled."
Things really did feel different for the Irish entering the season, and once the games kicked off, things were different on the field. The Irish started the year with back-to-back road victories over ranked teams Pittsburgh and Michigan, before an overtime loss to Michigan State slowed things up. Still, the team bounced back with two more road wins: at Washington, against former coach Willingham, and at 20th-ranked Purdue.
By the time USC game week arrived, the Irish were hitting their stride. Yes, the Trojans were No. 1 in the country. But Notre Dame was no slouch, entering as the No. 9-ranked team.
It had been a long time since a game this big had come to South Bend. And the Irish fans were ready.
"I've never felt anything like that, really, on South Bend's campus before, or after that," Quinn said. "The electricity, the spirit. I remember walking to practice and being hounded for autographs by people who were already in town for the game. . . . There's a little regional airport there (near campus). That particular day of that game, that was the busiest it's ever been."
Campus was indeed crazy, and while Notre Dame's players dealt with it all week, USC's players got a taste of it when they arrived in town. After a late-night flight Thursday, they arrived at Notre Dame Stadium on Friday afternoon for a walk-through. There, they were greeted by several hundred angry Irish fans, who did just about anything to rattle them. Fans threw objects at the team's bus. They screamed obscenities. They held up posters with USC alum O.J. Simpson's face on them.
USC, a team that had played games at Oregon, Auburn, Arkansas and Virginia Tech in the previous few seasons, had never seen a road environment quite like this.
"I just remember thinking, 'Like, do kids in South Bend really act like this?' " White remembered. "To me that signified the true definition of what a rivalry is. You didn't see one USC jersey. You just saw a sea of blue and gold."
While some teams would have been overwhelmed by the moment, the Trojans were fired up. Rather than being intimidated, they were galvanized.
"For whatever reason, something just came over me," linebacker Keith Rivers said. "I was just upset, I was just angry that they had the audacity to put up the O.J. posters, and to come to our bus and disrespect us. I just thought we deserved more respect than that.  So then I started getting up yelling . . . and I said, 'If they're going to get crazy, we're going to get crazy. Let's rock this thing. Let's let them know we mean business.' "
With Notre Dame's fans rowdy outside the bus, USC's players decided to be unruly inside it. In a tradition that technically started at the previous season's Orange Bowl, USC's players got up and started jumping around inside the bus. They jumped and jumped, rocking the bus side to side until it appeared the whole bus actually might tip over.
At that point, USC's message was clear: Hey, Notre Dame fans, we're plenty ready for tomorrow too.
'It's Not Going to Go the Same Way All the Other Games Go'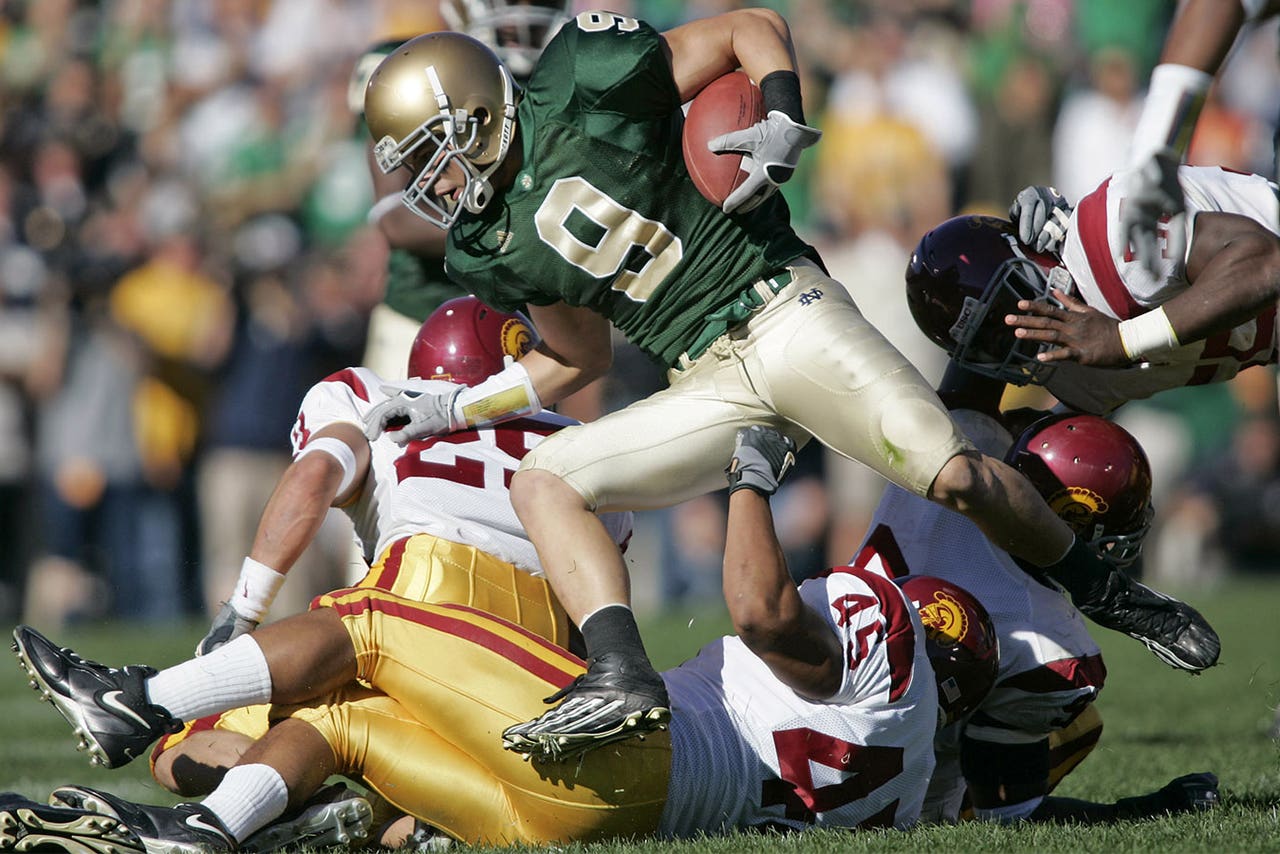 The Irish had lost to the Trojans by exactly 31 points in each of the three previous years, but Tom Zbikowski (No. 9) and crew knew this game would be different.
Tomorrow came soon enough, and when it did, the emotions hadn't cooled. If anything, they only ramped up. Much to the delight of the crowd, Notre Dame came out in green jerseys — which were worn only for home games, against the No. 1-ranked team in the country. The crowd was bonkers at kickoff, and it only got crazier when the Irish pinned the Trojans deep in their own territory and forced a three-and-out on USC's first possession.  
But then, just as Notre Dame was building momentum, just as the crowd was getting into a frenzy, a costly mistake. Notre Dame tried to run a flea-flicker on its second offensive possession, and just as Quinn was releasing the ball, defensive end Frostee Rucker tipped the pass and the ball was intercepted by Rivers. Two plays later, Bush burst into the end zone after a 36-yard scamper as USC took a 7-0 lead.
Notre Dame broadcaster Pat Haden — who'd quarterbacked USC to a legendary win over the Irish in 1974 — described Bush as "The First Amendment with hips" because "he expresses himself in his own way" for the TD run, while several players on the USC sideline thought the game was all but over.
After beating Notre Dame by 31 in each of the previous three years, there was little reason to think otherwise.
"Oh, I would think about that, like 'Yeah, we're going to beat the s**t out of them,' " White said. "We still have the same team from last year, the same people, we're as good, if not better than the year before. That's what I was thinking."
USC was indeed better than the year before (at least on offense), but few outside Notre Dame's locker room realized that the Irish were significantly better as well.
While Weis had taken some heat for making a comment about Notre Dame having a "decided schematic advantage" after he was hired, the truth was, that in 2005 the Irish kind of did. By the time they faced USC, the Irish stood at 4-1 and had outscored their five opponents by an average of two touchdowns per game. They also were putting up 37 points a contest, at a time before it was en vogue for college teams to routinely score 50, or even 40 points in a game.
More than that, the Irish also realized that their recent losses to USC weren't as lopsided as they looked on paper.
"In previous years we always felt like we could run the football against USC," Quinn said. "That was never an issue. But what would always happen is that we would get behind by so much that we had to pass. Now we had to pass, and we're playing into their hands. So we were a one-dimensional football team. So we felt like if we could run the football, we felt like the drop-back passing game (would be effective), and if we could stay as two-dimensional as possible in the running-passing game, that we could control the game and we could stay ahead."
And to the Irish's credit, they did just that.
Following Bush's touchdown run, the Irish pieced together a 13-play, 80-yard touchdown drive capped by a Travis Thomas run. And even after USC countered with a score by White to close out the first quarter, Notre Dame responded when Quinn hit Samardzija for another touchdown to make the game 14-14.  
"There were a few series in there where as a defense we were like, 'OK, this game isn't over,' " Jackson said. "It's not going to go the same way that all the other games go where it turns into an avalanche of scoring."
No, it wasn't. And if anything, it turned into the exact opposite right before halftime. Tied at 14 midway through the second quarter, Notre Dame got a spark from its special teams. The Irish forced USC into a punt, which landed right into the waiting hands of Zbikowski. He grabbed the ball, cut right and burst up the field. Even though two, three, even four USC players got a hand on him, none was able to bring down the 5-foot-11, 200-pound sparkplug as he trotted into the end zone. Just like that, the score was 21-14, and Notre Dame had all the momentum.
It was a moment that no one could have seen coming. No one except Zbikowski.
"I told my brother the night before that my first career punt return (touchdown) was going to happen in that game," Zbikowski said. "It was going to happen. I didn't give a s**t what it was going to take, I wasn't going to fair catch it. I was going to force them to come see me and come tackle me."
For Notre Dame, the tide had turned. Not only was this game not going to be a blowout like in years past, but instead it was the exact opposite.
The Irish were in position to knock off the No. 1 team in the country.
'This is the Second Half. This is Our Half. This is Just What We Do'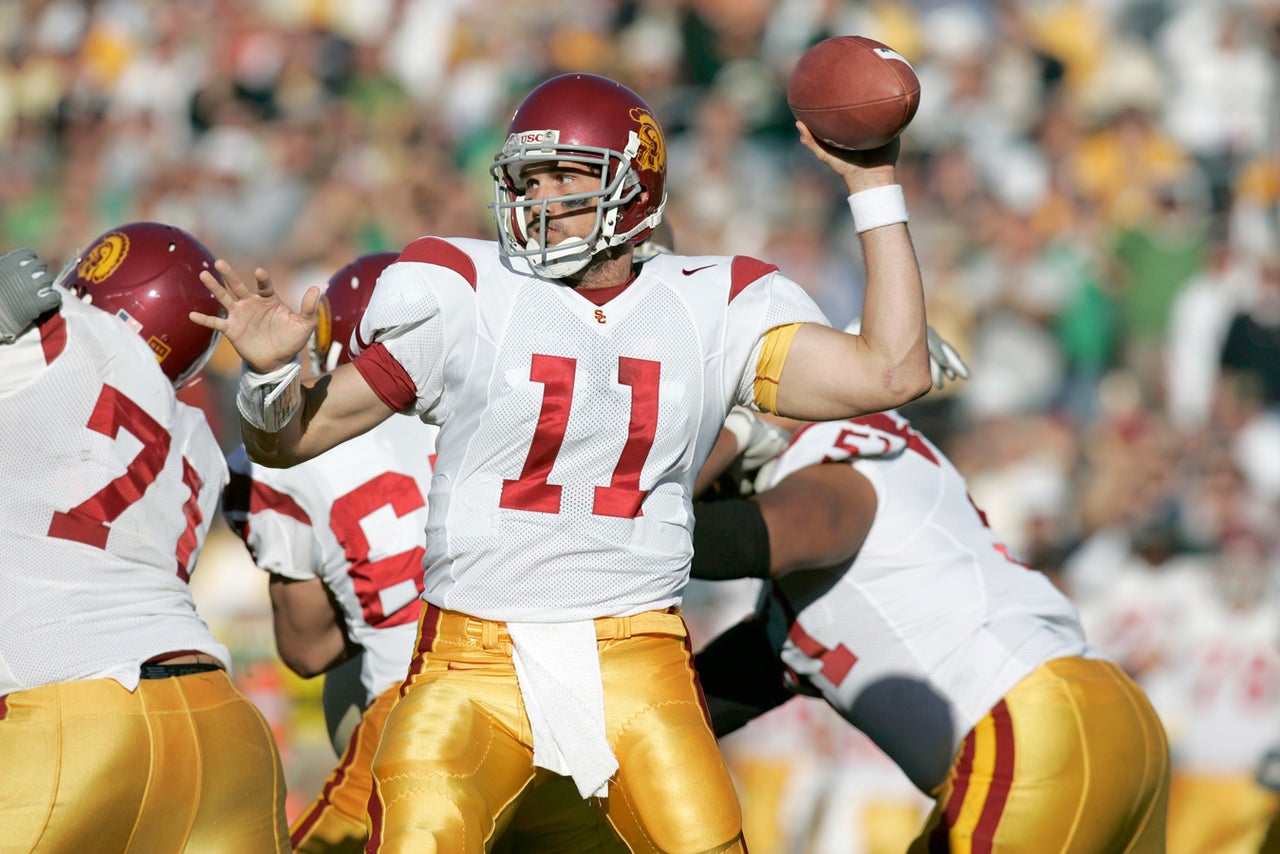 Though Leinart didn't throw a touchdown in the game, he led three long second-half scoring drives and scored the game-winning touchdown.
While the Irish spent halftime keeping their emotions in check, in USC's locker room, a different emotion was pouring out: confidence. 
"We had been down at halftime in tough environments," Leinart said. "At Oregon, at Arizona State, two of the toughest places to play in the Pac-12 (we trailed at halftime). So this wasn't different for us. We were cool, we were calm. I remember at halftime we were just like, this is the second half. This is our half. This is just what we do."
For USC there really was no anxiety, and even after Leinart was picked off on the team's first possession of the second half, the defense clamped down and forced a three-and-out. The Trojans got the ball back. After a quick 5-yard gain from White, Leinart handed the ball to Bush, who burst through the hole for a 45-yard touchdown run.
Two plays. Fifty yards. The score was tied at 21.
The play was quintessential Bush, and also seemed to be the spark that USC needed. The Trojans were getting stronger, while the Irish continued to shoot themselves in the foot. On their next possession the Irish appeared to be headed for a touchdown when tight end Anthony Fasano was stripped of the ball following a long pass. USC recovered. Then, after Notre Dame hit a field goal to make the score 24-21 near the end of the third quarter, the Irish missed a field goal on the following possession that would have given them a six-point lead.
Those two plays, the Fasano fumble and missed field goal, were crucial. The Irish couldn't afford to give away possessions against top-ranked USC, which had the firepower to make them pay. And the Trojans did, when Bush scored his third TD of the game to put USC up 28-24 with just five minutes to go.
For the first time since the early minutes of the second quarter, USC had the lead. But in a game that was back and forth all afternoon, Notre Dame believed it could take it right back.
"I'm sitting there thinking, 'OK, we're going to get the ball at the 20-yard line most likely. We're going to have to go 80 yards in five minutes. This is perfect,' " Quinn remembered. "A touchdown to win, this is what you dream about, this is what you prepare for all offseason, this is exactly where you want to be."
Even USC's defenders realized that frankly, with so much at stake, it wasn't going to be easy slowing down the Irish.
"It was one of those situations where as much as guys say, 'We're not going to let them score,' you kind of knew that somehow they were going to score," Jackson said. "The intensity of the game, the level of importance for their players — guys like Brady Quinn, that was the drive of a lifetime for those guys. It was one of those drives where if you miss a catch on third down, if you give up a sack, if you throw an interception, that's going to haunt you for the rest of your life."
It was indeed the drive of a lifetime, and Quinn came out blazing. He hit Samardzija for an 18-yard gain, and then got 14 more yards on a broken play in which he scrambled and found Samardzija again as he was falling down. Next, it was a big gainer to Maurice Stovall to get the ball across midfield. If anything, the Irish were moving the ball too easily, potentially leaving too much time on the clock for the Trojans offense. After another completion to Fasano, the Irish slowed things down. Darius Walker carried the ball three straight times, leaving Notre Dame with the ball on the 5-yard line, trailing by four with just around two minutes to go.
The Irish were perfectly set up for the go-ahead score in the dying minutes. Weis had prepared Quinn, and the whole team, for this moment during practice that week. Not only had the first-year coach promised his players they'd be in this exact position, but he also had the play call to put them over the top.
"I remember Charlie saying (during practice that week), 'This is the play you're going to score to win the game on,' " Quinn said. "I just remember getting goose bumps thinking about it. Right when he called it (during the game), I was like, 'Man, this is going to be there.' It's one of those deals where you know the call is so right . . . everything is there."
Everything was there, and it was just as Weis had envisioned it.
Quinn took the snap and dropped back to pass, but just as soon as he planted his back foot to throw, he instead took off running. The move froze Rivers just long enough to give Quinn the space he needed. He ran to the right, and just as Rivers dove at him, Quinn dove toward the end zone.
Replays show that Quinn's knee may have hit the ground before the ball crossed the goal line, but in a game in which there was no instant replay (it was declined by the visiting coach Pete Carroll), it didn't matter. The call on the field was a touchdown, giving Notre Dame the lead, 31-28.
The Irish were minutes from knocking off the No. 1 team in the country, minutes from being "back" in the college football landscape, and minutes from throwing themselves in the national championship picture.
"We get the score, we go ahead," Quinn said.
He then paused, almost unable to say what is inevitably next.    
"Then the rest," Quinn said, "is kind of what everyone seems to remember the best."
'There Is No Drive After This'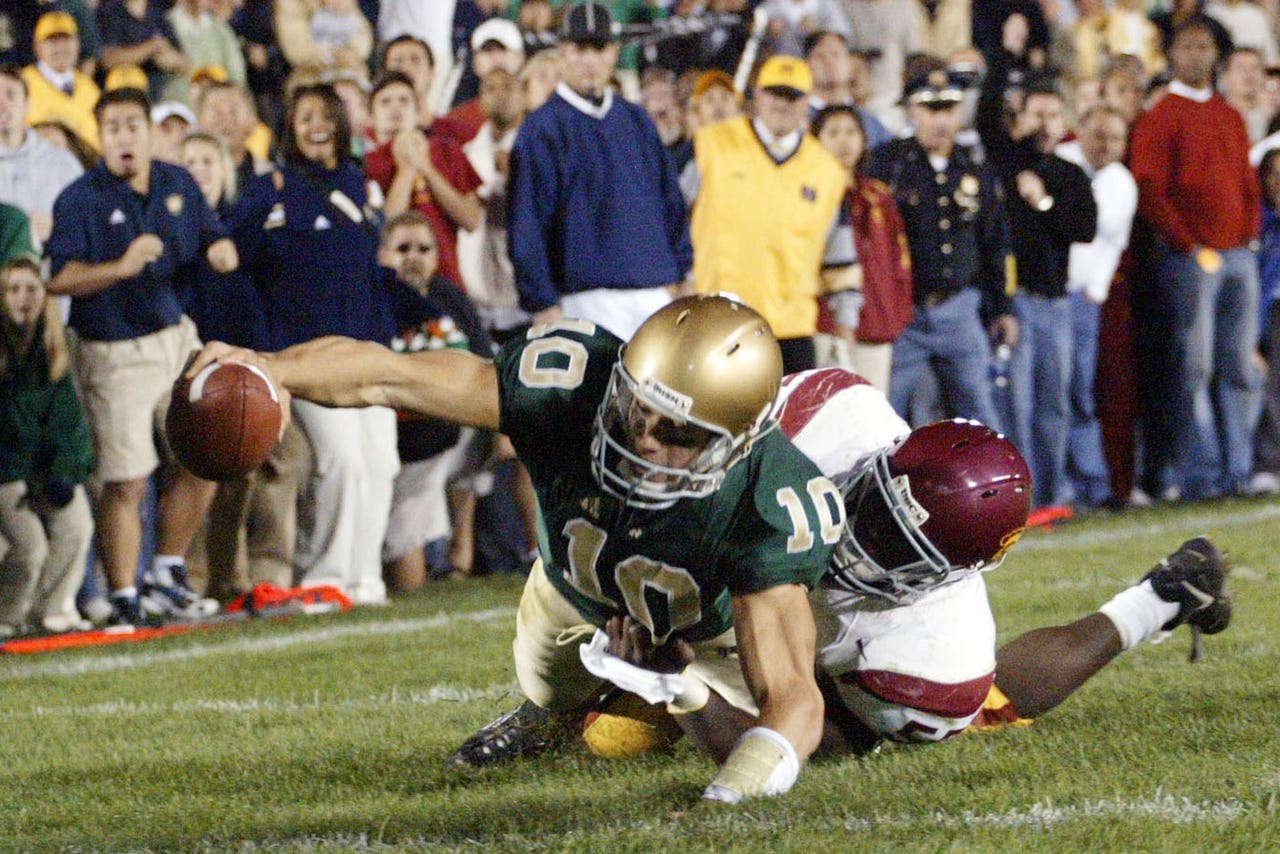 Brady Quinn's lunging touchdown put the top-ranked Trojans in an unfamiliar position: one drive to win or lose a game.
USC got the ball back with 1:55 left on the clock, and much more than just a win or loss on the line. The Trojans were trying to keep alive their 27-game win streak and bid for a third straight national championship.
And it was at that moment, after all those years and all those wins, that maybe, for the first time, they were starting to feel the weight of it all.
"If nobody said it, let me be the first to tell you: That last drive was very, very, very uncomfortable," Jackson said. "It wasn't territory that we had much experience in. Not being down because we'd been down, because we'd been down before. But being down where one mistake could cost us the game. There is no drive after this."
It was the drive that could end the dynasty, bring two-and-a-half years of hard work to an end. And as the coaching staff sent the offense onto the field, they gave their quarterback explicit instructions.  
"In the two-minute drill there's really two rules," Roth said. "Don't take a sack, don't throw a pick."
But after an incompletion on first down, Leinart broke one of those rules: He got sacked. Notre Dame Stadium went wild as it set up a near-impossible third-and-20 for the Trojans with less than two minutes to go.
But while the Irish fans could feel the upset coming, USC's job was to simply keep the players calm.
"We call timeout, go to the sideline," Leinart said. "It was third-and-20, and the whole idea was, 'Hey, let's just get half of this back.' We had a play where (the coaching staff said), 'Hey, look downfield (to your receivers), but we're going to get Reggie out of the backfield. Don't force the ball (deep). Hit him, and let's get 8, 9, 10 yards and make it fourth-and-9, fourth-and-10, fourth-and-11. Because then at least we have a shot.' Because fourth-and-20 is almost impossible."
To the credit of USC's coaching staff, their analysis was spot-on, and the play they wanted was right there. The line gave Leinart plenty of time, and the quarterback delivered the ball effortlessly to Bush in the flat. Bush made a defender or two miss to set up a much more manageable fourth-and-9.
With USC's entire season — the entire dynasty, really — on the line, the Trojans coaching staff once again had the perfect play call.
"We're on the headsets, and we think we know what they're going to play (on defense)," Roth said. "We say, 'If they give us a specific look, let's audible out to 'Sluggo Win.' ' Sluggo Win is an old-school, West Coast play that has been around forever."
It had been around forever, and it was a play that USC's offense had practiced and ran to near perfection over the previous few seasons. It was designed to get the Trojans' best receiver lined up to the left, and running a seam route right down the sideline. It had worked dozens of times when Mike Williams was on campus, and was a play that USC's new star receiver Dwayne Jarrett was just getting comfortable running as well.
As Leinart got to the huddle, he barked out directions. Not that anyone could hear him.
"I couldn't even hear myself speak," Leinart said. "(The offensive line) were yelling, 'Matt, I can't hear you!' And I'm yelling, 'Guys, this is what we're going to run. Hey, be alert for check Sluggo Win, be alert for check Sluggo Win.' We just went up and I saw what I saw. I trusted what I was seeing."
Leinart did indeed trust what he was seeing, and did in fact audible to "Sluggo Win". Whether the offensive line could hear him or not didn't end up mattering, because they blocked to perfection. With plenty of time in the pocket, Leinart dropped back and launched the ball 25 yards down the sideline. It fell perfectly into the hands of Jarrett, just over the outstretched arms of Notre Dame's defender.
It was the perfect pass on the perfect play call and was executed on all ends to perfection. In the exact moment they needed it, the Trojans were flawless.  
"Shoot, it could have gone an inch the other way and it would have been incomplete," Leinart said.
But it wasn't. Jarrett caught the ball and burst up the sideline. He was eventually tackled on the 13-yard line, but at that point it didn't matter. USC had its first down. The Trojans had their undefeated season, win streak and national championship dreams all still alive.
Oh, and they had their swag back too.
"It was like, 'All right, we just got a first (down),' " Leinart remembered. " 'OK, what do we do now? What do you got, coach?' I remember looking at the sidelines kind of as I'm running (up the field) to try and figure it out. Then we got into the huddle and called some plays."
USC's coaches understood the magnitude of the moment, but they also understood that there was still plenty of time left on the clock — about a minute. No need to press. No need to rush. No need to go for the jugular. After a pass was thrown incomplete on first down, the Trojans' coaching staff called for back-to-back Bush runs up the middle just to calm down the offense. It allowed the Trojans to pick up a new set of downs and also left USC with plenty of options with just under 20 seconds left and inside the 5-yard line.
It also left Leinart with two options as he approached the line of scrimmage for the next play. If he had an open receiver, he could hit him for the game-winning score. If he didn't have him, he could throw the ball out of bounds and still run another play. In a worst-case scenario, they were in field-goal range and would go to overtime.
So those were the options for Leinart, who ended up choosing . . . none of them. He dropped back and saw his receivers covered. He also saw room to run and believed he could get into the end zone.
"It was an empty formation, getting everybody out," Leinart said. "It was designed to be quick to get the ball into the end zone. So we were on probably around the 5-yard line and I knew they were blitzing and I knew I either had to make the move or throw the ball away. ... They took a bad angle and I got outside."
Leinart took off, turned the corner and with the end zone in sight he jumped. He didn't quite make it, as the ball was knocked out of his hands, and out of bounds.
"Going back I wish I had jumped higher, jumped over them," Leinart said. "I should have fell in the end zone because I almost did fall in the end zone and I barely jumped."
Instead, Leinart was a few yards short, but in the ensuing craziness of the play, what no one failed to realize was that the clock had kept running. It ticked down . . . and down . . . and down . . . and all of a sudden, it hit zero.
Just like that, the game was over.
"We knew we didn't gain possession of it, because the ball went out of bounds," Zbikowski said. "We were just trying to figure out what spot it was, but it seemed as if the clock had run out. ... We see all zeros on the scoreboard and started flipping out."
The Notre Dame defenders weren't the only ones flipping out; everyone in the stadium was. Fans rushed the field as Irish players sprinted toward the 50-yard line to celebrate the biggest win for the program in years.
Even on the USC sideline, there was some thought that maybe, just maybe, the game was over.
"We completely thought we lost the game," Rivers remembered.
But while there was some doubt in the USC contingent — grad assistant Brennan Carroll even actually tried to call a timeout, which the Trojans didn't have, before being pulled away before a referee could see him — others stayed calm. Pete Carroll pushed his players back toward the sideline, as his coaches up in the booth relayed what they were seeing on TV. According to Lane Kiffin, Steve Sarkisian and others upstairs, there should be at least a few seconds put back on the clock. USC should get at least one more play.
"Never really did it cross my mind that we lost," Leinart said. "I was just sort of like, 'What's going on right now?' Nobody really knew."
Eventually the dust settled, and seven seconds were put back on the clock.
It left USC with yet another interesting dilemma: Spike the ball, kick the field goal and go to overtime? Or try for the game-winning score?
"When I go to the line of scrimmage there was a moment," Leinart said. "They took a lot of time to set the chains, we had time to line up. And I remember looking at Pete Carroll. ... We had this little hand signal, 'Do you want me to QB sneak? Or do you want me to spike it?' "
It was certainly a big moment, but like any great team, it was also one that they had prepared for. USC repeatedly practiced this play; not the spike, and not the sneak, but instead, a variation of the play in which they had the option to do either. It also meant that regardless of what Leinart's decision was, everyone else would do the exact same thing. The offensive line would "wedge" block to the left, as if the quarterback was going to sneak it. If he didn't think he had the play, he could always spike it. But the line would block as if they were going for it every single time.
With everyone's plan in place, the decision was up to Leinart.
"I remember Pete's action — you can even see it on video — and you'll see Pete kind of shrug his shoulders like basically saying, 'Yeah, go for it if you've got it,' " he said. "Then I'm kind of sneaking around to my line, and saying 'block wedge' thinking I'm going to go for it. 'Block wedge.' "
Oh, and there was one more thing.
"And then I go to Reggie, 'What should I do?' " Leinart said. "And I said, 'I think I'm going to sneak it, what do I do?' And he said, 'Go for it, I've got you.' "
The ball was snapped, and immediately Leinart grabbed it and went to his left. After an initial burst, Leinart was briefly stymied.
"The only thing I remember from that play is that I had grabbed (Leinart); not at the wrong time, but as the play goes on I had him," said Zbikowski, Notre Dame's starting safety.
Then, just as Zbikowski and the Notre Dame defense had Leinart in their grasp, a burst came out of nowhere. It was Bush, pushing Leinart into the end zone.
It was The Bush Push.
The play was just enough to push the 6-foot-5 Leinart past the goal line and into the end zone for the go-ahead score. For what amounted to the winning score.
Bush jumped into the air, arms raised, and danced into the end zone, a celebration that was part joy, part relief and part college kid savoring a moment that was about nothing more than a love of the sport. Leinart's offensive linemen picked him up and practically dragged him to the sideline as the refs threw a flag. There would be a celebration penalty, but for USC, there was plenty to celebrate at that moment.
USC kicked off with just a few ticks left on the clock. A tackle on kickoff coverage ended the game on Notre Dame's second attempt at a lateral.
Final score, 34-31.
Just like that, one of the best college football games ever played was over.
And its participants remember it like it was yesterday.
'You're Welcome'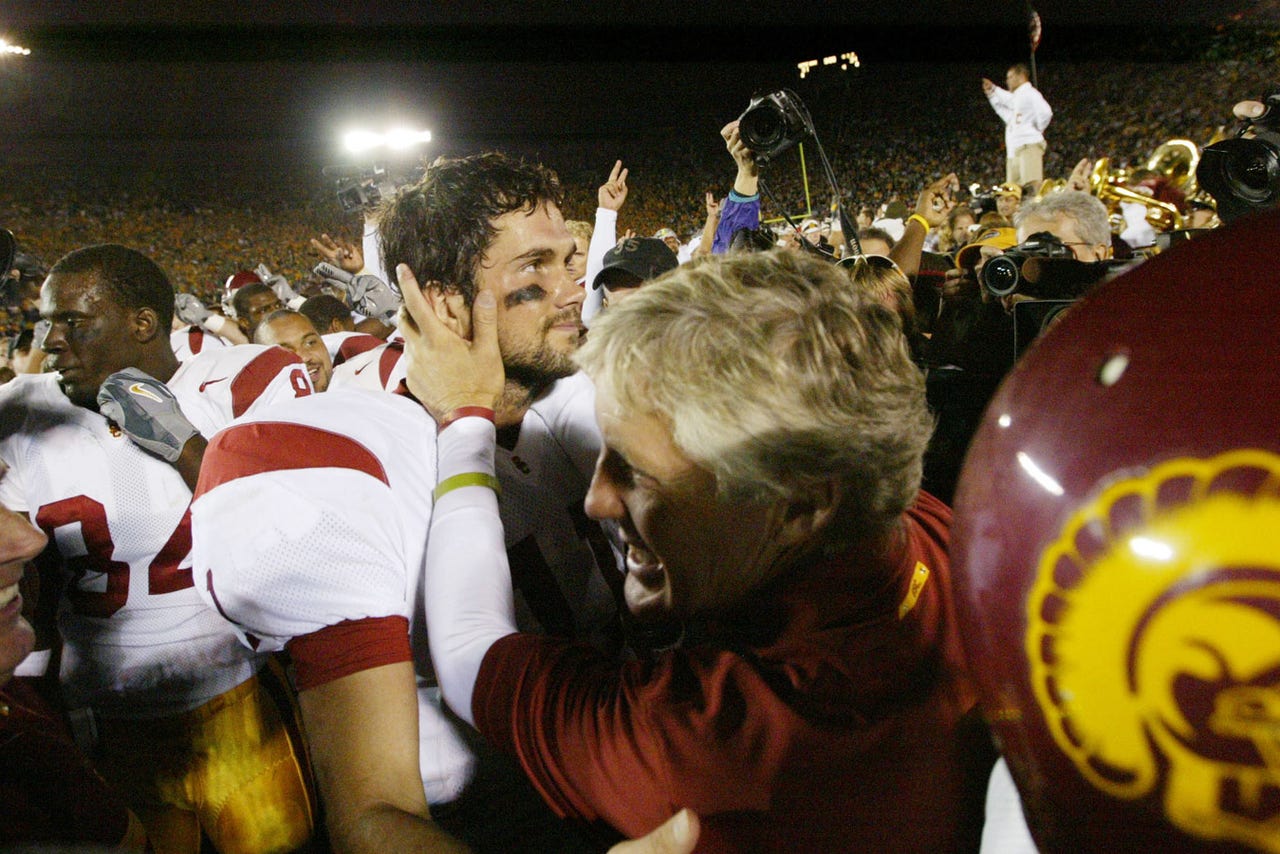 USC head coach Pete Carroll and quarterback Matt Leinart share an embrace after the Trojans' win.
"The Bush Push" remains one of the signature wins, of one of the signature dynasties, in one of the signature eras of college football history. It remains not just one of the best games ever played in one of the sport's best rivalries, but also one of the best games the sport has ever seen.
The emotion after the game said what words simply could not.
"Offensive guys (were) crying, coaches embracing each other, seniors, guys who were playing there for the last time were kind of spent emotionally," Jackson said. "It was crazy and I didn't fully understand why people were getting emotional like that, but man, it was a crazy scene to see a lot of guys crying and stuff."
Years later, Jackson now understands why things got so crazy.
"It was almost like an elation, that if during the game people didn't show fear or doubt or worry, the way that the game was being celebrated afterwards was like hey man, we almost lost that game. That was close. We really got away with one. That was the closest that we'd come to losing. We looked defeat right in the eye, and we won."
Meanwhile across the way, Notre Dame's players were frustrated for a few reasons, and it started with some questionable calls from the referees. Surprisingly, no one was as upset with "The Bush Push" as much as the events that led up to it.
"For me, the big issue with the game wasn't the last play (the Bush Push), which everyone would do, which everyone was taught to do," Samardzija said. "My big problem was where they spotted the ball. If you fumble out of bounds at the 3-yard line, you don't spot the ball at the half-yard line, you spot it at the 3-yard line."
It's an interesting point, and it is clear when you watch the game on tape that USC might have gotten a generous spot for its final offensive play of the game. The Trojans also got a huge break when referees missed Brennan Carroll trying to call a timeout when the ball went out of bounds, something that virtually everyone interviewed for this story referenced.
But really, it's bigger than that.
As Samardzija then pointed out, if USC doesn't get the ball on the half-yard line, maybe the Trojans don't go with a QB sneak for the win. Maybe they kick a field goal to tie the game, and maybe Notre Dame wins in overtime. Or maybe they miss the field goal and Weis' club wins in regulation. 
And if the Irish had won, who knows what that would've meant for them. The loss to USC was their final defeat in the regular season. If the Irish beat USC and win out the way they did, Notre Dame might have played for a title that season. Instead of USC-Texas, it could've been Notre Dame-Texas at the Rose Bowl.  
"If you look at it, we're playing in the national championship game (if we had won)," Quinn said. "We're a one-loss team, losing in overtime to Michigan State ... and beating a No. 1 team on our résumé. There's no doubt we're playing, I guess against Texas, in the national championship game."
Unfortunately for Notre Dame, to the victors go the spoils, and on that day, USC was the victor. USC remained undefeated and continued to win games right up until that BCS title game against Texas.
And while the game against Texas didn't end the way USC hoped, it doesn't take away from what the Trojans accomplished that day in South Bend.
It also showed what made the Trojans dynasty so special: For all the talk about Hollywood and glamour, there was a grit to the program which is rarely ever discussed.
"Nothing was going our way for three-and-a-half quarters," Leinart said. "We weren't playing the way we should, but in that drive, we executed to perfection. Not the whole drive, but when we needed to be great, and we needed to be our best, we were. In the most critical time, in the most critical part of that football game, with a hostile crowd, we were perfect. That's what's awesome about the end of that game."
In an era filled with wild wins for the Trojans, that may have been the craziest one of all.
"I was so mentally exhausted, I just couldn't talk (after the game)," Leinart remembers. "It was one of those games. Even in the locker room, everyone was celebrating and I just remember thinking, did that happen?"
Oh, it happened.
And if he needed a reminder, Leinart had a friend to give it to him.
That friend was Bush.
"Even afterward he's like, 'You're welcome,'" Leinart said. "This was like five, 10 minutes later, and I'm like, what happened, dude? I was so emotionally drained. And he was like, 'I pushed you.'"
All these years later Leinart still remembers exactly how he responded.
"I was so emotionally drained, I was just like, thanks, man. It was so funny because I had no idea what had happened."
Aaron Torres is a contributor for FOXSports.com. Follow him on Twitter @Aaron_Torres or Facebook. E-mail him at ATorres00@gmail.com.
---
---