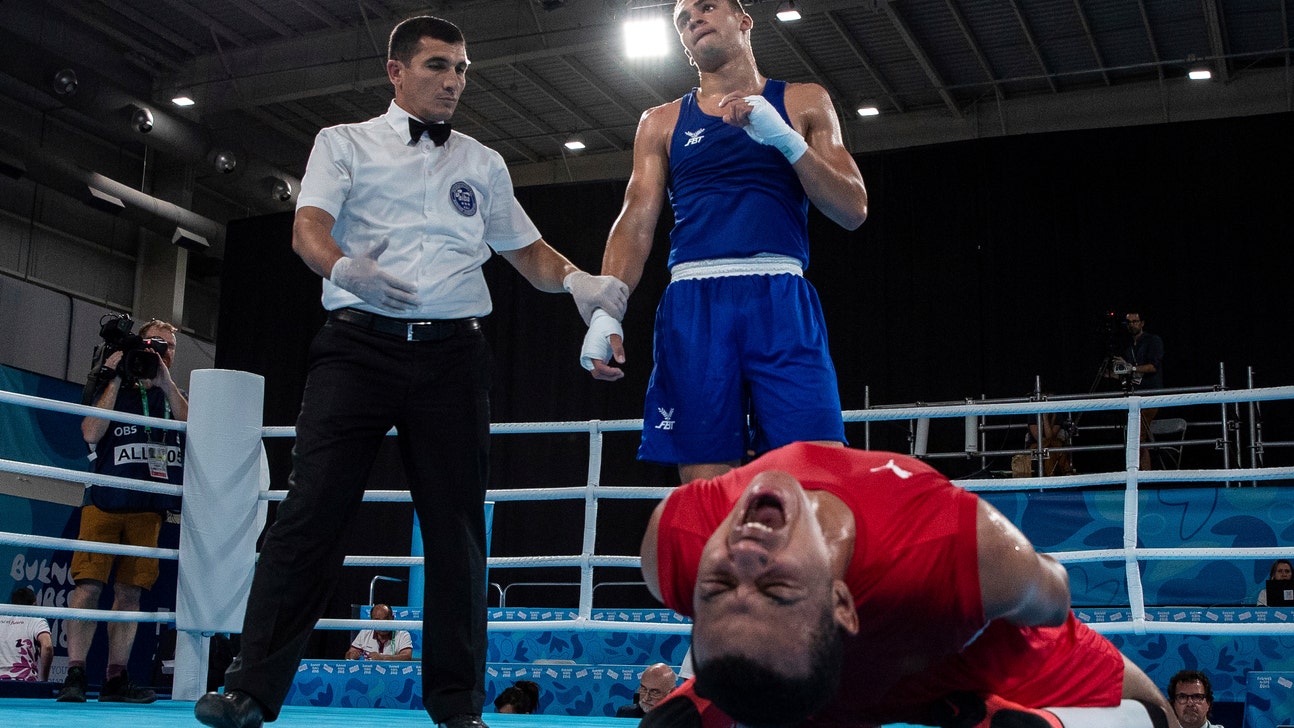 Sports court clears candidate for boxing federation election
Updated
Mar. 4, 2020 1:11 p.m. ET
GENEVA (AP) — The presidential election to lead the amateur boxing association, with its recognition by the Olympic movement potentially at stake, will now have two candidates.
The Court of Arbitration for Sport delivered an urgent ruling on Tuesday clearing Serik Konakbayev of Kazakhstan with valid nominations to stand for president of AIBA in Saturday's vote against an alleged heroin trafficker.
While Konakbayev is an Olympic silver medalist, AIBA interim president Gafur Rakhimov has been described as "one of Uzbekistan's leading criminals" by the U.S. Treasury Department.
Rakhimov's assets in American jurisdiction were frozen by the federal treasury for "providing material support" to the Thieves-In-Law criminal organization. He has denied wrongdoing.
"I am pleased to welcome another candidate and, as I have said before on numerous occasions, for AIBA it is good when we have competition especially at the highest levels," Rakhimov said in a statement on AIBA's website.
The International Olympic Committee has warned AIBA it risks being barred from the 2020 Tokyo Olympics if Rakhimov wins the election. The sport of boxing, however, is not at risk of being dropped from the Olympic program.
The IOC did not let Dubai-based Rakhimov attend the Youth Olympics in Buenos Aires this month, and British authorities previously blocked his accreditation request for the 2012 London Olympics.
Rakhimov also could not attend the 2000 Sydney Olympics when Australia's government denied him a visa despite being accredited for the games.
However, he continued to have influence in Olympic circles. He was a vice president of the Olympic Council of Asia and lobbied on behalf of Sochi's successful bid to host the 2014 Winter Games, when Pyeongchang was the only Asian candidate.
Weeks after the vote in 2007, Russian Olympic official Leonid Tyagachev said "Sochi would have found it hard to count on victory" without votes from Asia gained "thanks to the focused work done by (Rakhimov)."
CAS said its panel upheld Konakbayev's appeal after a hearing on Monday to challenge his exclusion by AIBA to compete against Rakhimov.
An AIBA election committee had ruled his candidacy invalid for missing a deadline last month to gather enough nominations by national boxing federations.
On Tuesday, the highest court in sports said its judging panel found AIBA's election committee "unduly refused the nominations returned on a wrong form by several federations in support of (Konakbayev)."
"Therefore, the panel acknowledged that Serik Konakbayev reached the threshold of 20 nominations supporting his candidature for the AIBA presidency within the relevant time limit," CAS said.
The election is scheduled for Saturday in Moscow, where Konakbayev took silver while representing the Soviet Union in the light-welterweight class at the 1980 Olympics.
"I have always fought to have an open and transparent election process and, thanks to CAS, our electorate will now have the opportunity to select the right man for the job," Konakbayev said in a statement.
The IOC has previously frozen funding to AIBA over concerns about Rakhimov, its governance standards and claims of suspect results in bouts at the 2016 Rio de Janeiro Olympics.
The Olympic body has said it wants boxers to compete in Tokyo, though said in Buenos Aires that the 2020 competition could be organized outside of AIBA's control.
Before the presidential vote, AIBA members will be asked on Friday to approve changes to its statutes proposed under Rakhimov's interim leadership.
They include letting the president appoint two "corporate partners with investments in excess of $10 million" to be non-voting vice presidents, and setting out ways for the president to take a leave of absence yet still attend and vote at executive committee meetings.
---