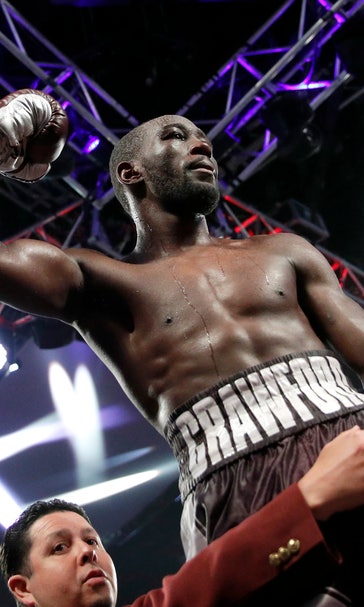 Champ Crawford challenging Benavidez to back up his words
October 4, 2018
OMAHA, Neb. (AP) — World champion welterweight Terence "Bud" Crawford said he's eager to make unbeaten challenger Jose Benavidez Jr. eat his words when they meet in the ring at CHI Health Center on Oct. 13.
A heated confrontation between Benavidez and Crawford in February was a major topic during a teleconference to promote the fight Thursday. Crawford got riled when Benavidez approached him at a boxing event in Corpus Christi, Texas, and accused Crawford of ducking him out of fear.
"That comes with the territory when you have people who want your spot," Crawford told reporters. "They want any opportunity to prove their worthiness, to make a name for themselves. That's how I took it. He's trying to piggyback off my name to make himself bigger."
So why grant Benavidez a fight?
"Oh, why not? Why not?," Crawford said. "Talk is cheap. We're in the same division, same promoter, it's an interesting fight. He's always saying I'm fighting smaller guys. It's the chance to see what he's made of."
Crawford (33-0, 24 knockouts) is a three-division world champion who holds the WBO title at 147 pounds. He won the belt by stopping defending WBO champion Jeff Horn in the ninth round in Las Vegas in June.
Benavidez (27-0, 18 KOs), a former WBA interim super lightweight champion, was shot multiple times in an August 2016 incident in his hometown of Phoenix. Benavidez returned in February to stop Matthew Strode in the eighth round in Corpus Christi. The exchange with Crawford came the day before at the weigh-in.
Benavidez knocked out Frank Rojas in the first round in his previous fight, which was on the Crawford-Horn undercard.
"When Terence Crawford gets in the ring, it's like Alabama in football. He's that dominant," Top Rank president Todd duBoef said. "He's going to have his hands full with a guy who will not back down."
Crawford said no when asked if Benavidez, who was not on the teleconference, has any boxing qualities he admires.
At that, duBoef said: "Terence, you'd say he has a good mouth, right?"
Crawford: "Yeah, that's about it."
---