Top 10: A&M, Texas on front lines of 2015's hottest recruiting wars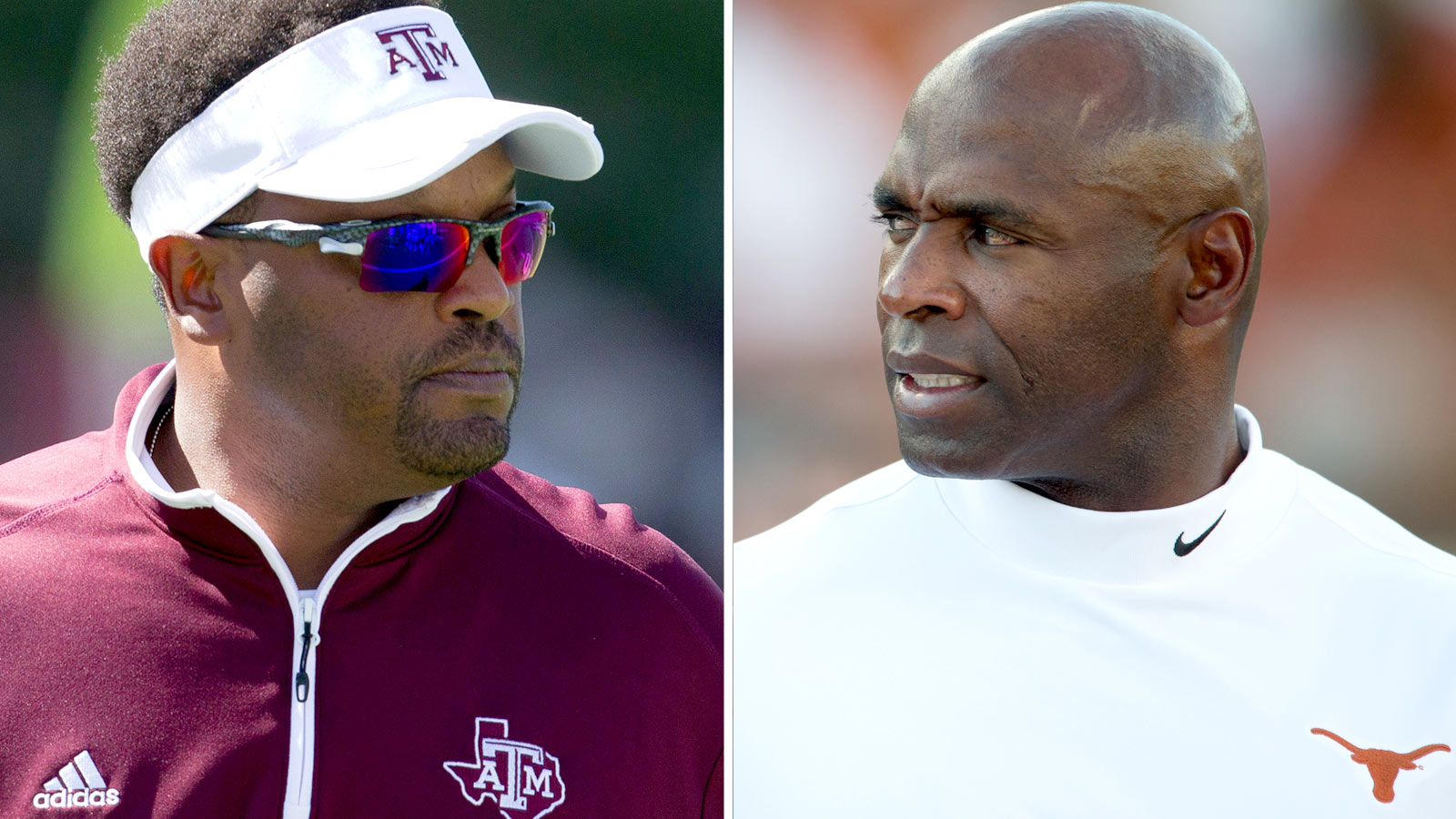 With Signing Day just a week away, it's time to examine the hottest recruiting battles of the 2015 signing class.
1. Kyler Murray, QB: (Update: Murray re-affirmed his pledge to Texas A&M): There are recruits who are ranked higher by the online sites, but none has sparked more drama than the dynamic dual-threat legacy quarterback down in Texas. The 5-foot-11, 178-pound Murray threw for 45 TDs and ran for 24 more as a senior at Texas prep powerhouse Allen High, where he won Gatorade National High School Player of the Year honors and never lost a game as a starter, going 43-0 and leading the Eagles to three state titles. Murray's also the son of Texas A&M great Kevin Murray and has been committed to the Aggies since May. His skills make him seem like an ideal fit for the A&M system.
"He can really spin it," says one college coach. "The ball just jumps out of his hand and you can tell he's been coached very well for a long time. He's also got great feet and is terrific at buying time and extending plays. The only knock on him at all is his size, but with the skills he's got, he's a special talent."
Murray's also got the ear of a lot of top recruiting talent in the Class of 2015. With the late-season emergence of true freshman QB Kyle Allen at A&M, it's led to some speculation that Murray might opt for a place with more unproven talent at quarterback than there is in College Station. Word is, though, that he's been assured the Aggies QB job will be an open competition. After all, Allen (16 TDs, seven INTs) has started only five games.
While it seemed like Oregon would be the Aggies' biggest competition, with the possible exception of Major League Baseball (Murray is also a potential first-round pick on the diamond), Texas then started to emerge as a contender. The 'Horns struggled mightily in Charlie Strong's debut season at UT, going 6-7 and losing their final two games by a combined score of 79-17. But Strong did beat A&M for prized LB Malik Jefferson, a buddy of Murray's. There have been rumblings that Strong is tinkering with his offense, employing more of an up-tempo spread attack that'd cater to Murray's talents. UT's offense was very shaky in 2014 as was starting QB Tyrone Swoopes. Dual-threat QB Jerrod Heard is another option, but as decorated as both were as local recruits, they didn't have the buzz that Murray has, which was evident last week when he and one-time A&M commit DeMarkus Lodge, a speedy wideout, took a visit to Austin.
And when the pair tweeted out photos of Texas jerseys, Murray showing one of a Longhorns' No. 1 and Lodge of the No. 18, it sent the UT and A&M fan bases into frenzies. Both had talked to A&M about getting their high school jersey numbers with the Aggies but senior players already have both of those numbers — Brandon Williams wears No. 1 and Ed Pope wears No. 18.
Murray's tweet has since been retweeted over 4,700 times and favorited over 5,000 times. Did it mean he was set to bail on his commit to A&M, his old man's school, for the archrival? Or was he just getting the Longhorns' — and all their fans' — hopes up to tweak them? Such is the murky nature of recruiting in 2015. The battle for Murray even triggered a salty Twitter dust-up between writers from each school's fan sites Monday.
And, of course, there is a Johnny Manziel component to this since the Aggies' Heisman winner has been buddies with Murray, and on Sunday the Cleveland Browns QB tweeted "Gig 'Em @TheKylerMurray," which the high school signal-caller retweeted.
Murray's presence around UT certainly didn't help the Horns hang on to their long-time QB commit in the class, Zach Gentry, a strong-armed, athletic 6-6, 230-pounder from New Mexico, who a few days after Murray's visit with Texas was in Ann Arbor and committed to Jim Harbaugh's Michigan program. (UT also is pursuing four-star FSU QB commit Kai Locksley.)
But it feels like Murray or Bust for UT, especially perception-wise as Strong tries to get some momentum in-state. Texas and Texas A&M are expected to have in-home visits this week with Murray. Aggies coaches visit him Thursday with the Longhorns slated to go to see him on Friday. If Murray follows through on his commitment to A&M, don't be surprised if fellow in-state blue-chippers Daylon Mack, a DT, and Lodge, a WR, come with him to College Station. Then again, with the juice Murray has, don't be surprised if Mack, Lodge and a few other blue-chippers opt to come with him to Austin.
"Potentially, this could be a ridiculous close for Strong and Texas," said Jamie Newberg, Scout's national recruiting analyst, adding that UT also could reel in fellow blue-chippers Kris Boyd, Chris Warren and Holton Hill. "That is a huge story line to watch over the next week. Texas may not catch Alabama on National Signing Day but they could steal the show with that potential close. It would be easy. It's never easy. But they should finish extremely strong (no pun intended)."
The wildcard in the Murray sweepstakes is Oregon, which has a huge vacancy for a QB and has an offensive system he really likes, but how willing is he to leaving the state of Texas?
2. Iman Marshall, CB: USC vs. Florida State. vs. LSU vs. Notre Dame vs. Oregon vs. Michigan: The latest in an amazing line of standout athletes at Long Beach Poly High, the 6-1, 190-pounder is the nation's top corner. "He's a legit 6-2 and he's really long, but also has great change of direction and great hips," says one veteran West Coast recruiter.
"At the same stage, he is much more polished than (last year's top CB recruit) Tony Brown and he's not far off athletically. He was a man amongst boys in the Under Armour game," said a recruiting coordinator at one powerhouse program.
Marshall has been very busy of late. He's taken official visits to Notre Dame, Florida State and Michigan and was at LSU this past weekend. Says Greg Biggins, Scout.com's national recruiting analyst: "He'll visit Oregon this coming weekend and may try and fit in a USC unofficial visit sometime before the dead period. USC is the childhood favorite and where everyone has predicted Marshall would end up, but there has been some recent buzz that they may not be the lock everyone (myself included) assumed. Jim Harbaugh came in for a home visit Monday night and the Wolverines have made a very positive impression. Marshall's father Tony went on the visit to LSU (only one so far) and will likely visit Oregon as well."
Marshall is expected to announce his choice on Signing Day.
3. Martez Ivey, OT: Florida vs. Auburn: The aura of Will Muschamp is a strong subplot to this year's Signing Day. Think back a few months ago to the press conference when he was fired by Florida as the Gators' head coach, where UF's AD and president gushed about Muschamp's character — among other things — in ways you only usually see a school's brass talk about a guy when they hire him.
If Muschamp were still at UF, the Gators would've already landed a bunch of in-state blue-chippers like the 6-6, 275-pounder. Instead, Muschamp's now the DC at Auburn and over the weekend Ivey told Gatorcountry.com that he's now "50/50 between Florida and Auburn," after a recent visit to see Gus Malzahn's program. Ivey still has a strong relationship with UF O-line coach Mike Summers, a holdover from the Muschamp staff. On the flip side, Ivey's best friend, Chandler Cox, is a former high school teammate who signed with Auburn to play fullback and is already enrolled in school.
Ivey's also used Twitter as a focus group of sorts for his recruitment:
Fav for 🐊 rt for 🐅

— Martez ivey (@tezivey) January 25, 2015
4. Byron Cowart, DE: Auburn vs. Florida vs. FSU: Last summer while covering the Elite 11 and The Opening (a gathering of the nation's top 160 or so football recruits) on the Nike campus in Oregon, Cowart, a chiseled 6-2, 250-pounder, was the guy who most passed the eye-ball test. He looked like a 28-year-old man who'd already spent half a decade playing in the NFL. The Tampa (Fla.) Armwood High product is ranked by a few recruiting services as the nation's No. 1 overall prospect, although several of the college coaches I spoke with were higher on a couple of D-linemen in this class.
"I think CeCe Jefferson plays harder than Cowart, but I love both of them," says one veteran coach.
Another recruiter says Cowart's "not the freak athlete that (last year's top D-lineman) Myles Garrett is, but he's thicker and he's still really, really explosive."
A third coach, a D-line coach, was a bigger fan of Cowart: "He's a beast. He's not very tall, but he's just an explosive, shorter guy. I think he's a very freaky dude."
Again, Muschamp's old school and his new one are in a heated battle, but don't underestimate FSU either. Newberg, though, calls Auburn the team to beat for Cowart.
5. CeCe Jefferson, DL: Ole Miss vs. UF vs. FSU vs. Auburn vs. LSU: Jefferson's all over the map. One college coach we spoke to earlier this week said Jefferson is actually 6-3, 285, which is much bigger than most of the recruiting sites list the Florida native. "I love this kid," said one of the older college coaches. "He's really tough and plays his ass off, and he moves so well I can see why some schools want him as a SAM (linebacker)." Jefferson stoked the Rebels' hopes with an Instagram video he posted over the weekend.
New UF DC Geoff Collins has worked hard on Jefferson, and a Monday home visit by the Gators led to the standout D-lineman audibling for a Tuesday visit to the UF campus, which adds a bit more credence to Newberg's notion that Jefferson will end up a Gator.
6. Daylon Mack, DT: TCU vs. Texas A&M vs. Texas: Guys who are 330 pounds and can move like Mack are very rare. "Great get-off for a guy that size," says one veteran D-line coach. That's why this is such a hot battle in the state of Texas. "He's got great bulk mass to anchor and has elite quick-twitch off the ball," said one recruiting coordinator. "You can't teach that –either they have that or they don't."
The Texas native was once committed to Texas A&M, but then the uncertainty over who the Aggies' DC would be helped spur his de-commitment. He then announced that TCU was his leader, but when the Aggies hired John Chavis away from LSU to run their D, Mack sweetened on the Aggies again. Reportedly he's also interested in Texas. Coaches say he loves the recruiting game. He's another one who could be impacted on what Kyler Murray decides.
7. Chris Clark, TE: Michigan vs. UCLA: Considered by some recruiting sites as the nation's No. 1 tight end prospect, the 6-5, 250-pounder from Connecticut actually had committed to the Wolverines before the 2014 season but then de-committed after Brady Hoke was fired.
"Does he end up sticking with Michigan after decommitting then tweeting how he wanted Michigan to hire Harbaugh, or does he flip to UCLA, who went all in on him after they knew (fellow blue-chip TE) Alize Jones was going to Notre Dame?" says Brandon Huffman, the Director of Recruiting for Scout.com.
The Bruins pulled off what Clark called "the coolest recruiting pitch" of a future magazine article detailing the great career he had at UCLA.
Coolest recruiting pitch pic.twitter.com/hbDZO5ztLt

— Chris Clark (@Clark8Chris) January 15, 2015
Still, it sounds like the Wolverines will be very tough to beat. Harbaugh made quite an impression on Clark after he went back to visit UM in mid-January.
"He said, taking this job, he can't fail," Clark told Mlive.com. "He said he can't fail, because he cares way too much about the city, about the University of Michigan and he's going to work harder at this job than anything he's ever done in his life.
"He's committed into turning Michigan back into the best program in America, and I really think they'll get there. I've never met a coach who is that competitive and that intense."
Part of Harbaugh's pitch was showcasing how he used and developed Coby Fleener and Zach Ertz, a pair of standout tight ends at Stanford. Landing Clark would be a big plus for what will be a small recruiting class at Michigan this winter, but one that got a nice boost last weekend when Gentry, the big QB who had been committed to Texas, flipped to UM.
8. Soso Jamabo, RB: Texas vs. Notre Dame vs. UCLA: Another touted Texas kid who could make Longhorn fans very happy next week. The 6-2, 210-pound Jamabo is a fantastic athlete who also excels at basketball. One college coach likened him to a bigger version of Wisconsin star Melvin Gordon. Another said Jamabo is an interesting mix of size and speed. "He can make people miss, but I'm not sure how physical he wants to be," said the coach. "He's powerful but seems to like to get the ball on the perimeter."
Jamabo also has had some fun with the recruiting process this week. He even named ITT Tech and the University of Phoenix as his two recruiting leaders.
9. DeMarkus Lodge, WR: Ole Miss vs. Texas A&M vs. Texas: Another former Aggie commit, Lodge also could end up following in Kyler Murray's path. Although some in recruiting circles suspect if Murray picks Texas, Lodge will go to Ole Miss. Whoever gets him will land a heckuva big-play threat in the 6-2, 190-pound Texan.
"He's not a great route runner, but he can really stretch the field and attack the ball," says one recruiting coordinator. "We've seen so many times where the corner is in good position and he can just go take it from them."
10. Rasheem Green, DL: USC vs. ASU vs. Miami vs. Oregon: A few college coaches I spoke with wondered if the 6-5, 280-pound Green wouldn't eventually be shifted over to offensive line. Regardless, several recruiting sites have him among the top 50 recruits in the Class of 2015. Green is a Serra (California) product, which has become quite a pipeline for USC and sounds like it'll feed the Trojans again.
"USC has been a longtime leader and it will be a pretty big shock if he ends up anywhere else," said Biggins. "ASU is probably running No. 2 right now and he'll announce on Signing Day as well."
Bruce Feldman is a senior college football reporter and columnist for FOXSports.com and FOX Sports 1. He is also a New York Times Bestselling author. His new book, The QB: The Making of Modern Quarterbacks, came out in October, 2014. Follow him on Twitter @BruceFeldmanCFB.