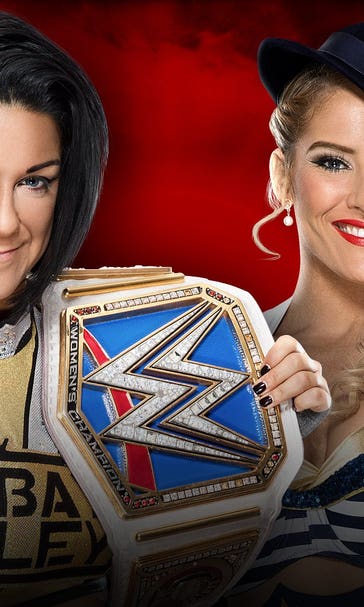 SmackDown Women's Champion Bayley vs. Lacey Evans
January 17, 2020
There are some lines you just don't cross.
And not only have SmackDown Women's Champion Bayley and Sasha Banks repeatedly crossed the line in recent weeks during some heated dust-ups with Lacey Evans, they've taken great delight in doing so, constantly mocking Lacey's family and bashing The Lady of WWE for her alleged lack of parenting skills.
The Boss escalated the animosity to dangerous levels by taunting The Lady's young daughter, who was sitting in the first row during Sasha's recent singles match against Lacey at SmackDown. The incident sent Evans into a rage, as she took down Banks at ringside and unleashed a barrage of haymakers until the match ended in a double count-out.
But Bayley and Banks didn't stop there. The mean-spirited tandem kicked off a recent SmackDown with yet another attack against Evans and her family, all while Bayley claimed that she and Banks were the unquestioned leaders of the SmackDown locker room. 
Evans was scheduled to battle Banks on the Jan. 17 edition of SmackDown, but before the match, she got into a wild brawl with The Boss and Bayley in the backstage area! Sasha, who was seen moments later sporting an ice bag on her ankle, decided that Lacey didn't deserve a match against The Boss. Instead, Bayley was forced to take Sasha's place in a non-title match against The Lady, and Evans scored arguably the biggest win of her WWE career by defeating Bayley with vicious Woman's Right.
Evans, who tangled with Becky Lynch in a heated series of matches in 2019 and came within an eyelash of dethroning The Man for the Raw Women's Title, now gets her first championship bout as member of the blue brand in what is sure to be a pull-no-punches affair.
And Bayley, whose newfound edge led her to a SmackDown Title win against Charlotte Flair, won't hesitate to use nefarious tactics or lean on Banks to keep the championship in her possession.
Will The Lady of WWE get retribution after weeks of ridicule and personal attacks, or will Bayley have another trick up her sleeve for the former United States Marine? Find out at Royal Rumble on Sunday, Jan. 26, streaming live on the award-winning WWE Network!
---