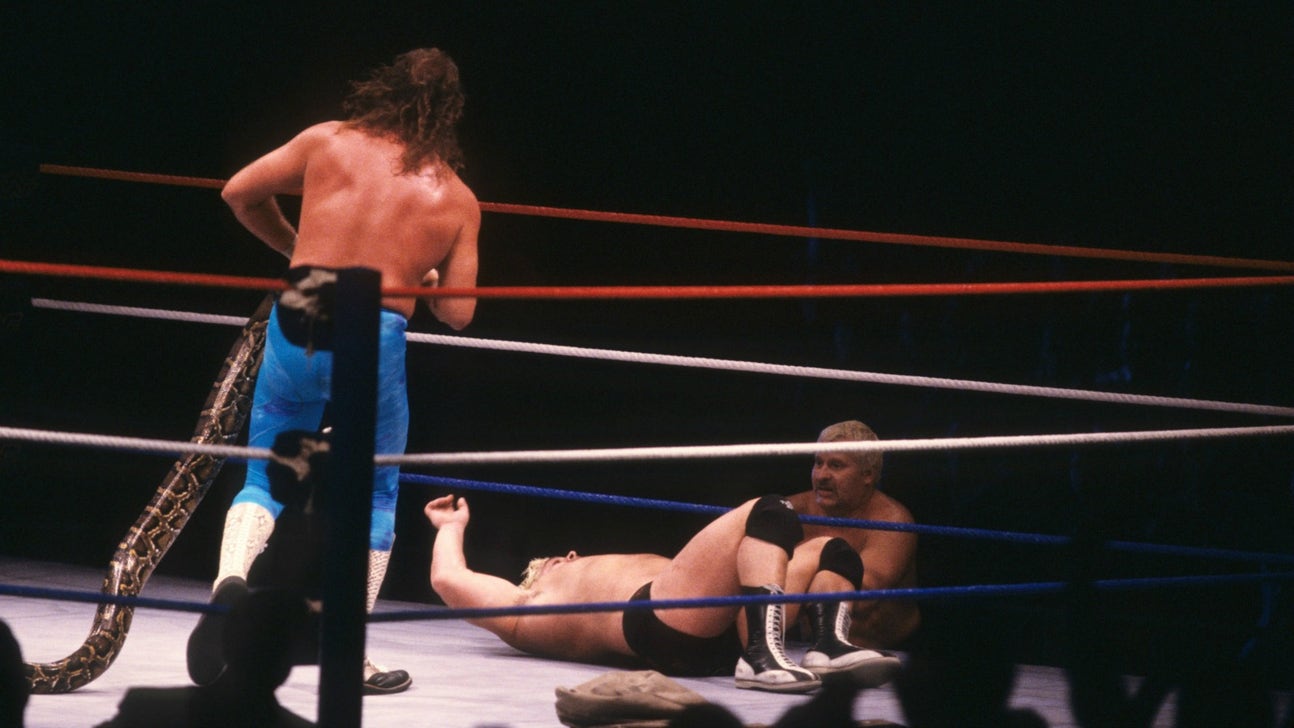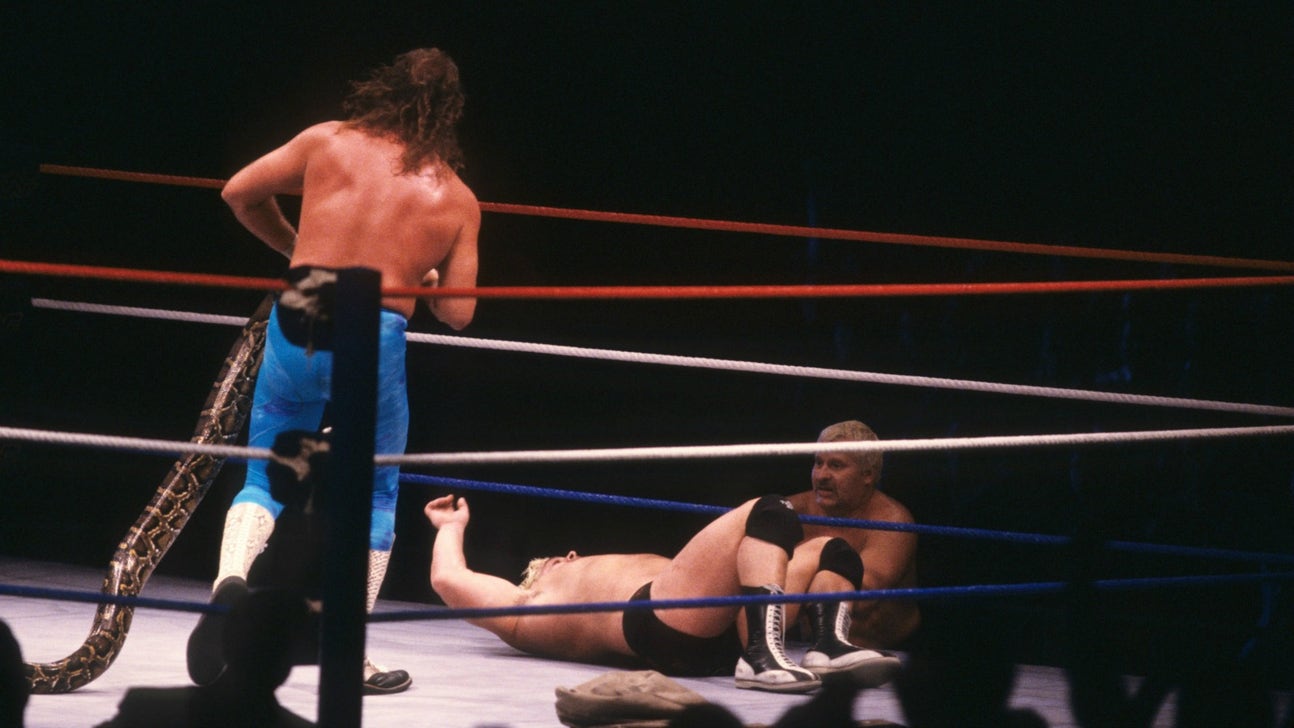 Jake 'The Snake' Roberts finds serenity through sobriety
Published
Jun. 22, 2016 9:55 a.m. ET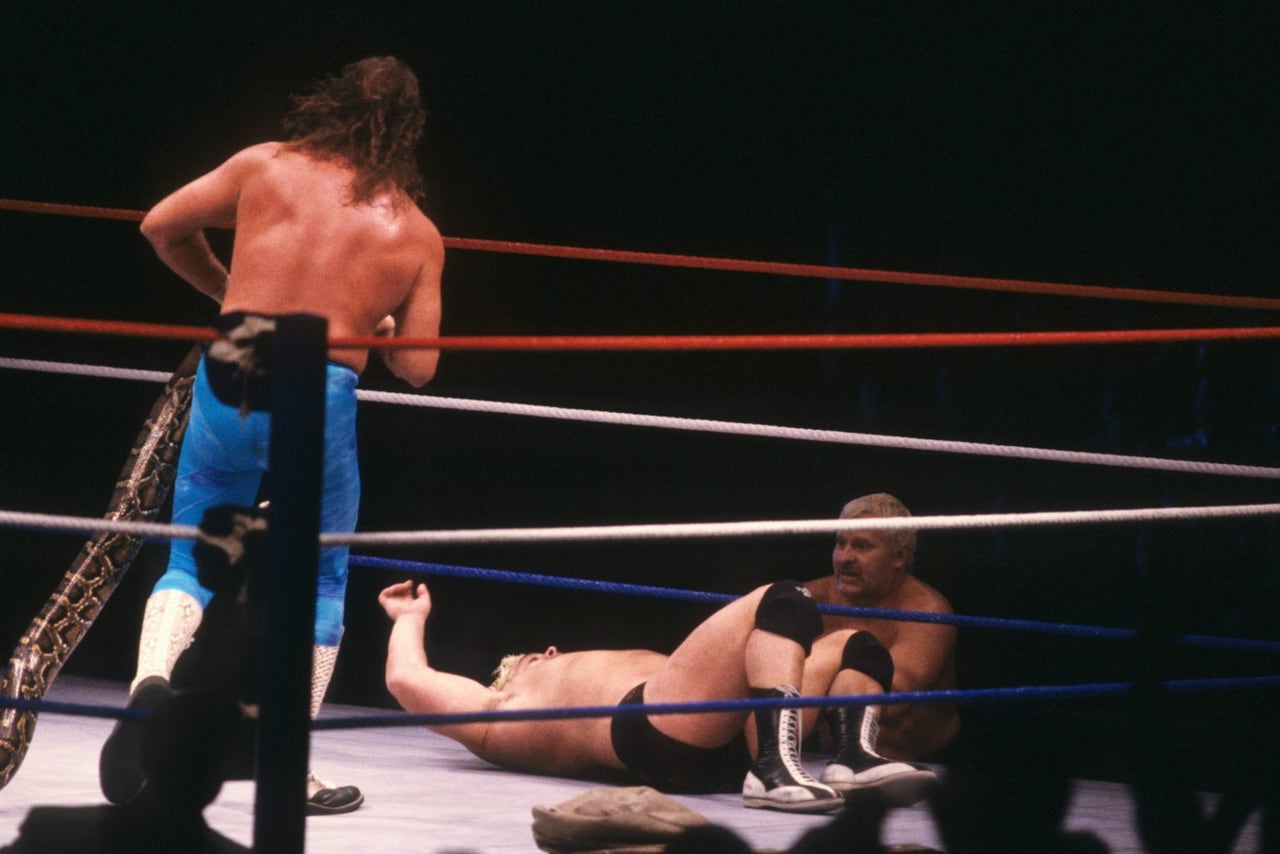 Jake "The Snake" Roberts has experienced a roller-coaster career ... and life. Being involved in the professional wrestling business for five different decades has given Jake the well-deserved place a one of the most popular and respected wrestlers in the history of the business. However, with that level of fame, often came adversities and vices. For Jake, it came in the form of alcohol.
This was displayed in the "Resurrection of Jake 'the Snake' Roberts," a real-time documentary released in 2015 that was filmed showing the highs and lows of his process to total sobriety and holistic wellness. With the firm coaching of "Diamond" Dallas Page, not only was Roberts able to lose a considerable amount of weight, but he was able to execute his patented DDT on the demon called alcohol. The movie showed how Roberts was able to rebound and use his journey as a testimony that, at 61, he has found his true calling in life to help those who are struggling with this merciless vice.
I had the pleasure to interview Roberts recently to check on his current status, as well as pose a few questions about some pivotal moments in his wrestling career.
Roberts offered an update on how he is feeling now, compared to his low times.
"I feel fabulous, Roberts said." "I've got almost five years sober, I'm clean now, the world is beautiful, my family loves me to death, my grandkids has the coolest grandpa ever (and I am; I'd go vote on that). Everything's wonderful.
"The feedback from the movie is awesome, I'm now on the road doing comedy, I'm going into bars and speaking in bars and watching people push their drink back because I'm hitting home on them. We've been able to help a few people on their way to sobriety. We pull people out the bar scene, sit down with them and have a serious talk about addiction. It's awesome. That's what I'm here for. These are my people, man. These are the ones I was supposed to be here for."
Sunday, at WWE's Money in the Bank Pay-Per-View, Dean Ambrose won the ladder match and cashed in his briefcase after the main event between Roman Reigns and Seth Rollins to win his first WWE World Heavyweight Championship. Since the inception of his "lunatic fringe" character, and even in his days on the independent scene, one of the people Ambrose has been compared to is Roberts.
Regarding this comparison and title win, Roberts stated, "Kudos to him, or anybody who wins that title. I never won it, which I didn't get any opportunities for either, that's the reason I never won it. It is what it is. But, I love being compared to world champions, so go right ahead."
When asked why he never had a title in the WWE, he felt that the company believed his character was strong enough not to need one.
"I feel like I never had a belt because I simply didn't need it," he said. "I kind of walked my own walk, did my own talk, and it wasn't something I needed to show up my Hall of Fame career. I was usually in different cities than [Hulk] Hogan was.
"They can explain it better than I can. I think I would have been a great champion, I think I could have put rear ends in seats, I think they could have done a lot worse than having me as a champion. You know, it's alright with me. It doesn't take away the sweetness. It really doesn't."
Roberts said there were never talks of him winning any title, not just the world championship. He added desire to compete in the Royal Rumble is still there, but it has subsided due to other projects such as his comedy tour and currently writing a book.
Two of the most memorable parts of the WWE career of Roberts are his infamous DDT to Ricky Steamboat on the concrete floor during a "Saturday Night's Main Event" episode that aired in 1986, as well as being a runner-up 10 years later in the 1996 King if the Ring, which spawned tournament winner Steve Austin cutting a promo about his religious convictions and using it to birth "Austin 3:16."
Roberts stated that he did not have any heat from Steamboat, but he "was angry at some of the people who wanted that done" because he told them it couldn't be done. "That's impossible, I'll kill him," said Roberts when asked to execute the move on Steamboat. "We're very fortunate that it didn't."
Roberts also has no hard feelings toward Austin.
"I'd been helping Steve for a while, and he would call me and tell me what was going on," Roberts said. "I was a big supporter of Steve before anybody else was. In fact, Vince (McMahon) had told me that this guy is midcard at best. I disagreed with him; I said, this guy is gonna be your next 'blow it out of the water' guy. I hate when I'm right, but boy, I was right!"
Surprisingly, Roberts had some biting words about when he worked with newly inducted WWE Hall of Famer Sting, the WCW legend. Roberts contributes their lack of chemistry during a feud due to laziness from Sting at the time after earning a "fat contract" from WCW.
"He was very lackadaisical, didn't want to ramp it up. I didn't enjoy it," Roberts said. "Bottom line. I didn't enjoy it. It's one thing to go out there and tip your hat and go at it and try to have a great night. But when you go out there and you know the guy across from you just doesn't have his heart in it, [get out]! It's a shame." 
Roberts feels a similar kind of sentiment when it comes to today's product. One of the biggest missing links of current WWE is the lack of psychology in cutting a promo, which Roberts was a master of.
When asked why he is not a promo coach for WWE, specifically NXT, he said that he does not know.
"I have no idea," Roberts said. "I would love to pass some of the knowledge I have on to the other guys. Maybe they are worried I may fall back into my old ways. I do miss helping, I do miss being around it. But, maybe it's just not gonna happen for whatever reason. They seem to lean into their formula, but we all need a little help. I have sat down with Bray Wyatt a few times, and gave him some ideas. I certainly appreciate what he is doing out there." Regarding his dissatisfaction of today's product, he feels that "it's very murky," and "they flip-flip like fish in a pan.
"I think that it's just a completely different animal today. It's not necessarily an animal I like. It hurts me sometimes to watch it, I get so angry because I see so much that is being wasted, so much that is being abused. How they abuse finishing maneuvers, oh my God, I just wanna slap people in the face! When it will stop, I do not know. But not soon enough."
Chris Featherstone is a freelance writer. Follow him on Twitter @cravewrestling.
---