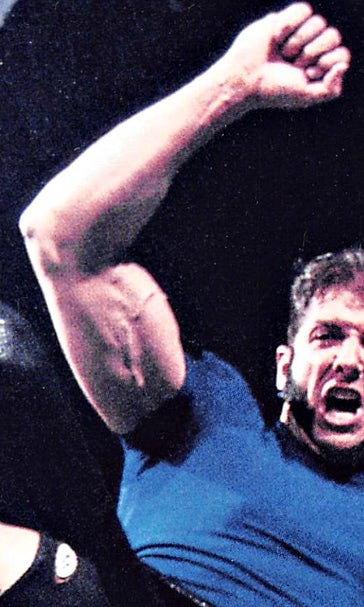 Former WWE Superstar is suffering from a litany of life-threatening health issues
October 7, 2016

Rico Constantino, a former WWE tag-team champion once known as Rico the Stylist, is currently fighting for his life. Much like the other adversities he's overcome, the former stuntman isn't about to give up.
Constantino is currently suffering from leaky valves in his heart, blood clots in his lungs, and traumatic brain issues. He's been bed-ridden while trying to rehab since January. His illnesses have led to a large amount of medical bills.
Just as Constantino has fought through being shot, stabbed, beat up while in law enforcement, his resolve is strong and his spirit has not diminished. A man of great faith, Constantino said that he is determined to fight this thing and get back to his old life. Fortunately, he has a lot of friends who want to help him, including former WWE champion Chris Jericho, who donated to help Rico on his gofundme recently.
Constantino is best remembered as a manager for both Billy & Chuck and 3-Minute Warning, before becoming a two-time WWE Tag Team Champion himself. 
After each WWE show, he would literally sign autographs for all.  It didn't matter if there were 20 or 220 fans outside, Constantino greeted all of them. Constantino realized how fortunate he was to be a WWE Superstar, and knew it wasn't going to last forever, so he wanted to truly enjoy it and to spread as much happiness as he could in the time he had. 
As Constantino's career was taking off and he was primed for the spotlight, an injury at the hands of Bubba Ray Dudley put him on the shelf ... and out of the limelight. Sadly, Constantino never got another chance to regain his momentum, and was released in 2005. 
Constantino said that he considered his time with WWE a gift, and completely understood that his release was simply a business decision. He harbored no ill will, and in fact, he spoke glowingly about how they had given an average-sized, 40-something-year-old an opportunity -- one he took and ran with, defying all odds.
Unlike many other former WWE Superstars, Constantino decided not to continue his wrestling career, so he hung up his sparkly boots for good after his release.
Whenever the company ran shows in Constantino's hometown of Las Vegas, he'd stop by and say hello to all of his old friends, before hopping into his squad car and taking off to go "capture some bad guys," as he put it. After wrestling Rico went back to doing what he knew best --€" protecting people.  He took a job with the U.S. Marshal and became part of the Nevada Police Force, positions he thrived at until earlier this year when his illness left him unable to perform his duties, let alone walk.  
Below is the information for how you can help. Now is the chace to give back to one of the best guys in sports entertainment.
Gofundme for Constantio can be found here.
(Anthony Cali is a former writer for WWE publications).
---