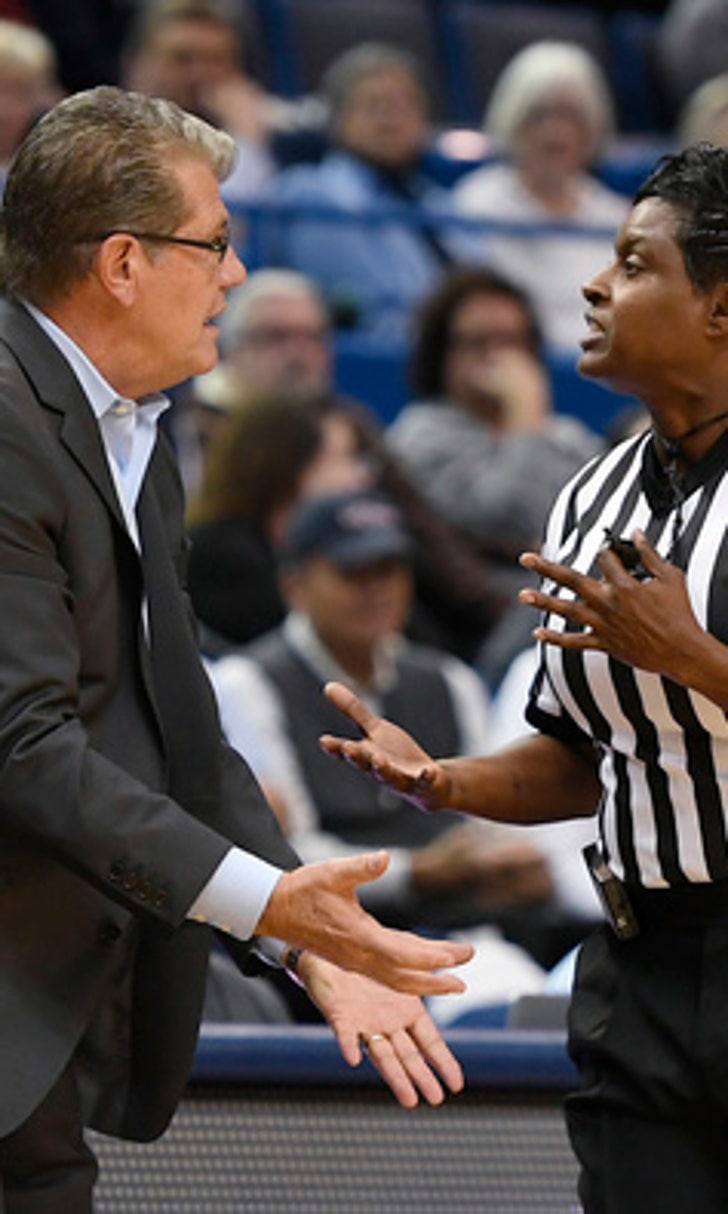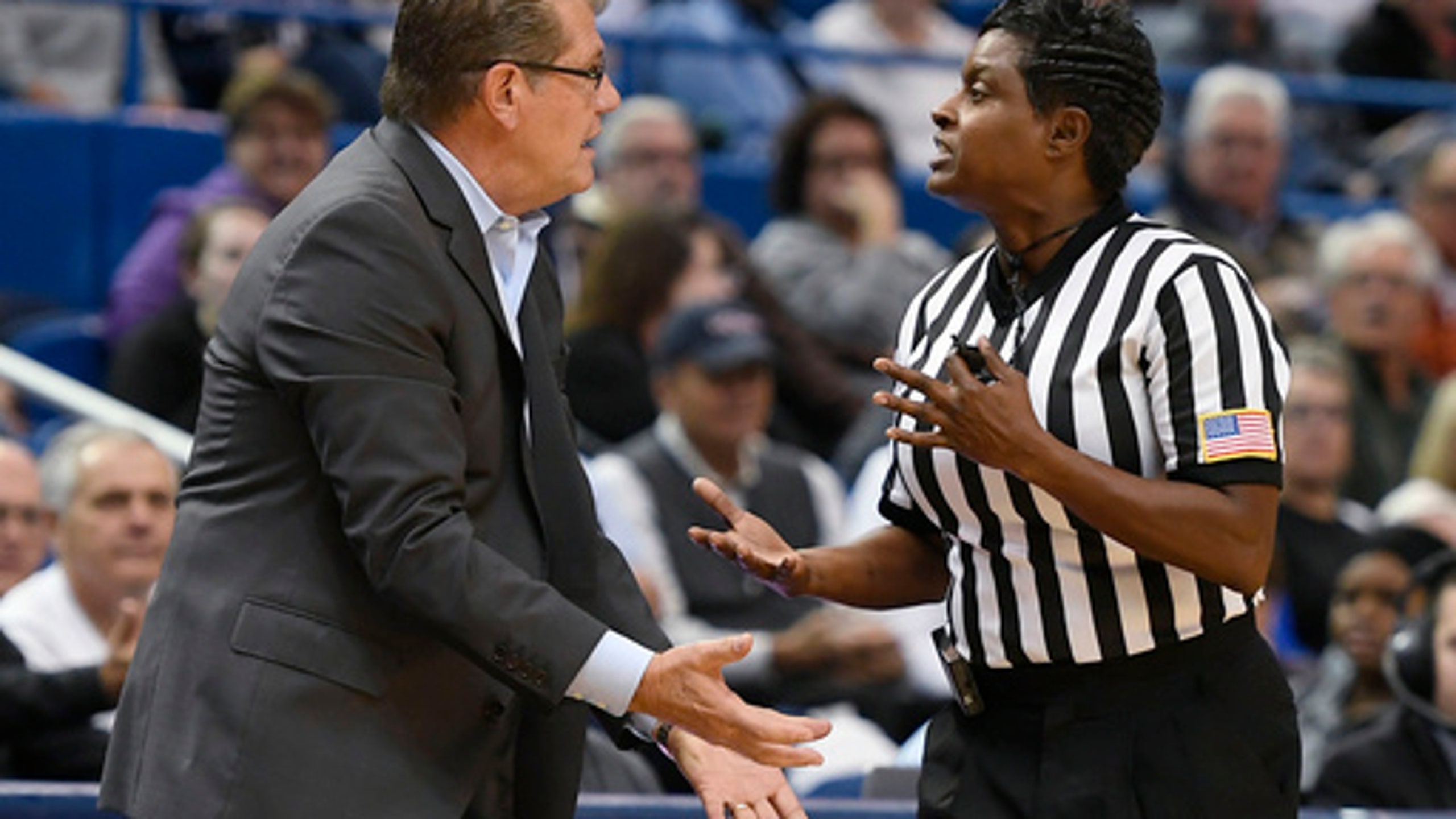 Play4Kay games had special meaning for veteran official
March 2, 2018
NEW YORK (AP) Wearing a pink whistle while officiating games during the annual Play4Kay week has held a special meaning for Rachelle Jones over the past few years.
The veteran women's basketball referee has had two bouts with breast cancer - the most recent one occurring this year. That's the same illness that afflicted Kay Yow, the longtime N.C. State coach who died in 2009.
''It reminds me of the fight,'' Jones said in a phone interview with The Associated Press. ''I'm tickled (to be a part of it) because if people only knew what I've been through. I hope people understand the significance of wearing those pink whistles, those pink uniforms and shoes. Cancer is a horrible disease and we need to continue to fight to find a cure.''
Jones, who had her first bout with cancer in 2012, doesn't consider herself a survivor. She calls herself a cancer ''overcomer.''
She has been one of the top officials for the past few years and was rewarded with her first Final Four appearance last spring.
''It was so special, unbelievable,'' she recalled of her trip to Dallas. ''The Final Four atmosphere is just amazing. They put a lot into that tournament. The way they treat the officials is just great. I wish everyone could experience it.''
Being part of a Final Four officiating crew is the pinnacle of the sport for a referee. Officials' coordinator Deb Williamson was thrilled that Jones finally got the chance.
''I cried like a baby when I got the call she was in,'' Williamson said. ''For her to get the opportunity is a crowning moment.''
Jones served as an alternate official in Dallas and handled off-court duties, such as assisting with instant replay reviews. She hoped to make it back this year before the cancer returned just before the regular season started. Just like in 2012 when she first was diagnosed with cancer, Jones trusted her strong faith would get her through.
The cancer went into remission and she was back officiating after Christmas. She worked for about a month before deciding to take the rest of this season off to fully recover because of the heavy grind officiating can take with a few games each week in different cities.
The time away from the court gave Jones a chance to further develop WEFO - Women Empowering Female Officials.
''Our goal with WEFO is to continue to help recruit, train and unify women,'' Jones said. ''We want to see more women out on the floor. What's nice is the group of women we have all come from different backgrounds.''
The idea for WEFO came during a camp in Pennsylvania last summer. A few women at the camp came up to Jones asking for help. She had mentored a few younger officials over the years, but saw the opportunity to help referees on a larger scale.
Jones quickly approached veteran officials Carla Fountain, Denise Brooks, Dee Kantner and Angie Lewis to see if they would be on board with starting WEFO. They all thought it was a great idea. The group then went to Atlanta in the fall and talked to about 30 female referees from all different levels ranging from high school to Division I.
The questions from the referees included how to work a full-time job while officiating and how to balance refereeing with motherhood. Jones has a son and daughter. Her daughter is just getting started officiating in Maryland.
''It was great, we sat and talked and answered questions,'' Jones said. ''Then we had dinner. It was a great atmosphere and we had so much fun.''
Word got out about the success of the program and now WEFO is in demand in other cities.
''People are saying I want you to come to Chicago, New York,'' Jones added. ''This year we're probably going to end up in the Maryland-New York area. We'll figure out a location and open it up to more women to come.''
While she won't be officiating this year's Final Four in Columbus, Jones still plans on being in Ohio. She'll be conducting a one-day WEFO clinic in conjunction with a pro hoops combine at the event.
WEFO plans to donate some of the money raised from the clinic to the Kay Yow Fund.
''The Play4Kay is an important cause, an important organization and we need to support it,'' Jones said.
She understands firsthand how important it is.
---
Follow Doug on Twitter at http://www.twitter.com/dougfeinberg
---