Florida State Seminoles
Florida State Seminoles
Degbeon's 13 points lead No. 7 Florida State to 86-27 win (Jan 15, 2017)
Published
Jan. 15, 2017 4:43 p.m. ET

CLEMSON, S.C. (AP) Florida State coach Sue Semrau never stops thinking about March. And neither do her players.
They showed that Sunday, the seventh-ranked Seminoles (17-2, 5-1 Atlantic Coast Conference) running past Clemson in a start-to-finish, 86-27 beat down that was the largest margin of victory in their 26 ACC seasons.
''If we want to be the team in March that we hope to be, we have to continue to get better every game,'' Semrau said. ''I thought our defensive discipline was great early and we got our depth to get some time.''
That was evident, too, with reserves Ama Degbeon, Kai James and Maria Conde all leading the way in scoring. Degbeon, a 6-foot-2 junior, had a career high 13 points while James had 12 and Conde 10 as they won their 15th straight over the Tigers (11-6, 0-5).
''This is really good for our confidence,'' Degbeon said. ''When the season gets really long and we need to rotate more, we're just really ready for it.''
The Seminoles opened up a 28-4 first-quarter lead and never looked back. Florida State also surpassed the program's previous record streak of 14 straight against an opponent which it also did against Wake Forest from 2002-2011.
James, Degbeon and Conde all came in off the bench to reach double digits. The Seminoles led by 35 points at the half and by 48 through three quarters. By the time the final period rolled around, Florida State's starters were bouncing around on the bench and practicing dance moves to the Sugar Hill Gang's ''Apache.''
The Seminoles pressured Clemson from the jump, forcing nine turnovers and holding the Tigers to one field goal (1-of-10 shooting) in the first 10 minutes. Things did not change at the end with A'Tyanna Gualden forcing a jump ball in the final two minutes that led to her basket.
Degbeon's showing bettered previous best of 11 points, set against Jacksonville in December 2014.
All of Florida State's 12 players in the box score scored points.
For Clemson it was a new scoring low in coach Audra Smith's four seasons. The 27 points were one fewer than when the Tigers lost at Middle Tennessee, 69-28, on Dec. 3, 2014.
Kobi Thornton led the Tigers, who played a third game without leading scorer Nelly Perry, with eight points. Clemson (11-7, 0-5) has lost 38 straight against ACC competition.
THE BIG PICTURE
Florida State: If you thought there'd be a dropoff after the Seminoles 72-65 win over No. 9 Louisville Thursday night, Florida State showed it was just as sharp and fired-up to face struggling Clemson. The Seminoles want to fight for the top of the Atlantic Coast Conference and had things well in gear against Clemson. Leticia Romero and Ivey Slaughter had the offense clicking early and Florida State did not ease up when it opened a 28-4 first-quarter lead, pushing the lead to 35 points by halftime.
Clemson: The Tigers have few answers with their leading scorer, Nelly Perry, out with a separated shoulder. They made just 1 of their first 10 field goals and committed nine turnovers the first 20 minutes. It continues to be an uphill climb for coach Smith, in her fourth season leading the program.
FOCUSED FLORIDA STATE
Semrau said her team talked about keeping focused after beating Louisville. She thought her team played strongly throughout, something that will serve them well down the line. ''It could've been one of those games where we came in and didn't have focus,'' she said. ''But I was really proud of them.''
EMBARRASSING LOSS
The blowout loss came in a game where Clemson honored its all-time best player in Barbara Kennedy-Dixon, who still holds the ACC record for most points (3,113) and rebounds (1,252).
''This is a very devastating and embarrassing loss,'' Clemson coach Audra Smith said. ''But all you can do is put one foot in front of the other and move forward because the season doesn't end here.''
UP NEXT
Florida State returns home to play Syracuse on Thursday night.
Clemson finishes two-game home stand against Virginia on Thursday night.
---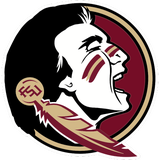 Get more from Florida State Seminoles
Follow your favorites to get information about games, news and more
---