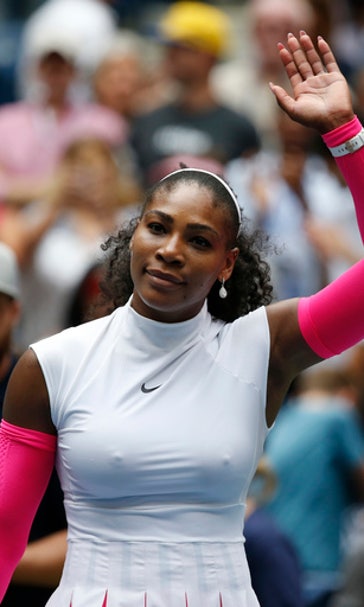 The Latest: Venus Williams reaches 4th round at US Open
BY foxsports • September 3, 2016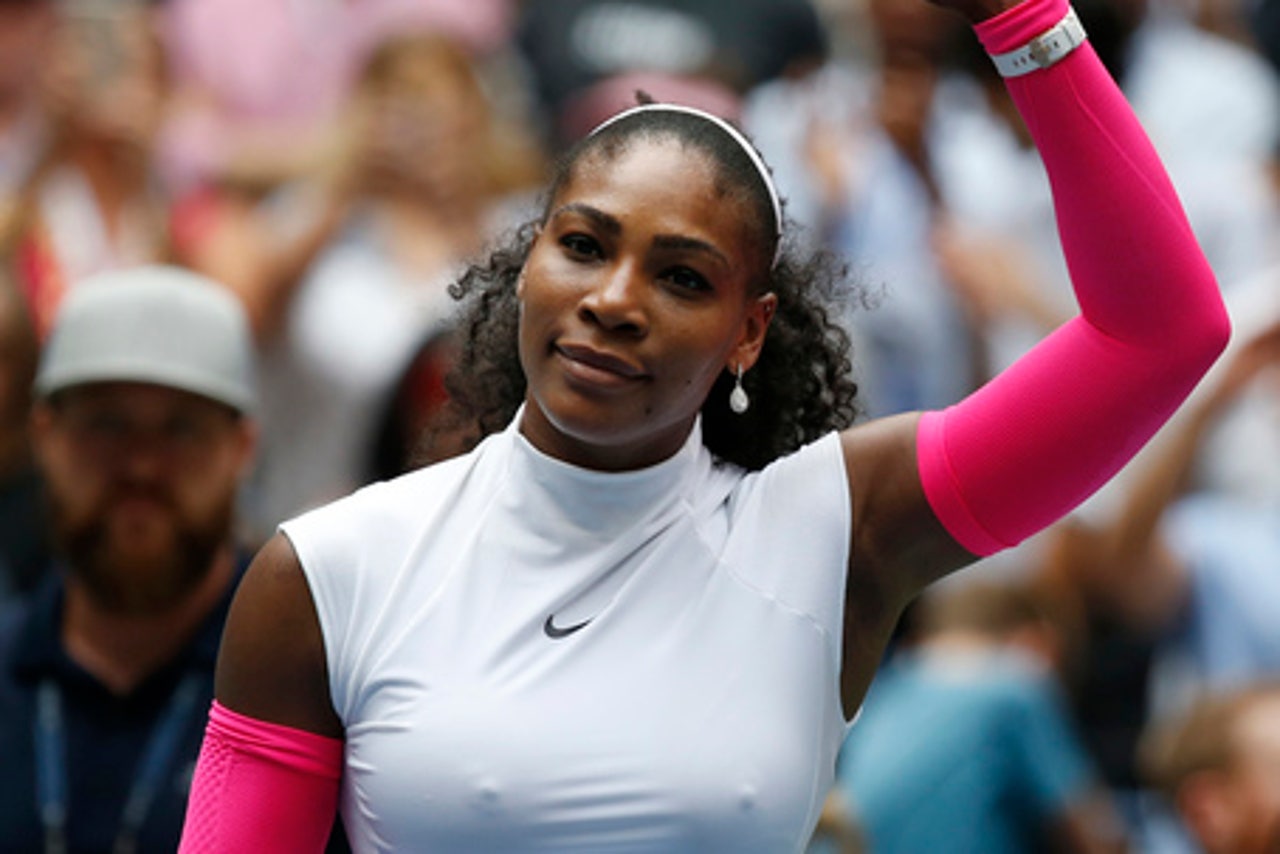 NEW YORK (AP) The Latest on the U.S. Open (all times local):
9 p.m.
Venus Williams closed in on a U.S. Open rematch against her sister, moving into the fourth round with a 6-1, 6-2 victory over 26th-seeded Laura Siegemund.
The No. 6-seeded Williams broke Siegemund six of the eight times she served and won despite only producing 11 winners Saturday night.
Williams owns seven Grand Slam titles, including two at Flushing Meadows. At 36, she was the oldest woman in the field.
If she and younger sister Serena each wins twice more, they would play each other in the semifinals. A year ago, Serena beat Venus in the quarterfinals.
---
8:30 p.m.
Sixth-seeded Kei Nishikori defeated Nicolas Mahut 4-6, 6-1, 6-2, 6-2 to advance to the fourth round of the U.S. Open.
Nishikori, who lost the 2014 final at Flushing Meadows to Marin Cilic, has now made it to the fourth round or better in all four Grand Slam tournaments this year. His best result at a major event this year was reaching the quarterfinals of the Australian Open, losing to eventual champion Novak Djokovic.
Nishikori plays the winner of the match now underway between 21st-seeded Ivo Karlovic and 19-year-old American Jared Donaldson.
---
6:45 p.m.
Second-seeded Andy Murray held on to win his third-round match at the U.S. Open on Saturday, ensuring at least two British men will be in the tournament's final 16 for the first time in the Open era.
Murray needed more than three hours to complete a 7-6 (4), 5-7, 6-2, 6-3 victory over 40th-ranked Italian Paolo Lorenzi, who was on court nearly five hours in his previous match, a five-set win over Gilles Simon.
Murray joined countryman Kyle Edmund in the fourth round at Flushing Meadows, and a third could join them if Daniel Evans can win his match currently underway against third-seeded Stan Wawrinka. The last time there were two British men in the fourth round of a Grand Slam tournament was at Wimbledon in 2002 with Tim Henman and Greg Rusedski.
Murray advances to play 22nd-seeded Grigor Dimitrov, who put away Joao Sousa for a 6-4, 6-1, 3-6, 6-2 win.
---
5:50 p.m.
After moving ahead of Martina Navratilova for the most Grand Slam match victories by a woman in the Open era, and tying Roger Federer's mark for all players, Serena Williams offered some thoughts on gender equality in sports.
''I definitely think there is a difference between the way male and female athletes are treated. I also believe that as a woman we have still a lot to do,'' Williams said Saturday after beating Johanna Larsson 6-1, 6-1 at the U.S. Open for her 307th win at major tournaments.
''Tennis has made huge, huge improvements,'' she continued. ''We just have to keep that ... going for all other female sports, as well.''
At Wimbledon in July, when Williams was en route to her record-equaling 22nd Grand Slam title, a reporter asked her about being considered one of history's greatest female athletes. Her reply: ''I prefer the word `one of the greatest ATHLETES' of all time.''
Williams' clothing and shoe sponsor is using that line as part of a marketing campaign during the U.S. Open.
On Saturday, Williams said she thinks a priority for women's tennis should be closing the pay gap that still exists at non-major tournaments (the Grand Slam events hand out equal prize money).
''There is a huge pay difference in terms of male and female athletes in lots of sports,'' Williams said. ''Still so in tennis a little bit, as well. ... It's just taking one step at a time.''
---
4:50 p.m.
Juan Martin del Potro's comeback is rolling along at the U.S. Open.
Del Potro, the 2009 champ who returned to Grand Slam competition this year after missing 2 1/2 years of major tournaments because of operations on his left wrist, had little trouble beating 11th-seeded David Ferrer 7-6 (3), 6-2, 6-3 to move into the fourth round.
The 6-foot-6 del Potro was the clear favorite of the Louis Armstrong Stadium fans, who cheered wildly with every winner, and he responded with confident fist pumps. He ended the match with both arms raised to a standing ovation.
In his post-match interview, del Potro said: ''This crowd, this stadium, this atmosphere is incredible. You make me happy every day.''
Del Potro, who is ranked No. 142 because of his long absence from play, was given a wild card into Flushing Meadows on the heels of an Olympics performance in which he beat Novak Djokovic and Rafael Nadal before losing to Andy Murry in the gold medal match.
In the round of 16 at a major for the first time since 2013, del Potro next faces eighth-seeded Dominic Thiem.
----
3:20 p.m.
Serena Williams' dominating third-round victory at the U.S. Open was notable for a new career milestone: 307 Grand Slam wins.
Williams' 6-2, 6-1 win over 47th-ranked Johanna Larsson of Sweden improved her major-tournament mark to 307-42, putting her one win up on Martina Navratilova among women and tying Roger Federer among all players in the Open era.
Appearing in a day match for the first time at this year's tournament, Williams wore a new white outfit that made a fashion statement with bold, pink sleeves. In her post-match interview, she called them her ''Wonder Woman sleeves.''
Williams lived up to that nickname, with no sign of a right shoulder problem that had hampered her leading into the tournament. She ripped six aces and 24 winners in a match that lasted just one hour.
---
2:20 p.m.
Eighth-seeded Dominic Thiem overcame a shaky start Saturday to secure a spot in the fourth round of the U.S. Open.
Thiem blasted 47 winners, 20 in the last set, on his way to a 1-6, 6-4, 6-4, 7-5 victory over 39th-ranked Pablo Carreno Busta. The Spaniard is now winless against top-10 players in 11 tries.
Thiem, a 23-year-old Austrian, is considered one of the game's top young players. He's had four tour wins and a run to the French Open semifinals this year.
He previously reached the fourth round at the U.S. Open in 2014.
Thiem will play the winner of the match later Saturday between Juan Martin del Potro and 11th-seeded David Ferrer.
---
1:50 p.m.
Fifth-seeded Simona Halep smashed her racket in frustration en route to a 6-1, 2-6, 6-4, third-round victory over 34th-ranked Timea Babos at the U.S. Open.
Halep, a semifinalist at Flushing Meadows a year ago, rallied from a 3-1 deficit in the deciding set and appeared to struggle with the power of the big-serving Hungarian, who blasted five aces and 25 total winners.
Halep threw down, and apparently cracked, her racket after losing a point late in the final set. It all ended just a few points later when Babos double-faulted on match point.
After the match, Halep said she wasn't able to move well because of a back problem. She acknowledged she didn't play her best, saying ''I don't know how I came back.''
Halep, whose best Grand Slam result was a run to the French Open final in 2014, next takes on 11th-seeded Carla Suarez Navarro for a spot in the quarterfinals.
---
12:40 p.m.
Carla Suarez Navarro has defeated Elena Vesnina to secure a spot in the U.S. Open round of 16.
The 11th-seeded Spaniard's 6-4, 6-3 victory over the 20th-seeded Vesnina marks the third time she has reached the fourth round or better at Flushing Meadows. Her best result was a quarterfinal run in 2013, losing to eventual champion Serena Williams.
Suarez Navarro next faces the winner of the match that has gone into a third set between fifth-seeded Simona Halep and 31st-seeded Timea Babos.
---
11 a.m.
Former champions Serena Williams, Andy Murray, Venus Williams and Juan Martin del Potro lead Saturday's lineup at the U.S. Open, all of them seeking to book their spots in the round of 16.
Top-seeded Serena Williams, who is bidding for a record 23rd Grand Slam singles title, takes on 47th-ranked Johanna Larsson of Sweden in Arthur Ashe Stadium. Sister Venus, the sixth seed and oldest woman in the tournament at 36, plays later in Ashe against 26th-seeded Laura Siegemund of Germany.
On the men's side, No 2-seed and 2012 champion Andy Murray plays in the afternoon in Ashe against 40th-ranked Paolo Lorenzi. In the nightcap in Ashe, 14th-seeded Nick Kyrgios gets his chance on center stage, facing 63rd-ranked Illya Marchenko of Ukraine.
The 2009 champion, Juan Martin del Potro, seeks to continue his comeback from wrist injuries with a tough matchup against 11th-seeded David Ferrer in Louis Armstrong Stadium.
Players will face cloudy skies and the coolest weather of the tournament so far, with highs only in the mid-70s.
---
---