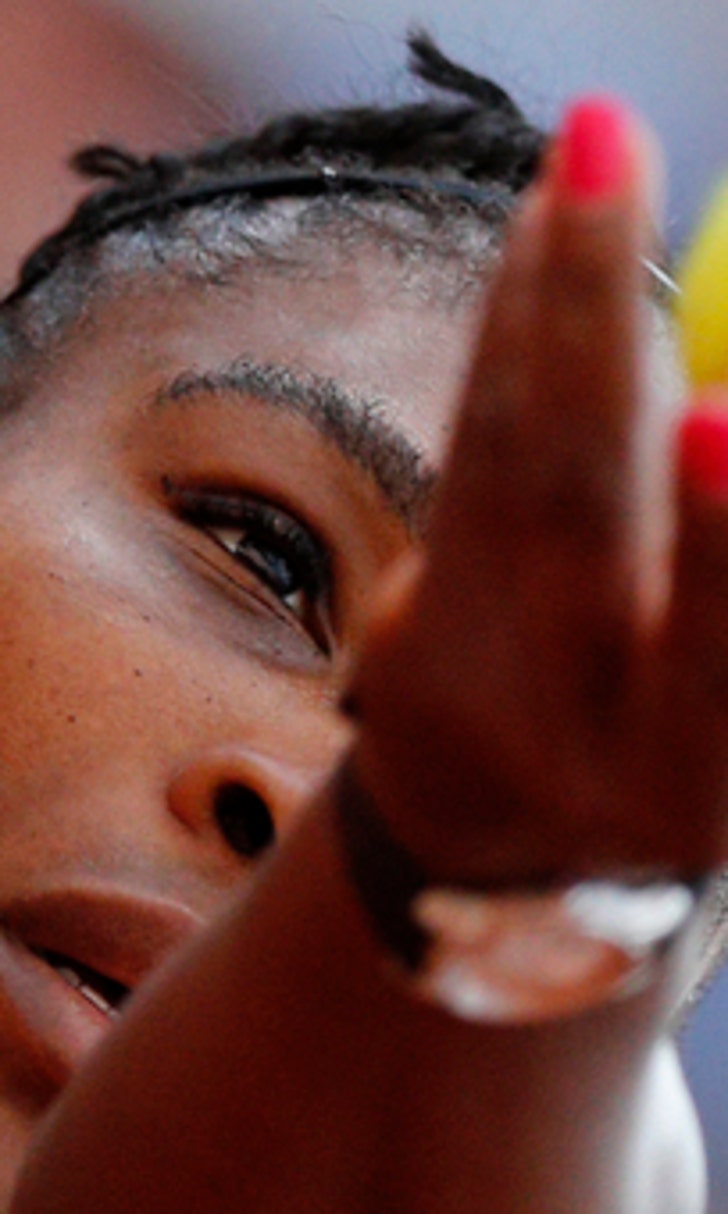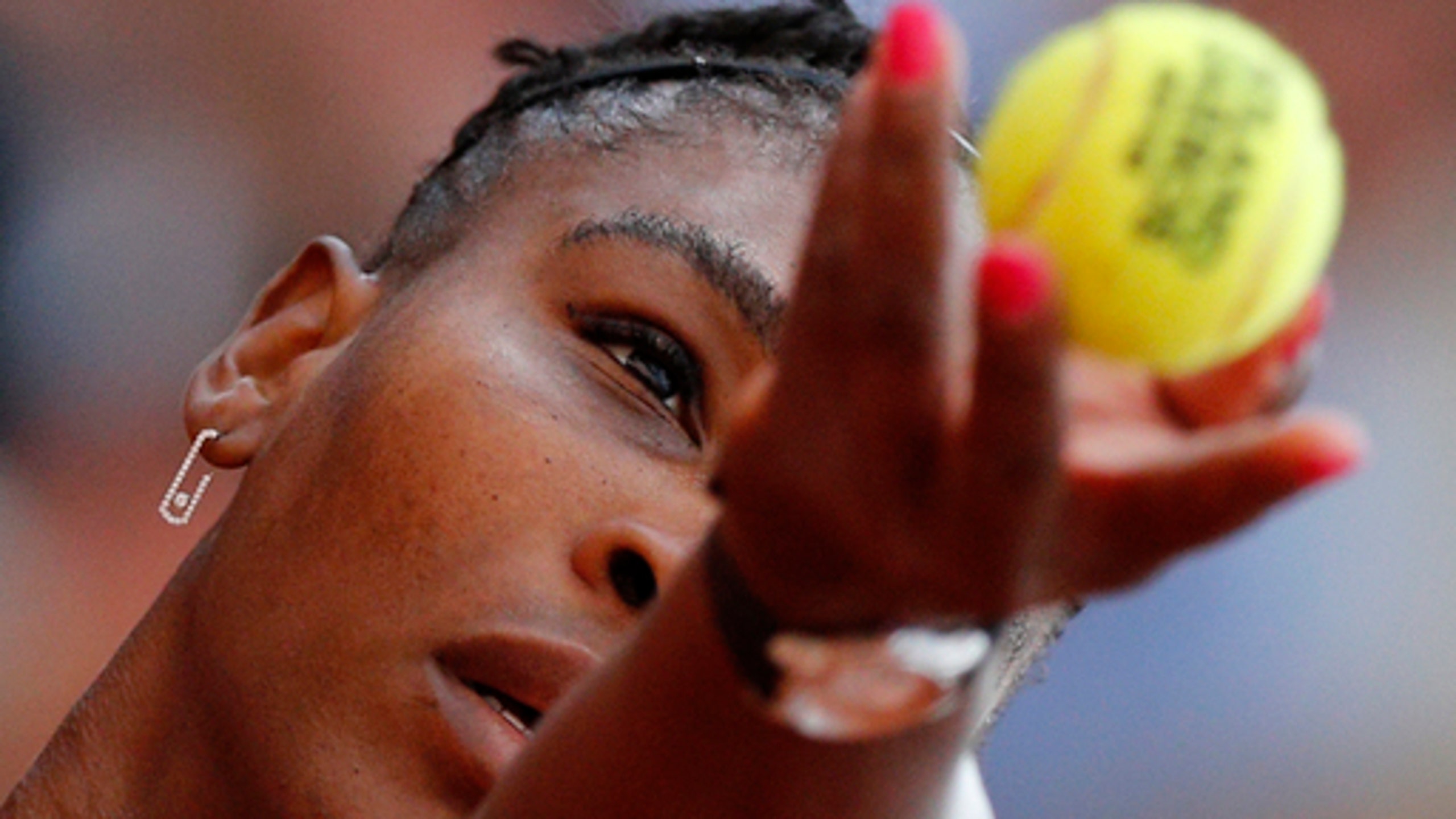 The Latest: Serena Williams pulls out of the French Open
June 4, 2018
PARIS (AP) The Latest on the French Open (all times local):
---
8 p.m.
Marin Cilic has completed the lineup of quarterfinalists in the men's draw at the French Open after beating Fabio Fognini of Italy 6-4, 6-1, 3-6, 6-7 (4), 6-3.
''Just a crazy match,'' the third-seeded Cilic said.
Fognini saved match point at 4-5 in the fourth set before forcing the tiebreaker.
Cilic made no mistake when the second match point finally came in the fifth set.
''It was just hanging by a thread,'' the Croatian said. ''A couple of points decided it.''
---
7 p.m.
Juan Martin del Potro is into his first French Open quarterfinal since 2012, taming the big-serving John Isner 6-4, 6-4, 6-4.
Isner served 12 aces but fell short of becoming the first American man to reach the quarterfinals since Andre Agassi in 2003.
The fifth-seeded del Potro reached the semifinals in 2009, the same year he also won the U.S. Open.
---
5:45 p.m.
Serena Williams' coach tells The Associated Press that they were holding out hope her French Open match against Maria Sharapova might be postponed because of rain.
Patrick Mouratoglou says Williams' chest muscle was in pain when they held a hitting session on Monday. But they decided not to announce Williams' withdrawal from the tournament immediately, because the forecast predicted possible showers.
Once it became clear the Williams-Sharapova match was going to go on as scheduled, the 36-year-old American pulled out of the tournament.
Mouratoglou says: ''If it rains, we might gain one more day, and you never know how it feels tomorrow. So we had to wait. But we saw the sky was still blue ... and we thought, `No chance.'''
Mouratoglou adds that there was a concern that if Williams tried to play Monday, she would risk making the injury worse and not be able to play at Wimbledon, which begins July 2.
---
4:45 p.m.
Two-time Grand Slam champion Angelique Kerber reached the quarterfinals of the French Open for the second time by beating Caroline Garcia 6-2, 6-3.
Garcia saved four match points when serving while trailing 5-1. But Kerber took her next chance when the seventh-seeded Garcia, again serving to stay in the match, hit a forehand wide.
Kerber has never been beyond the quarterfinals at Roland Garros and next faces top-seeded Simona Halep, last year's runner-up.
Garcia's loss means there are no French men or women remaining in the tournament.
---
4:30 p.m.
Maria Sharapova's coach says the Russian player was waiting at courtside, ready to go on, when they got the news that Serena Williams was pulling out of their fourth-round match at the French Open.
Thomas Hogstedt tells The Associated Press ''it was a shock. We were ready. We prepared a long time for this match.''
He says Williams had been ''the player to beat'' before her sudden withdrawal with injury.
He also says Sharapova's confidence is high ahead of her quarterfinal appearance in her first French Open since her return from a 15-month doping ban.
He says ''she knows she's playing well, so she's ready.''
---
3:40 p.m.
Defending champion Rafael Nadal has again reached the French Open quarterfinals in his bid for a record-extending 11th title at Roland Garros.
The top-ranked Spaniard beat unseeded Maximilian Marterer 6-3, 6-2, 7-6 (4). He has yet to drop a set at this year's tournament.
Nadal patted Marterer sympathetically on the chest at the net after winning on his second match point.
Nadal will next play 11th-seeded Diego Schwartzman, who rallied to beat Kevin Anderson 1-6, 2-6, 7-5, 7-6 (0), 6-2.
Anderson twice served for the match, at 5-4 in the third and fourth sets.
---
3:30 p.m.
Serena Williams has called off her Grand Slam comeback, pulling out of the French Open because of a chest injury before she was supposed to play Maria Sharapova.
Williams announced her withdrawal at a news conference at Roland Garros on Monday.
Williams' voice quivered as she said she can't serve because of a problem with her right pectoral muscle.
She and Sharapova were scheduled to play a fourth-round match Monday.
---
12:50 p.m.
Daria Kasatkina advanced to the French Open quarterfinals for the first time by beating Australian Open champion Caroline Wozniacki 7-6 (5), 6-3.
The 21-year-old Russian, whose previous best performance at a major was reaching the fourth round at last year's U.S. Open, broke for a 5-3 lead and then served out the match that started Sunday but was suspended by darkness.
Kasatkina has beaten Wozniacki three times this year. She will next play 10th-seeded Sloane Stephens.
---
12:15 p.m.
Top-seeded Simona Halep advanced to the French Open quarterfinals for the third time by beating Elise Mertens 6-2, 6-1.
Halep, who lost in last year's final, broke the 16th-seeded Belgian's serve six times on Court Philippe Chatrier.
Serving for the match, Halep dropped her serve for the first time. She broke straight back, winning on her first match point when Mertens double-faulted.
Halep, who also lost in the 2014 final, will next face either two-time Grand Slam champion Angelique Kerber or Caroline Garcia.
---
11:30 a.m.
Play has begun at the French Open with top-seeded Simona Halep first up on a sunny Court Philippe Chatrier.
Halep, who lost in last year's final, was playing 16th-seeded Elise Mertens.
Later, 23-time Grand Slam champion Serena Williams will face five-time major winner Maria Sharapova on the same court.
The two players are coming back from time away - Williams after having a baby daughter; Sharapova after a doping ban. It will be their 22nd head-to-head meeting. Williams has won 19 so far, including the past 18.
Their encounter follows 10-time French Open champion Rafael Nadal's fourth-round match against Maximilian Marterer, a 22-year-old German ranked 70th.
---
More AP tennis coverage: https://www.apnews.com/tag/apf-Tennis
---
---