The Latest: Djokovic spurns presidential suggestions
Published
Jan. 31, 2016 8:48 a.m. ET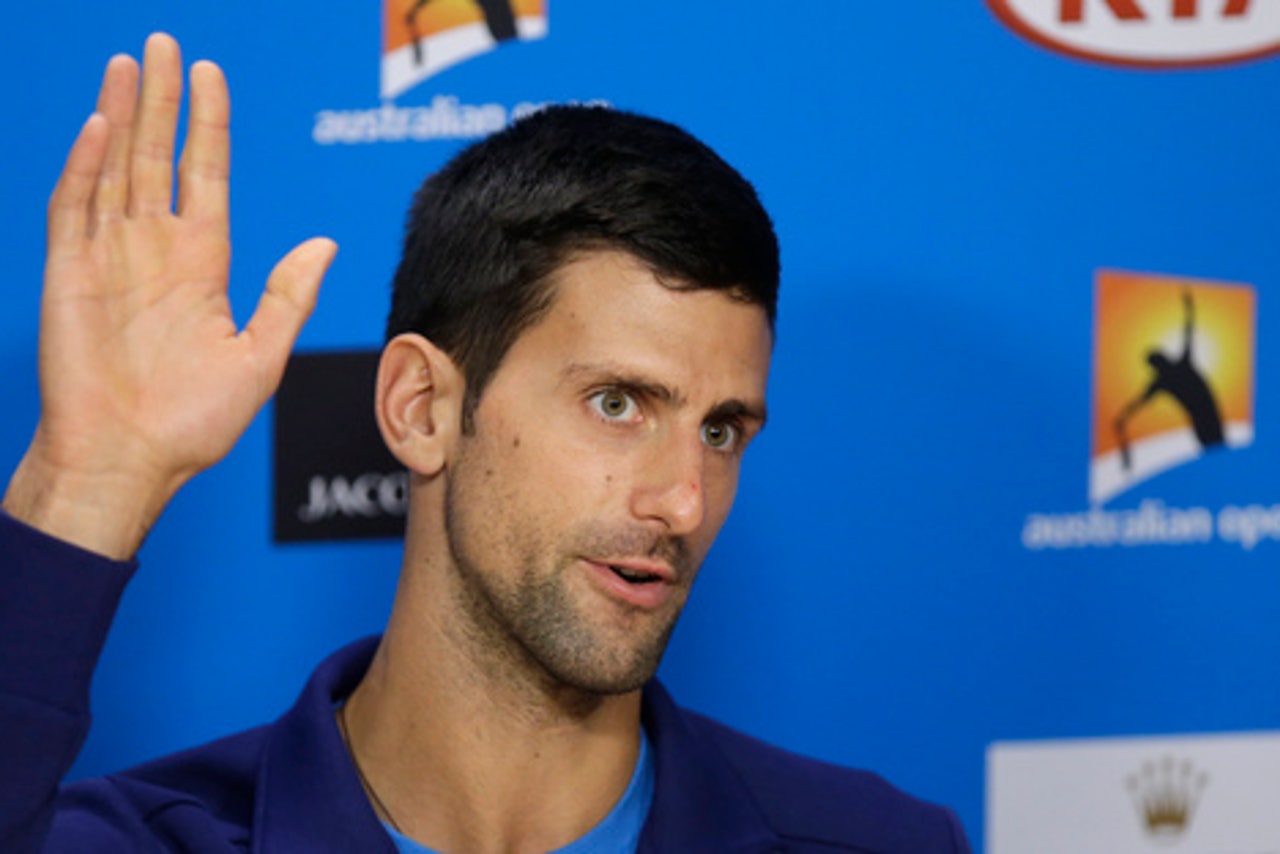 MELBOURNE, Australia (AP) The Latest from the Australian Open on Sunday (all times local):
12:25 a.m.
Novak Djokovic for president? His Serbian fans might think so, but the man who clinched his sixth Australian Open title on Sunday night isn't interested at the moment.
Told in his post-match media conference that at least one fan from his home country suggested he'd easily win if he ran for the Serbian presidency, Djokovic smiled and said: ''No. I'm an athlete. ''I think I should stick with that.''
---
10:40 p.m.
Novak Djokovic has maintained his perfect streak in six Australian Open finals with a 6-1, 7-5, 7-6 (3) victory Sunday that consigned Andy Murray to a fifth defeat in championship deciders at Melbourne Park.
Djokovic equaled Roy Emerson's long-standing record of six Australian Open titles and increased his career haul to 11 Grand Slam titles, including four of the last five.
Murray became only the second man to lose five finals at one major - Ivan Lendl lost five and won three U.S. Open finals in the 1980s.
---
9:35 p.m.
Five-time champion Novak Djokovic has taken a 2-set lead in the Australian Open final against Andy Murray, winning the second set 7-5 after taking the first 6-1.Djokovic, down three game points in the 11th game, rallied to break Murray, including a point from a 36-shot rally.
Djokovic then held serve, saving one break point, to clinch the second set in 1 hour, 20 minutes. He won the first set in 30 minutes.
Murray held service to lead 2-1 in a near 11-minute game with five deuces which included a time violation warning for taking too long between serves. Right after the warning, he hit an ace to bring the game back to deuce, then also had an ace to clinch it.
The two exchanged service breaks in the seventh and eighth games - the first time Murray had broken through in five break-point chances to that stage of the match.
Djokovic has never lost a final at the Australian Open, while Murray is 0-4 in finals here.
---
8:15 p.m.
Five-time champion Novak Djokovic has steamrolled Andy Murray 6-1 in a 30-minute first set of the Australian Open men's final.
Djokovic took a 2-0 lead when he held his opening service game after saving a break point, then watched as Murray double-faulted to give him a break in the next game. He held his service at love in the next game for a 3-0 lead, then broke again when Murray's backhand floated long.
It was a disturbing start for Murray, who has lost all four previous finals here, three of them to Djokovic in 2011, 2013 and 2015.
Djokovic has won 21 of 30 matches between the two, and has won the title every time he's reached the final at Melbourne Park.
---
5:30 p.m.
Elena Vesnina and Bruno Soares won the last four points of the match tiebreaker to capture the mixed doubles championship at the Australian Open with 6-4, 4-6, 10-5 win over Coco Vandeweghe and Hora Tecau.It was Soares' second doubles title in 18 hours at Melbourne Park - he and partner Jamie Murray beat Daniel Nestor and Radek Stepanek 2-6, 6-4, 7-5 in a match that ended after midnight Saturday.
Vesnina of Russia and Soares of Brazil fell behind 3-0 in the tiebreaker before coming back to take a 6-3 lead, then 6-5 before taking the last four points of the match.
The official tournament program for Sunday said that American Vandeweghe had to do a computer search for Tecau's name when the Romanian approached her coach to see if she wanted to team up for this tournament - she didn't know much about his playing pedigree.
Tecau won the 2012 mixed doubles title with another American, Bethanie Mattek-Sands.
It was Vesnina's third final at Melbourne Park after making the 2012 mixed doubles final and 2014 women's doubles final. It was her sixth mixed doubles final in a Grand Slam tournament, and her first win.
---
5:00 p.m.
Australian Open quarterfinalist David Ferrer has moved up to sixth place in projected ATP rankings effective Monday in a straight switch with Tomas Berdych, who slips down to eighth.
Otherwise, most of the top players haven't changed. Novak Djokovic and Andy Murray will remain Nos. 1 and 2 regardless of the result of their Sunday night final at Melbourne Park. Roger Federer, who lost to Djokovic in the semifinals, remains at 3, Stan Wawrinka at 4 and Rafael Nadal, a first-round loser to Fernando Verdasco, rounds out the top 5.
Following No. 6 Ferrer is Kei Nishikori, unchanged at 7, and Berdych. Jo-Wilfried Tsonga moves to No. 9, replacing countryman Richard Gasquet who drops down to 10.
Milos Raonic, who lost in the semifinals here to Andy Murray, was the biggest mover among the top players, improving three places to No. 11 from 14, followed by John Isner at No 12.
---
2:40 p.m.
Angelique Kerber has gone where at least one brave soul before her has - for a quick swim in the murky Yarra River after winning the Australian Open.
Kerber's upset three-set victory over Serena Williams on Saturday was followed by a Sunday morning plunge in the river near Rod Laver Arena.
She then went for her official trophy photos at a nearby park and gardens.
Jim Courier, who is doing television work during this tournament, took plunges in the Yarra after his victories in 1992 and 1993. After his second dip, he was reported to have developed a stomach virus.
The river winds its way through the center of Melbourne and while it is popular with wildlife, boat tours and rowing teams, the water quality leaves plenty to be desired.
---
2:30 p.m.
Andy Murray has played through the Australian Open knowing that at any moment he would have to pull out and go to London for the birth of his first child.
His wife Kim is not due until early February and there has been no sign of early labor.
Hopefully it'll stay that way prior to Sunday's final when he faces Novak Djokovic, who has inflicted three of Murray's four final defeats at Melbourne Park.
Murray has a practice session two hours ahead of the final as he targets his first Australian Open final win at the fifth attempt.
The mixed doubles final between Coco Vandeweghe and Horia Tecau and Elena Vesnina and Bruno Soares precedes the singles final. Soares won the men's doubles title Saturday with Jamie Murray, Andy's brother.
---
---