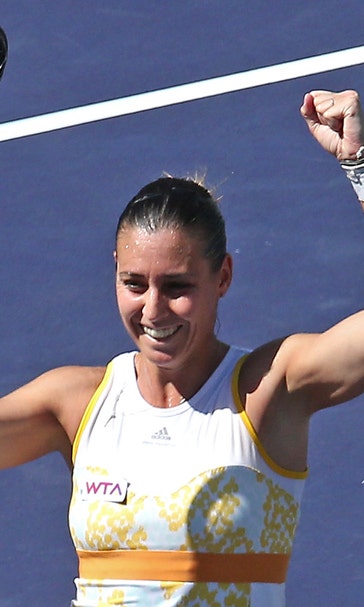 Pennetta routs injured Radwanska to win Indian Wells title
March 16, 2014

INDIAN WELLS, Calif. -- A year ago, Flavia Pennetta was close to retiring from tennis.
Her ranking plunged to 166th in the world in June, and she had struggled to rebuild her career after having right wrist surgery the previous August.
Now she's glad she stuck around.
Pennetta routed Agnieszka Radwanska 6-2, 6-1 on Sunday in the BNP Paribas Open to win the biggest title of her career.
"After so many years, so much work and everything, this is the moment I always waited for," she said. "And it's coming when you don't expect. It was something I was waiting since long time, and finally I have a good trophy in my hands."
Actually, the crystal trophy was so heavy, she didn't hoist it for photographers.
The 32-year-old Italian became the third-oldest winner of the desert tournament after Martina Navratilova, who won at age 33 and again at 34 in 1990-91. It was Pennetta's first title since winning at Marbella in 2010.
"We are old, but we still good athletes," Pennetta said. "We are strong. We have so many years on the tour, and we know how to handle the emotion and everything."
As the 20th seed, Pennetta became the lowest seed to win the title. She came in ranked 21st and is projected to rise to No. 12 in the world Monday in the WTA Tour rankings. She beat top-seeded Li Na in the semifinals on her way to winning the title worth $1 million.
The green-white-and-red Italian flag fluttered in the breeze from the stands as Pennetta ran to hug her team. She got doused by a bottle of water from Italian men's player Fabio Fognini in celebration.
"It was hot, so it was good," she said, smiling.
Radwanska, seeded second, was bothered with a left knee injury during the final. She twice called for the trainer in the second set and had her knee heavily taped. She was in tears apologizing to the sympathetic crowd afterward, saying she was unable to run.
"I had the tape stronger and stronger every changeover," Radwanska said. "I thought that going to help, but not really. Didn't work."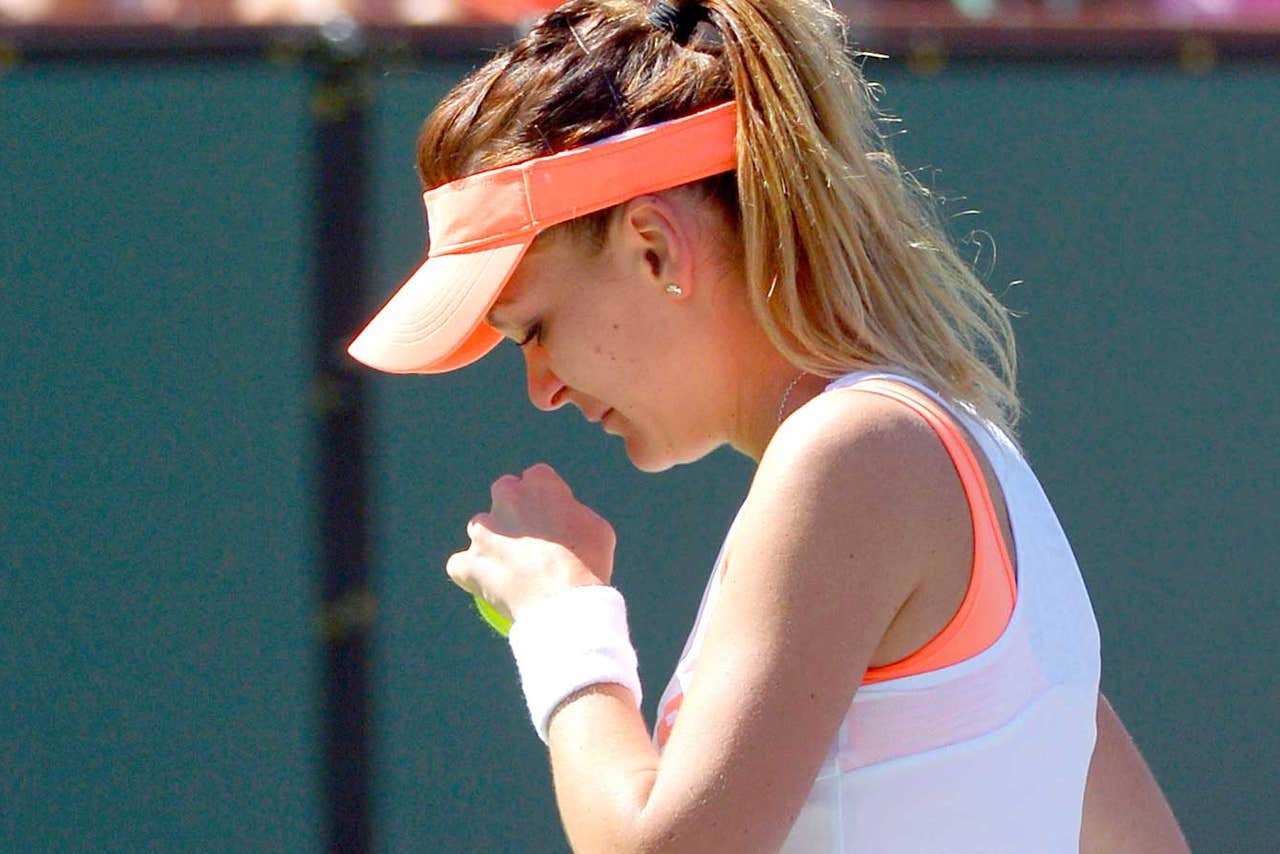 A tearful Agnieszka Radwanska apologized to the crowd after the match for not being at 100 percent.

It equaled the most one-sided women's final in the tournament's 26-year history. Maria Sharapova lost just three games in beating Elena Dementieva in 2006, and Lindsay Davenport dropped three games in defeating Irina Spirlea in 1997.
"This one is one of the best tournaments in the world," Pennetta said. "It's mine today."
Pennetta threatened from the first game of the match, when she held two break points and had one more in the third game. She finally converted in the fifth game on Radwanska's errant backhand, then broke again in the seventh game on the Pole's forehand error. Pennetta won the final five games to wrap up the first set, 6-2.
Radwanska held for a 1-0 lead in the second before she got the trainer on court and Pennetta called for her coach. Pennetta staved off a break point to hold at 1-1, the last challenge Radwanska offered before it became evident she wasn't herself.
Radwanska said she hurt her knee a few days ago in practice.
"I just didn't expect it was going to be much worse today," she said. "But when the pain is so big that nothing is working -- no painkillers, no tape -- that means it is bad."
Pennetta's lob over Radwanska, who didn't even try to go after it, helped her earn the break and a 2-1 lead. The Italian swept the last six games, with Radwanska ending the match on three consecutive errors.
She earned $500,000.
Pennetta's previous biggest title came at Los Angeles in 2009, a Premier-level event that no longer exists.
LAST FIVE INDIAN WELLS CHAMPIONS
| | | | |
| --- | --- | --- | --- |
| Year | Winner | Runner-up | Score in final |
| 2014 | Flavia Pennetta | Agnieszka Radwanska | 6-2, 6-1 |
| 2013 | Maria Sharapova | Caroline Wozniacki | 6-2, 6-2 |
| 2012 | Victoria Azarenka | Maria Sharapova | 6-2, 6-3 |
| 2011 | Caroline Wozniacki | Marion Bartoli | 6-1, 2-6, 6-3 |
| 2010 | Jelena Jankovic | Caroline Wozniacki | 6-2, 6-4 |
---
---