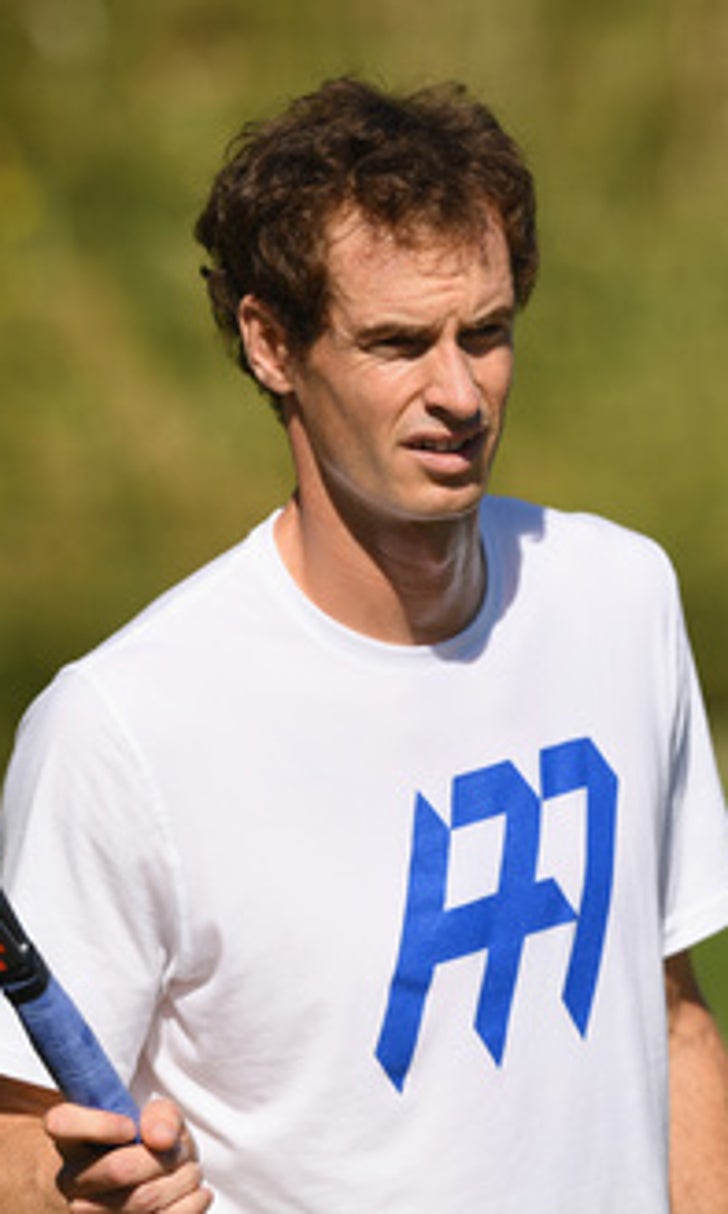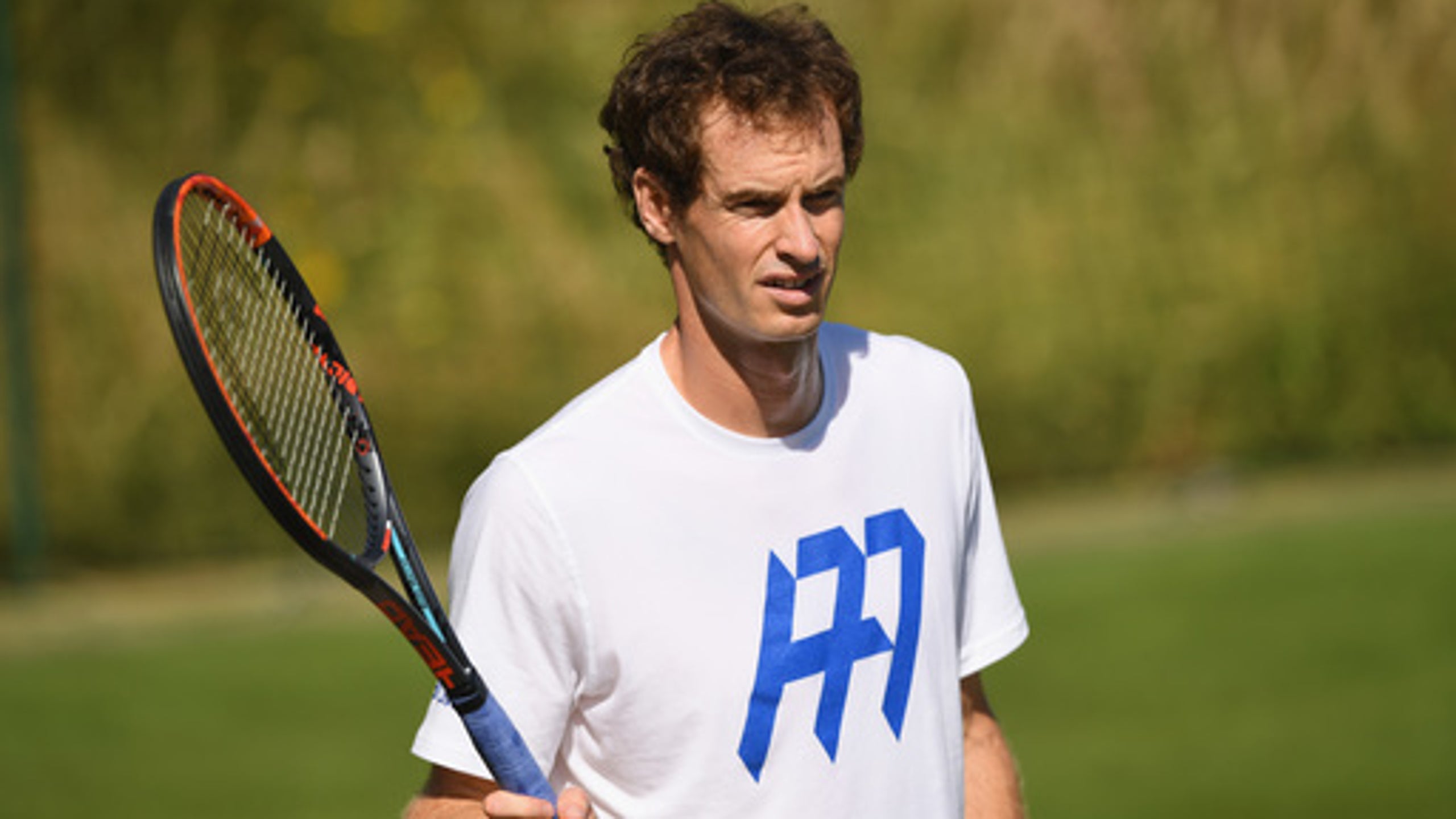 No. 1 Murray says hip improving as Wimbledon begins (Jul 2, 2017)
BY AP • July 2, 2017
Andy Murray is the top-ranked men's player in the world but it hasn't been the easiest of seasons for the defending Wimbledon champion.
Murray has been prone to inconsistency that has carried over into the big events. And lately, a hip ailment that has bothered him since childhood has flared up at a rather bad time.
"I've had hip problems since I was very young, so it's not something new to me," Murray told reporters Sunday. "It's just been very sore the past few weeks. It was giving me quite a lot of trouble moving to certain shots and getting into certain positions. That's why I needed a break, to try and give it a chance to settle down."
Murray begins his run at a third Wimbledon crown on Monday when he takes on Russia's Alexander Bublik on Centre Court.
The top-seeded Murray practiced for three hours on Sunday and pronounced himself fit. He said he wouldn't be playing if the injury was going to limit his abilities.
The pressure is certainly on the Scottish star as he has won just three Grand Slam events during his standout career.
"Hopefully I'm able to deal with things better this time around. But really once you get out there, I don't feel like I'm coming in trying to defend something," Murray said. "I'm going out there trying to win Wimbledon again. I want to try to win the competition.
"Maybe (defending) adds a little bit extra pressure. Maybe a few more nerves, especially at this slam, with the way the scheduling is, that you're the first one out there on Centre Court. You feel like you're opening up the tournament a little bit, and that adds a few more nerves. But I feel OK."
Another looming development is that Murray's wife -- Kim Sears -- is pregnant with the family's second child. The Murrays also have a 17-month-old daughter, Sophia.
Murray made it clear the situation isn't a distraction.
"I mean, I've had family the whole time I've been playing tennis," Murray said. "It's not a distraction in the slightest. We're both obviously very happy and looking forward to it."
Murray has never previously faced Bublik, who is ranked 134th in the world. But he plans to study up on him.
"I haven't played against him, but I've heard a few things from some of the players. He's obviously a big personality. He's not a quiet guy," Murray said. "He plays a lot of unexpected shots, a lot of drop shots, mixes his game up a lot. ... I'll try and watch a bit of video this evening with my team, see what we can get hold of, take it from there."
Murray finds himself in the same half of the draw as fourth-seeded Rafael Nadal of Spain and fifth-seeded Stan Wawrinka of Switzerland. Nadal, a two-time Wimbledon champion, faces John Millman of Australian in his opener while Wawrinka meets Russian Daniil Medvedev.
Second-seeded Novak Djokovic heads the other half of the draw and the Serbian faces Martin Klizan of Slovakia in the opening round. The three-time Wimbledon champ is looking for his 13th Grand Slam title and says he is at peace in his return to the All-England Club.
"I used to base all my happiness on winning a tennis match," Djokovic said. "I think many athletes today are doing that. So I try not to do that anymore, because it's not like I don't care, but winning and losing a tennis match, absolutely not.
"Of course, I would love to win every single tennis match I play in, but I don't try to take that as a very essential moment in my life, which determines my happiness."
Third-seeded Roger Federer of Switzerland and sixth-seeded Canadian Milos Raonic are on Djokovic's side of the draw. Federer, a seven-time champion and 18-time Grand Slam winner, opens with Ukraine's Alexandr Dolgopolov.
There is no clear-cut favorite of the women's side with top-seeded Angelique Kerber not playing up to her level. The World No. 1 hasn't won a single WTA title this year. She meets American Irina Falconi, ranked 246th, on Monday.
"I will not put the pressure on Wimbledon," Kerber said. "I have still the next months where I have big tournaments.
"Of course I am here to play good tennis, try to win every single match. But I will think more about the next half-year. I think this is more in my mind to not put too much pressure now for this tournament on my belt."
Romania's Simona Halep is seeded second. Karolina Pliskova of the Czech Republic, Elina Svitolina of Ukraine and Caroline Wozniacki of Denmark round out the top five.
Johanna Konta is seeded sixth -- the highest for a British woman since Virginia Wade in 1979. Two-time Wimbledon champ Petra Kvitova is the 11th seed as she continues her impressive comeback from surviving a knife attack in December.
American Venus Williams is seeded 10th. Sister Serena is not competing due to being pregnant.
---
---