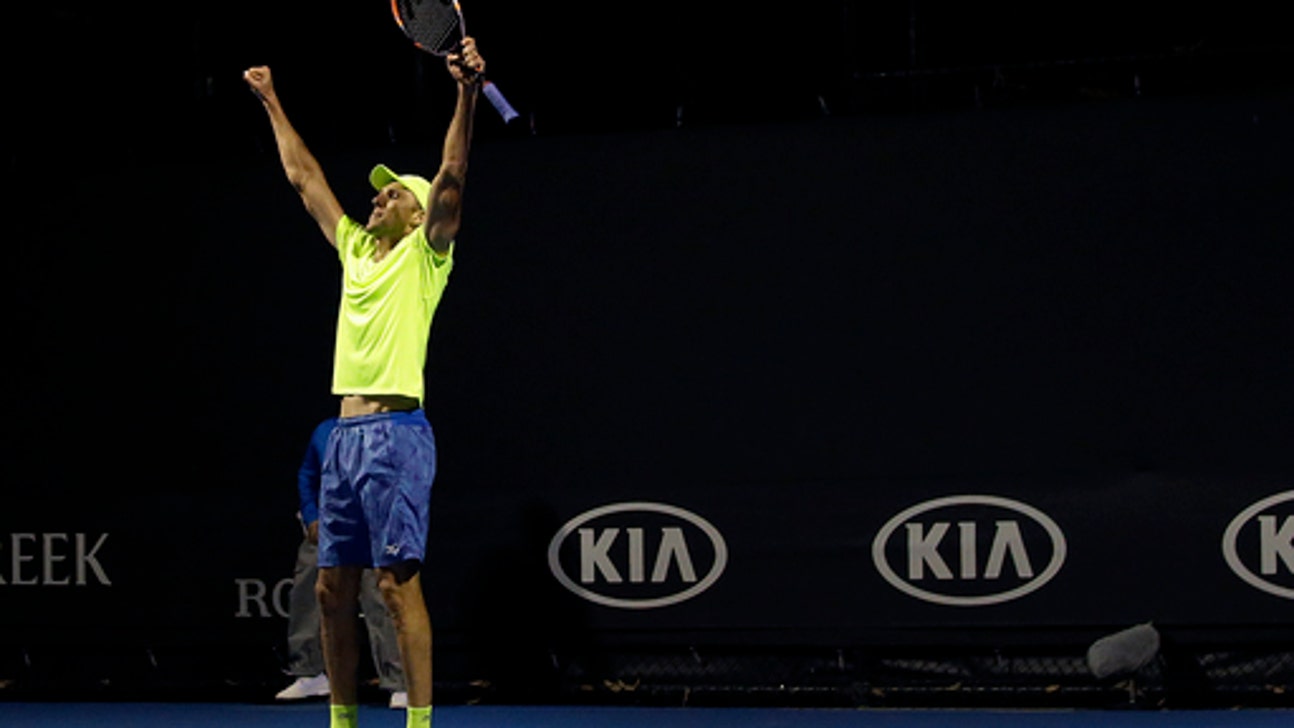 Karlovic smacks 75 aces, sets long match mark at Aussie Open
Updated
Mar. 4, 2020 4:25 p.m. ET

MELBOURNE, Australia (AP) As Ivo Karlovic and Horacio Zeballos struggled deep into the fifth set at the Australian Open on Tuesday night, fans rushed to distant Court 19 to watch as a record unfolded.
The stands completely packed, some spectators stood on tables and chairs and even balanced on the fence of a neighboring court to try to get a view. Others lay on their stomachs and peeked beneath the black windscreen lining the fence, using their phones to record it.
After five hours, 15 minutes, Zeballos finally cracked in the 84th game. Chasing down a lob on Karlovic's second match point, he mis-hit a forehand and it floated long, giving Karlovic an epic, come-from-behind victory, 6-7 (6), 3-6, 7-5, 6-2, 22-20.
The 37-year-old Karlovic, one of the oldest players on tour, was elated to pull out the victory - if a little sore.
''Arm is good,'' he said, noting the frequency of ace. ''But my knee, my back, little bit not so good.''
The final set alone took two hours, 37 minutes. And though most points were short, the match didn't lack for some quality - the players combined for 237 winners to 94 unforced errors.
''This is what I will, after my career, remember,'' Karlovic said. ''If it was easy match or I lost easy, I wouldn't remember. But this one, definitely, I will remember forever.''
The scoreline didn't come close to the famous marathon match between John Isner and Nicholas Mahut at Wimbledon in 2010, which Isner finally won 70-68 in the fifth set after more than 11 hours.
''Actually, I was thinking about that other match, Isner against Mahut,'' Karlovic joked afterward. ''I was hoping little bit it could go this long so I could also have record.''
The match also fell short of the 5-hour, 53-minute Australian Open final played by Novak Djokovic and Rafael Nadal in 2012, the longest in terms of time at the tournament.
But Karlovic and Zeballos did set a couple records.
The total of 84 games broke the previous Australian Open mark of 83 set by Andy Roddick and Younes El Aynaoui in 2003, a match Roddick won 21-19 in the fifth. Karlovic's 75 aces also smashed the previous record of 51 for a single match, set by Joachim Johansson against Andre Agassi in 2005.
The 6-foot-11 (2.11-meter) Karlovic has a massive serve that opponents often stand and watch as it whizzes by. Zeballos was particularly powerless against the towering Croat's serve: He only had four break points in the match and converted just one.
Still, Zeballos hung tough as the fifth set wore on, buoyed by the raucous Argentine fans, who sang and waved their blue and white flags at every opportunity.
After Zeballos' last shot floated long, Karlovic thrust his arms in the air and his supporters leapt to their feet, chanting ''Ivo, Ivo!''
Then, he started to think about recovery ahead of his next match against Australian wild-card entry Andrew Whittington.
''I will have two days now,'' he said. ''I'm just going to do the ice bath, try to hit good, go to sleep early. Hopefully that will be enough.''
---