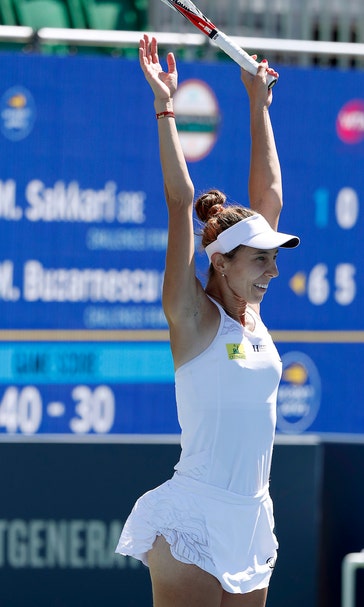 Buzarnescu captures first career singles title at San Jose
August 5, 2018
SAN JOSE, Calif. (AP) — For a moment as she celebrated her first career title, an emotional, overjoyed Mihaela Buzarnescu stood on the court and made an apology for a tournament missing major star power.
No Serena Williams. No Venus. They each had early exits, leaving no Americans to cheer for Sunday in the Mubadala Silicon Valley Classic.
"I'm sorry that there was no American in the final but, well, I'm really happy to be on the poster next year so that's really amazing for me," she said.
Just with those words, the fifth-seeded Romanian drew big applause and chuckles.
Her gracious spirit, steady strokes and entertaining play sure helped, too.
Buzarnescu is a champion at last at age 30, beating 49th-ranked Maria Sakkari of Greece 6-1, 6-0 at San Jose State University.
No. 24-ranked Buzarnescu threw her arms in the air in triumph and hit a ball into the stands Sunday after closing out the match with a 107 mph ace on a day several Romanian flags were held in the stands. She raised her racket, waved and acknowledged those fans, too.
"It really means a lot," she said. "It means all my work has paid off. It means everything."
Buzarnescu, a left-hander who ranked No. 142 only a year ago and has come back from two knee surgeries, mixed her shots beautifully with laser groundstrokes to send Sakkari chasing down balls in the corners while adding some slice and drop shots.
She is thrilled to be on the rise at this stage in her topsy-turvy career after considering what her next move would be beyond tennis as her troublesome knees baffled the doctors.
"I just didn't give up because I had my closest friends and my family who supported me," Buzarnescu said of reaching this high point. "... Now I believe in it and before I didn't believe in anything."
Serena Williams, the Wimbledon runner-up, suffered a career-worst 6-1, 6-0 loss in her opener to Johanna Konta while playing just her fifth tournament since giving birth to her daughter last September. Sakkari eliminated Venus Williams in the quarterfinals on Friday night.
"I gained confidence and experience. It has been a great week for me," Sakkari said. "I think I will be more prepared for my next final."
Sakkari missed on four break-point chances in the final game of the first set, when Buzarnescu double-faulted twice, while the last two games of the opening set featured nine deuces.
Sakkari reached her first career final after surviving near elimination — she was two games from losing — in a 3-6, 7-5, 6-2 semifinal victory against Danielle Collins. That was the only set she lost all week before Sunday.
By the final, she was nervous and physically spent.
"She could do anything she wanted. That was easier for her," Sakkari said. "She handled it great. She took the opportunity I was not playing good. I felt like I didn't have any solutions."
Buzarnescu rallied from a set down to beat fourth-seeded Elise Mertens 4-6, 6-3, 6-1 in the semifinals.
After Sunday's win, she was quick to credit the 23-year-old Sakkari for a sensational week of tennis and expressed hope they will both face off in many big matches again down the line after meeting for the first time.
"I hope we will play again and again and the best should win," she said while thanking everyone who supported the event formally held at Stanford University.
Buzarnescu will climb to at least No. 21 in the WTA rankings when they're released Monday, perhaps up to 20th. This marked her first championship victory in three tries after a runner-up showing this year in Prague.
"Maybe reaching top-10 is the next goal for me if I can ever be able to achieve," she said.
---
---