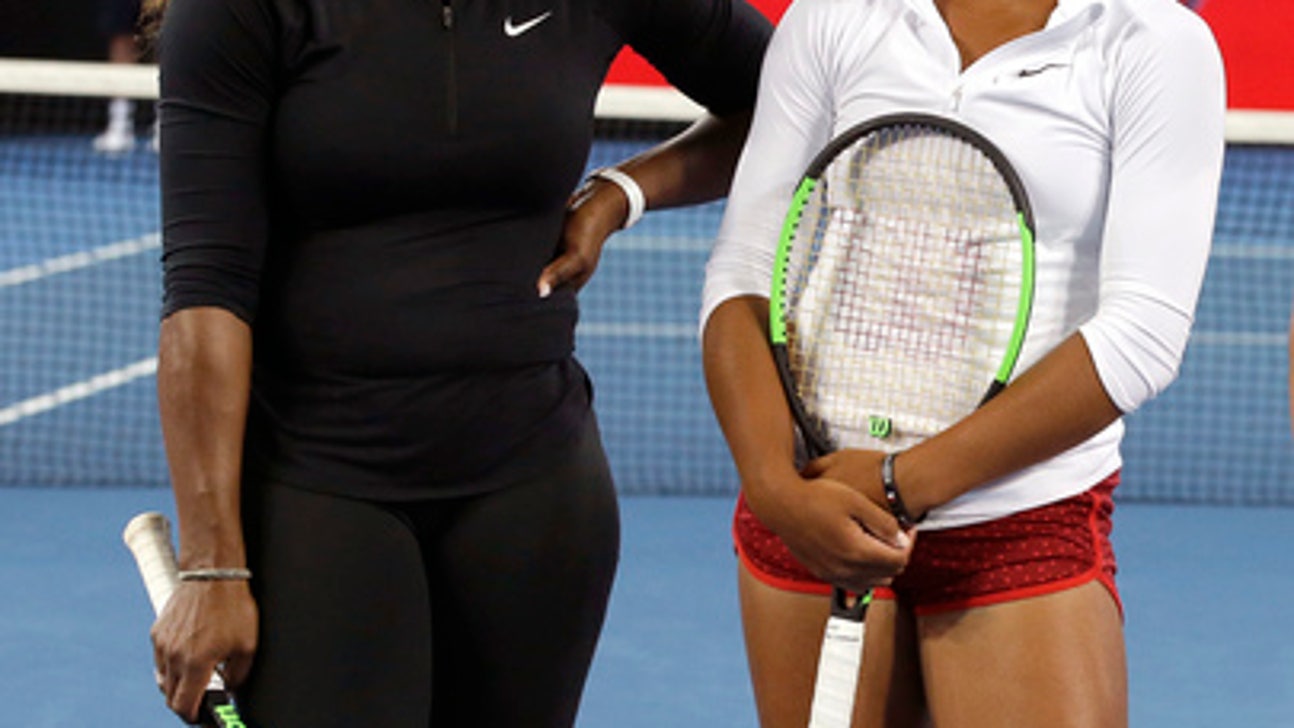 Best day ever: Destanee hits with Serena, her inspiration
Updated
Mar. 4, 2020 5:38 p.m. ET

MELBOURNE, Australia (AP) Last week, Destanee Aiava became the first player born this millennium to win a main draw match at a WTA event.
Next week, the 16-year-old Australian will be the first player born in the 2000s to play in the main draw at a Grand Slam tournament, thanks to a wild-card entry to the Australian Open.
This week, the highlight has been hitting with Serena Williams, the 22-time Grand Slam champion and the inspiration for Aiava's career.
Aiava was 5 when she watched one of the Williams' matches on TV, and told her parents that tennis was going to be her career.
Her parents took her seriously, and her mother became her learn-as-she-goes coach.
On Thursday, the 35-year-old Williams did a promotional appearance for her racket sponsor on Margaret Court Arena, including a hit up against the Melbourne schoolgirl.
Asked what it was like to hit with the six-time Australian Open winner, Aiava paused for a while before Williams chimed in with an answer for her: ''Great.''
Aiava laughed, admitting she was more nervous meeting Williams than she had been playing in an exhibition tournament earlier in the day.
''It's actually one of the best days of my life,'' she said. ''I've had a lot of fun today, getting to hit with Serena. Hopefully there'll be more opportunities like this in future.''
Williams is seeded No. 2 at Melbourne Park, where she lost the final last year to Angelique Kerber. She lost the French Open final to Garbine Muguruza before winning Wimbledon to equal Steffi Graf's Open Era record of 22 major titles.
Aiava, who was born on May 10, 2000, and was No. 386 at the start of the season, has already met the long-retired Graf, her prize for winning the Longines Future Tennis Aces tournament in Paris in 2012.
After her first-round win in Brisbane last week, she lost to two-time Grand Slam winner Svetlana Kuznetsova. So she's getting more comfortable in elite tennis company.
The arena where she hit with Williams carries the name of the woman who holds the record for most Grand Slam singles titles - Margaret Court won 24 from 1960 to 1973 in a career that spanned the amateur and Open eras.
Williams is aiming for 23 when the Australian Open starts Monday and, with her competitive spirit, there's little doubt there's another target for her in the future.
For now, though, she's not prepared to mention those milestones.
''I'm not talking about that,'' Williams said Thursday, despite some extra urging. ''I said I'm not talking about that, move on.''
---