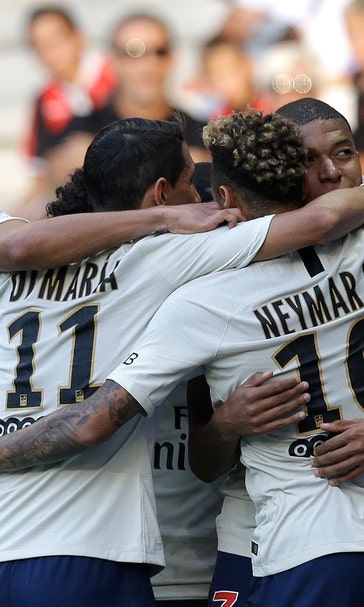 Unhappy Payet raises questions for Marseille; PSG marches on
October 1, 2018
PARIS (AP) — After Marseille was soundly beaten 3-0 at Lille on Sunday, it would have been easier for its star player Dimitri Payet to avoid questions.
Soccer players often do just that, escaping to the privacy of the dressing room rather than talking about their team's abject performance.
But not so the mercurial Payet, who shone so brightly for France when it reached the European Championship final two years ago. Payet has uncommon skill along with an exceptional eye for a pass and long-range shooting — not to mention considerable status as a seasoned international with 37 caps and eight goals.
As Payet leaned in to hear the post-match interviewer's questions, he paused before delivering a considerable broadside. It was not aimed at the media for asking pertinent questions, which would also have been the easy option, but rather directed straight at his teammates.
"What disturbs me the most is the attitude, the desire," he told Canal Plus television. "It's not a case of walking (onto the field) with the Marseille jersey on your shoulders, you have to win."
Marseille missed out on the Champions League by one point last season, unable to shake off its tendency to concede sloppy goals.
Things look no different this time and may even be worse: Marseille's sloppy defense has allowed 16 goals in eight games, making it the league's second-worst defense.
"I wouldn't say we concede (goals) but that we give them away," Payet said with a hint of sarcasm, adding that some score-settling could be forthcoming between Marseille's players. "We'll wash our dirty linen (internally) and I think we have a lot of things to say to each other."
Marseille's defeat leaves it in sixth place, when victory would have put it second behind leader Paris Saint-Germain. But after eight games, Marseille — France's only Champions League winner — is already 11 points behind PSG.
Next for Marseille is Caen at home before Nice away and then a home encounter against PSG, which has won eight straight league games.
WORK ETHIC
Rampant PSG has scored 27 goals so far, but the truly encouraging signs are further down the field rather than in attack.
Everyone knew about PSG's attack, but more so now it features Brazil star Neymar and Kylian Mbappe alongside the prolific Edinson Cavani. PSG has always scored goals, sometimes a huge amount of them, yet every season falls well short in the Champions League.
In fact, since cash-rich Qatari investors QSI took over the club seven years ago, PSG has not been beyond the quarterfinals in Europe's elite competition despite spending huge amounts on players and wages.
But new coach Thomas Tuchel seems to have eradicated a seemingly complacent mentality within the club.
During the 3-0 win at Nice on Saturday, Neymar was working hard and keen to play on despite taking a whack to the face . Holding midfielder Adrien Rabiot, a slick player not known for his work-rate, chased down everything and harried Nice's players all over the field.
With his tactile approach and warm-hearted man-management, Tuchel may be getting the best out of PSG's players.
But he knows the real proof will be success in the Champions League, not another routine domestic treble.
---
---