Sepp Blatter and Michel Platini suspended by FIFA
BY foxsports • October 8, 2015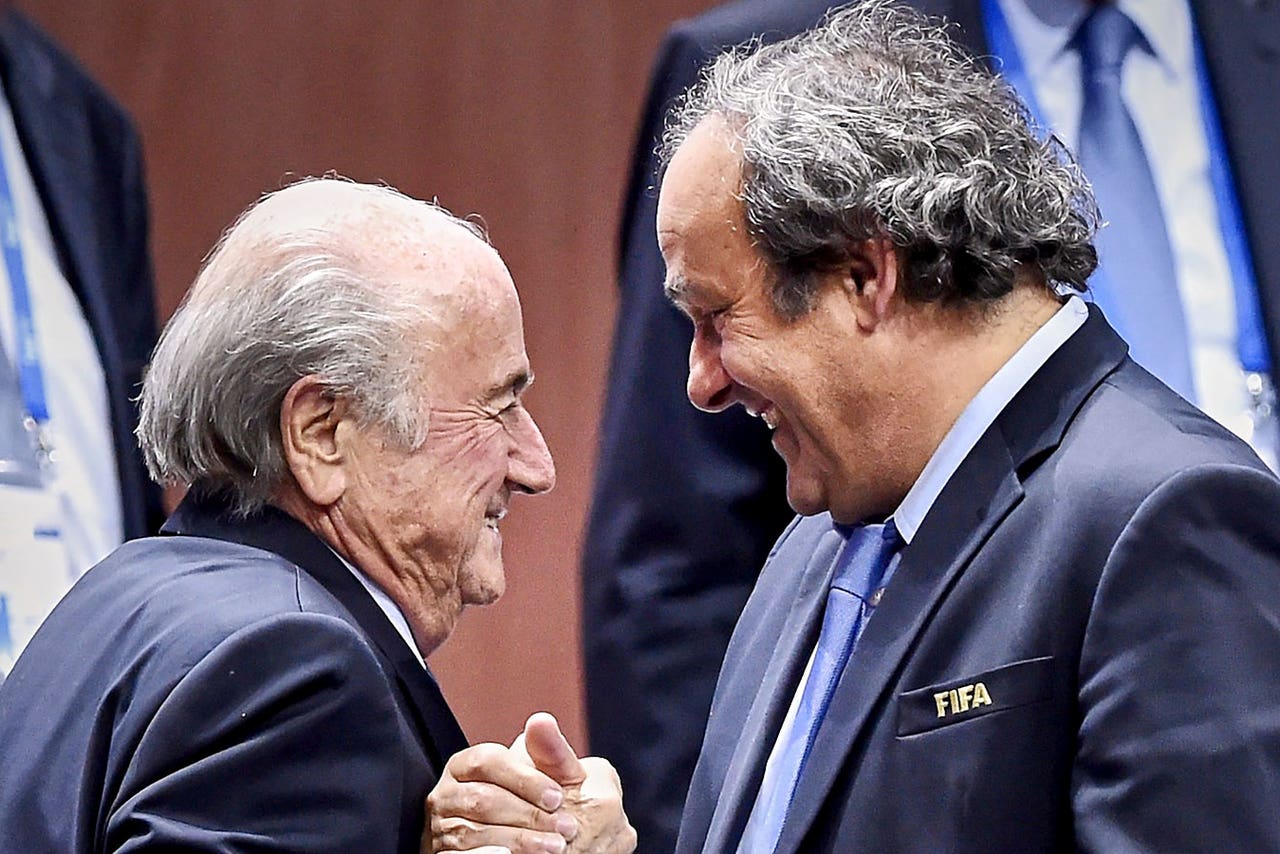 Sepp Blatter and Michel Platini have both been provisionally banned for 90 days from any football-related activity in a ruling that throws world football into total meltdown.
FIFA secretary-general Jerome Valcke has also been banned for 90 days meaning the three most powerful men in world football are now all provisionally suspended while investigations by FIFA's ethics committee continue.
The ban will effectively end outgoing FIFA president Blatter's ambitions to stay on until February, while UEFA president Platini's hopes of succeeding him lie in tatters.
Platini had been the favourite to succeed 79-year-old Blatter but the ban prevents all three men from being involved in any football-related activity for the next three months while investigations continue. The 90-day suspension can also be extended by a further 45 days, taking it up until just six days before the FIFA presidential election is due on February 26.
The ethics committee also announced that another FIFA presidential candidate Chung Mong-joon from Korea has been banned for six years and fined 100,000 Swiss francs ($103,000) for breaking rules during the 2022 World Cup bid campaign.
A statement from FIFA's ethics committee said: "During this time, the above individuals are banned from all football activities on a national and international level. The bans come into force immediately."
Blatter and Platini can appeal to FIFA's appeals committee but will still be suspended until they are heard. Valcke had already been suspended by FIFA after allegations he was implicated in a World Cup tickets scheme.
The most important investigations surround a £1.35million ($2m) payment Blatter authorised be made to Platini by FIFA in 2011 - neither have fully explained the reason for the nine-year delay in being paid for work Platini carried out as Blatter's technical advisor from 1999 to 2002. Blatter has had criminal proceedings opened against him by the Swiss attorney general on this case and for allegedly selling TV rights to former FIFA vice-president Jack Warner for around 20 times less than their true value.
Platini claimed the fact that news of the impending ban was leaked on Wednesday was an attempt to damage his reputation.
He said in a statement: "This deliberate leak - which is insidious in nature and has come about in an unacceptable manner - is essentially an attempt to damage my reputation."
On Thursday morning Platini submitted the letters of nomination from supporting associations to FIFA but his hopes of running for president appeared to have been dashed.
The statement from FIFA's ethics committee said: "The adjudicatory chamber of the ethics committee chaired by Hans Joachim Eckert has provisionally banned FIFA President Joseph S. Blatter, UEFA president and FIFA vice-president Michel Platini, and FIFA secretary General Jerome Valcke (who has already been put on leave by his employer FIFA) for a duration of 90 days. The duration of the bans may be extended for an additional period not exceeding 45 days.
"The former FIFA vice-president Chung Mong-joon has been banned for six years and fined 100,000 Swiss francs ($103,000). During this time, the above individuals are banned from all football activities on a national and international level. The bans come into force immediately.
"The grounds for these decisions are the investigations that are being carried out by the investigatory chamber of the ethics committee.
"The proceedings against the South Korean football official Chung Mong-joon were opened in January 2015 based on findings in the report on the investigation into the bidding process for the 2018/2022 FIFA World Cups. He has been found guilty of infringing article 13 (general rules of conduct), article 16 (confidentiality), article 18 (duty of disclosure, cooperation and reporting), article 41 (obligation of the parties to collaborate) and article 42 (general obligation to collaborate) of the FIFA code of ethics."
Blatter's lawyers issued a statement claiming the ethics committee should have allowed him to be heard.
The statement said: "President Blatter was disappointed that the ethics committee did not follow the code of ethics and disciplinary code, both of which provide for an opportunity to be heard. Further, the ethics committee based its decision on a misunderstanding of the actions of the Attorney General in Switzerland, which has opened an investigation but brought no charge against the president.
"In fact, the prosecutors will be obliged by law to dismiss the case if their investigation, barely two weeks old, does not establish sufficient evidence. President Blatter looks forward to the opportunity to present evidence that will demonstrate that he did not engage in any misconduct, criminal or otherwise."
FIFA said Blatter had been relieved of his duties and that Issa Hayatou, the head of African football from Cameroon, would be acting president.
The FIFA statement said: "Today, in accordance with FIFA's code of ethics, Joseph S. Blatter was relieved of all his duties as FIFA president following the decision.. to provisionally ban him from all football activities on a national and international level.
"Joseph S. Blatter, for the duration of the 90-day ban, is not allowed to represent FIFA in any capacity, act on the organisation's behalf, or communicate to media or other stakeholders as a FIFA representative.
"Issa Hayatou, as the longest-serving vice-president on FIFA's executive committee, will serve as acting president of FIFA."
Platini's ban means that he will not be able to attend the Euro 2016 draw in Paris on December 12 - a bitter blow to the 60-year-old in his own country.
Hayatou's appointment as acting president carries its own controversy - he was reprimanded by the International Olympic Committee in 2011 over a payment made to him by FIFA's former marketing agency ISL during the 1990s.
The man in line to be acting president of UEFA, Spain's Angel Villar Llona, also has an ethics committee investigation hanging over him for refusing to co-operate properly with the inquiry into the 2018 and 2022 World Cup bids.
Hayatou said he would only serve as interim president and would not stand in February's election.
He said: "Today, amid extraordinary circumstances, I have assumed the office of FIFA president. I will serve only on an interim basis. A new president will be chosen by the extraordinary congress on 26 February 2016. I myself will not be a candidate for that position."
---
---