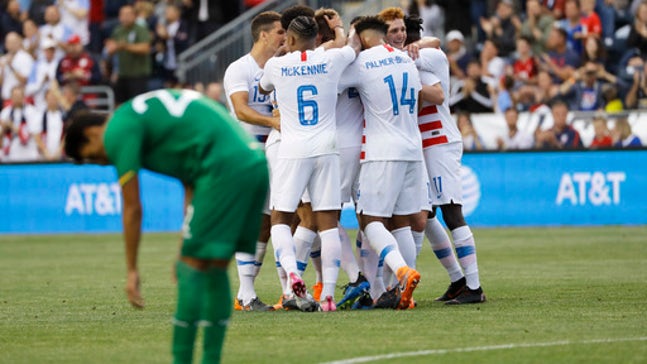 Sargent & Weah, both 18, score as US beats Bolivia 3-0
Updated
Mar. 4, 2020 1:03 p.m. ET
CHESTER, Pa. (AP) Josh Sargent became the fourth-youngest American to score, making an audacious interception of a goalkeeper's pass over his head to put the ball into the net in his international debut at just 18 years, 102 days.
Tim Weah, two days younger than Sargent, got his first goal seven minutes later.
With no World Cup to play for, the United States gave youth a chance and they came through in a 3-0 exhibition win over an equally inexperienced Bolivia team on Monday night.
''It's great feeling both of us getting to do this together,'' Sargent said.
Walker Zimmerman, a relative geezer at 25 but making just his third international appearance, put the Americans ahead in the 37th minute with his first international goal , on a header from Joe Corona's corner kick. Sargent doubled the lead in the 52nd.
''We've come such a long way,'' said Weah, a son of former FIFA Player of the Year and current Liberia President George Weah. ''We just want to impress our fans. We just want to play with our hearts.''
Christian Pulisic, playing exactly two years after become the youngest American to score - also against Bolivia - struggled to make sharp touches in the 19-year-old's first national team match since the loss at Trinidad and Tobago last October that ended the U.S. streak of seven consecutive World Cup appearances.
Interim U.S. coach Dave Sarachan gave six players their debuts, raising the total to 15 in four matches since he took over after the loss in Trinidad. Defenders Erik Palmer-Brown and Antonee Robinson and goalkeeper Alex Bono joined Sargent as debutants in the starting lineup, and defender Matt Olosunde and midfielder Keaton Parks entered in the second half.
The U.S. starting lineup averaged 22 years, 160 days, and 6.7 international appearances. Fans always have sky-high hopes prospects will become stars, and Sargent and Weah raised the anticipation even higher.
''They're reading a lot about themselves and so on,'' Sarachan said. ''They're still steps. If you want to get to A, you still start at D and then to C, then to B. We're very quick to jump them up into the A category. I think that's a process that we have to manage, with expectations, with a lot of noise on the outside.''
Only three Americans have scored at a younger age than Weah and Sargent: Pulisic (17 years, 253 days), Juan Agudelo at South Africa in 2010 (17-359) and Jozy Altidore against Mexico in 2008 (18-96). Agudelo is the only younger player to score in his debut.
Weah has played just three first-team matches for Paris Saint-Germain, one of his father's former clubs, entering twice as a second-half sub in March and getting his first start on the final day of the season this month. Sargent hasn't played any.
Sargent scored four goals at last year's Under-20 World Cup and three at the Under-17 World Cup, where Weah was a teammate. He signed a pro contract with Werder Bremen on his 18th birthday, Feb. 20. That was after the international transfer window closed, making him ineligible until next season.
''I was very nervous to be honest coming out,'' Sargent said. ''It was my first professional game ever.''
He made up for lack of experience with daring.
Goalkeeper Carlos Lampe rolled the ball to Luis Haquin on the right flank, and the defender returned it. Lampe lofted the ball back toward Haquin. Sargent turned toward the touchline to follow the flight of the ball, stuck out his right leg near the edge of the penalty area to redirect it back toward the center of the field, and then ran onto the ball for an 11-yard right-footed shot that deflected in off the keeper's leg.
''I saw him start to chip the ball over, so I started backing up a little bit, and had a good touch to turn it around and good shot,'' Sargent said.
Weah scored after Antonee Robinson beat a defender down the left flank and made a one-hop cross into the penalty area. Weah made a perfect cut and volleyed the ball with his right foot.
''Once I saw the service come in, I was like, I got to get there. I got to get this. This is my opportunity to get the goal,'' Weah said exuberantly.
He had felt pain in his right knee after a challenge about 15 minutes in and signaled he needed to come off.
''He was all over the shop,'' Sarachan said. ''He looked like a kid that has never played at a higher level, to a guy that was looking to come out a game where he wasn't sure if he was even hurt to flying and beating guys. And so he was the prototypical young, nervous guy.''
NOTES: Nico Romeijn, the U.S. Soccer Federation's chief sport development officer, said the USSF intends to hire the GM before the World Cup, a position expected to go to former American forward Earnie Stewart, currently sporting director of Major League Soccer's Philadelphia Union. The new GM will head the search for a new coach, whom the USSF hopes to have in place ahead of September exhibitions. ''But maybe it takes more time. You never know,'' Romeijn said.
---
---