Paul Pogba
Paul Pogba
Paul Pogba names Hazard, Neymar and Reus as Messi/Ronaldo successors
Published
Jan. 13, 2017 7:38 p.m. ET

Cristiano Ronaldo and Lionel Messi are still unequivocally atop the pecking order when it comes to the world's best soccer players. (Who is the No. 1 is an entirely different and unrelated discussion.) Eventually, though, the time will come for the two of them to hang up their boots.

When that day finally comes, who will be there to pick up the mantle? Manchester United midfielder Paul Pogba weighed in on the debate, and interestingly didn't name himself. Instead, the world's most expensive player selected Eden Hazard, Neymar and Marco Reus as his nominees.

"You never know with those guys. In the future you can see Neymar, Hazard, Reus, Pogba said in an interview with ESPN, via the IB Times. There are so many young players who can replace them. You never know because in a season you can be injured for six months or twelve months ... I hope they won't but you never know what's going to happen."



Hazard and Neymar are viable candidates, for sure. After an awful showing for Hazard this past season, the 26-year-old Chelsea ace is back on track. The 24-year-old Neymar is continuing his ascent as he blossoms at Barcelona. Reus, though, is a bit of a surprise.

The 27-year-old Dortmund winger is a major talent, no question. But injury issues have plagued his career, and durability issues don't usually get better with age. Still, it's Pogba's list, so he's entitled to his opinion. It is rather curious that he didn't name himself, though.

"No, I don't put myself there," he said. "I just play and the people can talk about me. I do not say anything about myself."

Fair enough. Pogba would probably make everyone else's list, and he's just too bashful to talk himself up. In the end, the debate can rage on but it won't reach a conclusion anytime soon. Ronaldo and Messi are still far atop the summit and certainly aren't showing signs of slowing down quite yet.



 
---
---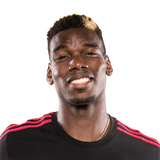 Get more from Paul Pogba
Follow your favorites to get information about games, news and more
---