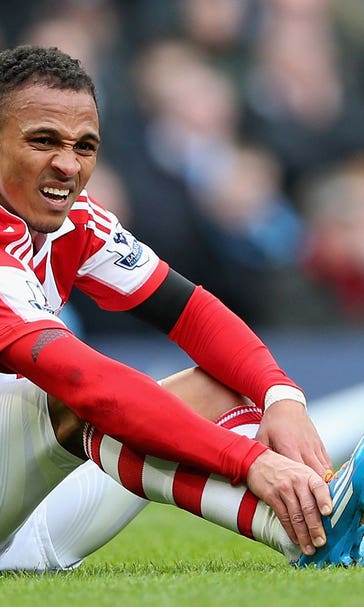 Odemwingie thinks West Brom departure has tainted his reputation
BY foxsports • May 10, 2014
Stoke City striker Peter Odemwingie believes the way West Bromwich Albion handled his departure has tainted his reputation.
The Nigeria forward returns to his former home on the final day of the Premier League season with Stoke after a notorious departure.
Odemwingie was sidelined by the West Brom faithful after an aborted move to Queens Park Rangers 16 months ago before he eventually moved to Cardiff and now Stoke, where he continues to thrive.
The 32-year-old was accused of trying to orchestrate a big-money move away from the club, but on the eve of his return Odemwingie revealed West Brom chairman Jeremy Peace and then manager Steve Clarke were fully aware of the situation.
"It was hard to take," Odemwingie told the Daily Express. "I had not been playing much, and there were other things people don't know.
"I said to the chairman that as I'm not a key player any more, can I have an evaluation to leave in the summer? They refused.
"But I said they can't have it always their own way. I asked for a nice meeting with the chairman, but they refused to give me any valuation."
Clarke was quoted as calling Odemwingie's decision to drive to QPR "sheer lunacy", but the striker claims the manager knew a deal was being brokered.
"Steve Clarke said in an interview there was a point where he thought the deal was done," he added. "But nobody picked up on that, they just picked up on seeing me at Loftus Road."
Odemwingie claims to have left West Brom peacefully and believes the way the club handled his departure has tainted his reputation.
"If the club had handled it different, saying what had happened, it would have closed the chapter, we'd have moved on, but they didn't and I became the bad guy," he claimed.
"They refused to make that statement. Why? Because they wanted to show they always decide, they wanted to show their strength, they are the boss.
"It came out as if I was greedy. But I cared about the club. I played in numerous games with injections that affected my body. Not everybody knows everything. I was very committed."
The situation infuriated Odemwingie and he turned to Twitter to vent his anger before confronting spectators.
"It was my wife's first time at a football stadium. I went to welcome her, my wife and baby, but the atmosphere was bad.
"People just picked up singing abusive things. My wife was in tears. But these fans, they don't know nothing about what really happened. People were misinformed and they are still misinformed.
"The club asked me to show some respect to them and my team-mates. The club showed no respect to me.
"I am not an angel, I have a temper sometimes, but I love peace, I was never like that before."
He added: "I never went to the public with my laundry, I was always trying to protect West Brom's image, until they went too far.
"I would have taken some responsibility, but not all of it. There was me, agents, West Brom. They wanted to fine me for saying the things I am to you now, but they never did.
"They had a guy being abused in his home stadium for something he didn't do. They watched and did nothing about it. I have a second chance with Stoke, but I was never the man they painted me."
---