Messi ready to end Argentina's title drought as Chile awaits
Published
Jul. 3, 2015 12:38 p.m. ET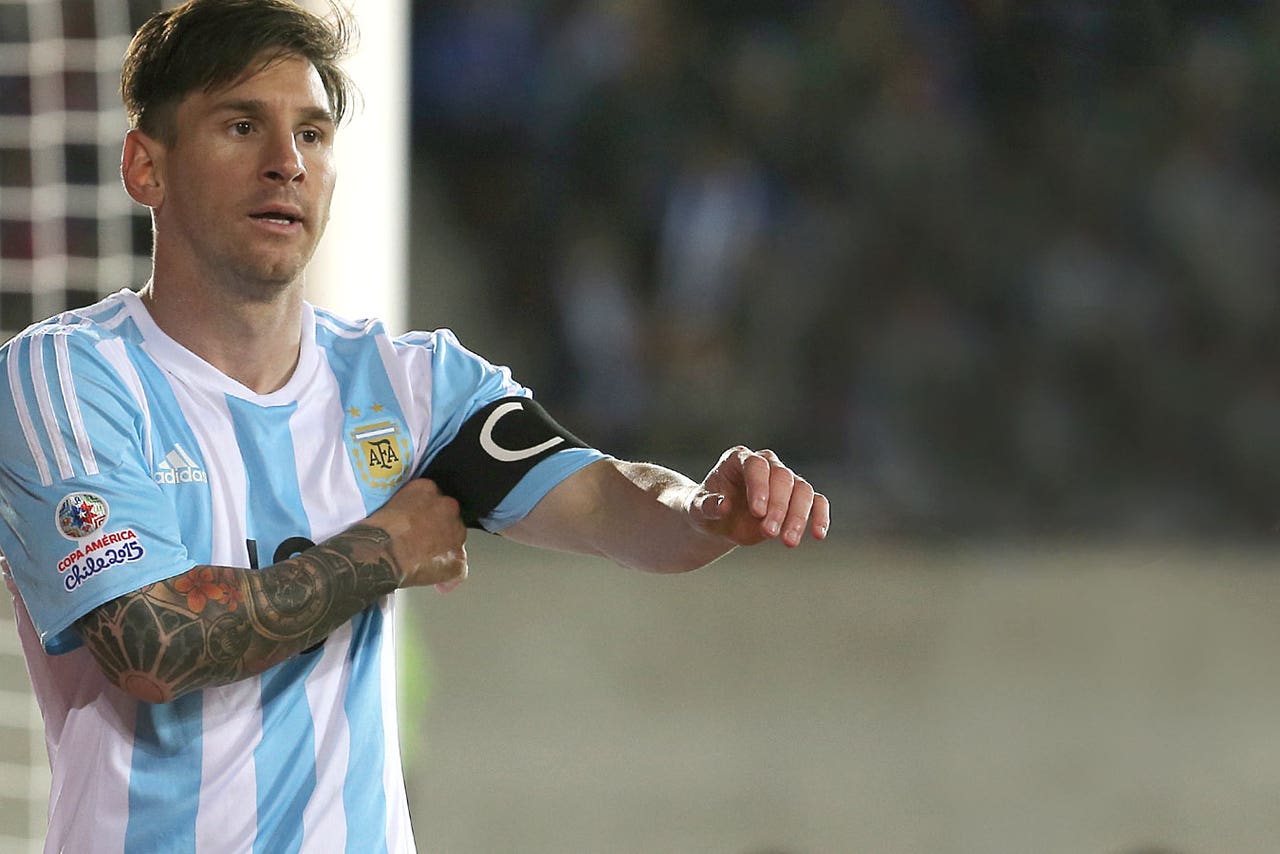 SANTIAGO, Chile --
Lionel Messi was grinning. After games, Messi rarely looks happy, often seeming almost self-conscious about his genius, but, after the 6-1 win over Paraguay in the semifinal of the Copa America, he was notably chirpy. He had just played exceptionally well, directly setting up three of the goals, and having a hand in the other three, but there seemed more to it than that. He has, after all, played just as brilliantly before without such an obvious display of happiness. It felt this was a lifting of a weight.
It may not be entirely fair, but Messi isn't judged by the same standards as other players. The greatest of the greats can't have off-days; they have always to be re-affirming their genius. The idea that Messi is unloved at home may not be true any more -- the scepticism largely evaporated after the hat-trick against Brazil in 2012 -- but there was a yearning for him to produce one of his finest displays in an Argentina shirt in a major game.
There was a sense the expectation was beginning to grate on him. Messi isn't a player who's ever give much impression that he cared about individual accolades and records -- certainly not in the way Cristiano Ronaldo does -- but the constant questions about his lack of goals in open play -- he's now up to 918 minutes without one for the national side -- were clearly getting to him. He spoke of "wanting to die" after David Ospina made a brilliant save to keep out his header in the quarterfinal win over Colombia.
"It's incredible," he went on, "how difficult it is to score a goal for the national team."
Not that difficult, though, it turns out, for him to set goals up. Gerardo Grighini, who played with Messi in the youth team at Newell's Old Boys before he moved to Barcelona, has spoken of him "getting the face on" if something annoyed him, and then destroying sides single-handed. That was what happened against Paraguay. It was almost as though Messi had set himself the task of dominating a game without scoring.
But there is a bigger picture, one that has stayed beneath the desire for a Messi master class, and that is the on-going Argentinian drought. It might not have the proportions as Chile's 99-year wait for a trophy, but, for a nation like Argentina, 22 years is long enough, particularly when it has won five Under-20 World Cups in that time. The production line of great attacking talent won't simply carry on forever. Already, in fact, it seems that the next generation will not match up to this one. Argentina has not won an Under-20 World Cup since 2007.
That's why Messi has spoken of the "obligation" of this side to win a trophy -- and that is an obligation that has to extend beyond him. "I think we were all switched on," said Angel Di Maria after the semifinal. "We've been putting in great performances but haven't had that final touch, to score. It all opened for us, and it's important that it opened just before the final."
That may, slightly, be wishful thinking -- particularly given the structural problems at the back of the side -- but Di Maria has played well generally in this tournament, while Sergio Aguero has buzzed with intent even if it feels as though he should have scored more than three goals. But aside from Messi, Javier Pastore has made the biggest impact. His finishing has been woeful -- although he scored against Paraguay, he also missed three extremely good chances -- but his incisiveness from deep, operating to the left of the defensive Javier Mascherano and the functional Lucas Biglia, has given balance to Argentina. La Nacion, one of the two main Argentinian broadsheets, even made him its man of the match for the Paraguay game, ahead of Messi.
But really, this is all about Messi, about a genius at the peak of his powers, standing on the brink of ending one of the major quibbles left about his career. It's not, of course, the World Cup, but Messi probably still has one more shot at that honor. Victory on Saturday would at least end the charge he had never won anything with the national side (and Diego Maradona, the man with whom he is cursed to be always compared, never won a Copa America).
That he has taken on a more overt captain's role in this tournament, gathering the players in a huddle in the tunnel before the second half began, only enhances the sense that he is a player taking charge of his own destiny. Perhaps most ominously for Chile, he -- and thus Argentina -- seem to have broken off the inhibitions pressure can bring. They're laughing and seemingly enjoying themselves. "There's one little step left," Messi said. He clearly believes Argentina will take it.
---
---