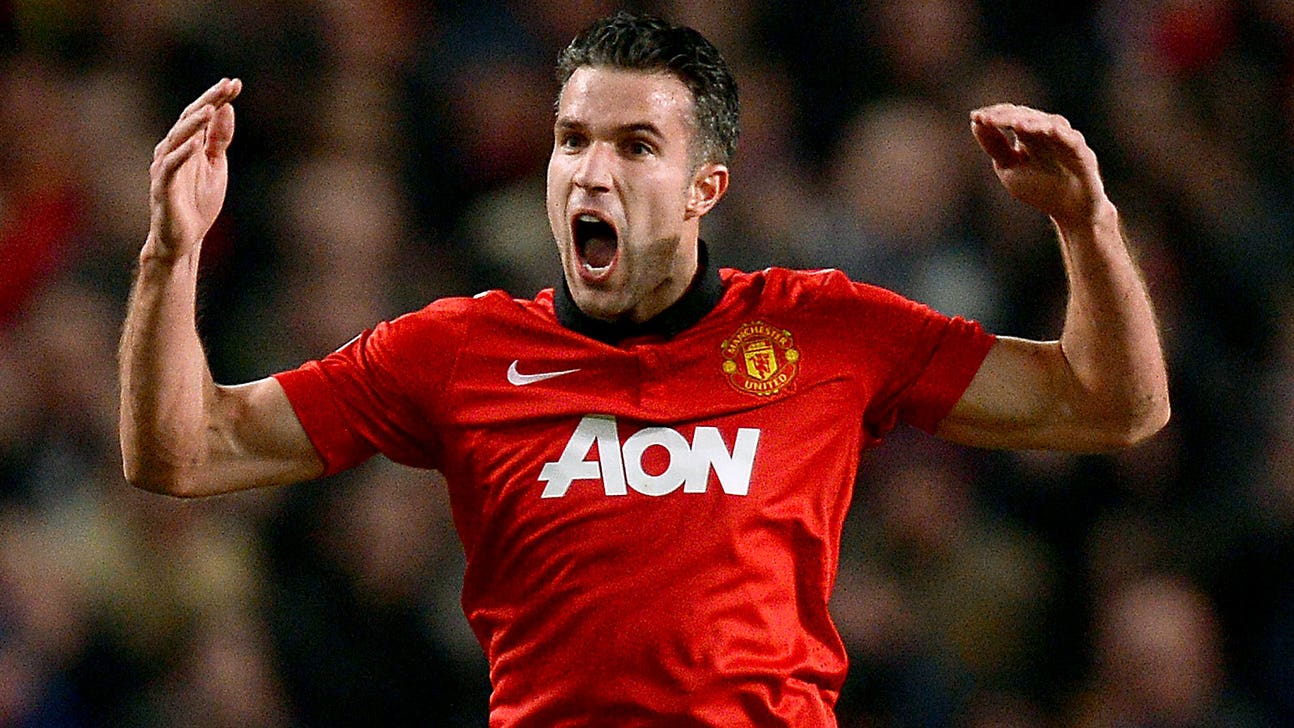 Manchester United mounts roaring comeback, defeats Olympiakos on aggregate
Updated
Mar. 5, 2020 12:11 a.m. ET

Robin van Persie rose to the occasion on Wednesday night, scoring a hat trick to put embattled Manchester United into the quarterfinals of the UEFA Champions League -- possibly saving manager David Moyes' job in the process. The Dutchman's trio of goals was enough to overturn United's first-leg deficit against Olympiakos, winning out at Old Trafford 3-0 on the night, and 3-2 on aggregate.
United stormed out of the gates, playing with an aggression that has been notably absent for much of this season. Only Ryan Giggs -- noticeably looking his age -- seemed hampered and United were in a footrace with the Greeks from the start, parrying and thrusting through the heart of the pitch. Tackles flew in -- three cards were given out in the first ten minutes and Antonio Valencia was left sporting a grotesquely swollen eye -- and both teams at least looked as if they were willing to play it out. Wayne Rooney, as usual, was at the center of everything positive for the Manchester giants.
Both teams had chances: Hernan Perez fired over from five yards with a side-foot when it would have been easier to score; Rooney beat keeper Roberto only to see his shot rebound back out off the post. Patrice Evra would head a ball backwards at the net that Roberto was forced to slap away and David de Gea made a critical double stop to deny Alejandro Dominguez.
The first goal came from a mistake after 25 minutes: Jose Holebas allowed Robin van Persie to get around him and with an elbow in back, shoved him to the ground. Replays showed it might have been a bit soft, but it would have been impossible for ref Bjorn Kuipers not to award the spot-kick, which van Persie slammed home past Roberto at the near post.
Van Persie would be the Johnny-on-the-spot right at the death of the half as well, punting in a cross from Rooney to level the aggregate score and send embattled manager David Moyes into the lockerroom with a pump of his fist. Suddenly, there was belief around Old Trafford again -- also something that has been in short supply this season.
Yet there remained concern: the Greeks always looked potent going forward and more that once Rio Ferdinand and Phil Jones looked badly exposed. But van Persie settled the matter shortly after the break when he powered in a free-kick from about 30 yards out with a clean strike that left Roberto rooted. The only problem? The "foul" that led to the attempt never should have been awarded. Kostas Manolas muscled Danny Welbeck off the ball with a perfectly fair challenge, and was astonished to hear Kuipers blow the whistle.
It was a costly decision as the Greeks subsequently lost their nerve. Dominguez would test de Gea just once more, with ten minutes the play. The keeper was smartly behind the ball at his near post, and with that, the tie was done.
United now await their quarterfinal opponents in Friday's draw, but for now, that sound you hear around Manchester? Those are sighs of relief. United remain in Europe, at least for now.
In our other match on Wednesday, unlike United, Zenit St. Petersburg were unable to overcome their own two-goal aggregate deficit going into the game against Borussia Dortmund. They had lost 4-2 in Russia in the first leg. The spirited Russians eked out a rare 2-1 win in Dortmund's inhospitable Westfalenstadion, but it wasn't enough to advance. That they won without a manager bears mentioning though, as the fired and already-departed Luciano Spalletti won't be replaced by his successor Andre Villas-Boas until Thursday.
Pierre-Emerick Aubameyang got a glorious early chance for Dortmund, when goalkeeper Vyacheslav Malafeev, who is finally back and healthy, flapped on a cross -- that would be a common theme -- but the Gabonese striker headed it well wide. In the 16th minute, Zenit capitalized when Hulk smashed in a rocket from some 25 yards out that tailed away from Roman Weidenfeller.
Dortmund got a grip on the game thereafter, and in the 39th minute Sebastian Kehl streaked onto the end of a looping Marcel Schmelzer cross and nodded it past Malafeev, who got both hands on the ball and should have done better with it.
But Zenit were better after the break. Salomon Rondon would put the final score on the board when he scurried after Domenico Criscito's low cross from the edge of the area, stumping the static Socrates Papastathopoulos, dove and headed past Weidenfeller.
Zenit kept at it, although to no effect, while Dortmund seemed out of sorts. Turnovers were rampant and Zenit's midfielders were granted far too much space for uncontested shots from outside the box. Zenit could well have gotten themselves the extra goals they needed. All of which plainly infuriated Dortmund manager Jurgen Klopp, who knows there is a lot of improving to be done to match last year's performance as the tournament runners-up.
---