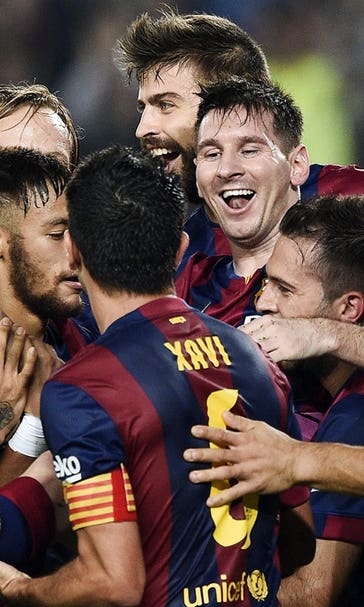 Lionel Messi snaps Spanish league scoring record
BY foxsports • November 22, 2014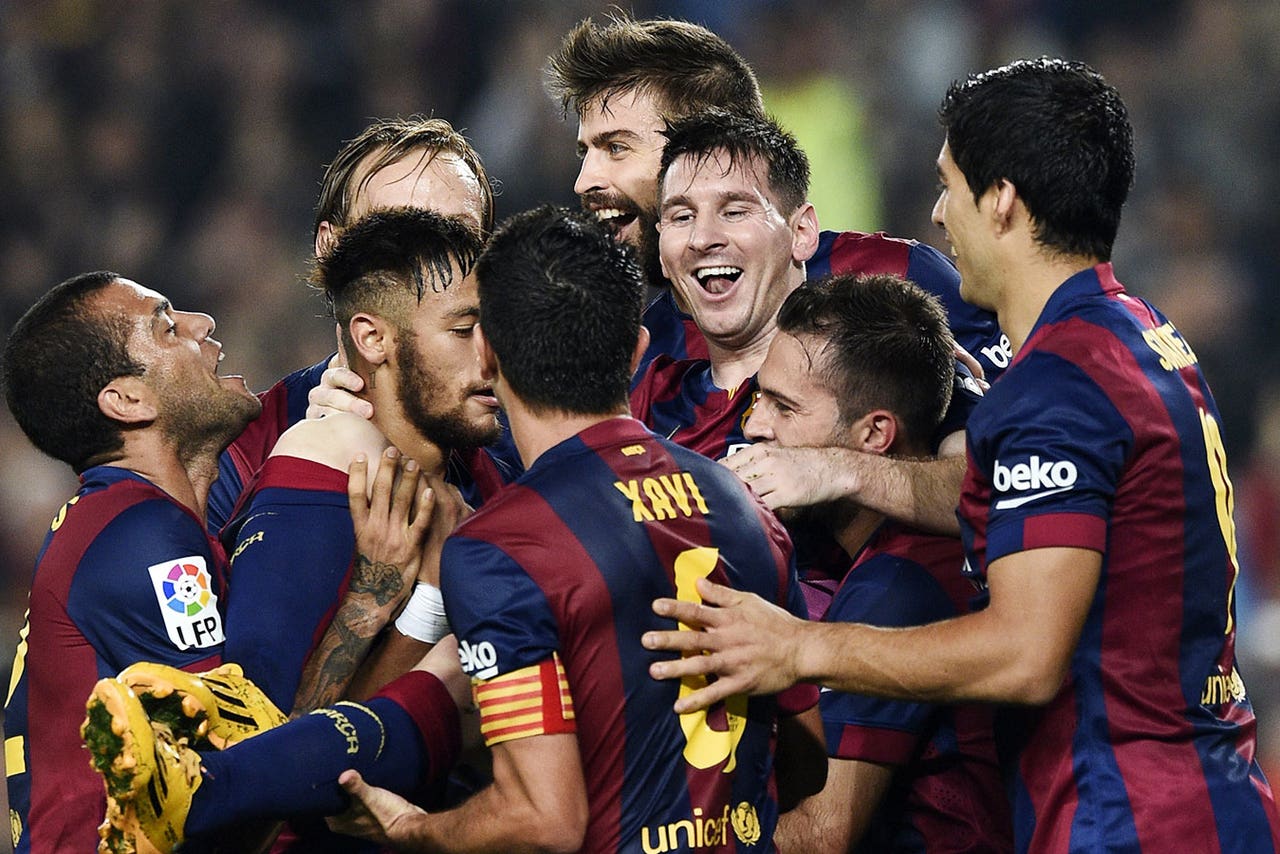 BARCELONA, Spain -- Lionel Messi broke the Spanish league's all-time scoring record on Saturday, surpassing the previous 251-goal mark by scoring a hat trick in Barcelona's 5-1 rout of Sevilla.
Athletic Bilbao's Telmo Zarra set the milestone in 271 La Liga games from 1940-55.
Playing in his 289th league game, the 27-year-old Messi first equaled Zarra's record in the 21st minute and then beat it in the 72nd at Camp Nou Stadium. The Argentine went on to get his treble in the 78th with his 253rd league goal.
Messi's latest scoring feat comes after he equaled Raul Gonzalez as the Champions League all-time scorer with 71 goals this month.
His latest record also comes at a perfect time to thrill his fans who were worried by his recent remarks that he might be questioning his long-term commitment to the club. His father and agent has since dismissed such concerns, but Messi's goals will likely go further.
''Messi! Messi! Messi!'' rang out through the stands in the final minutes, and after the match following a video in Messi's honor.
The team then lined up to form an honor guard as Messi jogged off the pitch smiling broadly.
''I'm happy for Leo,'' Barcelona captain Xavi Hernandez said. ''It's an incredible record. He deserves it as a person and as a player. He showed again that he is happy here.''
Messi is Barcelona's all-time leading scorer with 365 goals. He also holds the Spanish league's single-season scoring record of 50 goals in 2011-12, and his 91 goals in 2012 broke Gerd Mueller's 40-year-old milestone of 85 goals in one year.
After having been denied his record-equaling goal during a rare three-game streak without scoring, Messi finally broke through with an elegant free kick after he had earned the foul.
He then tapped in a cross from Neymar to set the new mark, leading to an impromptu mid-match celebration by his teammates, who tossed him in the air.
Once back on his feet Messi added another goal with his trademark move of dribbling across the edge of the area with his left foot before firing home.
In a league that has featured some of the world's most talented attacking players through its 83 seasons, including Alfredo di Stefano, Diego Maradona, Johan Cruyff and Cristiano Ronaldo, Messi stands alone as its most potent scorer after a milestone that had stood untouched for almost 60 years.
Messi debuted in the league on Oct. 16, 2004 at the age of 16. And just over 10 years later he bettered the mark Zarra set from 1940-1955.
Messi may have come one win short of leading Argentina to a World Cup title this summer, but he continues to excel for the club he joined as a teenager.
Besides his record four world player of the year awards, Messi has led Barcelona to three Champions League titles and six Spanish league titles among many other trophies.
Messi can focus on breaking Raul's mark in Europe, with Ronaldo on his heels. His first chance will be at Cypriot club APOEL on Tuesday. Ronaldo is right behind with 70 goals.
The rival forwards will also likely vie for the Ballon d'Or award which they have divvied up for the past six seasons. Ronaldo won it last season.
Messi, however, has always insisted that his main goal is winning team titles. Last season Barcelona failed to win a major title for the first time since 2006-07. Saturday's win kept it in second place behind Madrid.
---