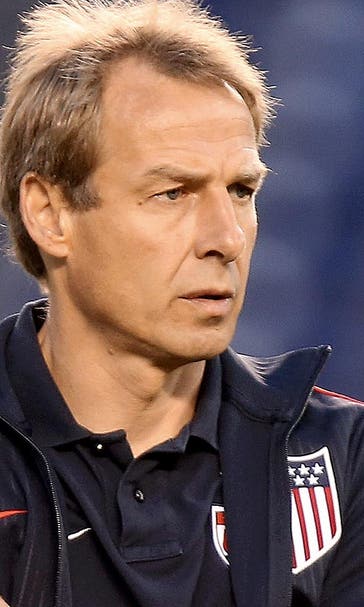 Klinsmann selects preliminary USA roster for pre-World Cup camp
BY foxsports • May 12, 2014
In almost three years in charge of the United States men's national team, head coach Jurgen Klinsmann has used 69 different players. On Monday, he whittled that unruly crowd down to the 30 man-group he will take to his World Cup preparatory camp at Stanford University in Palo Alto, Calif.
The posted roster was largely as expected, with the only major surprises coming in the inclusion of right back Timmy Chandler, a long-time exile from the team, and the omission of veteran forward Eddie Johnson, the program's eight-leading scorer all-time. Veteran midfielder Sacha Kljestan was also left out, as was winger Brek Shea, who was an early favorite of Klinsmann's tenure, playing in all 10 of his inaugural games. The rest of the squad consisted of the usual suspects, and included, as expected, 18-year-old boy wonder winger Julian Green.
Several national team managers have already announced their final 23-man rosters and most have chosen to go into camp with smaller squads. Klinsmann brought in as many as he was allowed to, in spite of suggesting earlier that he might not.
"It's been quite a process over the last 2 ½, 3 years," Klinsmann said on a conference call following the roster release. "A lot, a lot of players were a part of that process. By naming now 30 players it's not that easy because you have to leave quite a few ones out that were part of this important process and took us actually to Brazil.
Klinsmann had been informing his players of his decisions over the last few days, judging them on current form and fitness as well as their past body of work. "Making those phone calls and telling them that you are not part of the 30-man roster now was unpleasant," said the German coach.
His large camp means much is still left undecided though. The herd still needs seven players thinned from it. "I know I have a couple of players going into Stanford now where it will be another few 50-50 situations," Klinsmann said. "The good thing about the next three weeks is that we can see them compete with each other every day. There are a lot of competitions going on in all three [lines]. There will be a lot of energy there."
The most intriguing case is perhaps that of Chandler, the surprise inclusion who hadn't played for the USA since Feb. 6, 2013. Chandler, a right back, was thought to have fallen out of the national team picture entirely, courtesy of apparently lacking commitment and a poor performance in his last game, a lost qualifier in Honduras. But Klinsmann said they had stayed in touch, even while Chandler was seriously injured and took several months recovering. "He played on a very high level throughout the season until the knee surgery came, but I encouraged him to always keep going," Klinsmann said. "I think he's a player who can make a difference if he's on his highest level."
Many had thought Eddie Johnson would be one of the players counted on to help make that difference late in games, with the kind of high-energy substitution appearances he has been known to provide. But Johnson's form with DC United has been poor this season, and he recently criticized his teammates publicly. Klinsmann insisted that wasn't a factor. "It has to do a little bit with that the fact that we take only six forwards into this 30-man roster and in those forwards I also see Landon Donovan," he said. "It was a very difficult decision based on what he's done with me. It's a very tough one on him."
In his stead, Green will get a shot on the strength of his immense potential, even if he has essentially only flashed it for Bayern Munich's reserve team. DeAndre Yedlin, a 20-year-old right back of much promise, will also get a chance to slot in at a problem position. "With Julian and DeAndre we have two huge talents on that 30-man roster," Klinsmann said. "It will be interesting to see now how they take that challenge because they obviously don't have the experience like others players have."
The national team will begin assembling in the Bay Area on Wednesday for 13 days of training before the USA plays a friendly with Azerbaijan in San Francisco on May 27. A second friendly will follow against Turkey in Harrison, NJ on June 1. By June 2, Klinsmann must make his second round of cuts and hand FIFA his final 23-man roster for Brazil. On June 7, a final exhibition match pits them against Nigeria in Jacksonville, Fla.
The Yanks will travel to Brazil on June 8 and play a closed-door scrimmage against Belgium at their base in Sao Paulo on June 12. Then they embark on their group stage slate of Ghana in Natal on June 16, Portugal in Manaus on June 22, and Germany in Recife on June 26.
USA preliminary roster
---