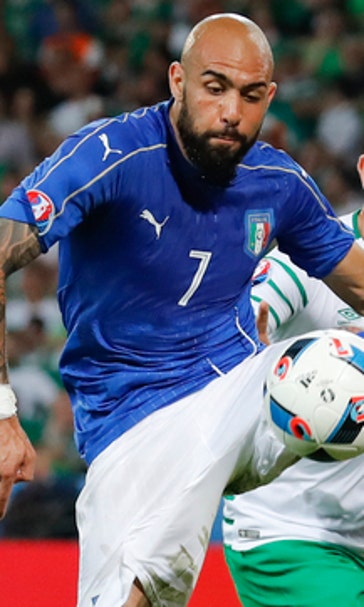 Italy striker Zaza behind Valencia's surprising run in Spain
October 19, 2017

MADRID (AP) Valencia's decision to keep Simone Zaza is paying off big time.
Valencia chose to acquire the Italian striker after his loan from Juventus expired last season and he has been crucial in the team's surprising run to the top of the Spanish league.
Zaza has seven goals in eight league matches, leading Valencia and its high-scoring offense to second place behind Barcelona.
He didn't impress much after his loan started at the beginning of the year, but Valencia decided to take a chance on him despite a transfer fee that could reach 18 million euros (about $21 million).
This season, Zaza is already among the league top scorers. He trails only Lionel Messi, who has 11. Villarreal's Cedric Bakambu is tied with Zaza on seven.
''Messi doesn't count,'' quipped Zaza, chosen as the league's best player in September.
''To me, he is the best. He and Cristiano Ronaldo, who is not scoring as much as he usually does in La Liga. But Messi doesn't count, so if by the end of the season I'm second in the scoring list, I'll talk to La Liga and ask for a prize.''
Zaza would not compare himself with Messi.
''Messi is a player who can win games by himself,'' he said. ''I can't do it without the rest of the team.''
The 26-year-old Zaza was in Italy's squad at the European Championship last year in France, starting once in three appearances. He's had two unfulfilling stints at Juventus, and played on loan at West Ham and Valencia. Zaza had only six goals in 20 matches last season, when Valencia had to fight to avoid relegation.
Valencia, whose last league title came in 2004, struggled in recent seasons under the ownership of Singapore investor Peter Lim. Few expected it to be succeeding at this point.
''I didn't think we were going to be where we are right now after eight matches,'' said coach Marcelino Garcia, who was hired in the offseason.
The offense is one of the areas which has improved the most under Garcia, having already scored 21 times in eight matches.
Zaza paid credit to Garcia.
''He has been helping me a lot,'' he said. ''But not only me. What I like the most about him is that he likes to have a dialogue, to explain things.''
Valencia has won four straight league matches. It hosts fifth-place Sevilla at Mestalla Stadium on Saturday.
It trails Barcelona by four points, and leads third-place Real Madrid by one point.
''The league is very long, there are a lot of good teams. When we go through a difficult moment we will have to show our character,'' Zaza said. ''We can keep playing at this level the entire season.''
---
More AP Spanish soccer coverage: https://apnews.com/tag/LaLiga
---
Tales Azzoni on Twitter: http://twitter.com/tazzoni
---
---