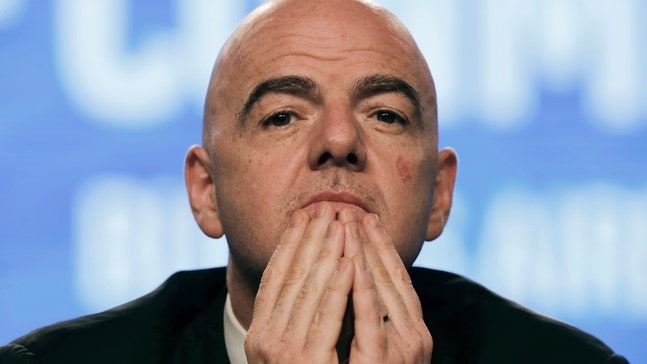 Infantino wants 'corruption' term back on FIFA ethics code
Updated
Mar. 4, 2020 9:14 p.m. ET
FIFA President Gianni Infantino will request the term "corruption" is restored to the ethics code covering world soccer after criticism over its symbolic removal.
The Associated Press revealed in August that the FIFA Council had agreed to a new version of the code that changed the title of the section on "bribery and corruption" to just "bribery," an eye-catching adjustment after a wave of cases against soccer officials in recent years.
In a response to the AP's findings in August, FIFA said in a statement which did not feature Infantino's name that "corruption" was scrubbed for "reasons of language clarity" from the main ethics documents in English, and had "no material impact ." But Infantino has now blamed a "misunderstanding" for the revision and acknowledged the need for "corruption" to specifically feature in the list of misdemeanors covering officials, coaches and players.
"I will ask the council to reinstate it," said Infantino, who succeeded Sepp Blatter in 2016. "This is a clear message that I want to send."
FIFA's ruling council, which next meets in March in Miami, agreed to changes to the code during a private meeting in Moscow in June. It also introduced a statute stating that cases of bribery and misappropriation of funds had to be prosecuted within 10 years whereas previously there was no time limit.
"We do not tolerate corruption in FIFA," Infantino told Swiss newspaper Blick in an interview published Thursday.
Leaked correspondence published last week by European Investigative Collaborations suggested Infantino interfered with the rewriting of the code by the independent ethics judge and prosecutor.
FIFA maintains the revisions to the code resulted from an "open and inclusive consultation process" involving confederations and ethics officials. The limitation period to resolve bribery cases is justified by FIFA as a means of hastening the resolution of investigations, rather than allowing cases to be left hanging over officials for several years.
---