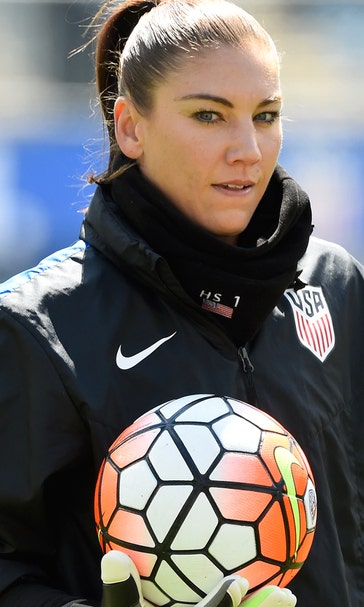 Hope Solo will play in the Olympics despite concerns about Zika virus
May 11, 2016

Hope Solo has decided that she will play for the United States at the Olympics despite her worries about Zika virus in Brazil.
The U.S. goalkeeper had previously expressed concern about the virus and whether it would be safe for her, or anyone else, to go to Rio de Janiero for the games. As recently as February, she said that she probably wouldn't play in the event, but she has since changed her mind. 
"Begrudgingly, I think, is a good way to put it," Solo said on CNBC. "I'm very excited for the Olympics. It's never been done, where we've won the World Cup and then backed it with an Olympic championship. So, I'm always a competitor first. I want to set a new standard. I want to break records.
"But at the same time, I am very worried about my health. ... I'm going to take every precaution necessary. I'm not even sure I'm going to be leaving the hotel room outside of practice."
Solo is one of the Americans' best players. She has been their goalkeeper at the last two Olympics and last two World Cups, netting her two gold medals and one world championship. 
Despite her intention of playing at this summer's Olympics, Solo did still leave the door open to change her mind once again.
"I'm doing everything I can to be fully aware of any situation that may come," Solo said. "Ultimately, you never know what's going to happen."
So for now, the U.S. can expect to have their starting goalkeeper as they chase a record fourth consecutive Olympic gold medal. But the decision is not yet set in stone as the discussion around the Rio Olympics and the health and wellness in the city continues.
MORE FROM FOX SOCCER
---