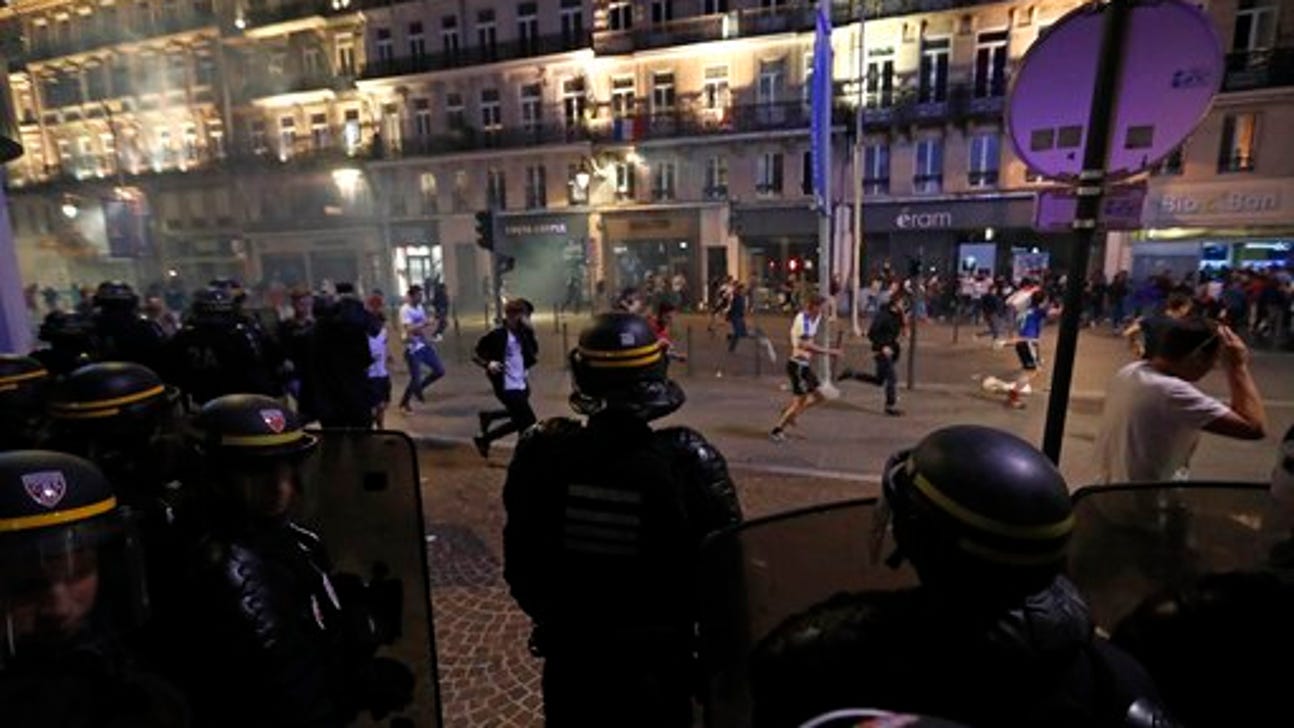 France to deport 20 Russians for violence at Euro 2016
Published
Jun. 16, 2016 10:17 a.m. ET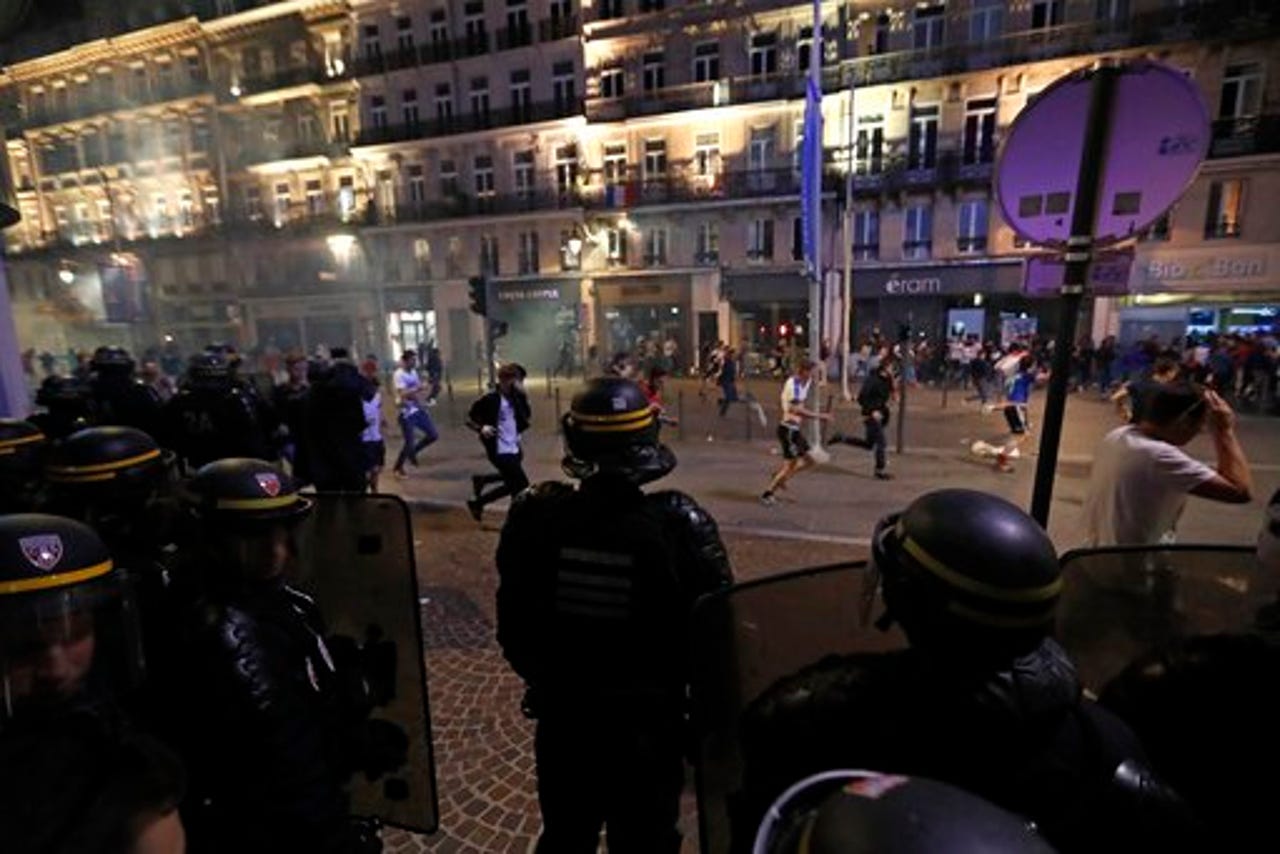 LENS, France (AP) French authorities will deport 20 Russian men next week for their role in the violence that has marred the first week of the European Championship.
Stephane Bouillon, prefect for the region that includes the southern French city of Marseille where the worst outbreak of violence in Euro 2016 took place, said Thursday that the unnamed men will be deported Monday.
Bouillon said they are suspected of ''participation in skirmishes linked to the England-Russia game on June 11 in Marseille'' and are currently being held in a detention center.
The men were among 43 Russian fans detained Tuesday after their bus was stopped by French police near the town of Mandelieu in a check for hooligans.
UEFA has already told Russian soccer authorities that their team could be kicked out of Euro 2016 if there's a repeat of the violence that surrounded its match last Saturday against England. Of particular concern to Europe's governing body is that Russian fans stormed a section of English fans inside the stadium.
English soccer's governing body has also been warned about the behavior of its fans but the team's participation in the competition was not under immediate threat on Thursday despite a fresh outbreak of fan violence in France that required riot police to deploy tear gas.
Though English fans in Lille were involved in further unrest Wednesday night at Euro 2016, UEFA has said there are no plans for an emergency meeting of its executive committee to discuss any further warning or sanctions against the English Football Association.
Earlier this week, UEFA's leadership ruled that England - along with Russia - faced potential disqualification if there was a repeat of the violence that surrounded their match in Marseille.
''UEFA regrets the skirmishes which occurred in Lille last night,'' European soccer's governing body said in a statement Thursday. ''Police forces made several arrests and were quick to restore order and keep the situation under control.''
The trouble in Lille on Wednesday did not reach the levels of Marseille where English fans were involved in three days of occasionally vicious fighting with Russians.
Local authorities said police made 37 arrests and detained 15 people in custody.
The French interior ministry also disclosed details of the policing operation throughout the first week of Euro 2016, saying 323 people had been detained, 196 jailed, eight convicted and 24 expelled from the country.
In Lille, some mobs of Englishmen in Lille went on a rampage searching for Russian fans whose team played Slovakia in the city. Authorities said there were no recorded brawls between British and Russians.
But in a late-night charge, French riot police sprayed tear gas in an attempt to disperse hundreds of England fans who were staying in Lille ahead of Thursday's game in nearby Lens against Wales.
''Lille city center was the scene of scuffles ... provoked essentially by drunken British nationals, forcing police to intervene to disperse them,'' the regional administration said in a statement.
It was the fourth time England fans have been involved in violent incidents since the start of the tournament with fans failing to heed calls for calm from England coach Roy Hodgson and captain Wayne Rooney.
But there was no sign of tension between England and Wales fans when they converged on bars in Lille on Wednesday night ahead of Thursday's game between the British neighbors in the tiny town of Lens.
Police across France are trying to suppress soccer hooliganism at a time when the country is under a state of emergency following the attacks that killed 130 people last November.
The bedlam hasn't been restricted to England and Russians.
Two supporters watching France play Albania in a fan zone in the city of Lyon were slightly injured following a scuffle involving fans from three nations.
Local authorities in Lyon said the altercation broke up Wednesday evening after French supporters started to sing France's national anthem, ''La Marseillaise.'' They were confronted by a group of Albania fans, leading police to intervene inside the fan zone.
Privately-hired security agents are normally in charge of security inside the fan zones at Euro 2016, with French authorities dealing with it outside.
Lyon prefecture's press office said the two fans injured are a Belgian and a Frenchman, ''who sustained wounds to their thigh and bottom.'' Police did not find the weapon used by the attacker.
In a separate incident, police arrested a supporter who smuggled a flare inside the open-air space set up in downtown Lyon.
The fan zone will be open on Thursday but the Lyon prefect will meet with the company in charge of its security and UEFA officials to strengthen safety.
---
Rob Harris can be followed at www.twitter.com/RobHarris and www.facebook.com/RobHarrisReports
---