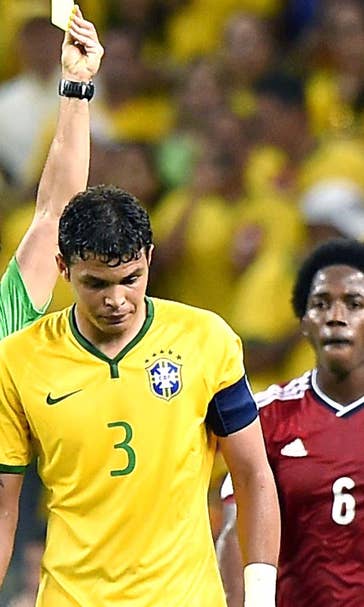 FIFA reject claims that World Cup refs have been told to be lenient
BY foxsports • July 8, 2014
FIFA have rejected suggestions that referees have been told not to hand out red and yellow cards in order to provide a more entertaining World Cup.
The spotlight has moved away from the players and onto the referees following Brazil's bruising quarterfinal clash with Colombia, during which Brazil striker Neymar suffered a tournament-ending back injury.
A tournament-high 54 fouls were committed during the game and Spanish referee Carlos Velasco Carballo has faced heavy criticism for allowing 41 unfair challenges to take place before issuing a yellow card.
German newspaper Bild reported that FIFA referees chief Massimo Busacca had told officials to limit cards in order to improve the spectacle, provoking an angry response from FIFA's chief spokesman Walter De Gregorio.
"(The story) that there is a secret plan from FIFA telling the referees not to sanction with yellow or red cards in order to have more entertainment or television shares," De Gregorio said.
"In other words that FIFA is risking and tolerating that players like Neymar and others are injured. This is just unacceptable."
Brazil's total of 31 fouls committed during the game with Colombia is their highest in a World Cup match since records began in 1966.
The number of yellow cards during the course of the tournament averages 2.8 per match compared to 3.8 in 2010 and 4.8 in 2006.
"This is part of the game and we accept that," De Gregorio said. "But what we can't accept is the question on an ethical level, that there is a hidden plan from FIFA.               
"This goes into the core business - protecting the main actors, the players, it's the most important thing we have to do at FIFA," De Gregorio said.
"We have to protect the players. If Neymar isn't playing the semi-final or the final it's not good for us too."
Meanwhile, Velasco has made the shortlist to referee the final and the Spaniard is joined on the 15-strong list by England's Howard Webb.
"The (referees') committee defined the list after careful monitoring of all referees and assistant referees on a daily basis together with the technical staff," FIFA said in a statement.
"In line with how designations have been made throughout the tournament, quality was the main criteria while physical, medical and technical aspects were also taken into consideration."
---