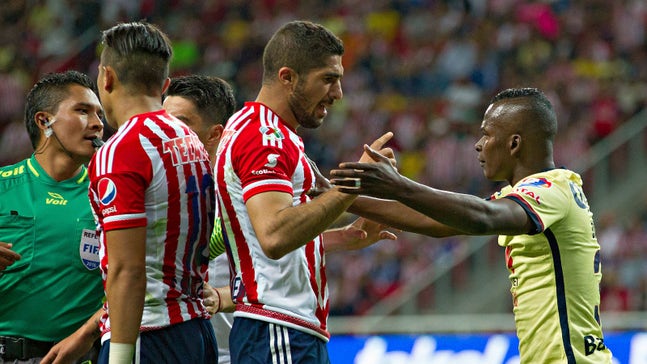 Chivas vs. Club America was a predictable, beautiful insanity fest
Published
Mar. 13, 2016 11:08 p.m. EDT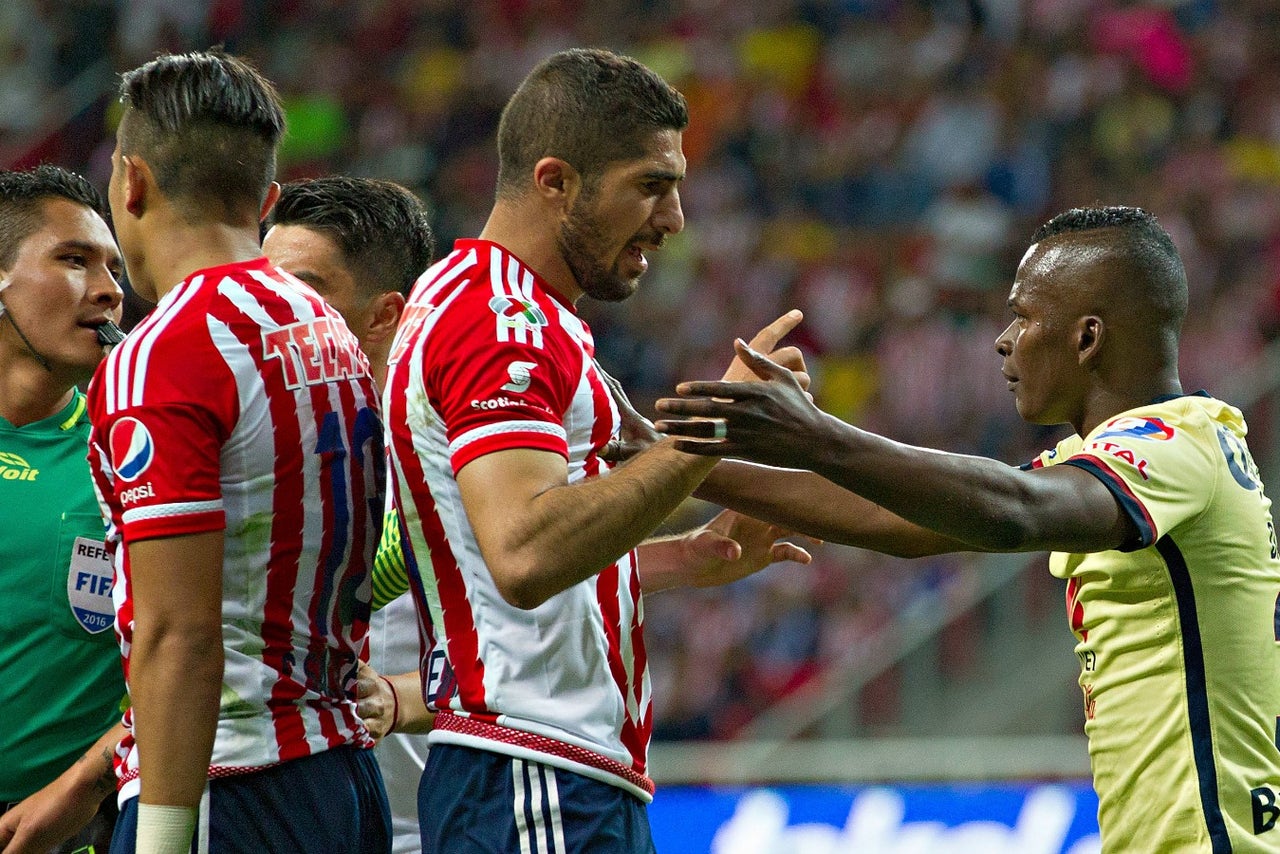 The rivalry between Chivas de Guadalajara and Club America is the biggest in all of Mexico, featuring the country's two biggest clubs. It's called El Clasico Nacional, El SuperClasico or El Clasico de Clasicos, which translate to The National Classic, The Super Classic or The Classic of the Classics. So it's a big deal, and to earn those types of names, you need a fair amount of unbelievable and crazy.
Luckily for us, Chivas and America deliver on that crazy every single time they meet, and Sunday night was no different.
The first moment of madness came in the 16th minute when Chivas scored a goal. They ran to the corner, celebrated and there were about seven players in on it before the referee realized his linesman had raised his flag for offside and blew his whistle. No goal.
The Chivas fans threw beer.
It didn't matter how much the Chivas players argued, or how much America rubbed it in their faces, the referee wasn't going to overturn his decision. There was no goal -- replays showed that to be the correct call -- and the match continued before a now infinitely more perturbed crowd.
Harsh tackles went uncalled. Players dove and that too went uncalled. Chances were wasted and the teams ended up in small skirmishes once, twice, six times. Finally, the whistle for halftime went.
The Chivas fans threw beer.
Four minutes into the second half, America struck as Darwin Quintero did the honors.
The Chivas fans threw beer.
It wasn't much of a surprise that America were ahead. They're a good team and Chivas, well, aren't. Home-field only counts for so much. And in the 60th minute, Club America scored again, this time through Oribe Peralta.
Quintero and Peralta are the two best forwards on either team so it was no surprise that they scored. But that didn't matter much to the 50,000 on hand at Estadio Omnilife.
The Chivas fans threw beer.
With America up 2-0, things got especially dumb. Carlos Cisneros was red carded for getting tackled and having the gall to come down on the man who tackled him. Well, more accurately, for ensuring that he came down with the studs from both of his boots on the sliding defenders. That's a no-no.
The Chivas fans threw beer.
Club America should have cruised from there. They were ahead by two goals and up a man. This is where they put things on cruise control, knock the ball around a bit and see out a rather comfortable win in a boring final 29 minutes. But this is El Clasico Nacional and boring does not exist.
Paolo Goltz, ignorant to the fact that he should be chilling, decided to go flying in on a tackle. Was it deserving of a red card? Probably not. But it was dumb. He also let Omar Bravo run into him and that was a bad idea because he should have been invisible instead. For that, he definitely deserved to be sent off and he was.
The Chivas fans threw beer.
Buoyed by the ridiculousness of a 10v10 match, Chivas went on the attack and scored within three minutes. Carlos Pena was entirely unmarked and he may not be much of a goalscorer, but he wasn't going to miss from there. After all, America had decided that nobody needed to defend the center of the field right in front of their goal.
The Chivas fans threw beer.
The stage was set for a Chivas comeback. The field was emptier, they had momentum and the support of a raucous home crowd. America were done for. And it looked like that was the case when Chivas scored an equalizer, but that whole offside thing got in the way again. Once more, the ball was in the back of the net, but they didn't get a goal.
The Chivas fans threw beer.
Another chance followed, but Hugo Gonzalez saved. Chivas wasted another opportunity and the Goats looked dead, but the referee did them a solid; he signaled for a minimum of seven minutes of stoppage time.
The Chivas fans did not throw beer.
With one last lifeline, Chivas went on the attack, but that only opened space for a Club America counterattack, which they flubbed. And then Chivas came back the other way, but Bravo missed the frame. Again.
Seven minutes had passed, but the referee allowed the match to continue. He let Chivas have another attack, which turned into a corner kick and the Goats brought their goalkeeper up. Only the ball was cleared and America were off running the other way with nobody in the net. It was a sure goal, until a last ditch tackle won the ball back for Chivas.
Now with eight minutes of stoppage time gone, Chivas were given one more chance to attack. Of course, this one too went nowhere and the referee finally blew for full time.
The Chivas fans threw beer.
That was El Clasico Nacional. The SuperClasico. The Clasico de Clasicos.
There were red cards. There were goals. There were disallowed goals. There were skirmishes. There were zero people happy with the referee.
Most of all, there was a complete lack of order and anything resembling common sense. It was beautiful, minus all the wasted beer.
---
---