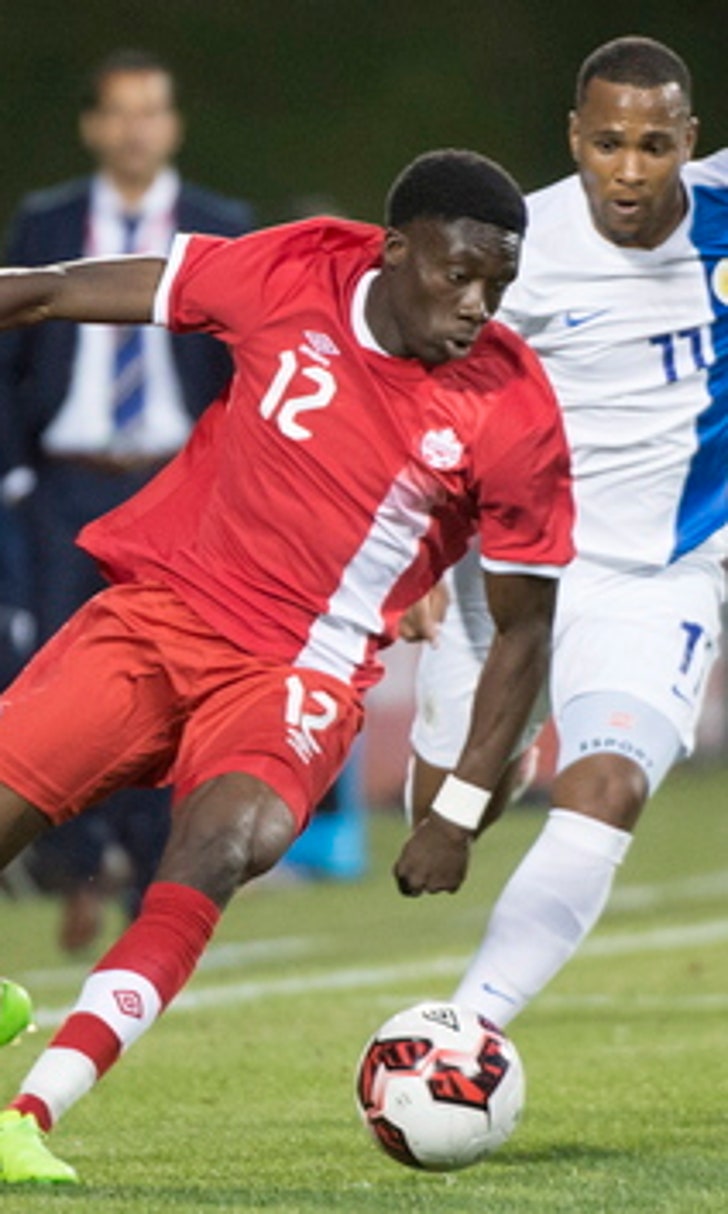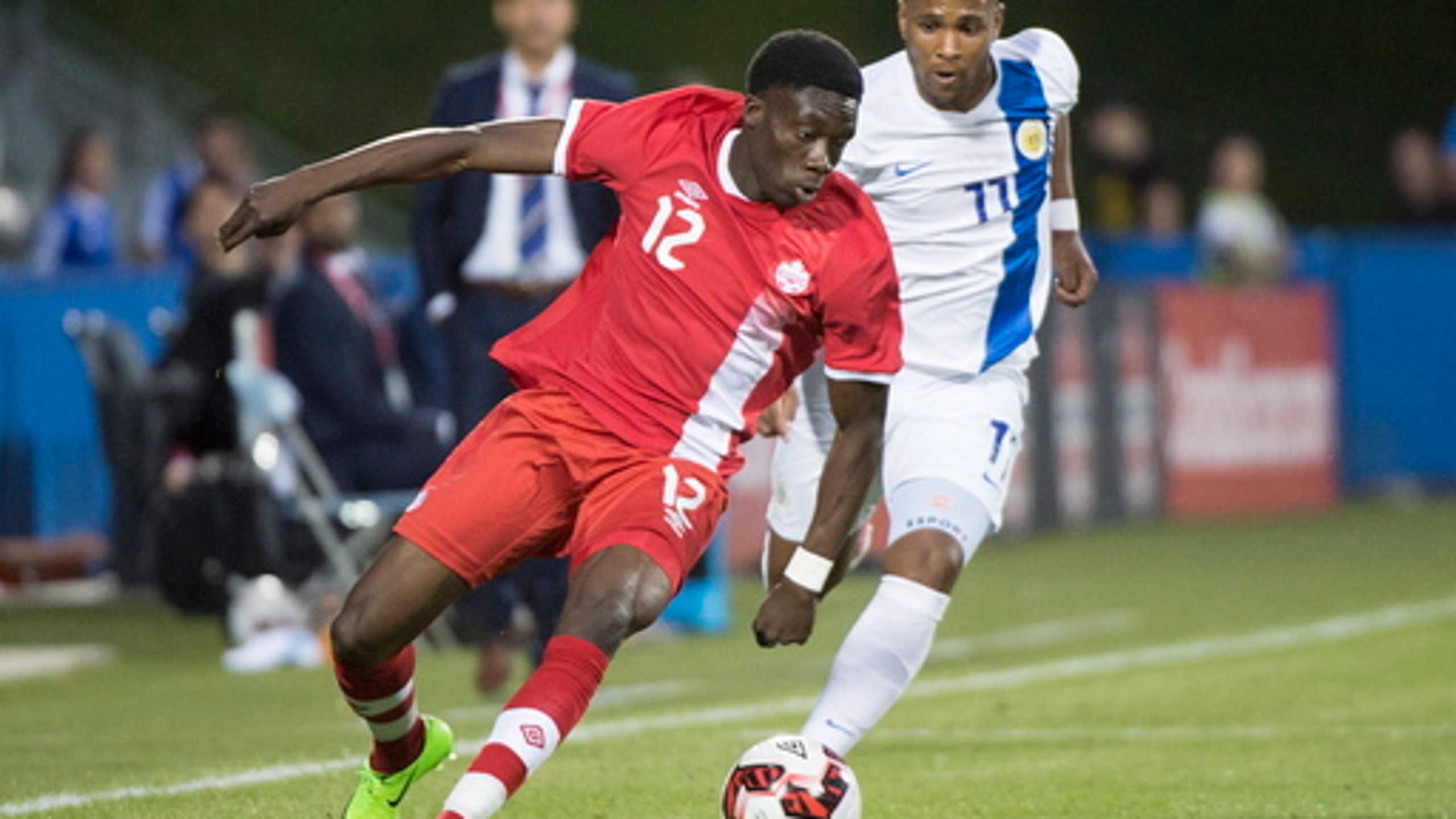 Canada's Alphonso Davies on record pace approaching Gold Cup
BY AP • July 5, 2017
Alphonso Davies is a world class soccer player, and he's barely old enough to drive.
Canada's promising 16-year-old star could log minutes in his first major international tournament this week. It's the latest milestone in a stellar, albeit brief, career.
Davies was born in a Ghanaian refugee camp after his parents fled Liberia amid its civil war. He immigrated to Canada at age 5, became a Canadian citizen in June and just days later debuted with the men's national team in a friendly to become the youngest player in Canadian national team history.
The Vancouver Whitecaps midfielder, along with 48 other MLS players, is getting set for the CONCACAF Gold Cup. Group play begins Friday with Canada facing French Guiana.
''Being able to play on the men's national team, me stepping on the field would be a really great honor for me,'' Davies said recently.
After immigrating to Canada, Davies initially lived in Edmonton, Alberta. His family moved to Vancouver in 2015 and as a 15-year-old - not yet old enough to drive - he earned a roster spot in Major League Soccer.
Davies is one of the more electrifying MLS players featured on Gold Cup rosters. In 21 MLS appearances - eight starts - he's aided Vancouver's attack with his speed and playmaking ability.
Davies played his first minutes with the senior team during Canada's June 13 friendly win, but that didn't stop the nerves entering his first training camp.
His teammates (the youngest of which is five years older than he is) helped ease his mind after he botched a pair of crosses, he said.
''It was great, the boys welcomed me with open arms,'' he said. ''They helped me on the field, told me `don't worry about it.'''
Davies' stock has been on the rise from the Whitecaps development academy.
Whitecaps President Bob Lenarduzzi told a TSN radio station in May that Manchester United inquired about Davies, though the talks were not concrete.
Davies joined Whitecaps FC's residency program in 2015 and was added to the Whitecaps' second team in 2016 before being promoted to the first team at 15.
But his citizenship is the benchmark for him of how far he has come from his humble beginnings - he didn't have a way to attend school upon his arrival in Canada.
''The journey has been long, fleeing a war, living in a refugee camp, coming to Canada is what we were dreaming as a family to get here,'' Davies said. ''Now that we're here I'm excited that I'm a Canadian citizen.''
---
MLS GOES DARK: The MLS will pause league play for almost two weeks as of Friday during the Gold Cup. The league went dark last summer for the Copa America Centenario, which was hosted in the U.S., and for the last two World Cups. The 49 MLS players currently in the Gold Cup would leave a sizeable drop-off in quality if play were to continue. It marks the first time the league is going dark this season. The schedule was reduced during the shorter international window in June.
---
DWYER SHINES: Dom Dwyer made his U.S. men's national team debut count. The Sporting Kansas City forward scored on a volley in the 19th minute during the 2-1 U.S. win over Ghana in an international friendly Saturday. The 26-year-old will be a big part of the United States' attack during the Gold Cup. The U.S. faces Panama on Saturday in the opening match of the group stage.
---
SETTLING IN: Newly appointed San Jose Earthquakes manager Chris Leitch is pleased with how the team has responded to him. San Jose is 1-1 in Leitch's first two games as a head coach. Leitch, who spent five seasons in the Earthquakes' front office, was promoted to manager June 25 with the midseason firing of Dominic Kinnear.
''When the whistle blows, you're into it,'' said Leitch, who has been San Jose's technical director since 2015. ''The biggest thing is the responsibility to make sure we're preparing to put the team together the right way that gives us the best chance to be successful.''
San Jose sits in fourth place in the Western Conference.
---