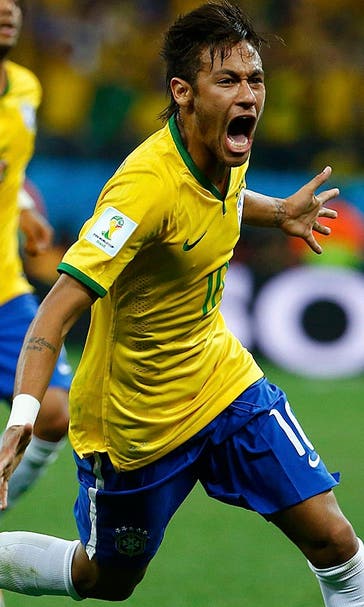 Brazil opens World Cup campaign with controversial win over Croatia
June 12, 2014

Brazil downed Croatia 3-1 in controversial fashion on Thursday night as the World Cup got off to an emotional start in Sao Paulo. Neymar scored twice, the winner coming off a hotly-contested goal from the penalty spot, to lift the hosts into the top slot in Group A. Oscar scored the insurance in stoppage time, with keeper Stipe Pletikosa dismally failing to stop the shot at his near post.
It was a cruel result for a battling Croatia side that exposed Brazil's failings early and often, and blame will fall on referee Yuichi Nishimura -- he awarded a late penalty for a phantom foul on striker Fred that replays showed was a badly blown call.
''If that was a penalty, we should be playing basketball,'' said Croatia coach Niko Kovac. ''Those kinds of fouls are penalized there.''
''That is shameful, this is not a World Cup referee. He had one kind of criteria for them and another for us. The rules were not the same,'' said Kovac.
Plagued by delays and staged in a stadium that clearly wasn't ready for the more than 62,000 fans who packed it, this was not the World Cup Brazil wanted -- but it is the Cup they got. What it becomes from hereon out no one knows -- but from the hosts' point of view, at least their rickety side got a win on Thursday.
It was a close call. The team, who has been seen crying during what was a stunning rendition of the Brazilian national anthem looked as unstable as the grounds, perhaps awed by the game from the opening whistle, and a fearless Croatia seized their chance.
It was a fair result at that stage of the game -- Brazil's defense had been no better than lethargic -- but it seemed ominous when shortly thereafter, the floodlights failed. Would this be another disaster for Brazil?
Their savior, though, was Neymar, and he leveled the match on the stroke of the half hour with a goal that wasn't pretty -- but so explosive the fireworks could be heard as far away as Copacabana Beach.
Oscar was the instigator, coming into the game after forcing a fine save from Pletikosa with a point-blank snap-shot and continuing to harass Croatia down the right side. He seized upon a limp ball at midfield, muscled it up the field to a waiting Neymar, and the young Barcelona starlet scuffed his shot along the turf and past the keeper, to dink in off the far post.
Should Pletikosa have done better on a shot from some 35 yards out? Yes, perhaps -- but even though he was very slow to go to ground, he was screened on the play -- and there can be no arguing with the deftness of Neymar's placement.
After the break, both teams looked leggy and sullen. Brazil, very potent on the break, looked unable to create from open play, and the lack of ideas forced manager Luiz Felipe Scolari to throw on Hernanes and Bernard in an attempt to generate some sort of presence. Croatia, for their part, looked as if they were content to play out the draw, with Jelavic and Olic occasionally venturing upfield, but more often that not, hanging back and smashing the play at midfield.
When Brazil's break came, it was surrounded by controversy. Dejan Lovren tussled with Fred in the box, but the contact was incidental and routine -- until the Fluminense man flung himself to the turf in theatrical fashion. Croatia's players stood on in disbelief as Nishimura pointed to the spot, and then surrounded the official. Replays were damning -- but of course this most hidebound of sports refuses to embrace what every fan has in their living room these days.
Neymar stepped to the spot, took an elaborate run-up and then fired -- only to see Pletikosa get his gloves to it, but fail to keep it out. Relief coursed through the Brazilian side, curses flowed from the Croatians' mouths.
Nishimura would make another debatable call when he disallowed a late goal for the Croats after he judged Olic to have fouled Julio Cesar. Julio Cesar had flung the ball into the striker's' head, allowing for a clean strike on net and while there was contact, it was certainly open for debate.
But Oscar left no doubt about the result when he blew a shot to Pletikosa's near post in stoppage time. It was a poor effort from the shell-shocked Croatian keeper, and made the result look harsher than it truly was.
''I wouldn't say it was the best game, but it's the World Cup debut,'' said Oscar. ''I'm representing the national team and I'm giving it my best. And I managed to do this.''
On Friday, the World Cup rolls on with three matches as El Tri play Cameroon in the opener while Spain and Holland meet in a rematch of the 2010 final later on in the day. Brazil next play Mexico in Fortaleza on Tuesday while Croatia face a Cameroon side that threatened not to travel over a bonus row on the following day.
---