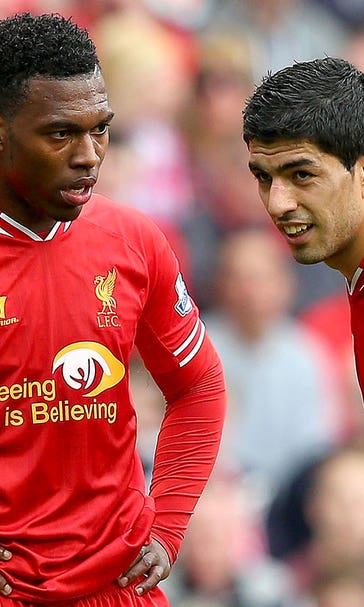 Balance between attack and defense needed for Liverpool's future plans
BY Jonathan Wilson • May 9, 2014
LONDON --
There is, of course, still hope. Perhaps Andy Carroll and Stewart Downing can combine for West Ham United to down Manchester City and so, in a moment of supreme dramatic irony, win the Barclays Premier League title for Liverpool. More likely though, this will be a season in which Liverpool ends up second having mounted a thrilling but ultimately vain charge.
When the Reds defeated Manchester City 3-2, the sense was that the Liverpool momentum was unstoppable. That was Liverpool's tenth win in a row and, as Sunderland improbably took points off both City and Chelsea, it seemed that the stars were aligned for the least predictable of triumphs. No side in Premier League history had ever risen from seventh one season to win the league the next. When Liverpool lost in successive games to City and Chelsea between Christmas and New Year, it was widely seen as having stifled any potential title charge before it had begun.
But then came that run of 11 straight wins, in which Liverpool scored a preposterous 38 goals. It also conceded 15, which says everything about its strengths and weaknesses this season. Liverpool has already conceded 49 goals this season, with a game to come. Last time a team conceded that many and won the league was Derby County in 1975, but that was over 42 rather than 38 games. To look at it proportionally, last time a side won the league conceding 1.32 per game -- as Liverpool has done this season, was Ipswich Town in 1962.
Last season the highest-placed team in the Premier league conceding 49 or more goals was West Bromwich Albion, who finished eighth. The season before it was Arsenal in third, but in the Premier League era, teams letting in 49 goals have tended to finish between sixth and ninth. Liverpool, in other words, have played this season with a defensive united challenging for Europa League qualification, not the title.
The attacking figures are as good as the defensive figures are poor. Liverpool has scored 99 goals so far: it looks like being the first side to score 100 goals in a season and not win the title since Tottenham Hotspur racked up 111 in 1962-63. Since the Second World War, 10 sides have reached the century but not won the title: all of them between 1956-57 and 1962-63, in that brief glut of goalscoring before Bill Shankly and Don Revie introduced what was known then as "method football"€ (what we would today call possession football) at Liverpool and Leeds respectively.
"To be successful you have to be able to lose," said Liverpool boss Brendan Rodgers earlier this week. "If you look over the years the great winners have been teams and individuals who have lost and gone on to become champions again. For us we have made great strides this season and there is still another game to go."
Rodgers added: If anyone had told us in August we would be top going into the last week of the season we would've taken it. We've qualified for the Champions League but there is an awful lot more we want to achieve."
Of the £50.2m Liverpool spent in the transfer market last summer, £23.9million went on defenders and a further £9.3m on a goalkeeper. Simon Mignolet has shown himself an excellent netminder this season and, while there are concerns about his capacity to command his box, he is prone to the occasional error and yet worth persevering. Aly Cissokho, who was brought in on loan, has looked dreadfully out of his depth, while Thiago Ilori, a defender who cost £7.3million from Sporting, didn't make a single appearance before being sent on loan to Granada. Kolo Toure was energetic but given to gaffes, while Mamadou Sakho, after a very uncertain start, grew into his role as the season progressed.
Given how Jordan Henderson and Joe Allen improved in their second seasons under Rodgers, you wouldn't write any of them off. Nonetheless, the back four is clearly a concern and needs significant tightening if Liverpool is to repeat its challenge next season -- when it can reasonably expect both City and Chelsea to be stronger, and Manchester United, Arsenal and Tottenham Hotspur to be less self-destructive.
It may be, though, that the issue is less the personnel than the system. Steven Gerrard, for all his qualities -- and his passing from deep has been a significant feature of this season -- is not a natural holding midfielder. Henderson's energy helped cover the flaw, but without him, Liverpool lost to Chelsea and then suffered that late capitulation against Crystal Palace. It may be that, either by bringing in a more natural defensive player to the back of midfield, or tempering the attacking ethos, Liverpool has to find a way of better protecting its defense.
It was telling after the Palace game that Rodgers spoke of game management. "It was the management of the game that cost us," he said after the match. His side was unable to shut the game down, as it had failed to kill off Sunderland, Manchester City and Norwich City having taken two-goal leads in recent weeks. In those three games, it won through in the end, but the warning was there. In the run of 11 games, Liverpool terrified teams: it ripped into them from the start, took early leads and then held on when, wearied, it faced the inevitable fightback. The danger is now that teams know the pattern and, as Chelsea did, will look to frustrate Liverpool during its early surge.
Rodgers has proved adaptable before, moving from the possession-based game he favored at Swansea and in his early days at Liverpool to something more dynamic and based on rapid transitions. Game management, the ability to kill a game, would be a useful trait to introduce. If Liverpool is to become a regular trophy-winner, there needs to be a greater balance between attack and defense.
"I think for us this is only the beginning. I've been here two years and we've been progressing, this year we've made a step," Rodgers added. "I see and hear about all the teams that are going to improve and I think we'll improve dramatically ourselves next season. We've got young players who have been through a great experience which will only bode them well for the future."
---