Abby Wambach, U.S. Soccer should capitalize on World Cup momentum
BY Laura Vecsey • July 29, 2015
Abby Wambach is ready to wind down -- for a vacation. Soccer's all-time leading goalscorer says she'll go on holiday starting this Friday after a three-week, cross-country blitz. The 35-year-old U.S. women's national team veteran has gone coast-to-coast and back again, from hoisting the World Cup trophy in Vancouver to a ticker-tape parade in New York City to introducing Caitlyn Jenner at the ESPY awards show in Los Angeles.
The Wambach wind down is temporary, it seems. In a series of interviews over the past 24 hours, Wambach has been variously quoted as saying she will play for the U.S. in the 2016 Olympics in Brazil; or that she'll decide whether she'll make a bid for a roster spot. Retirement has not been mentioned explicitly -- and that could be part of U.S. Soccer's challenge in this post-Women's World Cup phase.
U.S. Soccer is holding its obligatory Victory Tour after the World Cup win. A 10-game series is contractually part of the package for the women's national team, bringing some financial gain to the players and helping to promote the team in places like Chattanooga and Birmingham, Pittsburgh and Detroit. Wambach & Co. will play Costa Rica and Australia in August and September, with more games to be announced.
But an all-out effort must be waged to capitalize on the success of the Women's World Cup, which broke the all-time record for the most-watched soccer game in television history in the U.S., as many of the players returned to a struggling National Women's Soccer League. So far, any real action plan following the U.S. win has not materialized.
Nearly a month after the U.S. women's win, there has been no press conference announcing any new initiatives or changes; there's been no news about the contract status of USWNT head coach Jill Ellis, whose year-to-year deal ends July 30. There has been no joint press conference with U.S. Soccer and the NWSL to explain and underscore the relationship between these entities and how they intend to grow the women's game.
That leads us back to Wambach, the dynamic, outspoken striker who was relegated to the bench during this World Cup and whose playing days are, if not over, close to it.
She is talking about Brazil? At age 36? On a U.S. Olympic team that only has room for 18 players on its roster? This is a missed opportunity not for Wambach, but for women's soccer in America and beyond. Wambach herself understands what greater work she can do for soccer and women's sports, in the vein of former activists like Billie Jean King.
"I think Billie Jean King is somebody of her own stature. There's no getting to the place and the movement that she's been able to have. The Women's Sports Foundation is magnificent and gone on to become this huge thing. Can I try and be -- for the lack of a better word -- a disciple of hers that will hopefully be able to spread positive change around the world? Yeah, of course,'' Wambach said.
But the timing of Wambach's transition should be dynamically orchestrated, and right now, that's not the way it's playing out. Surely, great athletes are hard-pressed to call it a career at exactly the right time. But this is where U.S. Soccer has a chance to demonstrate its commitment to women's soccer. What better way to do that than tapping Wambach for a leadership role -- off the field?
Gulati, a great admirer of Wambach who has drawn the star into his inner circle, ought to call Wambach in for big meeting. Just as Gulati told Wambach after the 2011 loss in Germany that he wanted her around in 2015 for another shot at the World Cup title, Gulati ought to tell Wambach she has been stellar, she has done it all, and now it's time to retire and come work for U.S. Soccer on behalf of the women's game.
We're not talking about an ambassador who puppets platitudes about how things might be in the future. Wambach and U.S. Soccer are positioned to install her as an activist officially charged with bringing real gains.
Wambach may be reluctant to announce her retirement from playing soccer. But she knows where she belongs.
"Do I feel like we made progress over the 14 years of my career? Sure. But do I also feel there needs to be more progress made after I'm gone? Absolutely,'' Wambach told FOX Soccer just before the Women's World Cup victory.
"I think the potential for women's soccer is within the next 20 years. That's why creating relationships with FIFA and Sunil, who is ambitious in his own right and wants to be part of FIFA, has been good. It's not what you know, it's who you know. He knows my heart and my mind is probably in the right place … and I think I'm a strong-minded person capable of being not talked over in a meeting. I'm not going to let someone not hear the opinion of half my generation. I think that's very important, especially in a male-dominated body like FIFA,'' Wambach said.
What women's soccer needs in this country -- and around the world -- are people in place, a message put forth and a transparent commitment to growing opportunities for players, teams and corporate sponsors. U.S. Soccer ought to use the bully pulpit they now have after the U.S. women's 2015 victory and hammer out ideas and a plan.
They already have the right person to spearhead the effort.
"I think there does come a time in a player's career that you do have to have a bigger picture mindset. If I really do want to leave this game better than I found it, you have to start thinking about what you've done individually and start thinking on a broader scale, a more global scale,'' Wambach said.
Tell Wambach to trade the uniform for a suit jacket. Let her go to work.
---
---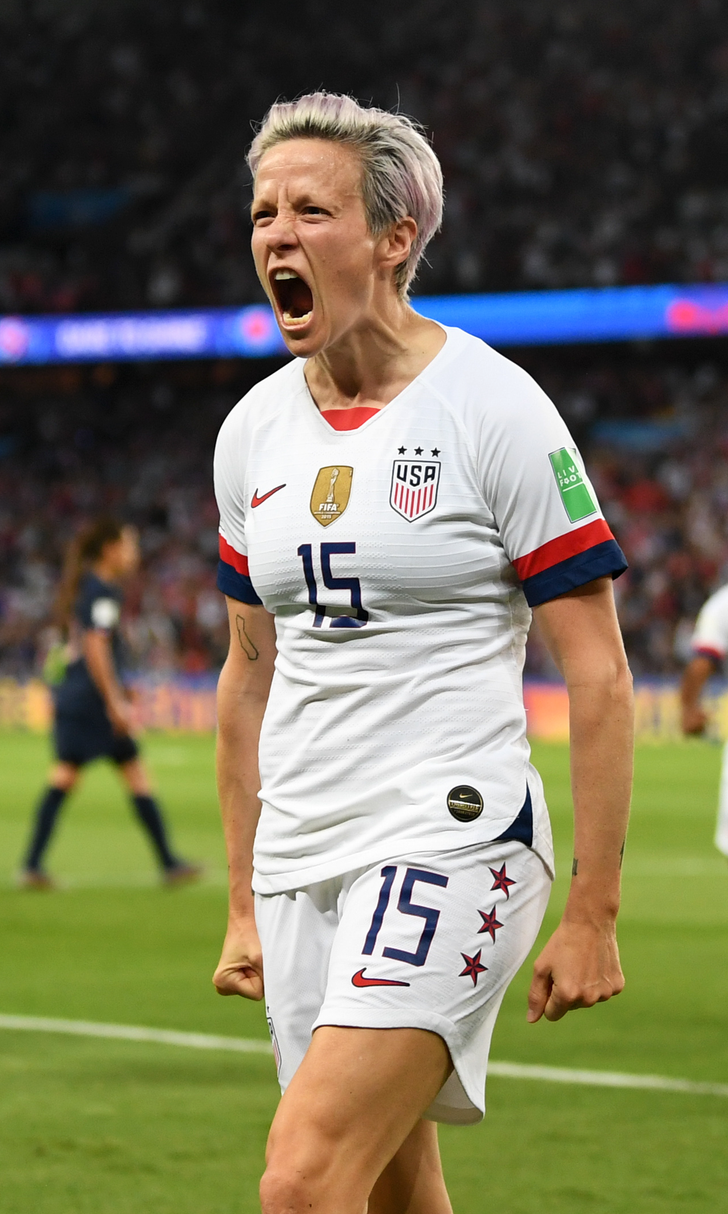 French Fracas
French Fracas
Behind two goals from Megan Rapinoe, the USA defeated host France in the quarterfinals of the 2019 Women's World Cup.