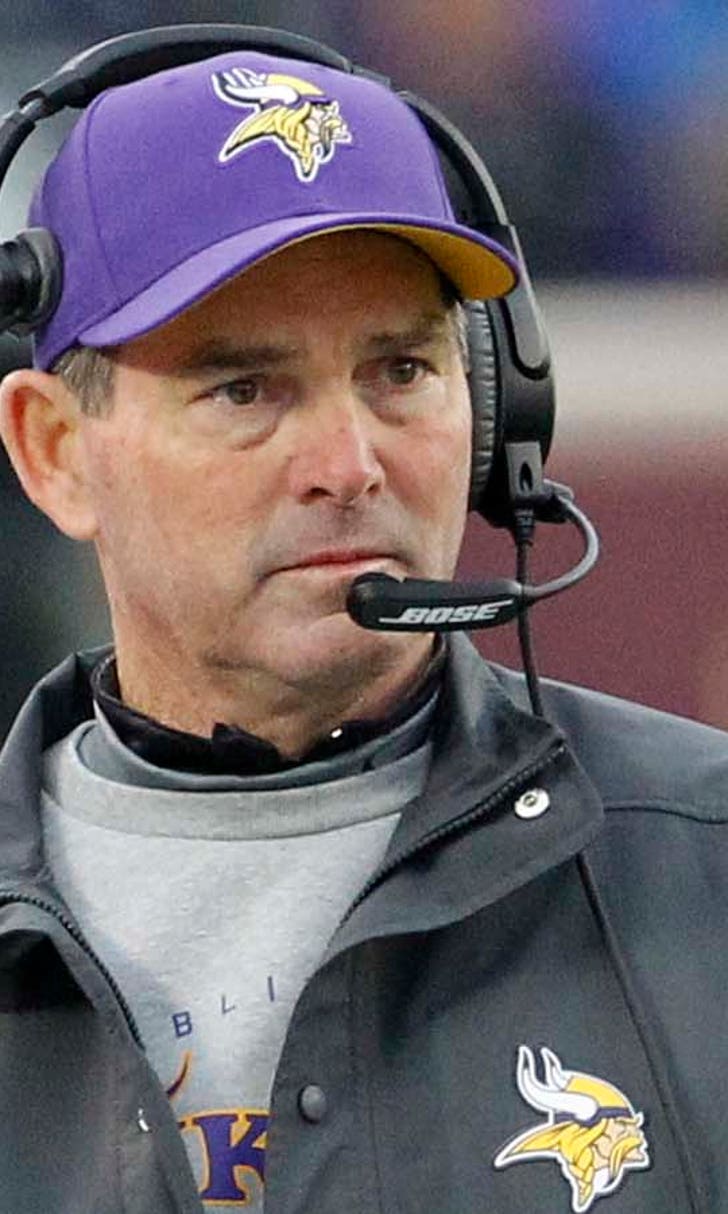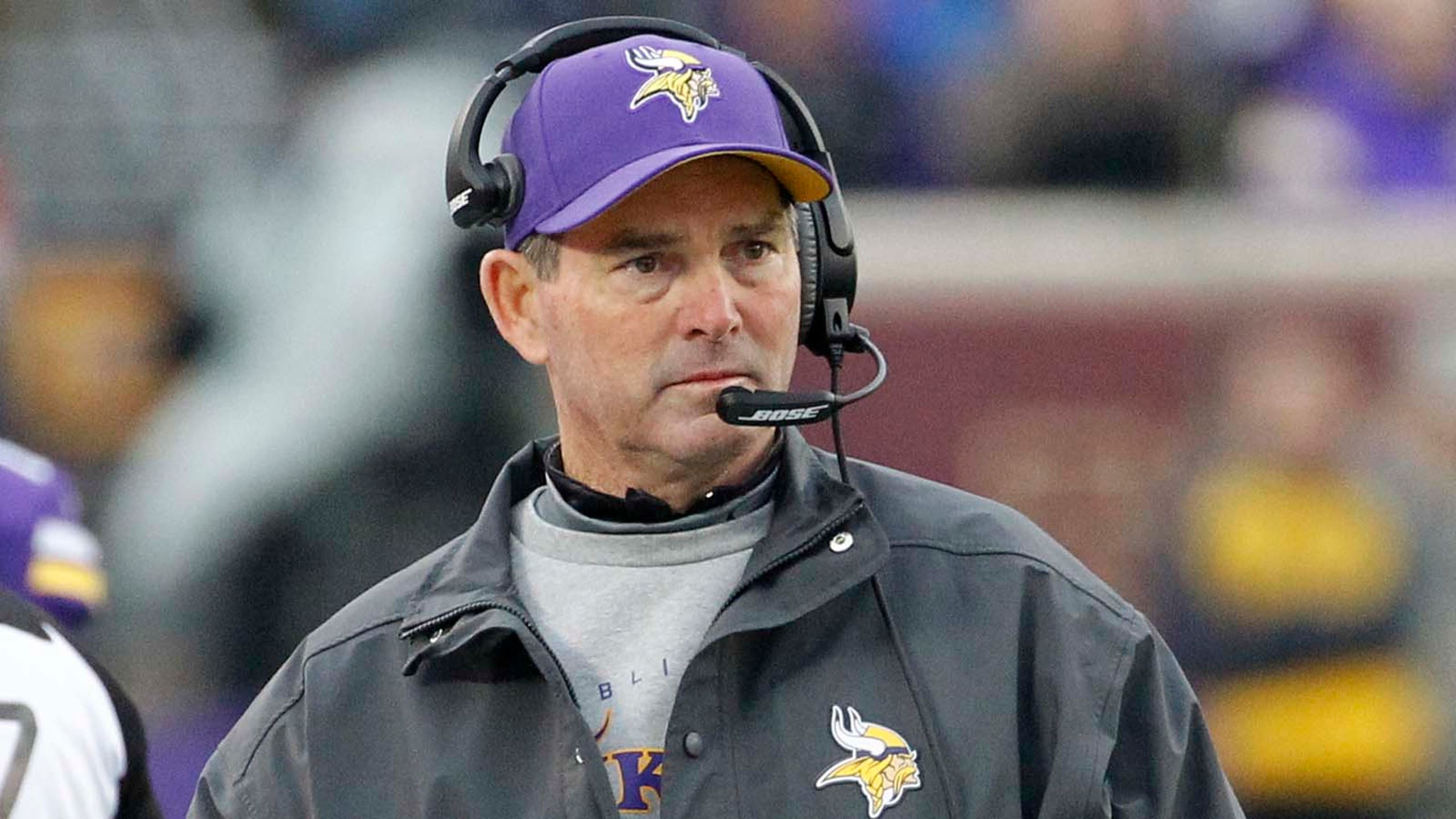 Zimmer appreciated fight of hurting Vikings in win over Jets
BY foxsports • December 8, 2014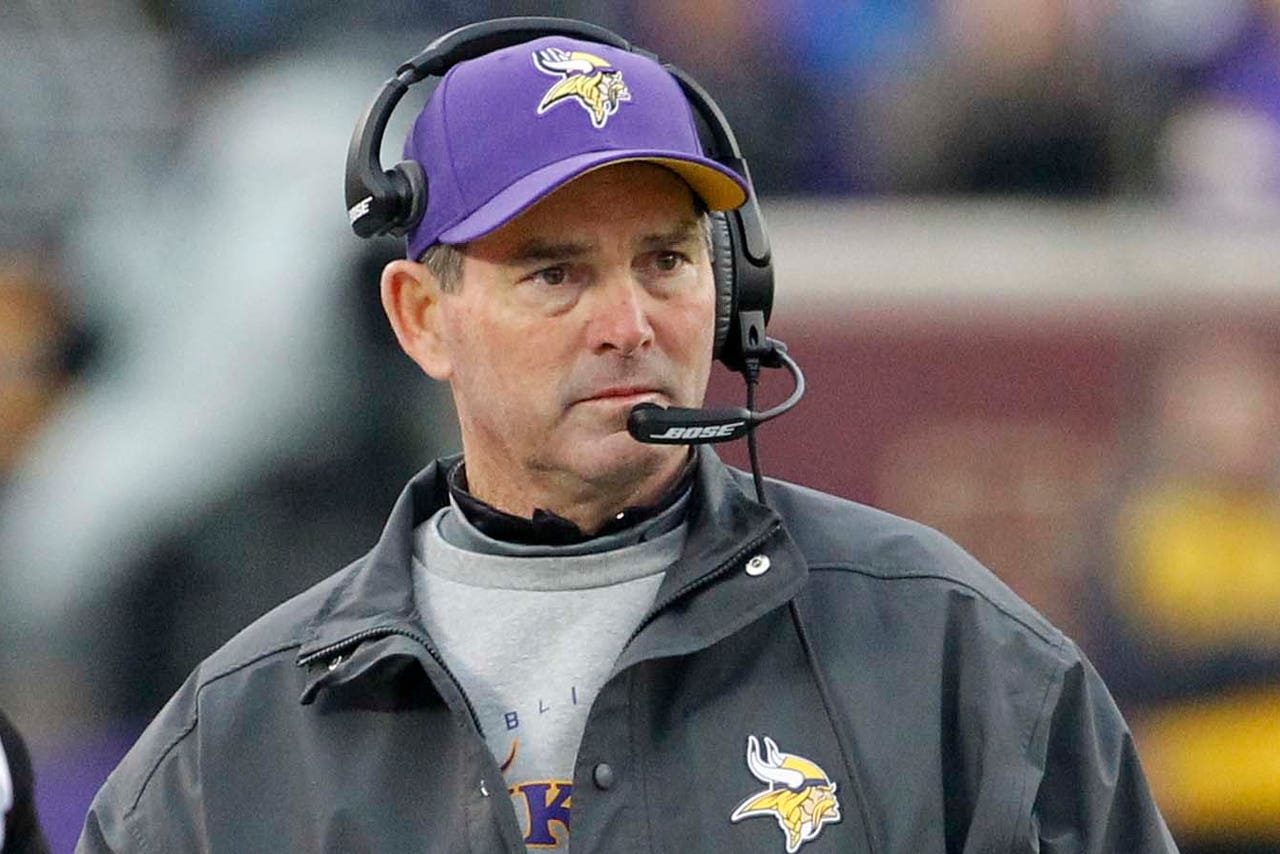 EDEN PRAIRIE, Minn. -- Mike Zimmer had time to calm down and reflect on the Minnesota Vikings' overtime win Sunday against the New York Jets.
Despite the victory, Zimmer was upset following the game. Given the benefit of time, Zimmer was more measured on Monday.
"I never, ever take for granted a win," Zimmer said. "I know how hard it is to get wins in this league. But I am trying to develop a mentality here of a championship football team and I want our performances to be good and strong each and every week. So that was really my frustration after the ballgame. But I do appreciate how hard our guys fought."
While some of the issues were self-inflicted, Zimmer credited his team for fighting through the game's adversity. Minnesota surrendered leads of 21-12 and 24-21. The Jets' anemic passing offense went for 242 yards and the Vikings were penalized six times for 70 yards.
With the frustration subsiding, Zimmer was able to see the determination of his team.
"That's one thing this team has is a lot of heart and a lot of fight," Zimmer said. "So we've just got to clean up some mistakes and keep trying to pound the mentality that I want these guys to have each and every week, so that we can eventually grow to where I want us to get to."
In Zimmer's first season as Minnesota's coach, the team has overcome the loss of star running back Adrian Peterson. Injuries have been a season-long misfortune.
Adding to the list, rookie running back Jerick McKinnon was put on injured reserve and rookie linebacker Anthony Barr missed Sunday's game. During the game, defensive tackle Sharrif Floyd left early for the second game in a row.
Left guard Charlie Johnson and safety Robert Blanton were also forced out with injuries.
By the end of Sunday's game, the Vikings were without three starters on the offensive line. Minnesota is down to its third running back. Rookie quarterback Teddy Bridgewater was forced into the lineup earlier than expected because of the season-ending injury to starter Matt Cassel. Tight end Kyle Rudolph missed six games this season.
On defense, second-leading tackler Chad Greenway missed three games earlier this season.
"I think this team, through all of the things that we've had to overcome throughout the course of this season, it shows some resiliency, it shows some intestinal fortitude that we've been able to establish and trying to continue to get this thing going in the right direction," Zimmer said.
Floyd said his knee injury continues to flare up in games. He missed one game this season, but has returned only to leave the past two games early. Floyd, who originally suffered a knee-on-knee hit in practice, said there is no ligament damage. He has a bruise in his knee and quadriceps.
"The week before that knee-to-knee I had also a knee-to-knee in the Chicago game, so contused the contusion," Floyd said. "Now it's just not doing what it's supposed to do."
Floyd said he hasn't been asked to sit out for a couple weeks to get the knee fully healthy.
"We're going to see how the week goes and it's going to be Zimmer's call, not mine," Floyd said. "So we're going to see how the week goes."
McKinnon, the Vikings' leading rusher this season with 538 yards, already had surgery on his lower back and will be out two months, according to Zimmer.
"It had been bothering him for a little while, and he did come back and play a couple games, and then the two weeks and we just decided it was time," Zimmer said. "It needed to be fixed and we just couldn't prolong it any further."
Matt Asiata has taken the bulk of the workload at running back without McKinnon, but Zimmer said he wants to see more of backups Joe Banyard and Ben Tate. Zimmer thought Asiata was used too heavily Sunday when he had 19 carries for just 54 yards, a 2.8-average.
"He'll probably get some more carries," Zimmer said of Banyard. "I think Matt probably had a few too many carries. We'd like to get Ben a few more carries this week, as well, and so we'll see. Sometimes you just get in the flow of games and things happen. Unless you prescript it and say, 'this series, this series,' sometimes that's just the way it goes. But Matt probably got a few too many, and those other guys probably got a few too less."
Johnson is dealing with an ankle sprain, and Zimmer wasn't sure about his availability for this week. Blanton was seen in a walking boot and had a magnetic resonance imaging test.
"From what I can remember, I don't think it was very serious," Zimmer said.
Minnesota's next tests are two road games, beginning with Sunday at Detroit as Zimmer looks for his first win in the NFC North. The win would also get the Vikings (6-7) to .500 on the season with two games to play.
Zimmer downplayed the significance of reaching .500 with two games left in the season.
"It would mean I'd be an average coach," Zimmer said. "It doesn't really mean anything to me right now."
Seeing his team play with resolve is meaningful for the coach, once he's able to calm down from the excitement of games.
Follow Brian Hall on Twitter
---