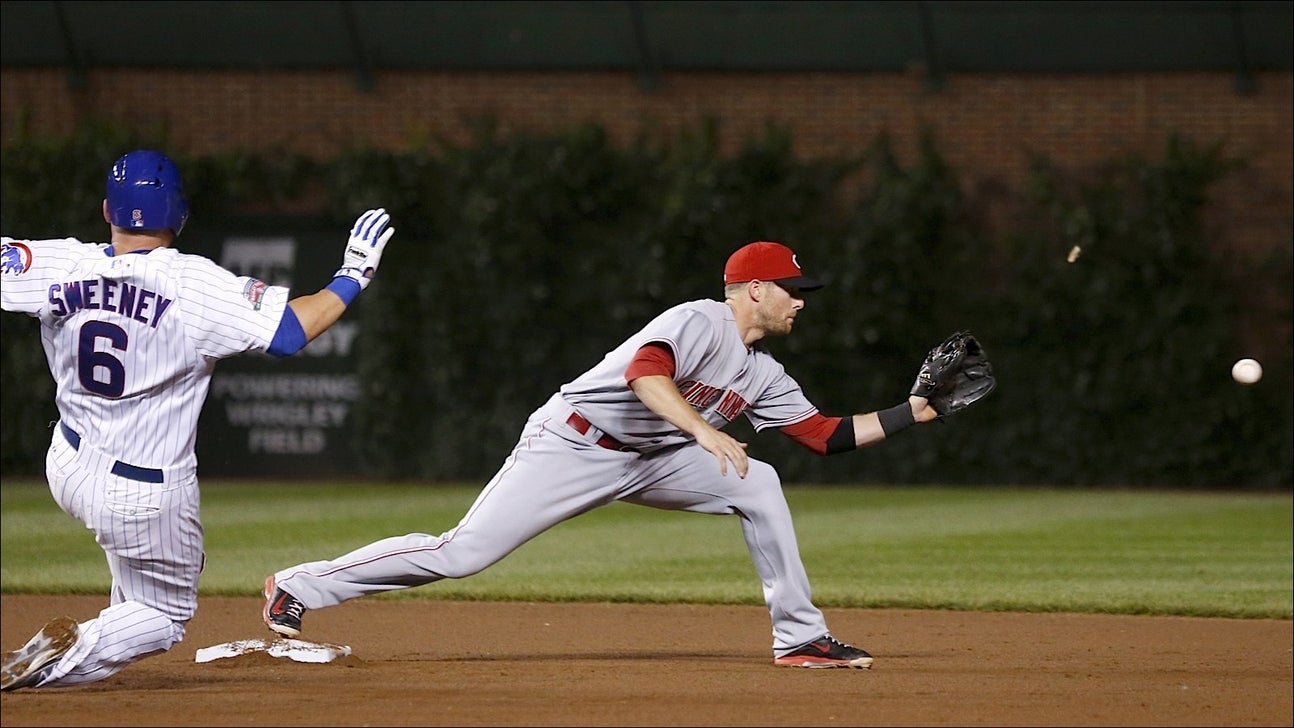 Zack Cozart seeks the gold, as in glove
Published
Aug. 12, 2014 5:23 p.m. ET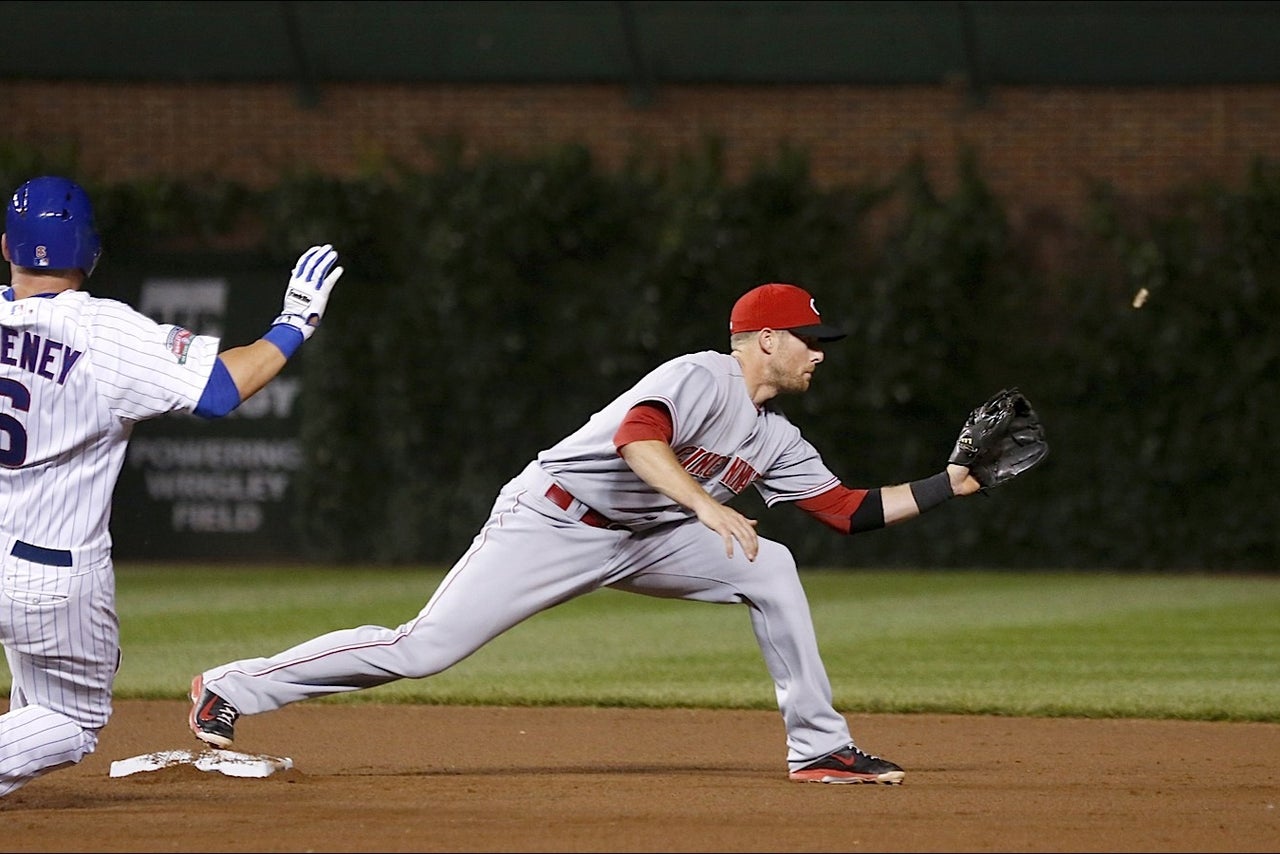 CINCINNATI -- Zack Cozart nearly blushed when he said it almost apologetically, "Unfortunately, my father was a St. Louis Cardinals fan, so I was, too, and my favorite player was shortstop Ozzie Smith."
It was only natural for Cozart and his dad to root for the Cardinals. They lived in Memphis, Tenn., and not only are the Cardinals that city's closest major-league team, the Cardinals Triple-AAA affiliate is in Memphis.
And it was only natural for Cozart to admire Smith because, like Smith, is grew up playing shortstop. "Throughout my baseball career I always wore number 1, the number Smith wore, until I got to Cincinnati and found out the number is retired.
Cozart is not one to put individual goals ahead of team goals, but there is one exception - the Gold Glove, emblematic each year of the best defensive player at every position.
Cozart is near the top in all defensive categories for shortstop, and statistics don't take into account his range, his arm and the above-and-beyond plays he makes nearly every game.
Manager Bryan Price, without being asked, put in the word for Cozart recently when he said, "When it comes time to vote for Gold Gloves I hope Zack's name comes into play. To me, he might be the best defensive shortstop in the league."
Cozart acknowledges that a Gold Glove would perch prominently, occupy a place of extreme honor, in his household.
"I don't think about individual awards that but, but me being a defensive-minded guy taking pride in my defense so, that would probably be the award I would want to win more than any other."
Cozart entered Tuesday's game against the Boston Red Sox hitting .224, although he had hit safely in five of his last six games (7-23, .304) with two triples and a home run.
"On a year where I haven't swung the bat the way I know I can, I've kind of falling back on defense to make my contributions to the team," he said. "It has been important for me and for the team. It would be a real, real cool honor.
"I want the award, for sure," he added. "I've proven I can play out there, but it is out of my hands. I'm [going] to keep playing like I've been playing and the rest takes care of itself."
Ozzie Smith, a Hall of Famer, "The Wizard of Oz," won 13 Gold Gloves, the most in history for a shortstop. Cozart may not have a special nickname -€" yet -€" but for the Reds this year he certainly has been The Wizard of Ooohs and Aaahs."
"My dad and I watched Ozzie Smith all the time and I wore No. 1 through every level because he wore No 1," said Cozart. "When I got to the Reds I found out it was retired (former manager Fred Hutchinson). I loved Ozzie Smith. He won Gold Glove after Gold Glove and that's where I got my mentality to play good defense over a long period. So that's the one award I love to win."
Cozart, who turned 29 Tuesday, played college baseball at the University of Mississippi and it was his leather-flashing that got him there.
"In college I didn't realize how good I was, but guys would say things, my coach would always say, 'I think you are one of the best I've ever seen.' I could hit a little bit in college but when I got drafted (by the Reds in the second round of the 2007 draft) it was because of the way I played shortstop.
"All through the minors I hit well enough for a shortstop, but defense is what I take pride in and I know the pitchers enjoy what I do for them," Cozart added.
Before Cozart arrived, shortstop in Cincinnati was a 38-year occupancy by two men, Davey Concepcion and Barry Larkin, both of whom played there for 19 years for the Reds.
When Larkin retired after the 2004 season, shortstop for the Reds became a long, steady procession of guys who wouldn't play it long. As an example, second baseman Brandon Phillips joined the Reds in 2006 and since then has played with 24 different shortstops.
"It's crazy when you think that Concepcion and Larkin went 30-some years, the team playing with only two shortstops, and then Brandon has played a ridiculous amounts with other shortstops. So for me to play with him and be on this team as the shortstop for a good period of time is pretty cool, knowing the rich history of shortstops with the Reds."
During last weekend's Hall of Fame celebration, Cozart got to meet Leo Cardenas, a shortstop from the 1960s and Concepcion, "And Leo came up to my and said, 'My man.' That was pretty neat to talk to those guys. They know what it is like to play shortstop and how important defense is.
"And it feels pretty good when they tell me they think I'm a very good shortstop," said Cozart. "Joe Morgan (Hall of Fame second baseman) sends me texts all the time telling me to keep playing hard and he thinks I'm one of the better shortstops he has seen play in a long time. That's makes you feel pretty good."
---