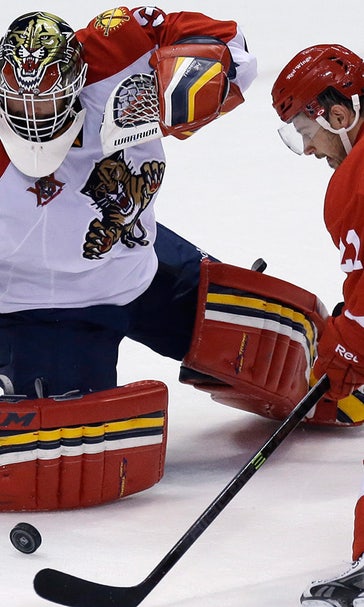 Young Red Wings could be staying in Detroit
January 26, 2014

DETROIT -- Red Wings fans want the kids to stay in Detroit and they might get at least part of their wish.
Todd Bertuzzi has already been a healthy scratch the last two games and Mikael Samuelsson has cleared waivers and been assigned to Grand Rapids.
That's a 38-year-old and a 37-year-old who did not play as the Wings fell to the Florida Panthers Sunday night, 5-4, in a shootout.
Daniel Cleary, 35, would have been out of the lineup had captain Henrik Zetterberg not been a late scratch with a sore back.
Gustav Nyquist, 24, Riley Sheahan, 22, and Tomas Tatar, 23, scored three of the Wings' four goals, with the other coming from 41-year-old Daniel Alfredsson.
Sheahan has been centering Tatar and Tomas Jurco, 21, and the line has definitely found its stride of late.
"We got some chemistry going," Sheahan said. "We've been playing with each other for the last little bit now and we played a little bit with each other in (Grand Rapids). Kind of got to know each other on the ice and it's been working."
Nyquist, who has scored a goal in each of the last four games, and Tatar aren't going anywhere.
It's Sheahan, Jurco and Luke Glendening who can be sent back to Grand Rapids without clearing waivers.
But that doesn't necessarily mean they will be as soon as Zetterberg, Pavel Datsyuk, Joakim Andersson and Stephen Weiss return.
"What we're going to do is talk about it and the best guys are going to play," Wings coach Mike Babcock said. "It's not going to have anything to do with age, it's just going to be what have you done here lately.
"They're pushing real hard. Riley Sheahan, Tats, Jurco, that line was really good. I thought (Darren) Helm was really good (Sunday night), too. He had some jump. Those two groups were our best lines."
Tatar said his line takes pride in giving the team a shot of youthful energy.
"We know each other well, we play I think all three of us are really skilled, fast, young guys," Tatar said. "We have lots of energy and I think we playing good right now and we have to keep playing better and better and hopefully those guys can stay here as long as they can and I think so far they prove that they belong."
Andersson, 24, is another youngster who proved last year that he belonged. 
He cracked the Detroit lineup last season when the team was hit with another set of injuries and is set to return from his lower-body injury Tuesday in Philadelphia.
Sheahan and Jurco are both big (6-foot-2) kids who add a dimension the Wings haven't had in recent years. 
Drafting low meant the Wings generally chose players who had skill rather than size and Sheahan and Jurco have both.
What they don't have is the experience.
"Maybe it's easier to not be as critical when you have so many young guys, but I think the reality is our group's making progress," Babcock said. "I like what I see from our guys. I like our competition level and our work ethic. Some execution at the end could have been a little better. That's all part of being young."
General manager Ken Holland has already told Babcock that the players they decide give them the best chance to win will play, regardless of experience.
That sort of thing is just what Wings fans want to hear.
---