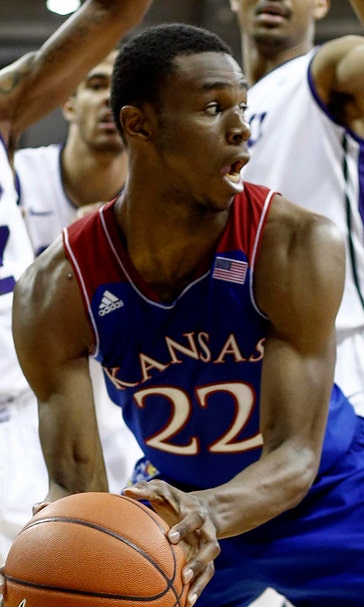 Yes, the Jayhawks and Andrew Wiggins are that good
January 26, 2014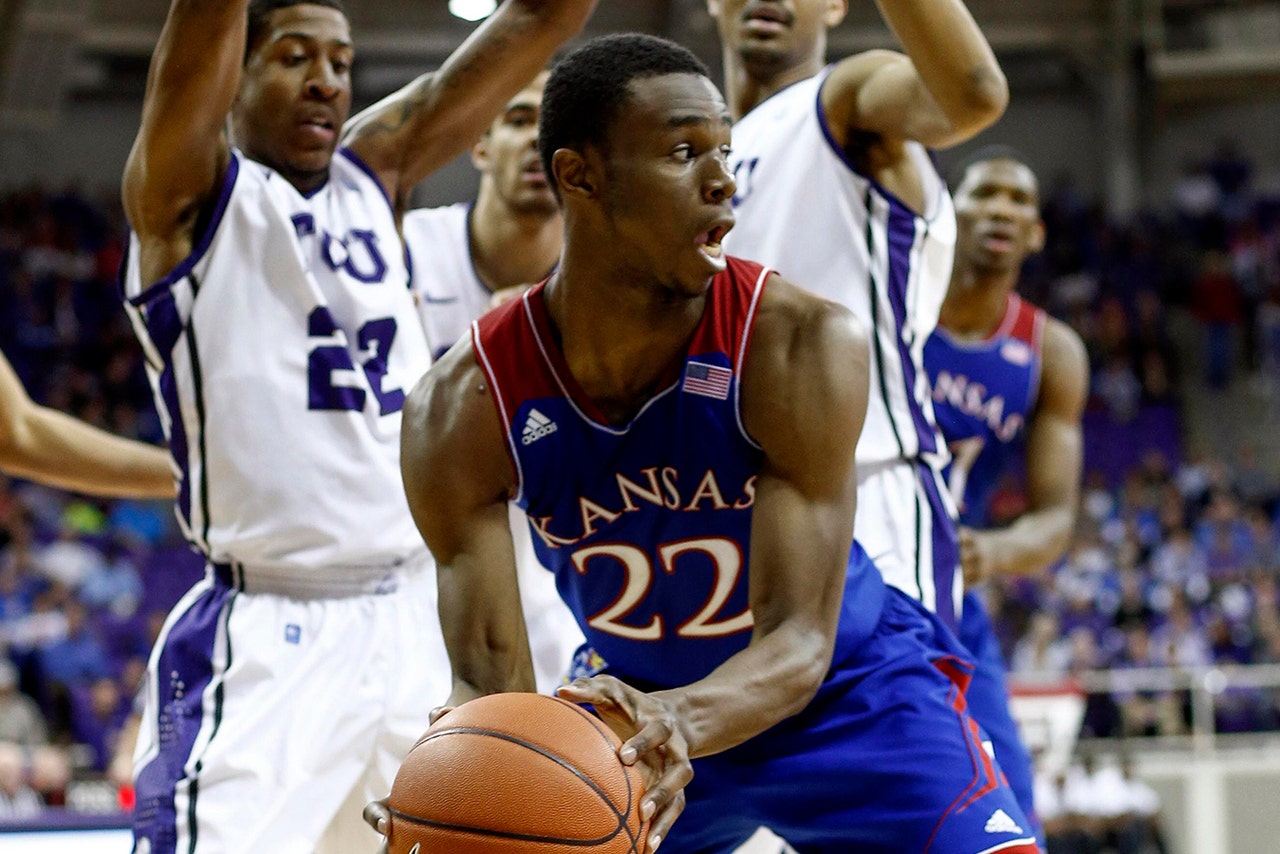 FORT WORTH, Texas -- Trent Johnson had the look of an exhausted man. Before reporters even had a chance to get their tape recorders rolling, he was mumbling with his forehead buried in his palms. 
"They're good," TCU's coach said. "Boy, they're good." 
"They" are KU, and no one was better than Andrew Wiggins in Kansas' 91-69 rout of the Frogs on Saturday.
The freshman drove at TCU's best player, Amric Fields, with just over three minutes to play in the first half and abruptly stopped for a pull-up jumper inside the arc. The predictable swish gave him 19 points on just eight shots in the first half. He finished with 27, breaking his previous career high of 26 against Florida back on Dec. 10. That shot gave KU a 22-point lead and trimmed Wiggin's point deficit vs. TCU's entire team to just four points, at 23-19. 
"He was a little thirsty to score in the first half," Kansas coach Bill Self said. "It helps when he makes shots." 
Wiggins said he showed off some shortcomings defensively, but admitted that Saturday was the best offensive game of his college career. 
Wiggins made his first three shots, and as defenders were forced to tighten up, he drove past them, and made 9-of-10 free throws in his career game. 
Perhaps the most spectacular thing about his night against the Frogs was that it was hardly spectacular. 
"I just thought he played the way he should play every game," Self said. "He's not going to score 19 in a half every game, obviously, but I thought without question he didn't do anything tonight that he couldn't do in any game from an aggressiveness standpoint. He may not make shots, but he can get those shots in any game."
Matching up for some of the first half against TCU walk-on Christian Gore, who stands at 6-foot-2 to Wiggins' 6-8, helps, but the Ontario, Canada native showed some of the aggressiveness Self has been pleading for all season, and spritzed in his natural meekness and tendency to let games come to him that can wow and frustrate Self all at once.
"He's so soft-spoken and he's so mild-mannered and he's such a nice guy and a nice teammate, sometimes you just want to see him maybe go snatch somebody's head off or be in attack mode all the time," Self said. "He's capable of doing that, but that's not who he is." 
When it doesn't work, you get games like Wiggins had against Oklahoma State, when he scored just three points on 1-of-5 shooting. When it does, well, you get games with 27 points on 13 shots, a stat line that resembles something Wiggins' favorite player, Kevin Durant, might do. 
"To be a freshman and to be that efficient is pretty great," Fields said. 
At least 30 KU fans waited along the route from the locker room to the team bus on Saturday. After speaking with reporters, Wiggins took a few pictures and signed a few autographs, including a Canadian flag that was waving in the stands for much of the evening. 
This was Wiggins' night, though. A record 7,494 fans filled Daniel Meyer Coliseum, but those wearing Kansas red and blue were louder than the home crowd, and for good reason. 
A pair of free throws gave Wiggins his career high with 1:56 to play. Self called him to the bench, ending his night. The KU crowd gave him a loud sendoff, offering one of the loudest cheers of a sleepy second half in which KU never led by fewer than 17. 
---