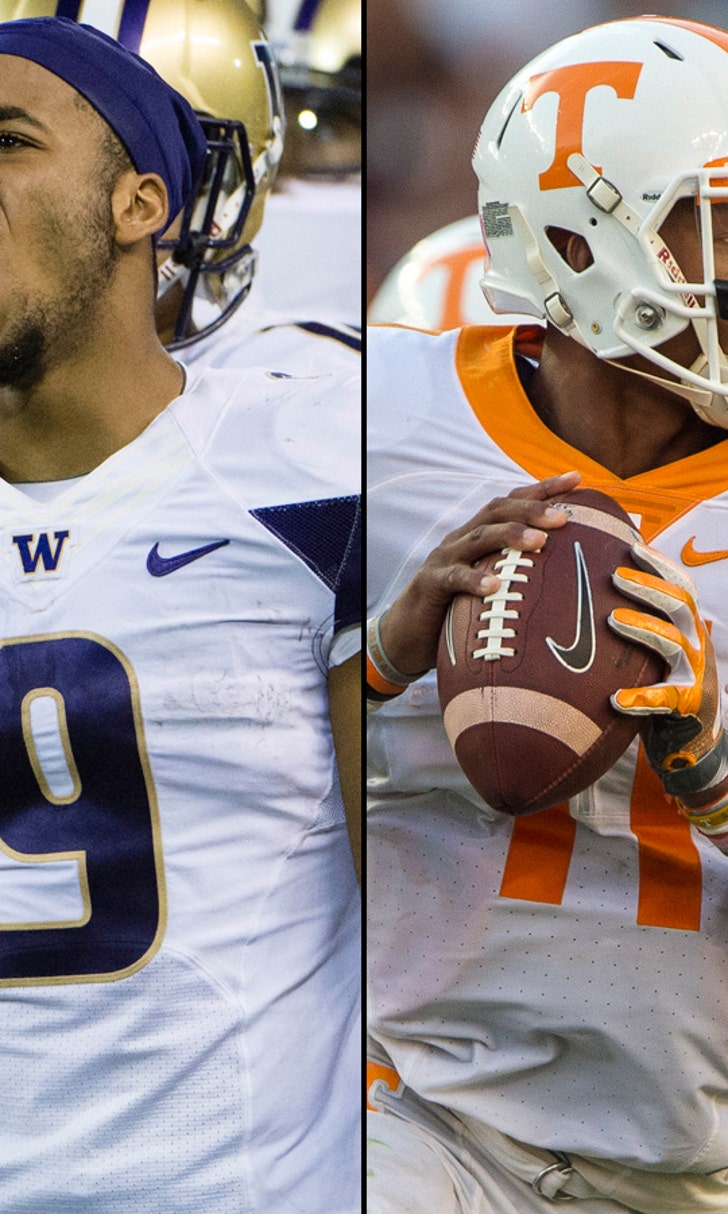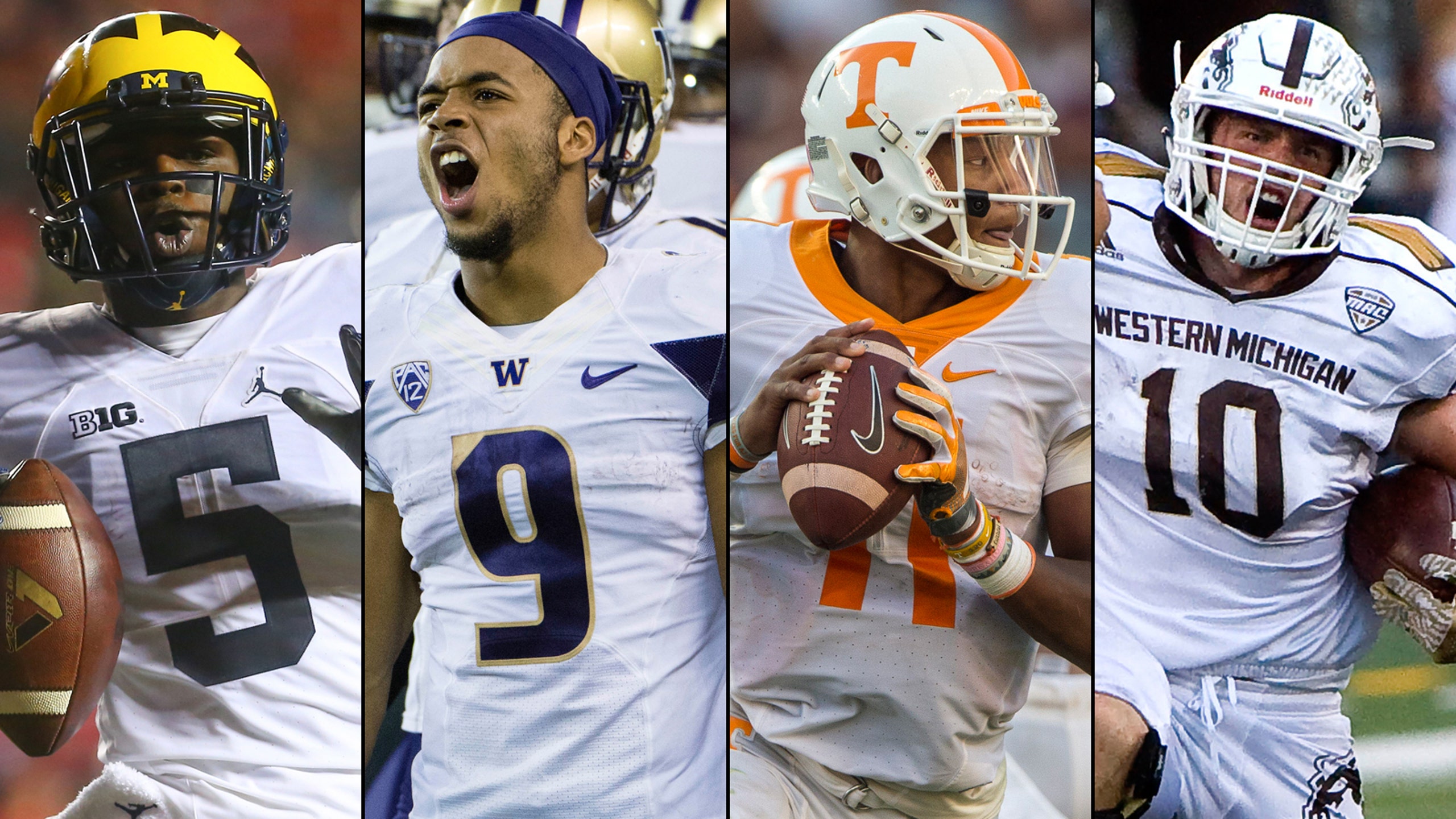 Woodshed Top 20 college football rankings: Week 6
BY foxsports • October 11, 2016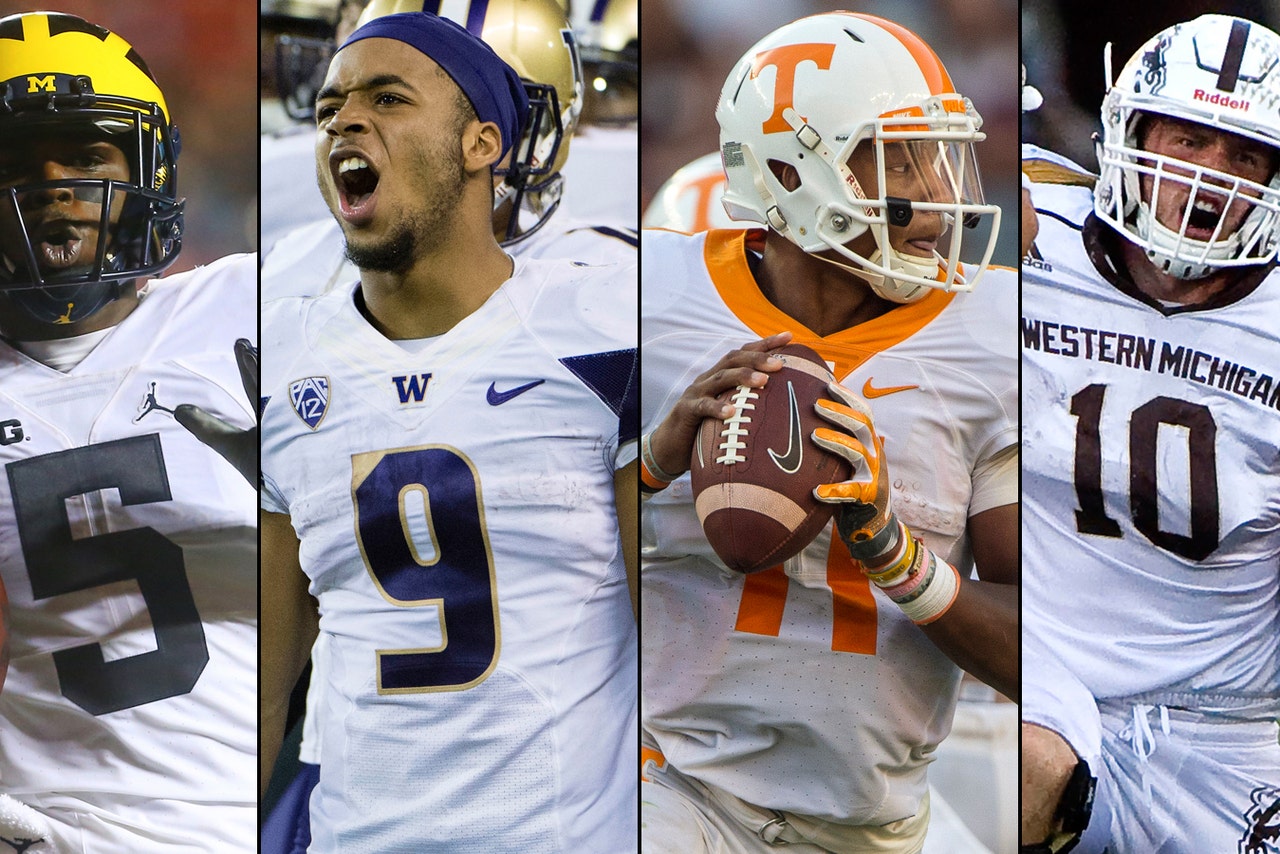 Another week of college football and another week of upsets.
What did we learn?
For starters, we won't have to worry about Louisville beating Houston to balance the college football universe. Navy, the crew from Annapolis, did that all by themselves. I don't think there is a soul in college football that could see that upset coming. If you did, you should probably go buy a lottery ticket because you must be on a streak of luck.
HURRICANE MATTHEW
Hurricanes were on the mind of a large amount our nation this past week.
North Carolina and North Carolina State played their games in the elements of Matthew. Notre Dame didn't fair too well playing in wind and rain. I know my wife was mad just to watch nobody move the ball. Can you really yell at your center for a bad snap in those conditions?
Again, it comes down to coaching. I bet they don't practice in the rain like that do they? I'm sure they're in their nice facility practicing snaps. One thing is for sure, a coach can game plan for an opponent, but he can't set a plan for the weather.
Yes, you can wear thicker cleats, or even warm weather fanny packs, but what you can't truly plan for is throwing the ball in windy conditions. I'm not saying that's why Notre Dame lost or why North Carolina got pummeled by Virginia Tech, but it does mess with a team's offense.
Two teams play on the field, and sometimes it helps one team while it hurts another. I bet Notre Dame and UNC win if they played in a dome where the weather wasn't a factor. Congrats to NC State and Va. Tech for being better in the elements.
The talk around the office this week was how we in south Florida dodged Hurricane Matthew. The Gators fans are trying to spin not playing LSU like Donald Trump spinning his "locker room" talk. The fact remains that the game didn't happen, and both schools need to find a way to get it done. I suppose it will be a moot point after next week when Florida loses to Georgia.
I get why they didn't play the game. How can a kid plan for a game when there is a huge storm affecting their preparation? It becomes a safety issue, and a game is just a game. I know I was distracted at work worrying about whether Matthew was give use the business in South Florida.
But the game should have been played on Sunday. Whether it's LSU or Florida's fault, who cares. Florida could benefit from not playing LSU when it comes to making the SEC title game, even with a loss to Tennessee. But if they get to the title game because they didn't play a game everybody else played, well, that's like a Big 12 way to compete.
Speaking of hurricanes, isn't it fitting that a kick would be the deciding factor in Miami's loss to the Florida State Seminoles? I know fans at Georgia and Florida are saying, "See, Mark Richt can't win the big game."
I think it's great that Miami is this competitive with Richt in his first season. Just wait till he puts a fence around south Florida and keeps those kids home, then 'Canes fans will have something to cheer about. Regardless, the 'Canes future looks brighter with Richt than it did with a coach from Temple.
Oh, I suppose all that talk of Houston head coach Tom Herman to LSU, Notre Dame, Texas, Oregon and USC can all die down, right? The glass slipper has fallen off of the Cougars. Hail to the Midshipmen! And if I'm an AD at any of those schools, I'm calling Herman now.
Now for the teams I'm taking to the Woodshed:
1. ALABAMA
Like I've said before, to be the champ, you have to beat the champ. And there's no slowing down this Tide. I do think a freshman quarterback will get them in trouble. I believe 'Bama has two losses in them, but one of those upsets was supposed to be at the hands of Arkansas. I suppose Bret Bielema can look forward to the Outback Bowl again. I too want to know how Bielema has his job.
Roll damn tide!
2. MICHIGAN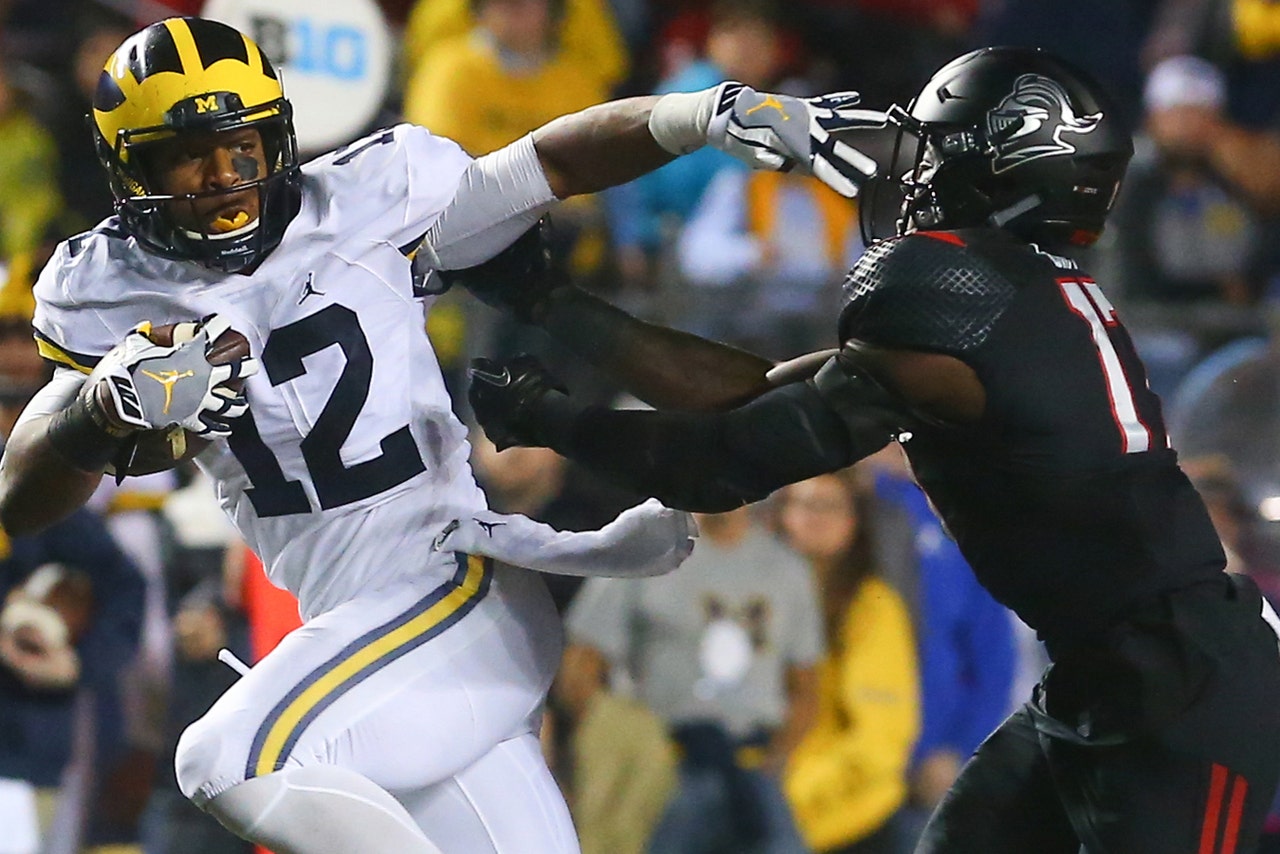 Michigan Wolverines running back Chris Evans (12).
Jim Harbaugh is the greatest coach in the country. Did you see how they ran up the score on Rutgers 78-0? If you check the box score, 21 points came in the fourth quarter, which is nice. They went for two when they were up 27-0 just because they could. I will give Harbaugh this, the Wolverines ran the ball well, setting a record with nine rushing touchdowns. They also have one of the best college football players in the nation in Jabrill Peppers. Is he a Heisman candidate? He is no Charles Woodson, but he' good, really good... but not Woodson just yet. He had a sweet punt return for a TD -- featuring a PlayStation spin move and duck under a tackle – but it was nullified by a block in the back. If he does that against Ohio State, that will be a Heisman moment. The Wolverines have a lights out defense, but in my book they have not faced any offenses with speed as of yet. Last week's performance, however, has me moving them up in the WoodShed rankings because it was one of the most dominating performance of any team I have ever seen.
3. OHIO STATE
We will find out all we need to know about Urban Meyer's Buckeyes this week in Wisconsin. The Badgers defense is among the best in the nation, while Ohio State's offense ranks among the top 10 nationally. The Buckeyes had their worst game of the year offensively this past week against Indiana. The play calling was terrible; there was no balance in the offensive plan. Earth to Meyer... if the wind is really bad, how about some short passes to open up the defense? The wind hindered the big plays on offense. The Buckeyes receivers were open by five yards, which is good to know, but J.T. Barrett couldn't get the ball to them. I'm dropping them a slot because Michigan was better this week. So while Ohio State didn't score 50 points this week, they did manhandle Indiana, which beat Michigan State. On a disappointing note for future Buckeyes, OSU rolled out the red carpet for the No. 1 receiver recruit in the nation and only passed for 99 yards in front of him. On a brighter note, two things you need to know about Ohio State's defense: 1) They are the No. 1 scoring defense in the nation. They had another interception return for a touchdown this week, but Malik Hooker's return was called back because of a terrible chop block call on the 3-yard line. Did I mention it happened behind the play? When a player hits a lineman in the chest and then falls down and the lineman trips over the person, that's not a chop block. 2) Ohio State's defense has yet to give up a rushing touchdown.
4. CLEMSON
The ACC is starting to line up like we thought it would. The Tigers big win over Louisville will keep them in the playoffs. The only obstacles out there for Clemson are Florida State and, possibly, North Carolina. I don't have any confidence in the Seminoles chances in stopping Deshaun Watson and the gang.
5. WASHINGTON
OK, Oregon is not the same team it used to be -- and they haven't been since Chip Kelly left – but wow. The Huskies are well on their way to the Pac-12 championship. I really do not believe there is a team in the conference that can come close. They possibly will be the only unbeaten team in the nation at the end of the year. That doesn't make them the best team in my book. They would get smoked by 'Bama, Michigan, Ohio State and Clemson, the difference between 5-star talent to 3-star. Note to Chris Peterson, if you want to be in the playoffs, you will have to start scoring 70 points a game like Oregon used to do.
6. TEXAS A&M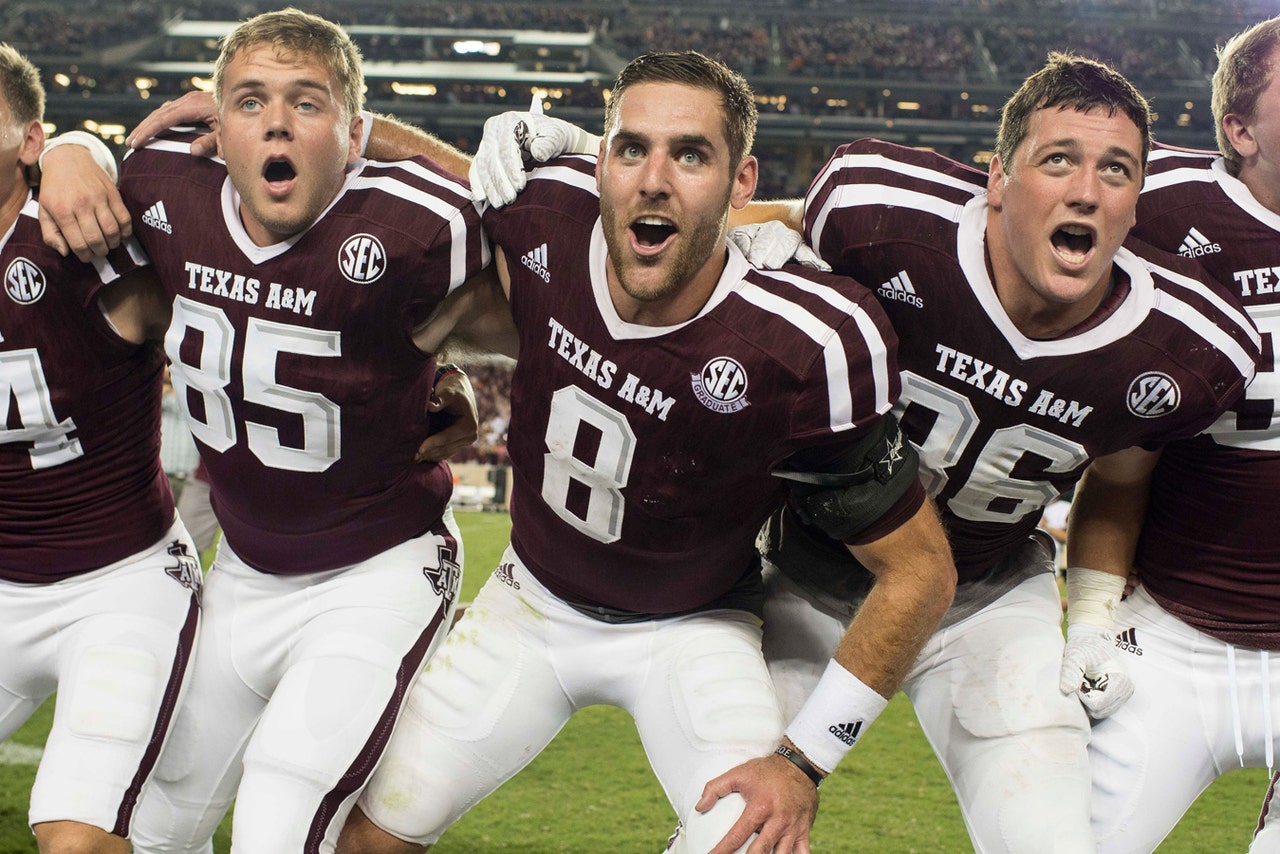 Texas A&M Aggies.
Oh look, another SEC team in the top 10. A great overtime win in College Station over Tennessee had fans partying at Gatsby's all night. In the end, they are not as good as Alabama, but they are better than everybody else in the conference. They have two weeks to prepare for the Crimson Tide, but will it matter?
7. NEBRASKA
Don't look now, but this will be the last time the Big Ten has four teams ranked in the top 10. Nebraska's only signature win is over a disappointing Oregon team. They face off against Indiana this week and it will be a bigger game than most people think. The Hoosiers are no slouches. Nebraska should remain unbeaten until Halloween, then it gets scary. Back-to-back games with the killer B's -- the Badgers and Buckeyes.
8. WISCONSIN
The Badgers only loss was to Michigan; it was a 14-7 game. Reality sets in this week as they host the Buckeyes in Madison. By the way, Madison Avenue has to be one of the best college football bar scenes in America. So much fun! I don't suspect Wisconsin will muster much offense vs. Ohio State, the No. 1 defense in the Big Ten. Bucky will have a hard time containing the No. 1 offense as well -- the Buckeyes are averaging over 500 yards per game. I expect Urban Meyer to attack through the air this week, because that's where the mismatch is. The skill position and speed advantage goes to the silver bullets.
9. LOUISVILLE
Remember when everybody wanted to give Lamar Jackson the Heisman? It's funny how a loss to Clemson kind of quiets the campaign. I'm here to remind people that they still are a good team. They were knocking on the door for the go-ahead score vs. the Tigers. The Cardinals were off this week, fixing their feathers I suppose. They get back at it Friday when they host Duke. The Blue Devils beat Notre Dame, so this will be an interesting measurable to compare. I expect the Action Jackson train to get rolling again -- a six-touchdown performance, shoot... let's go seven. He still is the most electrifying player in college football.
10. TENNESSEE
Man, I wonder how many heart attacks there have been in Tennessee these past two weeks. After a miracle win last week over Georgia, the lucky streak ended in College Station, where they lost in overtime. Tennessee is still the best in the East (Hear that Gator fans?). The Gators fans I know are beating their chest because they think they can win the East by not playing LSU. I was a little bit sad to see Joshua Dobbs throw that interception in overtime. They were the Cinderella team, somebody to feel good about.
11. OLE MISS
The Rebels are the third best team in SEC right now, but they don't get a chance to play Tennessee. However, they do face LSU and Texas A&M, which will surely result in two losses. Ole Miss will not be ranked by the end of the season. I don't even know if they will beat Arkansas. We will find out this week, when they head to see Bret Bielema Razorbacks. How many more college professors will get arrested this week?
12. FLORIDA STATE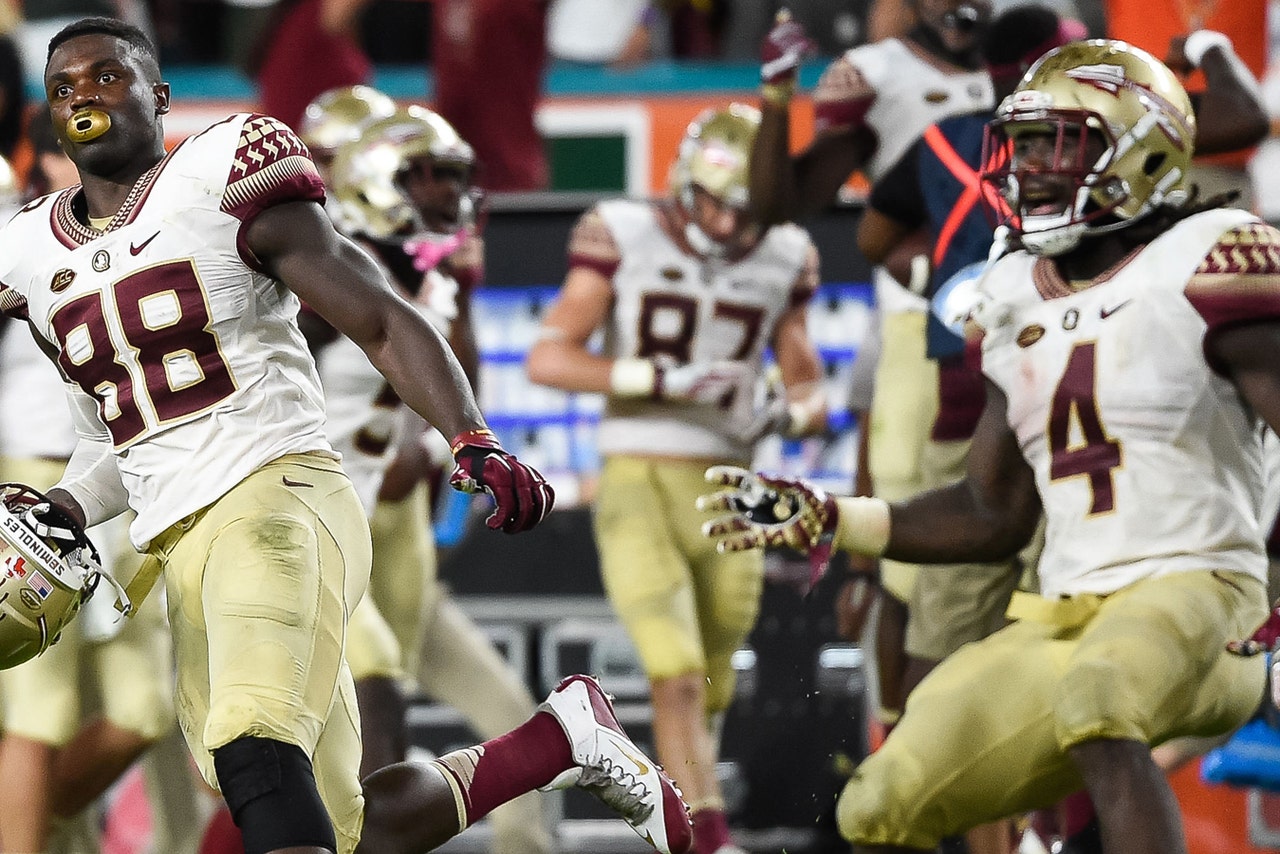 Florida State Seminoles.
Boy were there some happy Seminoles fans in the office this week. My friend Amanda walked by the office wearing a huge smile and outfit in garnet and gold. The second time she walked by my office she wasn't afraid to break out the tomahawk chop. I can just hear the Seminoles drum playing now. The 'Noles survived Hurricane Matthew and the Miami Hurricanes all in the same week. Is it fitting that it came down to an extra point? How many games have been decided by the kicking game in this series? Now everybody is saying Dalvin Cook is back in the Heisman race? Is he? Right now he's fifth on my ballot, maybe sixth. FSU is still the best team in Florida. Gators fans will be hoping for another storm to postpone another loss come Nov. 26.
13. VIRGINIA TECH
The Hokies' only loss is to Tennessee. Don't you remember the game in the middle of a racetrack? I know I tried to forget that doozy of a game myself. Va. Tech destroyed North Carolina in Chapel Hill 34-3. I did not see that coming. I was really high on the Tar Heels competing for the ACC title. I know one Hokie in our office that was grinning ear to ear. I'm not sure Bud Foster's defense can take total credit for shutting down UNC's Mitch Trubisky; it is not easy to throw the ball in hurricane conditions. What an odd concept, playing the game in the elements. The Hokies scored 20 points off of turnovers. Another reason the Tar Heels weren't good? No Elijah Hood in the backfield. Either way, congrats to Virginia Tech head coach Justin Fuente for getting his kids to buy in. Virginia Tech wants some respect. They have the 'Cuse this week, but then Miami, Duke, Pitt and Notre Dame waiting for them.
14. FLORIDA
At this point in the rankings, it's based on who will beat who to me. I throw the records out the door. It's based on athletes and coaching. Florida needs to play better teams for me to get an idea of who they really are. They lost to Tennessee and struggled with Vanderbilt. And then there is not playing LSU. For the record, I will always bust Gators fans chops for not playing the game. But I want to be clear, it was the right thing to do due to safety. I know it distracted me from my job. I couldn't imagine what the university as a whole would have to deal with when it came to resources and keeping people safe. It's a shame the game couldn't have been moved to Sunday or even a venue further west. I am laughing at those Gators fans who think they are going to win the East now. You are going to lose three more times this year, so it's a moot point.
15. HOUSTON
The Cougars, too, had to play in a downpour in Maryland. I'm not certain that was the main reason for them losing to Navy. Is Navy that good? I think it was a combination of looking ahead, playing in the rain and playing on the road. Whatever the case, we can now excuse Houston from any playoff talk. Even beating Louisville will not save their season. They lost to Navy. By the way, how about those Midshipmen? I loved seeing the kids run onto the field. I bet the Middies would win more if they cancel classes for every big win.
16. OKLAHOMA
The Sooners have two losses on their schedule: Houston and Ohio State. Be prepared, Bob Stoops is going to win the rest of the games on his schedule. Oklahoma is the best team in the Big 12. Baylor is the only hurdle, sorry Mountaineers fans. Ruprecht will banging on his pots again.
17. WESTERN MICHIGAN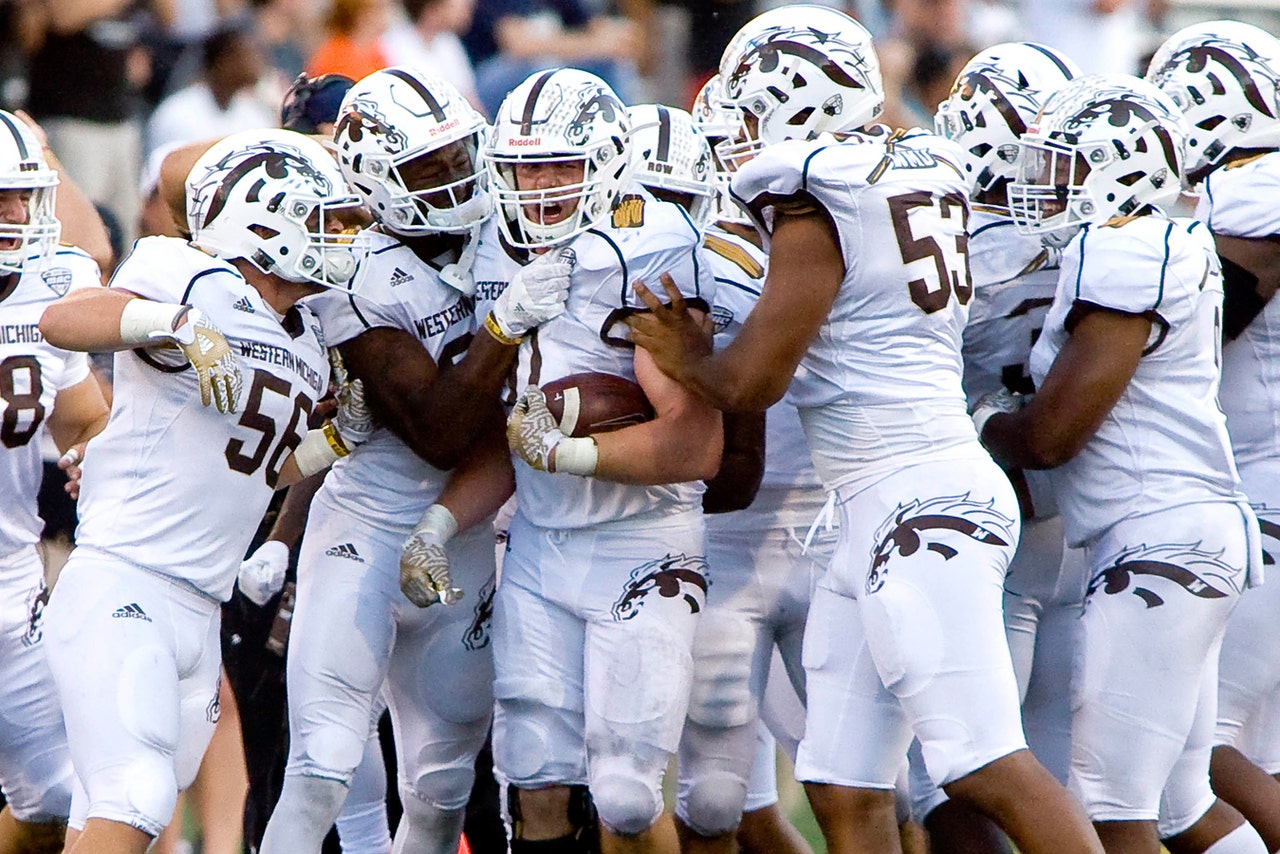 Western Michigan Broncos.
Let's hear it for the MAC! The Broncos are in the top 20 for the first time ever. They have beaten Illinois and Northwestern. I don't think they will be making any playoffs, but perhaps they should play Boise State for a spot in the Big 12. Wouldn't it be neat if some NCAA conferences were set up like the Premier League? If Western Michigan goes perfect, they get to play the Big 12 champion. If they beat the champion, they are awarded a spot in the league the following year.
18. NORTH CAROLINA
The Tar Heels will face another hurricane this week, this time in Miami. I know Va. Tech thinks it is that good, but the fact remains that Hurricane Matthew dumped nine inches of rain on the football field the night before. The Carolina Blue offense couldn't handle the conditions. This week, they will be back on a fast track. They beat FSU, which beat Miami. If the 'Canes want some respect, they will have to take down Mitch Trubisky and Elijah Hood, who sat out last week's contest.
19. MIAMI
Oh man, was that a tough way to lose. And just when you thought Miami was back to being Miami. They got one part right, losing a game with style points. The 'Canes were an extra point away from being back in the national spotlight (pending the overtime result, of course). In a year or two, everybody will look forward to the 'Canes-'Noles wide-left games. The true test of the program is how they respond against North Carolina this week. Mark Richt is a good coach. We will find out if his team is ready to take a step forward or just quit.
20. BOISE STATE
They have beaten both Washington State and Oregon State of the Pac-12, but this is probably where Boise State should stay in the rankings. They can run the table because they are better than the rest of the programs in their conference, but they don't deserve a spot in the playoffs. My guess is Houston and Boise State should play each other in the Blockbuster Bowl, a bowl of irrelevance. But they have blue turf, so keep an eye on them.
WHERE'S BAYLOR?
You may as well ask where's Art Briles? I give the Big 12 no love because Oklahoma is the only team worth watching. I don't want to discredit what the Baylor kids are doing, they are unbeaten after all. But they haven't played anybody. I predict they have three losses coming in a weak conference. That's my story and I'm sticking to it. They will lose three of the following games: Texas, TCU, Oklahoma or West Virginia.
---